Japan




254,244 (2010)


381.34 km2


Tohoku




Akio Ichikawa




Mount Zao, Yama-dera, Zao Ropeway, Mogami Yoshiaki Historical Museum




Yamagata University, Tohoku University of Art and Design, Yamagata Prefectural University of Health Sciences, Tohoku Bunkyo Junior College



Yamagata (, Yamagata-shi) is the capital city of Yamagata Prefecture located in the Tohoku region of Japan.
As of November 2013, the city had an estimated population of 254,146 and a population density of 666 persons per km². The total area was 381.34 square kilometres (147 sq mi).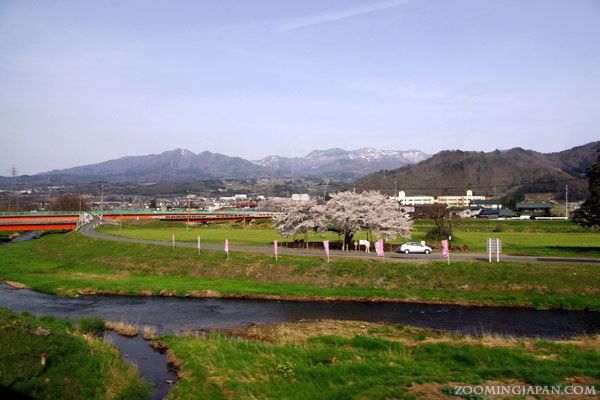 Yamagata is located in mountainous southeast Yamagata Prefecture. The Mogami River passes through the city, which includes Mount Zao within its borders.
The area of present-day Yamagata was part of Dewa Province. During the Edo period, it was the center of Yamagata Domain under the Tokugawa shogunate. The modern city of Yamagata was founded on April 1, 1889 as the capital of Yamagata Prefecture. The city attained Special city status on April 1, 2001.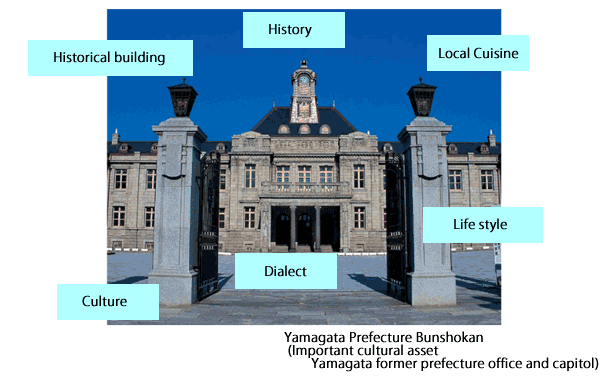 Hanagasa festival (

,

Hanagasa Matsuri) - one of Tohokus major summer festivals, is held in the city every August 5, 6 and 7. Yamagata also hosts the bi-annual Yamagata International Documentary Film Festival. An autumn tradition is Imoni-kai (taro potato party). Taro potatoes, thin-sliced meat, and vegetables are cooked in a large pot at picnic spots. The banks of the Mamigasaki River are popular. Once a year, on the first Sunday in September, the city government serves thousands of bowls from its giant iron pot, which is serviced by a building crane. In 2009, 30,000 servings were prepared and served, and still a crowd waited in line.
Yamagata, Yamagata Wikipedia
(,)http://www.pulpmx.com/sites/default/files/u165/csteel51_%25231.JPG(,)http://www.motorcycleclassics.com/~/media/Images/MCC/Editorial/Articles/Magazine%2520Articles/2006/09-01/History%2520of%2520the%2520Yamaha%2520YM1/DSC_2463.jpg(,)http://japan-magazine.jnto.go.jp/jntowm/wp-content/uploads/031.jpg(,)http://pictures.topspeed.com/IMG/crop/200806/2009-yamaha-yz85-21_600x0w.jpg(,)http://global.yamaha-motor.com/business/outboards/product/story/history/img/h2_001.jpg(,)http://www.motorcycleclassics.com/~/media/Images/MCC/Editorial/Articles/Magazine%2520Articles/2009/11-01/The%2520Yamaha%2520R5%2520350%2520Twin/yamaha%2520r5%2520350%252003%2520-%2520Honda%2520CB350%2520jpg.jpg(,)http://f.tukiyama.jp/yamagatabi/n/official/mdlhead/model_header-03.jpg(,)http://www.harleyhummerclub.org/restore/chapter90/ya1-left2.jpg(,)https://sushiandsake.net/img/special/food/detail/sakataramen_3.jpg
(,)http://zoomingjapan.com/photos/tohoku/yamagata/kaminoyama/IMGP9432.jpg(,)http://static.panoramio.com/photos/large/20125806.jpg(,)http://static.panoramio.com/photos/large/20125809.jpg(,)https://c1.staticflickr.com/3/2359/2470619086_a4d2f80ef8_b.jpg(,)http://cache3.asset-cache.net/gc/76011746-japan-yamagata-prefecture-mt-chokai-landscape-gettyimages.jpg%3Fv%3D1%26c%3DIWSAsset%26k%3D2%26d%3Dj%252FaNEGBsObqY6XPIrtlf%252B66CNjpWuOn6Dcl104yjEHM4rfnu0eLw8wapG5O7Gka0(,)http://cache3.asset-cache.net/gc/76011746-japan-yamagata-prefecture-mt-chokai-landscape-gettyimages.jpg%3Fv%3D1%26c%3DIWSAsset%26k%3D2%26d%3Dj%252FaNEGBsObqY6XPIrtlf%252B5JjcCbsMDchFh5QH0beagw%253D(,)http://cache2.asset-cache.net/gc/76012148-japan-yamagata-prefecture-mt-gassan-boardwalk-gettyimages.jpg%3Fv%3D1%26c%3DIWSAsset%26k%3D2%26d%3DtMFNW9co2OSANVvYCcrhfgl%252Bx6lJ14WvVJlzeUrn7TDc5H0GjgOo7CWU7Qjr0Bct(,)http://cache4.asset-cache.net/gc/76014896-japan-yamagata-prefecture-mt-gassan-mt-chokai-gettyimages.jpg%3Fv%3D1%26c%3DIWSAsset%26k%3D2%26d%3D4SeLGWdoMKwQJG%252BTQDaW%252FXxXo%252FW7umhaFz028cg17SBWFQGGRkZmxZpEDeDT8hzl(,)http://cache1.asset-cache.net/gc/76014909-japan-yamagata-prefecture-mt-chokai-mt-gassan-gettyimages.jpg%3Fv%3D1%26c%3DIWSAsset%26k%3D2%26d%3DU%252Bpq53fyOAP0O0hcs%252BO4a5DFpfZMbuh4GFfa8LM2oCUoE4pLCVfK2jXxCSmufiLn(,)http://cache3.asset-cache.net/gc/75992387-japan-yamagata-prefecture-mt-gassan-rocks-on-gettyimages.jpg%3Fv%3D1%26c%3DIWSAsset%26k%3D2%26d%3DczWQ6Bf96%252B08gIiHMh4vZPYjDQcaibbehlEmQjoP%252FwthXq3cJnZ%252FkFrnYYTpK4K3limI905JweJsnS%252FrY7z%252FuQ%253D%253D(,)https://studioabroad.colostate.edu/_customtags/ct_Image.cfm%3FImage_ID%3D2296(,)http://cache4.asset-cache.net/gc/75992388-japan-yamagata-prefecture-mt-gassan-clouds-gettyimages.jpg%3Fv%3D1%26c%3DIWSAsset%26k%3D2%26d%3DUvihpcZhjzzvk6ZcNM911aCnBLuLE3CmDcbXdYaPvcfnlfJXW2jgxt5XqEEM079zzFEkM%252FA7fn2z0gDRMcppew%253D%253D(,)http://cache2.asset-cache.net/gc/98818225-zao-onsen-yamagata-yamagata-japan-gettyimages.jpg%3Fv%3D1%26c%3DIWSAsset%26k%3D2%26d%3D8lY5MG0vfNy9nJ2uUDYiwxCUEMQtSoSzGKmn8Ca2M0I%253D
(,)http://jto.s3.amazonaws.com/wp-content/uploads/2013/08/fv20130802hoa-870x652.jpg(,)http://japan-web-magazine.com/yamagata/images/74.jpg(,)http://img1.findthebest.com/sites/default/files/1372/media/images/Yamaha_Golf_Car_Fairway_Lounge_Gas_191720.jpg(,)http://www.travelworld-jpn.co.jp/english/image_guide/m-size/m_105413.jpg(,)http://www.tofugu.com/wp-content/uploads/2013/01/yamagata.jpg(,)http://www.yamahaproaudio.com/global/en/Images/system_example_12_25_overview.jpg(,)http://www.chitosekan.com/en-img/co.jpg(,)https://gurunavi.com/imgs/area/yamagata.jpg(,)http://img.yokoso-japan.jp/_tourimg/35687_1.jpg(,)http://www.yokoso-japan.jp/_tourimg/35687_2.jpg
(,)http://www2.yz.yamagata-u.ac.jp/mot/asia/en/yamagata/img/culture015.png(,)https://studioabroad.colostate.edu/_customtags/ct_Image.cfm%3FImage_ID%3D15153(,)http://www.goldenjipangu.com/photo/130805hanagasa2.jpg(,)http://www.goldenjipangu.com/photo/130429yonezawa4.jpg(,)http://www2.yz.yamagata-u.ac.jp/mot/asia/img/yamagata_common/culture010.jpg(,)http://iipix.com/where/images/mapofjapan.gif(,)http://upload.wikimedia.org/wikipedia/commons/3/34/Persimmons_yamagata_2005-10.JPG(,)http://upload.wikimedia.org/wikipedia/commons/5/57/Rural_Culture_Community_Square_Maideru,_Syonai_Mikawa,_Roadside_Station,_Yamagata,_Japan.jpg(,)http://data.yamagatakanko.com/english/hotspring/image/img_zao.jpg(,)http://ana-tastesofjapan.com/en/material/images/detail/yamagata/photo_sake02_1.jpg(,)http://ana-tastesofjapan.com/en/material/images/detail/yamagata/photo_sake01_1.jpg