Publishers

Sega




Platform of origin

PlayStation 2




Creators

Toshihiro Nagoshi




Creator

Toshihiro Nagoshi






Platforms

PlayStation 2, PlayStation 3, PlayStation Portable, Wii U, PlayStation 4




First release

Yakuza JP: December 8, 2005 NA: September 5, 2006 EU: September 15, 2006




Latest release

Yakuza 6 JP: December 8, 2016




Designers

Toshihiro Nagoshi, Hase Seishū




Developers

Sega, Sega Games, Syn Sophia, Amusement Vision, Sega Wow, Sega Sports R&D




Genres

Action-adventure game, Beat 'em up, Open world




Games

Ryū ga Gotoku 6, Yakuza 0, Ryū ga Gotoku Ishin!, Yakuza 5, Yakuza: Dead Souls
Yakuza, known in Japan as Ryū ga Gotoku (龍が如く, Like a Dragon), is an open world action-adventure beat 'em up video game franchise created, owned and published by Sega. The series originated from Toshihiro Nagoshi's desire to create a new game that would tell the yakuzas' way of life. Nagoshi initially struggled to find a platform for the project, until Sony showed interest in the prospect.
Contents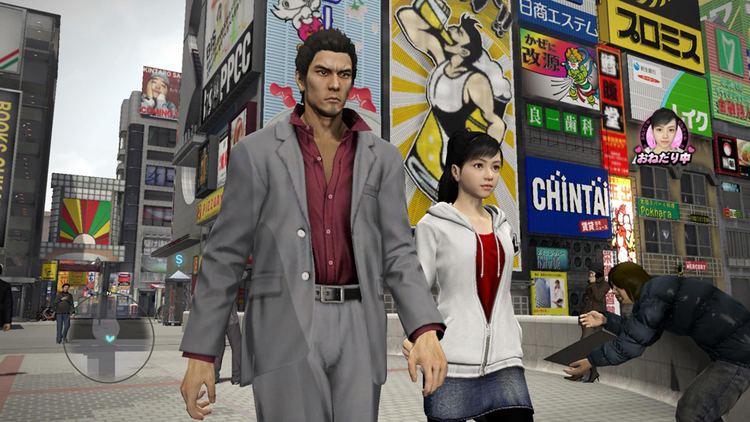 The series primarily focus on the yakuza Kazuma Kiryu from the Tojo clan. While Kazuma often assists the Tojo clan, the series has also featured him searching for another way of life in the form of raising orphans. The gameplay of Yakuza has the player controlling Kazuma (or another character depending on the title) in an open world where he can encounter an enemy or perform an activity in the city to obtain experience.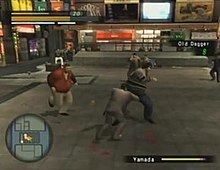 The franchise has become a commercial and critical success, and as of 2016, Sega Sammy Holdings has reported that the Yakuza franchise has sold a combined total of 9.3 million units in physical and digital sales since its debut in 2005. Strong sales of the games in its original Japanese market has led to the franchise's expansion to other mediums, including film adaptations.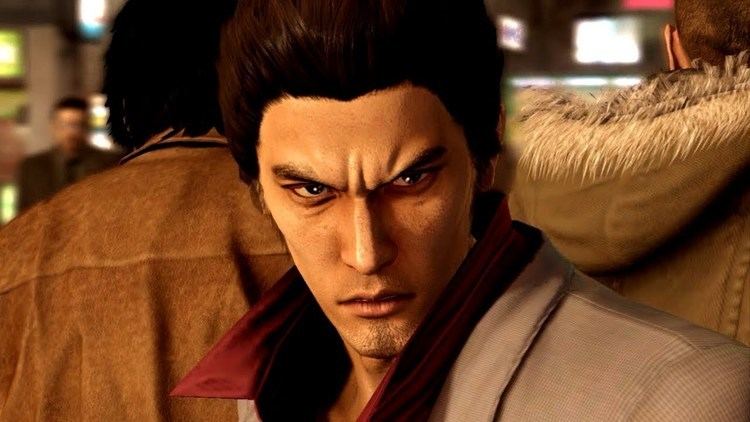 Gameplay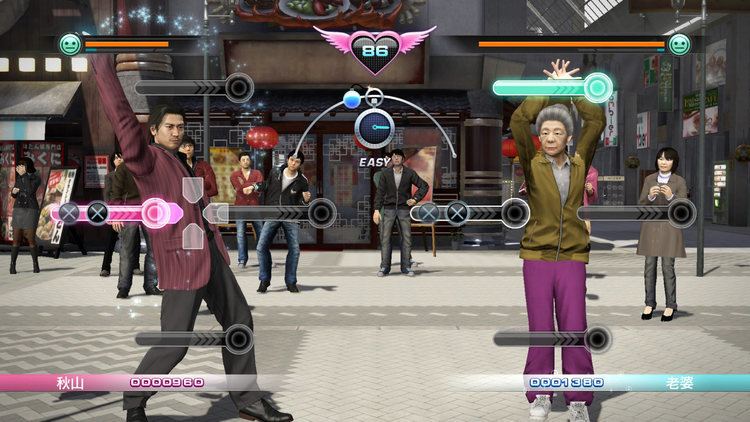 In all games the player controls Kazuma Kiryu, who is the sole playable character in the first three entries. The game is made of three distinct yet connected modes called Event, Adventure and Battle. The main character randomly encounters foes on his path. The ensuing fight is called Encounter Battle. In fights the player character uses hand-to-hand combat while weapons can also be wielded. Winning somes of these battles can result in the player winning money which can be used to purchase equipments or healing items. Encounter Battles caused by the story can end quicker by finishing the leader of the enemies. Some of these tend to include quick time events. Across his fights, Kazuma gains experience. This can be used to expand his stats and become a stronger fighter.
The player can also travel across the cities and participate in different events such as the handling of host clubs, fighting tournaments among others. These encounters help Kazuma win experience.
Games
As of 2017, the Yakuza series includes seven main games, released in chronological order (with the exception of one prequel), with each new installment following the events of the previous title; the series is largely exclusive to the PlayStation series of consoles, starting with PlayStation 2.
There are also several spin-off titles. One relates Kazuma Kiryu's supposed ancestor, historic figure Miyamoto Musashi (a.k.a. Kazumanosuke Kiryu) from the 16th and 17th centuries; another follows a zombie invasion of Kamurocho, the primary setting for the series; on the PlayStation Portable, another series is about a teenage street fighter from Kamurocho that ends up in a fight where he kills a Tojo Clan Yakuza.
With the exceptions of Kurohyō: Ryū ga Gotoku Shinshō and Kurohyō: Ryū ga Gotoku Ashura Henu which were developed by Syn Sophia, all games were developed by Sega.
On August 31, 2011, two new Yakuza games were announced: Yakuza 5, and a sequel to Kurohyō, Kurohyō 2.
Ryū ga Gotoku 0: Chikai no Basho, a prequel to the original game, was announced August 24, 2014. It was released on PlayStation 3 and PlayStation 4 in March 2015 in Japan.
On December 6, 2014 at PlayStation Experience, Sega announced that because they received so many requests from fans, Yakuza 5 would get a worldwide release in the third quarter of 2015 via the PlayStation Network.
On December 5, 2015 at PlayStation Experience, Sega announced that Yakuza 0 would be localized for Western audiences.
On December 3, 2016 at PlayStation Experience 2016, Gio Corsi announced that both Yakuza Kiwami and Yakuza 6 would be localized for Europe and the Americas in 2017 and 2018 respectively.
Main series
The storytelling of the series is inspired by yakuza films, one of the most popular cinematic genres in Japan. The stories of the first two games in the series were written by novelist Hase Seishu, a writer of crime fiction. It was brought to the screen by director Takashi Miike. The main story is presented in chapters, much like Kinji Fukasaku's classic yakuza movie Sympathy for the Underdog and is expanded upon with around a hundred subplots per game. The depth this provides leads to the series having a large cast of characters, including many which recur in minor roles.
During the 1970s, three children, Kazuma Kiryu, Akira Nishikiyama, also known as Nishiki, and the latter's younger sister, Yuko Nishikiyama, are raised in the Sunflower Orphanage of Shintaro Kazama. In the summer of 1980, they are joined by Yumi Sawamura, a young girl whose parents were inadvertently killed during a gang shootout. Following a yakuza tradition, the honourable Kazama secretly raises orphans whose parents he has directly or indirectly killed. In return, these children look to him as a father and he eventually introduces the teenagers to the Dojima Family, a Tojo Clan affiliate.
Years later, the promising Kazuma Kiryu quickly rises in the yakuza hierarchy and earns the nickname "the Dragon of the Dojima Family" for the dragon irezumi tattoo on his back, which is the origin of the original title ryu ga gotoku, which means "like a dragon". His childhood friend Nishikiyama is torn between loyalty for his kyodai, or yakuza "brother", and jealousy against the one who has always been Kazama's protege. Another subject of rivalry between the two friends is their secret love for Yumi, who looks at them as her older brothers. In 1990, in order to remain close to both of them, she left the orphanage and moved to Tokyo's red-light district Kamurocho, where they found her a job as a hostess at Reina's Serena bar. On October 1, 1995, Kazuma Kiryu told his friends he was ready to create his own yakuza family, only lacking the approval of Sohei Dojima, Chairman of the Dojima Family. Later that night, the latter kidnaps Yumi from Serena. Nishikiyama tries to interfere, but Dojima's men hold him. When Nishikiyama eventually reaches Dojima's office, he finds his boss attempting to rape Yumi and shoots him dead. Kazuma, at a meeting with Kazama, was called by Reina and comes shortly after to find Dojima on the ground and Nishikiyama and Yumi in shock. Kazuma takes responsibility for the death in order to protect Yuko, who needs her brother Nishikiyama as she is about to undergo a critical operation. Kazuma orders Nishikiyama and Yumi to leave before the police arrive.
Yakuza
The first game follows the story of Kazuma Kiryu (桐生 一馬 Kiryū Kazuma), a formerly-promising yakuza who is released from prison after a ten-year sentence for the murder of Dojima. The Tojo Clan he was once a member of has had ten billion yen, or approximately 100 million U.S. dollars, stolen from their vault. The search for the money, undertaken by the entire Japanese underworld, results in Kiryu being forced back into the brutal, lawless world of the yakuza. A mysterious young girl would lead Kiryu to the answers, if he can keep her alive.
Yakuza 2
One year prior to the start of the second game, Kazuma Kiryu left his post as the Chairman of the Tojo Clan, Japan's most violent crime syndicate. When an all-out war erupts, Kiryu must return and uphold the honor of his former clan, with brutal clashes with rival gangs, the police, and the Korean mafia through the back alleys and neon-lit nightclubs of Tokyo and Osaka.
Yakuza 3
In March 2009, Kazuma Kiryu left Kamurocho to run the Morning Glory Orphanage in Okinawa where he raises nine children, including his surrogate daughter Haruka Sawamura. In this installment, Kiryu's story leads from the beaches of Okinawa to the darkest side of Tokyo as he is pulled back to a life he thought he had left behind.
Yakuza 4
In March 2010, Kazuma Kiryu is again involved in an incident in Kamurocho. First, a man is fatally shot on the turf of the powerful Tojo Clan. Then, a man investigating the murder is stabbed to death. These events spark a full-blown struggle for money, power, and above all, honor, in a story experienced through the eyes of four characters.
Yakuza 5
In December 2012, the seventh chairman of the Omi Alliance is on his deathbed. His death would end the truce between the Tojo Clan and the Omi Alliance, leading to a war between the clans. To prepare, the Tojo Clan is forced to strengthen their organization by aligning themselves with older clans based in other major cities across Japan to create a new organization, rivaling that of the Omi Alliance. This new alliance would breach the old traditional barriers of clan territories, leading Daigo Dojima to head for Fukuoka.
Ryū ga Gotoku Kenzan!
The success of the main Yakuza series has spurred the creation of a spin-off, Ryū ga Gotoku Kenzan!, which was released in Japan and Asia on March 6, 2008.
Kurohyō: Ryū ga Gotoku Shinshō
Formerly known under the working title "Project K", Shinshō (also known as Yakuza: Black Panther) is a spin-off on PlayStation Portable that was released in Japan on September 22, 2010.
Yakuza: Dead Souls
Of the End involves a zombie outbreak in Kamurocho, and was initially scheduled for release in Japan on March 17, 2011, but the release was delayed to June 9, 2011 following the Tohoku earthquake on March 11, 2011. This spin-off entry was localised in the West as Yakuza: Dead Souls, and was released in March 2012 (in North America, on March 13, 2012; in Australia, on March 15, 2012; in Europe, March 16, 2012).
Kurohyō: Ryū ga Gotoku Ashura henu
Kurohyō 2: Ryū ga Gotoku Asyura hen is a sequel to Kurohyō: Ryū ga Gotoku Shinshō. It was released in Japan on March 22, 2012.
Ryū ga Gotoku Ishin!
Ryū ga Gotoku Ishin! is a spin-off on both PlayStation 3 and PlayStation 4 released in Japan on February 22, 2014, the launch date for the PlayStation 4 in Japan.
Ryū ga Gotoku 1&2 HD Edition
A high-definition remaster of the first two games in the series was released in Japan on November 1, 2012 for PlayStation 3. The high-definition remaster was ported to Wii U and released in Japan on August 8, 2013 to poor sales. The high-definition remasters for either system have not been localized for a Western release.
Ryū ga Gotoku: Kiwami
A remake of the first Yakuza game, titled Ryu ga Gotoku: Kiwami (龍が如く:極), was announced for a January 21, 2016 Japanese release on PlayStation 3 and PlayStation 4. Kiwami for PlayStation 3 and PlayStation 4 were the top two best-selling games in Japan during release week, selling 103,256 copies for PlayStation 4 and 60,427 for PlayStation 3.
Production
Nagoshi first brought his story for the scenario to Seishu two years before the game started development. Seishu had been a gamer since the days of Space Invaders, but over the past four or five years he had lost interest, as he was less concerned with 3D visuals and gameplay than he was with story. Yakuza caught his attention though, and he decided to accept the project even though it came at the busiest point of his professional writing career. Nagoshi wanted players to get enjoyment from merely walking through Kamurocho. Touching upon the game's name, Nagoshi revealed that it was his concoction. The name translates to "Like a Dragon", as Nagoshi felt that dragons have a strong image about them, and that when players sample it, they would, as the title suggests, get a feel for the strength and manliness of the main character.
Marketing
The series is known for its expanding video game tie-in and product placement marketing policy. Such strategy allows to support the game's costly production and at the same time gives a realistic aspect to the environments which are based on real locations in Tokyo, Osaka and Naha. In promoting the game, Sega hired Takashi Miike. There were no problems in doing this due to a member from the team who was originally from the film industry who worked with Toei Company on V-cinema. Sega went to a lot of companies to try to get brands into the game, like car companies and fashion companies, but because of the nature of the Yakuza game, they were rejected down by most of them. However, the company Suntory accepted them. Suntory wanted to sell whiskey, and they felt the game's demographic and the whiskey-drinking demographic would mesh nicely.
Voice cast
The game's original voice actors are Japanese celebrities which can be voice actors, singers, tarento, film or TV series actors, radio or television celebrities. Cabaret girls and alike characters have featured models, gravure idols and adult actresses as voice actresses and likenesses. Since the 2008 spin-off, the game series' main characters have their face modeled in 3D after their voice actors. As in the Virtua Fighter series, Western main and minor characters do not speak (and curse) in Japanese, but rather in English.
The first game in the series to be released to the United States and PAL regions was dubbed in English. However, due to criticism of the English voice acting, each subsequent Western release has retained the original Japanese voice acting.
The PlayStation 3 installments' realistic character design is based on Cyberware 3D scanner, Softimage XSI 6.5 3D models and Sega's Magical V-Engine.
Localization changes
When the series was internationalized and localized to fit the western market several changes occurred. These include changing the title of the game (Like a Dragon 龍が如く, ryū ga gotoku became Yakuza) and the names of several characters (Shintaro Kazama is Shintaro Fuma, Akira Nishikiyama is Akira Nishiki, Futoshi Shimano is Futo Shimano, Sai no Hanaya is Kage).
Yakuza 4 adjusted several of these localisation changes, following criticism of the previous games, and in particular the content excised from the Western release of Yakuza 3. Producer Noguchi noted that there was an attempt to "bring a more complete localization that was more faithful to the source material". This included reversing several name changes. In addition, some conventions were changed; in previous Western localisations, protagonist Kazuma Kiryu had been referred to primarily by his first name. In Yakuza 4, he is referred to primarily by his surname, Kiryu, which more closely reflects the original dialogue.
Music
The three Yakuza original soundtrack albums are composed by Hidenori Shoji, Hideki Sakamoto et alii and are published by Wave Master. Additional soundtrack features songs from Japanese artists Crazy Ken Band, Zeebra, Ketsumeishi and Eikichi Yazawa.
Adaptations
The Yakuza franchise includes various types of merchandise and adaptations outside of the video games. Currently, this includes a direct-to-video movie, a feature film, original soundtracks, official guides, Kamutai Magazines (pre-order campaign limited book) and other licensed products such as Cropped Heads long tee shirts and parkas based on main characters tattoos, limited edition PlayStation 3 console packs, Kubrick toys and action figures manufactured by Maitan.
Books
With the original game in 2005, Sega created a pre-order campaign limited item called Kamutai Magazine (カムタイマガジン). This color book was a monography dedicated to the game with Mai, a sub-scenario female character, as the cover girl. This character's physical aspect was inspired by its voice actor, Mihiro, a Japanese adult video idol acting in porno films. Since then, each new game release coincides with a new Kamutai Magazine issue featuring a voice actress as cover girl. Hence this December 2005 issue was followed by a December 2006 issue (cover girl is Japanese porn star Nana Natsume), a March 2008 issue (cover girl is Taiwanese porn star Yinling of Joytoy) and a February 2009 issue (cover girls are Shizuka Mutou, Sayaka Araki and Rina Sakurai). The fifth issue was bundled with Ryu Ga Gotoku 4 and released in March 2010.
Original video
Takeshi Miyasaka directed an original video during the promotion period for the western release of the game which depicted Kazuma, Nishiki and Yumi growing up at the Sunflower Orphanage and then leaving for Tokyo. This short film called Like a Dragon: Prologue (龍が如く 〜序章〜, ryu ga gotoku -joshou-) serve as a prequel and set up the events which take place in the game.
Feature film
A film adaptation was released in Japanese theaters on March 2, 2007, called Like a Dragon: movie version (龍が如く 劇場版, ryu ga gotoku: gekijoban). It was based on the first installment of the game and is directed by Takashi Miike. The movie was premiered in the United States on June 23 at IFC theater.
American distributor Tokyo Shock, a Media Blasters affiliate, has released a licensed DVD on February 23, 2010. The original release date was actually March 2010 in order to coincide with the North American localization of Yakuza 3.
Radio dramas
Since September 2008, Japanese voice actors from the Yakuza series, including Takaya Kuroda (Kazuma Kiryu) and Hidenari Ugaki (Goro Majima), are running a radio drama which is known as Ryu Ga Gotoku Presents Kamuro-cho Radio Station (龍が如くPresents神室町RADIOSTATION). The second season Shin Kamuro-cho Radio Station (新・神室町RADIOSTATION), which covers 2009~2010, is currently ongoing with back number episodes available for download as podcasts. Past episodes from the 2008~2009 season, Kamuro-cho Radio Station (神室町RADIOSTATION), are also available as archived podcasts.
Web TV
The Kamurocho Caba Jou TV (神室町キャバ嬢 T V) is a Japanese web television dedicated to the series's cabaret girls. Main contents are audition and girls profile, but it can also be related to other aspect of the game series; for example volume 15 focuses on its soundtrack artists. All shows, called "volumes", are archived within the web TV's official website.
Reception
The original game was heavily acclaimed in Japan for combining innovative game play with cinema like story telling and character development on the back of Japan's criminal underground. Weekly Famitsu gave high scores to the series, Yakuza scored 37/40 (92.5/100), Yakuza 2 scored 38/40 (95/100), Yakuza Kenzan! scored 37/40 (92,5/100), Yakuza 3 scored 38/40 (95/100) and Yakuza 4 scored 38/40 (95/100). Yakuza 5 scored (40/40) which has the highest score out of all of the Yakuza installments.
Each installment earned an excellence award at the Japan Game Awards and had a PlayStation the Best re-release in both Japanese, Asian and Korean markets. The Japanese entertainment industry gave Yakuza 3 the "Award for Excellence" in the 2009 Japan Game Awards "Games of the Year Division" for its "dramatic story development, freedom of the story and the graphics elaborated up to the details of the work. In addition, amusement found in every portion of the game including the vast number of sub-stories and mini games. This work was awarded the prize for the high quality of entertainment". In 2010, the Japan Game Awards once again gave a Yakuza series game the "Award for Excellence". Yakuza 4 won due to "a rich story with a high degree of freedom that is developed from the different perspectives of the 4 characters. There are also many play spots that boast several sub-stories and mini games. The astounding quality and volume provide a high level of entertainment and was the reason for granting this award". As the protagonist of the series, Kazuma Kiryu is often recognized as a PlayStation mascot.
The western localized versions were released between one and three years after the originals and received generally favorable reviews.
Sales
The series sold 3.2 million games worldwide as of 2009 and 4 million copies as of September 2010; the best sellers being the first two games which sold between 500,000 – 1 million worldwide, each winning the PlayStation Gold Award. Yakuza 3 sold 500,000 copies in the Asian markets as of 2010, also winning SCEJ's PlayStation Gold Award. However, after Yakuza 4, Sega said that sales were slow in North America and Europe due to "the adverse market condition", noting "sluggish personal consumption" in those regions.
By June 2015, the Yakuza series sold over 7 million units worldwide. As of December 16th, 2016, the series has sold over 9 million copies.
References
Yakuza (series) Wikipedia
(Text) CC BY-SA