Country

Russia




Population

269,601 (2010)




University

North-Eastern Federal University




Founded

1632



Yakutsk (Russian: ; Sakha: , Jokuskai, ) is the capital city of the Sakha Republic, Russia, located about 450 kilometers (280 mi) south of the Arctic Circle. Population: 269,601?(2010 Census); 210,642?(2002 Census); 186,626?(1989 Census).
Contents
Map of Yakutsk
Yakutsk is a major port on the Lena River. It is served by the Yakutsk Airport as well as the smaller Magan Airport. It is a major supplier of diamonds. With a population of almost 300,000 and average winter temperatures of ?34 °C (?30 °F), Yakutsk is the coldest major city in the world.
Walking in Yakutsk - Oymyakon, Siberia, Yakutia, Russia at –50C (December 2014)
History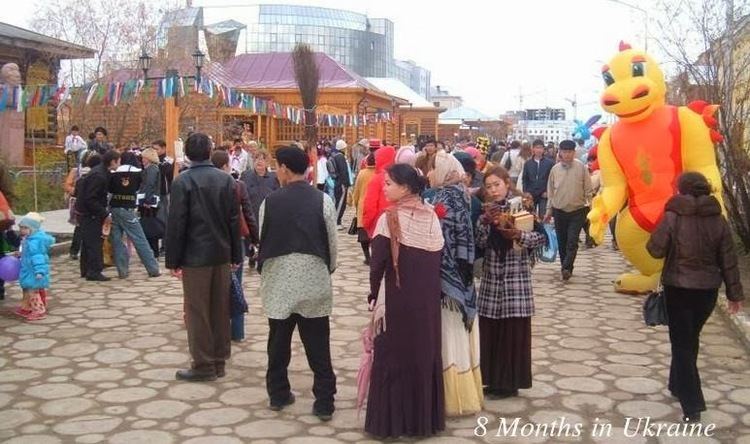 The Turkic Sakha people, also known as the Yakuts, migrated to the area in the 13th and 14th centuries from other parts of Siberia due to the rising military power of the Mongols. When they arrived they mixed with other indigenous Siberians in the area. Russian Yakutsk was founded in 1632 as an ostrog (fort) by Pyotr Beketov. In 1639, it became the center of a voyevodstvo. The Yakutsk Voyevoda quickly became the most important Russian official in the region and directed expansion to the east and south.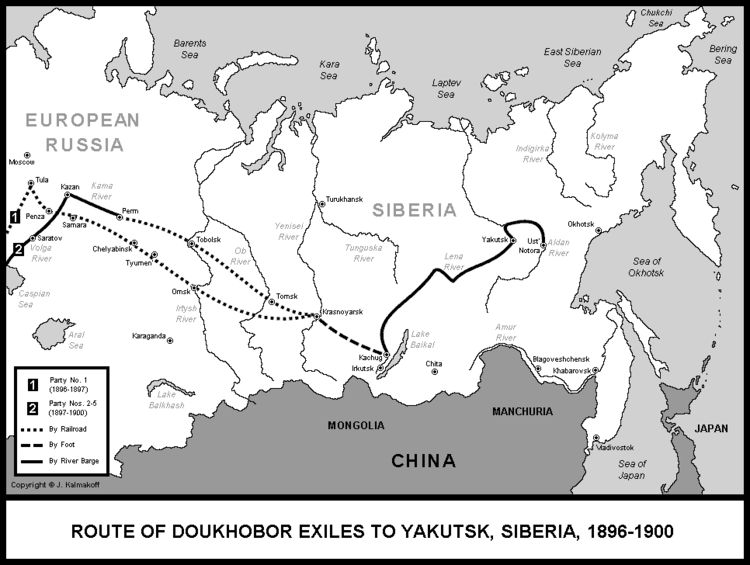 Yakutsk did not grow into a city until the discovery of large reserves of gold and other minerals in the 1880s and 1890s. These reserves were developed extensively during industrialization under Stalin. The rapid growth of forced labor camps in Siberia was also a major factor encouraging Yakutsks development.
-56°C (-69°F) from Yakutsk to Oymyakon in winter - THE MOVIE [HD] 2015
Economy
Yakutsk is responsible for a fifth of the worlds production of diamonds, and is home to ALROSA and other mining companies. The city is also home to a significant food industry, to tanneries, to sawmills, and to factories for building materials.
Culture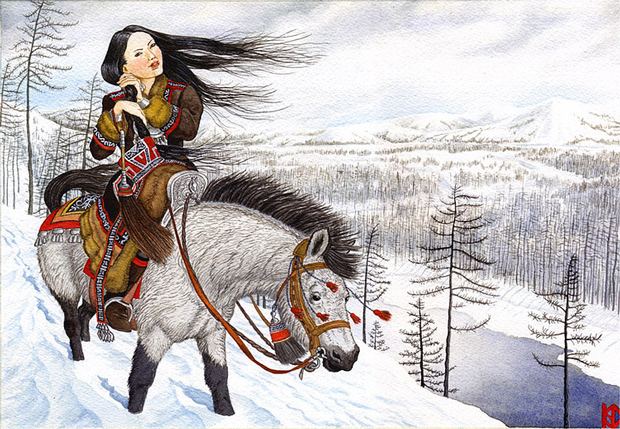 There are several theaters in Yakutsk: the State Russian Drama Theater, named after A. S. Pushkin; the Sakha Theater, named after P. A. Oiyunsky; the Suorun Omoloon Young Spectators Theater; and the State Academic Opera and Ballet Theater, named after D. K. Sivtsev.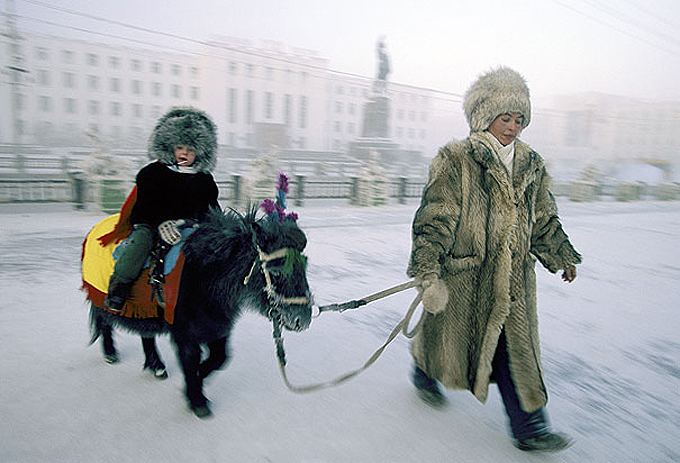 There are a number of museums as well: the National Fine Arts Museum of Sakha; the Museum of Local Lore and History, named after E. Yaroslavsky; and the only museums in the world dedicated to the khomus and permafrost.
The annual Ysyakh summer festival takes place the last weekend in June. The traditional Yakut summer solstice festivities include a celebration of the revival and renewal of the nature, fertility and beginning of a new year. It is accompanied by national Yakut rituals and ceremonies, folk dancing, horse racing, Yakut ethnic music and singing, national cuisine, and competitions in traditional Yakut sports.
References
Yakutsk Wikipedia
(Text) CC BY-SA
(,)http://2.bp.blogspot.com/-rHbGJxyJtiA/UtVg2LVYw2I/AAAAAAAAO8A/tQb-CHmKyr8/s1600/Yakutsk_old_town.jpg(,)http://www.doukhobor.org/Siberia-1896-1900.gif(,)http://upload.wikimedia.org/wikipedia/commons/b/b3/Y-ostrog.jpg(,)http://www.cosmicelk.net/Zhigansk,schoolmuralofSakha.jpg(,)http://upload.wikimedia.org/wikipedia/commons/5/5b/Prisoners_and_gendarms_on_the_road_to_Siberia_(Geoffroy,_1845).JPG(,)http://upload.wikimedia.org/wikipedia/commons/2/25/Sakha_Yakutia_rep.png(,)http://www.mikaelstrandberg.com/wp-content/uploads/2012/03/a_redsquare.jpg(,)http://upload.wikimedia.org/wikipedia/commons/8/8d/Yakutia_Airlines_Tupolev_Tu-154M_Hut.jpg(,)http://coldunited.com/wp-content/uploads/2011/01/siberian_hunters_sunglasses-500x442.jpg
(,)http://www.56thparallel.com/wp-content/uploads/2013/05/Yakutia-pole-of-cold.jpg(,)http://www.yakutiatravel.com/wp-content/uploads/2010/12/05.jpg(,)http://www.alltrains.ru/ljphoto/ykt2009/ykt2009_3_7.jpg(,)http://www.yakutiatravel.com/wp-content/uploads/2010/12/02.jpg(,)http://www.restorators.su/userfiles/image/518.png(,)http://askyakutia.com/wp-content/gallery/stroganinafest2009/DSC_0158.jpg(,)http://askyakutia.com/wp-content/uploads/2009/12/DSC_0268_2-500x335.jpg(,)http://i.ytimg.com/vi/zchpgb8Unvc/hqdefault.jpg(,)http://img.youtube.com/vi/-1-wZAMMjxg/hqdefault.jpg
(,)http://magic-ays.com/place/Yakutia2.jpg(,)https://basehotel.files.wordpress.com/2012/05/yakutsk.jpeg(,)http://askyakutia.com/wp-content/gallery/yakutsksummerjune/yakutskjunesummer_23.jpg(,)http://photos.wikimapia.org/p/00/03/24/49/62_big.jpg(,)http://i0.wp.com/expnowhere.com/wp-content/uploads/2014/12/16_fullsize.jpg%3Fresize%3D620%252C330(,)http://www.ifapcom.ru/files/News/Images/2011/yakut2/4_1.jpg(,)http://russiatrek.org/images/photo/yakutsk-city-church.jpg(,)http://ifapcom.ru/files/News/Images/2011/yakut2/73_1.jpg(,)https://s-media-cache-ak0.pinimg.com/736x/3c/48/a2/3c48a2c8e152476328f4f075cdb75ca9.jpg(,)https://c1.staticflickr.com/9/8012/7430359582_679198e65b_z.jpg(,)http://s-vfu.ru/universitet/rukovodstvo-i-struktura/strukturnye-podrazdeleniya/ums/universities-partners/%25D0%25B4%25D0%25B5%25D1%2582%25D0%25B8.jpg(,)http://askyakutia.com/wp-content/uploads/2012/03/DSC_01221.jpg(,)http://s006.radikal.ru/i215/1312/f1/cbba4de9b46e.jpg(,)http://en.tuva.asia/uploads/posts/2012-02/1328076628_yakutskiy-malchik.jpg(,)http://i019.radikal.ru/1312/6e/a987a2cc8d6b.jpg