Covid-19
Jayalakshmi M




Professor Author




Y. Reddy







Dr. K. A. Krishnamurthy


8 January 1939 (age 76) Chintamani, Karnataka, British India (

1939-01-08

)
Y Muniventaka Reddy (born 8 January 1939) is an educationist and has worked in various educational institutions in south India. He is popularly known as Y M Reddy. Recently, he has been Coordinator of Sri Siddhartha Education Society, and previously he was Principal of Sri Siddhartha Institute of Technology.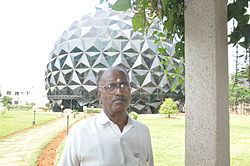 Y M Reddy was born in Nallaralahalli, a remote village in Chintamani Taluk, Kolar District (presently Chikballapura District), Karnataka India. He completed his early schooling at Mindigal, close to in his native. Later high school at Municipal High School in Chintamani in 1956.
Completed PCM Intermediate at Government Intermediate College in 1958
Graduated in BSc at Vijaya College, affiliated to Mysore University, Bangalore in 1960.
Then he joined UVCE for his graduation in Civil Engineering and graduated in 1964 from Mysore University.
He attended IIT Mumbai, from where he graduated with Master of Technology in Civil Engineering with Hydraulics Specialization in 1967.
Got Interdisciplinary PhD (Faculty of Engineering) in 1981 by Sri Venkateshwara University, Tirupathi for the research work in agriculture, namely Irrigation Water Management for Rice, under the guidance of Prof. G H Shankara Reddy, who was Professor and Dean of Agronomy at Andhra Pradesh University and Principal Sri Venkateshwara Agricultural College
Currently Y M Reddy is coordinator of Sri Siddhartha Education Society, Tumkur, and prior to that, he was the Principal of Sri Siddhartha Institute of Technology, Tumkur, and offspring of Sri Siddhartha Education Society.
1964–65 – Worked as a Junior Engineer at PWD. for Land Acquisition Survey for BEMEL/KGF Due to the corruption in the department he resigned and continued his education in IIT Mumbai.
After completion of Master of Technology
1967–71 – worked as Assistant Lecturer in IIT Madras; in 1971 resigned IIT Madras for racism, linguistic problems.
1971–80 – worked as lecturer and Asst. Professor in Venkateshwara University, Tirupathi.
1980–84 – worked as Professor, HOD & Vice Principal of KSRM College of Engineering
1984–2004 – Joined as 7th Principal of Sri Siddhartha Institute of Technology, Tumkur. and worked from 20 years.
After retirement from Principal work, he is continuing his service as a coordinator of SSES, Tumkur
He received 2 gold medals for four research papers published by the Institution of Engineers, India.
He is listed in:
Twentieth Century Distinguished
Reference Asia
Biography International
Who is Who of Men and Women of Achievement and Distinction
Who is Who in the World
Top 100 Educators, 2012
Who is Who in Asia 2012
He is also life member of Indian red cross society and some of the organisations in Tumkur.
and also he is the former member of Syndicate, Senate, Academic Council, Board of Studies and Faculty of Engineering of Bangalore University and Board of Examiners and Board of Studies of Sri Venkateshwara University, Tirupathi
Y M Reddy is married to Jayalakshmi in 1968. He has two sons, M Rajaram – HOD, Professor of Mechanical in BGSIT and M Raghuram
He published 33 technical papers in journals and seminars and a book, Optimization Inputs in Rice Production – through the Registrar, S V University, Tirupati.
He was awarded a prize, a certificate of merit and two gold medals for four papers published in Institution of Engineers, India in their Journals of Civil Engineering and Agricultural Engineering
Y. M. Reddy Wikipedia