North Korea




328,467 (2008)


269 km2


Kwandong



Wonsan is a port city and naval base located in Kangwon Province, North Korea, on the westernmost shore of the Sea of Japan (East Korean Sea) and the provincial capital. The port was opened by occupying Japanese forces in 1880. Before the Korean War (1950–1953), it fell within the jurisdiction of the then South Hamgyong Province, and during that war, it was the location of the Blockade of Wonsan. The population of the city was estimated at 331,000 in 2000. Notable people from Wonsan include Kim Ki Nam, diplomat and Secretary of the Korean Workers Party. Economically, the city is home to several major factories.
In 2013, it was announced that Wonsan will be converted into a summer destination with resorts and entertainment.
Wonsan opened as a trade port in 1880. Its original name was Wonsanjin (???), but it was also known by the Russian name of Port Lazarev (Lazaref). Under Japanese rule (1910–45) it was called Gensan (??). In 1914 the Pyongwon Line and Gyeongwon Line railways were opened, connecting the city to Pyongyang (then known as Heijo) and Seoul (then Keijo or Kyongsong). Thus, the city gradually developed into the eastern product distribution center. Under the Japanese occupation, the city was heavily industrialized and served as an import point in the distribution of trade between Korea and mainland Japan.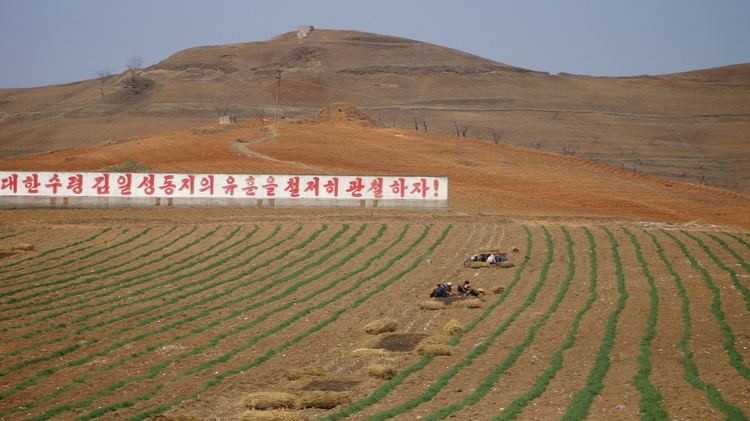 Wonsans area is 269 square kilometres (104 sq mi). It is located in Kangwon Province, on the westernmost part of the Sea of Japan (East Sea of Korea) and the east end of the Korean peninsulas neck. Mt. Changdok (Changdok-san) and Mt. Naphal (Naphal-san) are located to the west of the city. More than 20 small islands flank Wonsans immediate coastal area, including Hwangto Island and Ryo Island. Wonsan is considered an excellent natural port location. Kumgang-san mountain is located near Wonsan.
The city has a borderline humid subtropical climate (Koppen Cwa/Cfa) that is very close to a humid continental climate (Dwa/Dfa).
Wonsan has an aquatic product processing factory, shipyard, chemistry enterprise, and a cement factory.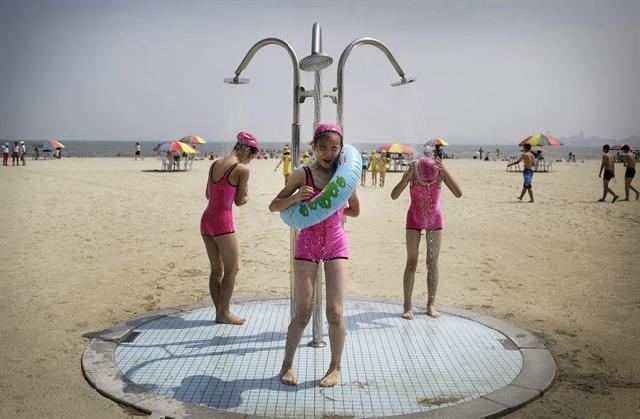 Wonsan is a popular tourist destination for foreigners and locals alike, nearby Songdowon is a famous sea bathing destination in North Korea, as the water there is exceptionally clear. Pine trees are abundant in the surrounding area, and it has been designated a national sightseeing point. The nearby Kalma Peninsula will also open to tourists soon and will feature a new hotel and a bathing area. At present most foreigners stay at the Tongmyong hotel on the seaside near the Chok islet pier.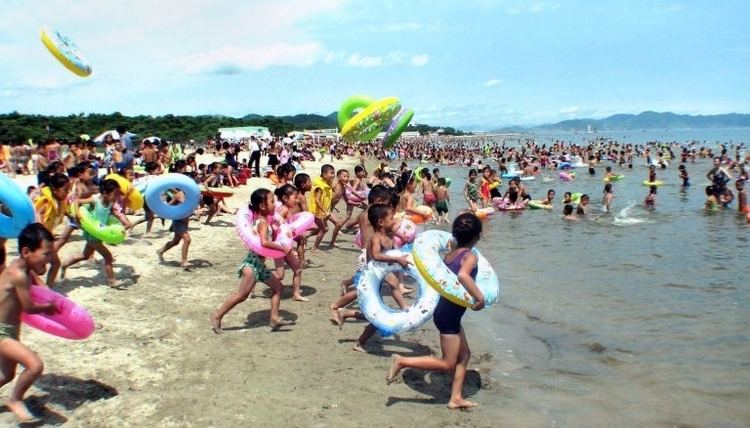 Songdowon International Childrens Union Camp was built beside Songdowon, at 39°11?14?N 127°24?28?E, and it still receives teenagers and youth for cultural exchange between North Korea and various foreign countries.
Famous scenic sites near Wonsan: Myongsasimni, Lake Sijung, Chongsokjon and Mt. Kumgang. Temples in the area include the Sogwangsa and Anbyon Pohyonsa Buddhist temples. German Church is the former church of Tokwon abbey, now used by Wonsan University of Agriculture.
Wonsan Wikipedia
(,)https://29f7606018e704a6ed81251c82af9acf700009d6.googledrive.com/host/0BwdZJZi-3xGpajhXdUYxckVMNFE/DSC_5164.jpg(,)http://38north.org/wp-content/uploads/2011/01/wonsan-rolling-stock-locomotive-factory.jpg(,)https://29f7606018e704a6ed81251c82af9acf700009d6.googledrive.com/host/0BwdZJZi-3xGpajhXdUYxckVMNFE/HPIM2824.jpg(,)http://upload.wikimedia.org/wikipedia/commons/3/3b/Wonsan_Harbor_during_the_Korea_War,_1950.jpg(,)http://www.koreanwar60.com/sites/default/files/styles/gallery_large/public/h96880.jpg%3Fitok%3DpPum3oN3(,)http://upload.wikimedia.org/wikipedia/commons/3/3a/F2H_Banshee_VF-11_over_Wonsan_colour_1952.jpg(,)http://www.koreanwar60.com/sites/default/files/styles/gallery_large/public/h9679.jpg%3Fitok%3DpB0d8uPs(,)http://38north.org/wp-content/uploads/2011/01/wonsan-at-night.jpg(,)http://38north.org/wp-content/uploads/2011/01/wonsan-city.jpg(,)http://www.north-korea-travel.com/image-files/statue-of-president-kim-il-sung-wonsan.jpg
(,)http://www.pbs.org/wgbh/nova/next/wp-content/uploads/2013/03/dprk-wonsan-countryside.jpg(,)http://mediaassets.courierpress.com/photo/2014/06/15/n/North_Korea_Hunger_Reyn2_6288035_ver1.0_640_480.jpg(,)http://static.panoramio.com/photos/large/7697333.jpg(,)http://farm8.static.flickr.com/7413/12064890325_30af48512b_m.jpg(,)http://www.pbs.org/wgbh/nova/next/wp-content/uploads/2013/03/dprk-wonsan-farmers.jpg(,)https://greenwalledtower.files.wordpress.com/2013/08/wonsan-highway.jpg(,)http://i.dailymail.co.uk/i/pix/2014/10/23/1414088952236_wps_3_In_this_June_21_2014_phot.jpg(,)https://pbs.twimg.com/media/Bpdko-9IAAAvJyK.jpg(,)http://cache4.asset-cache.net/gc/160650964-countryside-between-wonsan-and-hamhung-gettyimages.jpg%3Fv%3D1%26c%3DIWSAsset%26k%3D2%26d%3D%252F77WUuUzabYU%252B%252BdreHYW6TUdg9rIuGzDtUzX1qlt3G%252B0jaZTn9YzM7ncbzrcQCof(,)http://www.hss.de/typo3temp/pics/Visit_of_projects_in_Pyongyang_.4_0b80e9cb07.jpg(,)http://www.remotelands.com/images/itinerary_more/140211003.jpg(,)http://imgc.allpostersimages.com/images/P-473-488-90/68/6871/YI9J100Z/posters/gavin-hellier-beach-resort-area-south-of-wonsan-democratic-people-s-republic-of-korea-n-korea.jpg
(,)https://29f7606018e704a6ed81251c82af9acf700009d6.googledrive.com/host/0BwdZJZi-3xGpajhXdUYxckVMNFE/WonsanBanner2.jpg(,)http://www.remotelands.com/blog/wp-content/uploads/2014/10/Wonsan.jpg(,)http://21onuv2o3diqcdqccz3o9c12iv.wpengine.netdna-cdn.com/wp-content/uploads/2010/10/wonsan.jpg(,)http://vladcity.com/twinning-vladivostok/wonsan/city-wonsan-foto-01.jpg(,)http://1.bp.blogspot.com/-pX88pqpbuxY/UvX-UIeGKfI/AAAAAAAAPNQ/PcQND15fM7k/s1600/1982%2BRetro%2BDPRK%2B%2BPyongyang%2BIndoor%2BSkating%2BRink-014.jpg(,)http://www.remotelands.com/blog/wp-content/uploads/2014/10/Wonsan_hotel.jpg(,)http://www.nknews.org/wp-content/uploads/2012/12/09-scan0013.jpg(,)http://3.bp.blogspot.com/-K3MlU5nX2gA/UvX_ryyaawI/AAAAAAAAPQI/gmQ2CtsC-HA/s1600/1982%2BRetro%2BDPRK%2B%2BPyongyang%2BIndoor%2BSkating%2BRink-037.jpg(,)http://www.nknews.org/wp-content/uploads/2012/12/11-scan0015.jpg(,)http://farm9.staticflickr.com/8373/8564906024_72fa13e163.jpg(,)http://www.remotelands.com/images/citys/140514017.jpg(,)http://2.bp.blogspot.com/-a44i1SE46zM/UvX-W5JmPfI/AAAAAAAAPNY/h6D9_0rPzDs/s1600/1982%2BRetro%2BDPRK%2B%2BPyongyang%2BIndoor%2BSkating%2BRink-015.jpg
(,)http://www.thestarphoenix.com/cms/binary/10070808.jpg(,)http://vault.starproperty.my.s3.amazonaws.com/wp-content/uploads/2013/07/000_hkg3891000.c4028152332.w768.jpg(,)http://ds-lands.com/data_images/top_cityes/wonsan/wonsan-04.jpg(,)http://i.huffpost.com/gen/1218154/images/r-NORTH-KOREA-BEACH-large570.jpg(,)http://i.dailymail.co.uk/i/pix/2014/05/29/article-2638213-1E49B58500000578-656_964x612.jpg(,)http://i.guim.co.uk/static/w-620/h/q-95/sys-images/Guardian/Pix/pictures/2014/7/22/1406049536569/14298623955_edb9fb8a43_o-620x372.jpeg(,)http://www.qsl.net/ah6hy/Wonsan31.JPG(,)http://www.nknews.org/wp-content/uploads/2012/12/309128_416958135042855_686667442_n.jpg(,)http://a57.foxnews.com/global.fncstatic.com/static/managed/img/fn2/feeds/Associated%2520Press/2014/07/02/876/493/North%2520Korea%2520Japan%2520Testing%2520the%2520Waters-1.jpg%3Fve%3D1%26tl%3D1(,)http://ds-lands.com/data_images/top_cityes/wonsan/wonsan-06.jpg(,)http://media-cdn.tripadvisor.com/media/photo-s/02/21/b8/cc/sogdowon-hotel-wonsan.jpg(,)http://ds-lands.com/data_images/top_cityes/wonsan/wonsan-03.jpg