Woh Lamhe... (English: Those Moments...) is a 2006 film starring Kangana Ranaut and Shiney Ahuja and directed by Mohit Suri. The film is supposedly based on Parveen Babi's life, her battle with schizophrenia and her relationship with Mahesh Bhatt to whom she was a lover as well as a mentor in his struggling days.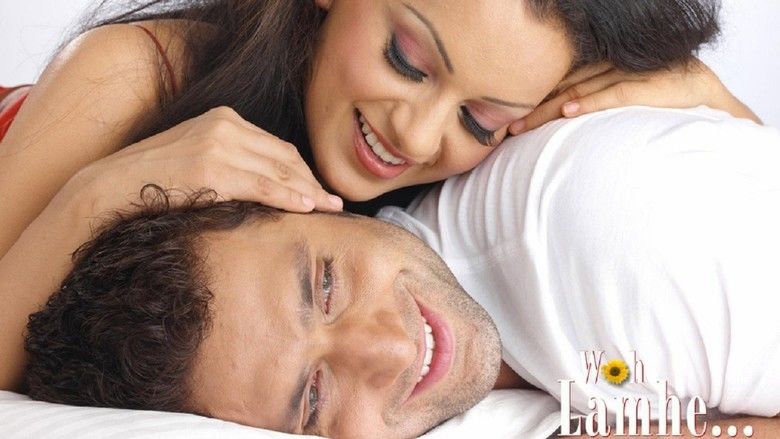 Bhatt said that it is his tribute to the actress and time he spent with her, hence the name Woh Lamhe ("Those Moments"). Parveen Babi's character is played by Kangana Ranaut who is named Sana Azim in the film to avoid direct reference to the actress. Woh Lamhe was critically acclaimed for its screenplay, direction, and a noteworthy performance by Kangna.
The film was an average commercial success, recovering most of its cost from DVD and satellite television circuit.
Kangana Ranaut as Sana Azim
Shiney Ahuja as Aditya Garewal
Shaad Randhawa as Nikhil Rai
Masumeh Makhija as Rani
Purab Kohli as Sam
In the glitzy entertainment capital of Mumbai as dusk descends, actress Sana Azim (Kangana Ranaut) slits her wrists in a hotel room in an attempt to kill herself. When this news reaches film-maker Aditya Garewal (Shiney Ahuja), he is devastated. Aditya has been searching for Sana, who was intensely involved with him and who had mysteriously disappeared from his life without any explanation three years ago, only to surface now in what could be the last moments of her life.
As Aditya waits outside of the ICU, praying to be reunited with her, he is hurled back into the perfumed days and champagne nights of his memory, when Sana played the role of a lover and mentor to a struggling Aditya.
Everything was perfect, except for an enemy which lurked in the shadows, waiting to destroy their love. Sana is a patient with schizophrenia, who has a excessive hallucinations of a girl named Rani, who actually doesn't exist, which gradually ruins both Sana's life and career. When Aditya realizes that, the only way he can save Sana from total devastation, is to take her away from Bollywood and the vested interests, that threaten to destroy her completely, he runs away with Sana putting his career on the line. Those moments lived in the sanctuary of their love are like an oasis in the desert.
Until one day, suddenly, she disappears, leaving him with unanswered questions.
Aditya tries his best to save Sana from her mental illness but fails. Sana remains now only in his memories and past moments.
The movie was highly praised for its direction, screenplay and noteworthy performance by Kangana Ranaut. The movie gained a positive reviews from the critics. Film critic Subhash K. Jha wrote that Ranaut "is the first female performer of Bollywood since Smita Patil and Shabana Azmi, who isn't scared to strip her soul naked for the camera" adding that she is a "hugely expressive actress with a phenomenal ability to convey torment, hurt and incredulity through the eyes". Other cast's performances were also highly appreciated.
The film score was composed by Raju Singh. The songs were composed by multiple composers including Jawad Ahmed, Pritam, Roop Kumar Rathod. Lyrics were penned by Sayeed Quadri. The songs were badly plagiarized by Pritam by copying the tunes (Kya Mujhe Pyar Hai lifted from Tak Bisakah by Noah); however, later the credits were given to the original artists and some of the tunes were recreated in musical arrangements. Singers like James, KK, Shreya Ghoshal, Jawad Ahmed, Kunal Ganjawala, and Glenn John lent their voices for the album. Songs like 'Kya Mujhe Pyar Hai' and "Bin Tere" were popular among the masses while other songs also managed to get a good response. Planet Bollywood gave a rating of 8/10 to the soundtrack.