Poland




117,196 (2010)


84.32 km2


10th century




Andrzej Palucki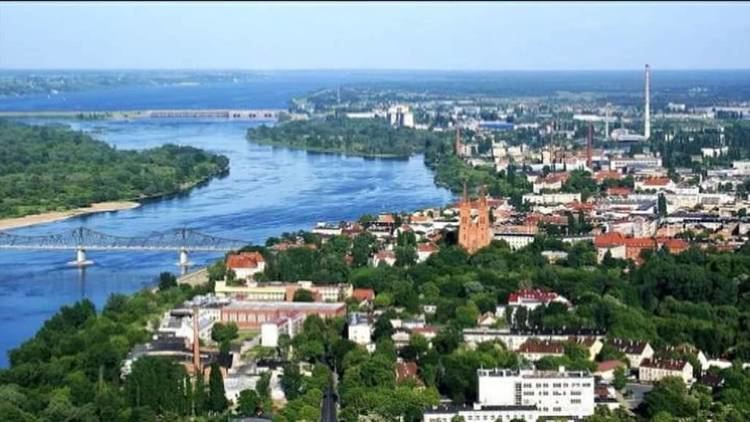 Wloclawek [vwot?s?wavek and Zglowiaczka, with a population of 116,345 (December 2011). It is located in the Kuyavian-Pomeranian Voivodeship and until 1999 it was the capital of Wloclawek Voivodeship.
The history of Wloclawek can be stretched back to the times of the Iron Age: archeological excavations conducted on the site of todays city uncovered the remains of a settlement belonging to the Lausitz culture, on which around 500 years later a settlement of Pomeranian culture had been established. Traces of settlements dating from the Roman period and the early Middle Ages have also been excavated and uncovered.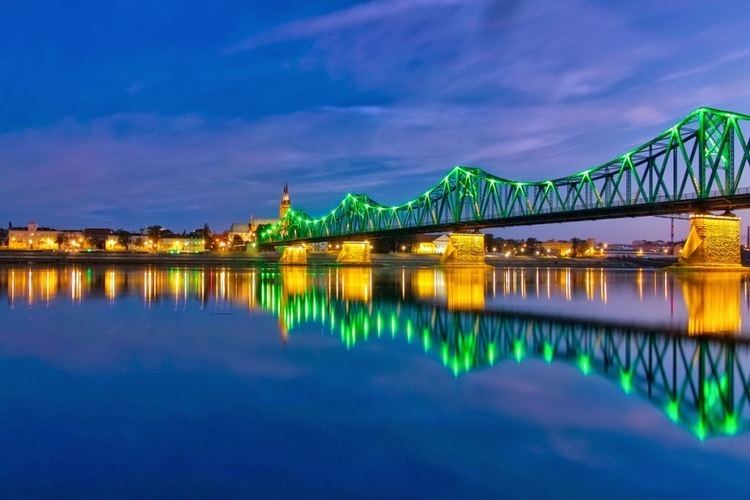 Regarding the city itself, precise dating of its founding has proven do be difficult. Since the 16th century there is conflicting data in relation to the establishment of the town. Part of the confusion lies with varying attributions of the citys name, (which was derived from the first name Wladyslaw, or Vladislav), to three rulers: Wladyslaw II the Exile, his grandfather Wladyslaw I Herman, or Vladislav II of Bohemia.
An assistant to the Archbishop of Gniezno was mentioned as residing in the town in 1123 and the Diocese of Wloclawek (Latin: ) in Kuyavia in the bull issued by Pope Eugene III in 1148. The first bishop of Wloclawek, whose name appears in the bull was Warner, and he was followed by an Italian named Onoldius. The diocese was also recorded as "Wloclawek and Pomerania" (Vladislaviensis et Pomeraniae).
Wloclawek received its town rights in year 1255. During the 14th and 15th centuries the city was destroyed and also captured several times by the Teutonic Knights, who renamed it Leslau. Peace treaty was signed in year 1466, Treaty of Thorn, and the city prospered from its involvement in the trade with grain. During the Swedish invasion Second Northern War the city was partially destroyed in 1657. After the Second Partition of Poland in 1793 Wloclawek became part of Prussia. The Congress of Vienna restored it to Congress Poland, but the city was later occupied by the Russian Empire since 1831. The city was again destroyed during the battles of German offensive during the First World War.
During World War II, Wloclawek was occupied by German troops, which entered the city on 14 September 1939. Under the Nazi occupation Wloclawek was again renamed Leslau, annexed by decree to the German Reich on 8 October 1939 and administered from 26 October as a part of Reichsgau Posen (renamed on 29 January 1940 Reichsgau Wartheland). One third of the city was destroyed, but its factories and workshops were rebuilt by the Polish government in the following decades. The most important industries in Wloclawek today are chemical industry, production of furniture, and food processing. The dam which was constructed in 1969 regulates the water level of the Vistula river, forming Wloclawek Reservoir.
The Catholic priest Fr. (now Blessed), Jerzy Popieluszko, who was associated with the workers and trade union movement Solidarity, and who was also a member of opposition to the Communist regime in Poland, was tortured and murdered by three Security Police officers, and was thrown into the Wloclawek Reservoir, close to the city. His body was recovered from the reservoir on October 30, 1984.
From 2012 the city is part of the Special Economic Zone - Wloclawek Economic Development Area – Industrial and Technological Park with tax-free areas and incentives for investors.
The Jewish population increased from 218 (6,6%) in 1820 to 6,919 in 1910 (20,5%) and 13,500 in 1939. One of the founders of the Mizrachi movement, rabbi Leib Kowalski (1895–1925), lived and worked in Wroclawek. During the interbellum period, the town had several Jewish schools (primary and high schools), two yeshivas, and three Jewish sports clubs. With the beginning of the German occupation of Poland, Wloclawek became the first town in Europe in which Jews were required to wear the yellow Star of David badges. Wroclawek ghetto was created in November 1940. The Nazis deported 3,000 Wroclaweks Jews to various places between December 1939 and June 1941. Some 2,000 Jews were deported to Lodz and to Chelmno extermination camp between 26 and 30 September 1941. The ghetto was burnt in late April 1942. Many of the Wloclaweks Jews died of starvation or illness, were shot or beaten to death by the Nazis after being confined in the Lodz Ghetto. Others perished in the gas chambers upon their arrival at the Chelmno extermination camp. Today there is only very little, if any trace at all, of their once rich and lively community. We can find also a Table for victims of Jewish ghetto Grzywno in Wloclawek (Polish Tablica Ofiar Ghetta we Wloclawku) and Jewish Cemetery at Municipal/ Communal Cemetery (Polish Cmentarz Komunalny we Wloclawku).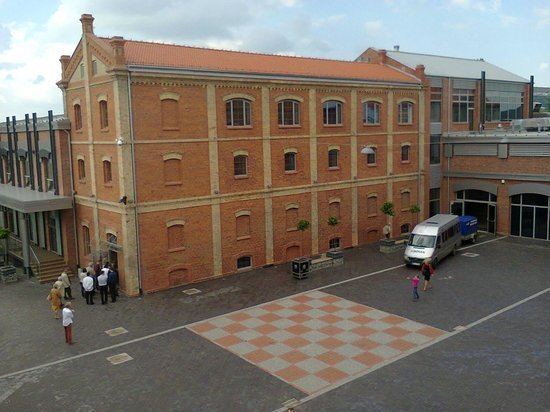 Culture center Browar B
OSIR - Sports center with new Football Area, Swimming pool, Aqua park, tennis courts or sea resorts
Yacht area and Poland Camping in Marina Zarzeczewo (Yacht Club Anwil)
Wakepark Wloclawek
Yacht area of WTW Wloclawek
Culture center Wloclawskie Centrum Kultury
Theater: Teatr Impresaryjny im. W. Gniazdowskiego, Teatr "Nasz", Teatr Skene
Gallery of Modern Art Galeria Sztuki Wspolczesnej
Music clubs und Discos, the most famous are Million Club (here played: Marc van Linden or Tom Novy), Starodebska Music Bar or Music club at Lucky Star Bowling Wzorcownia
Nature park Gostyninsko-Wloclawski Park Krajobrazowy with over 40 lakes
Rope parks: Park Linowy Wloclawek Jezioro Czarne (at Lake Czarne) or Park Linowy Wloclawek Aleja Kazimierza Wielkiego (at Kazimierz Wielki Avenue)
Airport Kruszyn and Aeroklub Wloclawek
Shopping and entertainment center Wzorcownia Wloclawek
Shopping mall Focus Park Wloclawek
Horse clubs: Arabians Falborek, Pensjonat Michelin, Klub Jezdziecki Bogucin
Golfclub Kujawy
Diving center Mr Jacques
Quad-Park in Wloclawek.
Fitness and Gymnastic clubs: Klub Forma, Pure Fitness or Herkules.
Judo and Karate Center for example IKT
Games center: Lucky Star Bowling Wzorcownia (bowling, snooker, darts, pinball etc.) or Sport Bowling Wloclawek
Paintball clubs
Water sports center Yacht Club Anwil
Long ways for bicycles,
Diocesan Museum
Next to Basilica Cathedral there is famous Diocesan Museum (Polish Muzeum Diecezjalne) with paintings of Francesco Barbieri (Guercino), group of Caravaggio or graphs of Albrecht Durer. We can see also Seminary Library of Chodynski Brothers with beautiful books, for example missals from 1500.
Museum of the Kujawy and Dobrzyn land

Main Edifice
We can see here 2 stable exposition : "Wloclawek`s Faience", "The Gallery of Polish portraits" with Jozef Simmler, Teodor Axentowicz, impressionism by Leon Wyczolkowski, symbolism by – Jacek Malczewski and Vlastimil Hofman, secession by – Jozef Mehoffer, Stanislaw Ignacy Witkiewicz, Wojciech Kossak, Alfons Karpinski, Olga Boznanska (1920s and 1930s), Anthony van Dyck or Marcello Bacciarelli.
The Ethnography Museum
There is in granary of a project of Franciszek Tournelle. It shows the most important elements of folc culture and equipment of house interior and farm of Kujawy : farming, breeding, fishing preceding pottery, blacksmith, cart-wrighting, cooperage, plaiting, historic folk sculpture, shrovetide customs, musical instruments.
The Museum of the History of Wloclawek
There is in two historic baroque houses from the 16th and 18h century on the Old Market. It shows monuments about the history of Wloclawek and Poland from archaeological excavations to Liberation of Wloclawek 1945. We can see: "The Bowl of Wloclawek" (10th century) and elements of knights (14th and 15th century), economic life of Wloclawek (16th and 17th century), measures and weights, treasure with coins from the 12th to 18th centuries, pharmaceutics from the 19th and 20th centuries, memorabilia of big industry in the 19th century, memorabilia of the Fire Department, sports trophies, uniforms, firearms, weapons, photographs and the archives of national uprisings, Polish-Soviet war (1919-1921), interwar decades, and World War I and II models of non-existent buildings (city hall, St. Wojciech Church and St. Mikolaj Orthodox Church). reconstruction of a photo atelier
The Art Collection
We can find big art collection in a rick granary from 1839. We can see here two stable exposition: religious, human and animal sculptures by Stanislaw Zagajewski – "Polish Gaudi" from group of l`art brut and an exhibition of Waclaw Bebnowski (ceramic sculptures and functional objects with art nouveau motifs, naked nymphs and elements of the Far East).
Sometimes are open for tourist expositions of Italy, Germany or Netherlands (17th/18th centuries): Paintings of Carlo Cignani, Georg Philipp Rugendas, Francesco de Rossi, graphs of Rembrandt van Rijn, Albrecht Altdorfer, Heinrich Aldegrever, Parmigianino, Vespasiano Strada oder Lucas van Leyden.
Wloclawek Wikipedia
(,)http://www.sztetl.org.pl/getfile2.php%3Fclass%3Dimage%26m%3D%26x%3D1000%26y%3D800%26id%3D59112(,)http://4.bp.blogspot.com/-kNR5HYsts30/U0AKTHayQSI/AAAAAAAAAZw/-TjBh5O3vb0/s1600/Wloclawek%2B-%2BFlickr.com%2Bby%2BArtur%2Bam1974%2Bmniejsze.jpg(,)http://www.sztetl.org.pl/getfile2.php%3Fclass%3Dimage%26m%3D%26x%3D1000%26y%3D800%26id%3D59230(,)http://www.intopoland.com/wp-content/uploads/2012/11/wloclawek.jpg(,)http://media-2.web.britannica.com/eb-media/49/150449-004-F01DBCC3.jpg
(,)http://exp.cdn-hotels.com/hotels/7000000/6280000/6274000/6273945/6273945_54_z.jpg(,)http://photos.hotele.pl/wloclawek_aleksander_5_1.jpg(,)http://photos.hotele.pl/wloclawek_aleksander_7_1.jpg(,)http://photos.hotele.pl/wloclawek_portofino_3_1.jpg(,)http://photos.hotele.pl/wloclawek_portofino_3_2.jpg(,)http://www.palacbursztynowy.pl/wp-content/gallery/palac/022.jpg(,)http://aff.bstatic.com/images/hotel/max500/215/21529754.jpg(,)http://www.palacbursztynowy.pl/wp-content/gallery/palac/039.jpg(,)http://aff.bstatic.com/images/hotel/max500/215/21529760.jpg(,)http://aff.bstatic.com/images/hotel/max500/215/21529759.jpg(,)http://clubimpresja.eu/en/wp-content/uploads/2014/04/impresja-001.jpg
(,)http://media-cdn.tripadvisor.com/media/photo-s/05/f2/9d/bf/browar-b-centrum-kultury.jpg(,)http://media-cdn.tripadvisor.com/media/photo-s/05/f2/9c/a4/przystan-wodna-na-rzece.jpg(,)http://www.poland.travel/en-gb/images/panorama_W%25C5%2582oc%25C5%2582awka-2.jpg(,)http://1.bp.blogspot.com/-WiR4KoOCars/Uf9TgoXwU1I/AAAAAAAAASY/qnxS6QOoj9E/s1600/Maria-Himmelfahrt-Dom.jpg(,)http://cache2.asset-cache.net/xc/466433096.jpg%3Fv%3D2%26c%3DIWSAsset%26k%3D2%26d%3DL6RhhdNk2kITT7lHOlPMfsejQKvQu-jlH15MGuIRs4x4kiucXhGTQDNRQBh7a1NW0(,)http://www.klimat-solec.pl/sites/default/files/anwil_0.jpg(,)http://upload.wikimedia.org/wikipedia/commons/thumb/2/24/Collage_Wloclawek.jpg/500px-Collage_Wloclawek.jpg