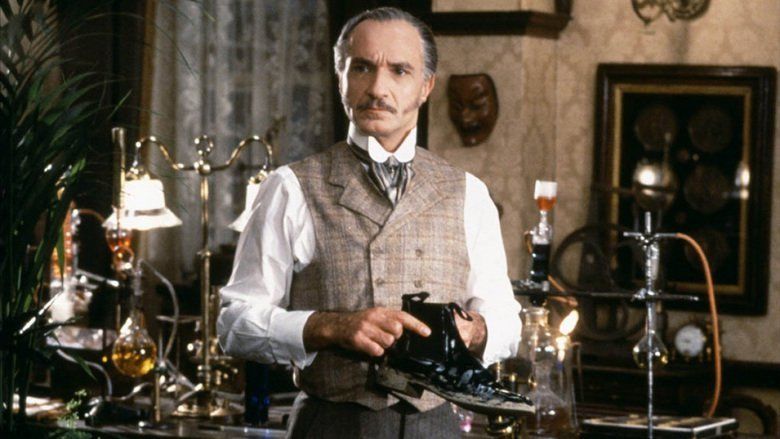 Sherlock Holmes is a fictional character created by Dr. John Watson (Ben Kingsley) as the central character in a series of short stories published in Strand Magazine. Watson uses the character to enable him to solve crimes incognito, so as not to disrupt his career as a doctor during a period when he was applying for a post at an exclusive hospital, one in which the senior staff would frown on Watson's "hobby." Although he doesn't secure the job, Watson decides to satisfy public demand to see Holmes in person by hiring unemployed actor Reginald Kincaid (Michael Caine) to play the part of the fictional detective.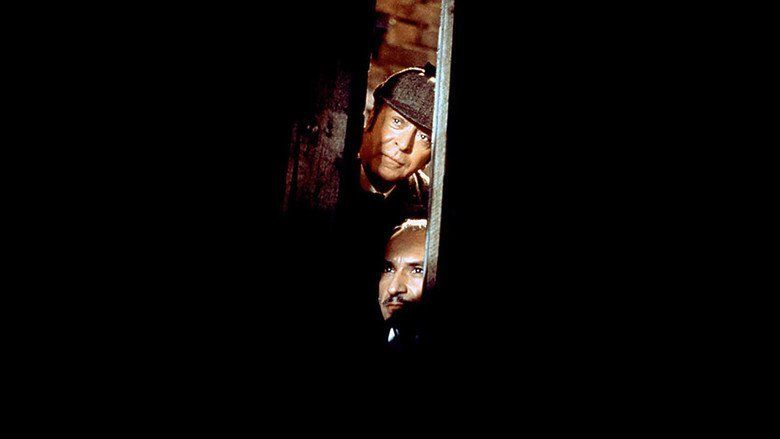 Continuing to investigate cases, now with Kincaid as "Holmes" by his side, Watson is the detective hidden behind the charade of the fictional Sherlock Holmes. Kincaid must rely on direction from Watson, memorizing the doctor's exacting, detailed instructions every step of the way.
After a major case at a museum, Kincaid oversteps his boundaries with Watson, who fires him. Watson wants to write the character off and tries to start a new series about "The Crime Doctor" with Watson himself being recognized as the great detective. The Strand's editor, Norman Greenhough (Peter Cook) is quite cold to the idea, as is everyone else.
With a new crime, Watson finds he is unable to get information on his own; only when he mentions "Holmes" does he get anywhere. As the crime becomes a major case, the British government seeks the aid of "Sherlock Holmes" and will accept no one else, including Watson's "Crime Doctor." The mystery involves the Bank of England £5 banknote printing plates that have been stolen, with the printing supervisor, Peter Giles, having gone missing on the night of the robbery. With the counterfeiting of these £5 notes, the collapse of the British Empire's economy would be inevitable.
Scotland Yard's Inspector Lestrade (Jeffrey Jones) is jealous of "Sherlock Holmes." He takes every opportunity to spy on "Holmes" and Watson and to steal their ideas. The path of clues leads them to Giles' daughter, Leslie (Lysette Anthony), and twelve-year-old street urchin, Wiggins (Matthew Savage), the leader of the boys Watson pays to keep an eye on people, whom he calls the "Baker Street irregulars," in contrast to the "regular" London police force.
Watson and Kincaid discover that Professor Moriarty (Paul Freeman) is the mastermind behind the scheme. Watson is apparently killed, forcing Kincaid to solve the case on his own. Having tracked the villain to an abandoned theatre, Kincaid discovers that Watson is still alive and that the woman who they thought was Leslie is actually one of Moriarty's spies, while the real one is Giles' son and a transvestite and female impersonator who has a famous review in Paris called 'La Femme Faux'. The two work together to free both Giles men and defeat Moriarty for good.
Watson has a new appreciation for Kincaid, who now publicly gives him a large share of the credit, and the public is assured that the team of Sherlock Holmes and Dr. John Watson will continue their detective work.
The film is one of several spoofs that have been made of the canonical Sherlock Holmes. This particular spoof has three notable features, courtesy of writers Gary Murphy and Larry Strawther, two devoted Sherlockians. Firstly the main characters have been reversed, with a bumbling Holmes and genius detective Watson replacing the usual bumbling Watson and genius detective Holmes. Secondly, in the film Watson tires of his fictional creation, Holmes, and tries unsuccessfully to terminate his role, but is forced to bring him back by popular demand. This mirrors the real-life situation of the author Conan Doyle (also a physician), who tired of his fictional creation Holmes and tried unsuccessfully to kill him off. Thirdly, the character of Norman Greenhough is inspired by Herbert Greenhough Smith, the very real editor of The Strand Magazine, whose faith in the Holmes/Watson characters brought fame and revenue to both writer and periodical.
Michael Caine as Sherlock Holmes / Reginald Kincaid
Ben Kingsley as Dr. John Watson
Jeffrey Jones as Inspector George Lestrade
Lysette Anthony as fake Lesley Giles
Paul Freeman as Professor James Moriarty
Pat Keen as Mrs. Hudson
Matthew Savage as Wiggins
Nigel Davenport as Lord Smithwick
Tim Killick as Sebastian Moran
Peter Cook as Norman Greenhough
John Warner as Peter Giles
Matthew Sim as Real Lesley Giles
Fredrick Fox as Priest
Harold Innocent as Lord Mayor Gerald Fitzwalter Johnson
George Sweeney as John Clay
Murray Ewan as Archie
Jennifer Guy as Lord Mayor's daughter
The movie has received decent reviews from critics, and is frequently included in "top 10" lists of Sherlock films.
Roger Ebert, however, gave the film two stars out of four:
"Without a Clue" begins with the premise that Sherlock Holmes never existed; that the man known as "Holmes" was, in fact, a third-rate actor named Reginald Kincaid, and he was hired by Dr. John Watson to play the role. This is an amusing premise, but it is not enough.