In 2015, the United States Library of Congress selected the film for preservation in the National Film Registry, finding it "culturally, historically, or aesthetically significant".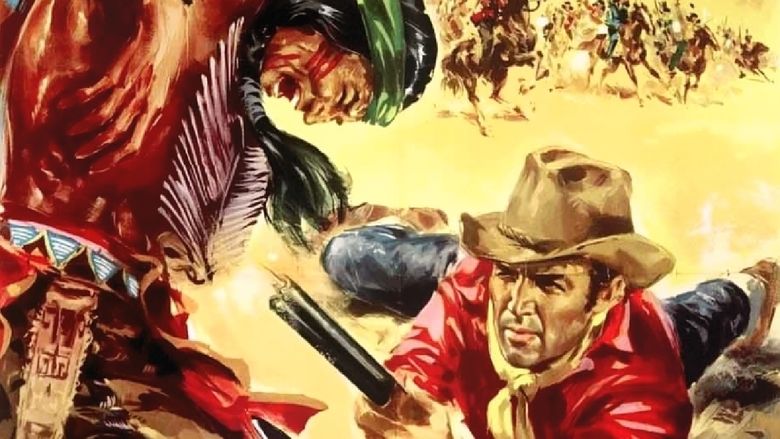 In 1876, Lin McAdam (James Stewart) and friend 'High-Spade' Frankie Wilson (Millard Mitchell) pursue outlaw 'Dutch Henry' Brown (Stephen McNally) into Dodge City, Kansas. They arrive just in time to see a man forcing a saloon-hall girl named Lola (Shelley Winters) onto the stage leaving town. Once the man reveals himself to be Sheriff Wyatt Earp (Will Geer) Lin backs down. Earp informs the two men that firearms are not allowed in town and they must check them in with Earp's brother Virgil. Lin and Dutch Henry see each other in the saloon, but are unable to fight due to the presence of Earp. Lin enters a shooting competition, contending against Dutch Henry among others, that is held on the Fourth of July. They end up the two finalists for a highly coveted "One of One Thousand" Winchester 1873 rifle. Lin wins by betting that he can shoot through a stamp placed over the hole of round piece from an Indian necklace. Dutch Henry claims that he is leaving town, but instead goes to Lin's room at the boarding house and ambushes Lin, stealing the rifle. Dutch and his two cohorts leave town with Lin and High-Spade in hot pursuit.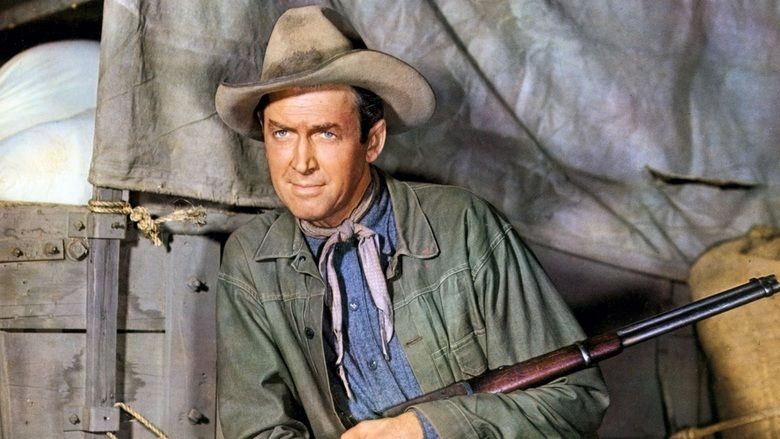 Dutch Henry and his two men ride to Riker's Bar. Because they left town in a hurry, they left the rest of their guns behind. This puts them in a bad position because of the Indians in the area. Indian trader Joe Lamont (John McIntire) sees the perfect rifle, he raises the price of his guns high enough that Dutch and his men can not afford to buy any. Dutch's only option is to trade the perfect rifle for three hundred dollars in gold and their choice of weapons from the pile that Lamont is going to sell to the Indians. Lamont feigns inexperience at cards and Dutch attempts to win back the perfect rifle. Instead, he ends up losing the three hundred in gold to Lamont. Lamont takes his guns to meet his Indian buyers, but their leader Young Bull (Rock Hudson) doesn't like the old, worn-out merchandise Lamont is offering; he wants the guns that Crazy Horse used at the Battle of the Little Bighorn. Young Bull sees the perfect rifle and wants it. When Lamont refuses to sell, he is robbed and scalped.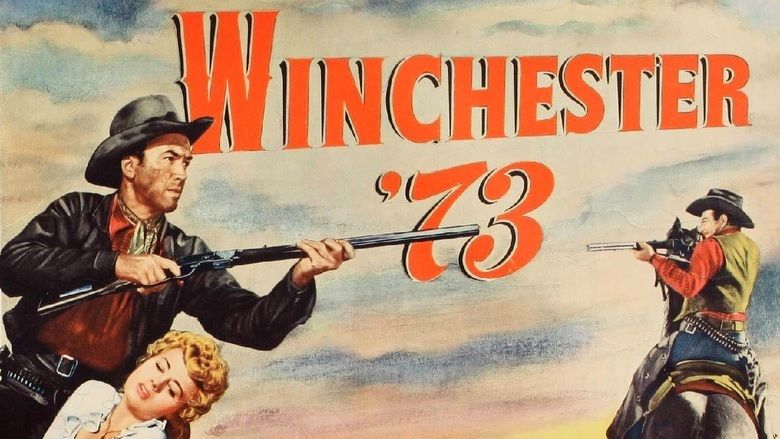 Lola Manners (Shelley Winters) and her fiance Steve Miller (Charles Drake) are in a wagon heading to where their new home will be. The left rear wheel of the wagon is squeaking loudly because Steve forgot to grease it back in town. As they are pursued by Indians, the wheel slows the wagon. In a moment of panic, Steve rides away on his horse, but returns when he sees a small encampment of soldiers. They travel with the soldiers to safety with the Army.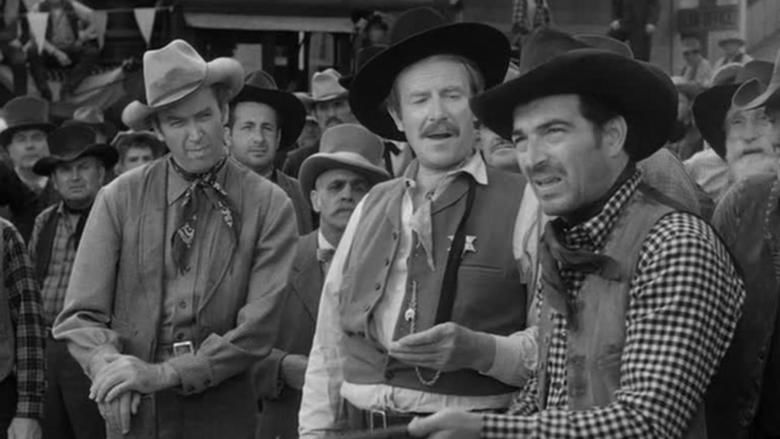 That night after being chased by Indians, Lin and High-Spade meet up with those same soldiers who have been pinned down by the Indians. The soldiers are inexperienced and their cantankerous sergeant (Jay C. Flippen) does not know how to fight Indians. Lin gives him tactical advice. They prepare themselves for an early attack the next day. Lin gives Lola his revolver, and implies that she should commit suicide with the final bullet to avoid capture.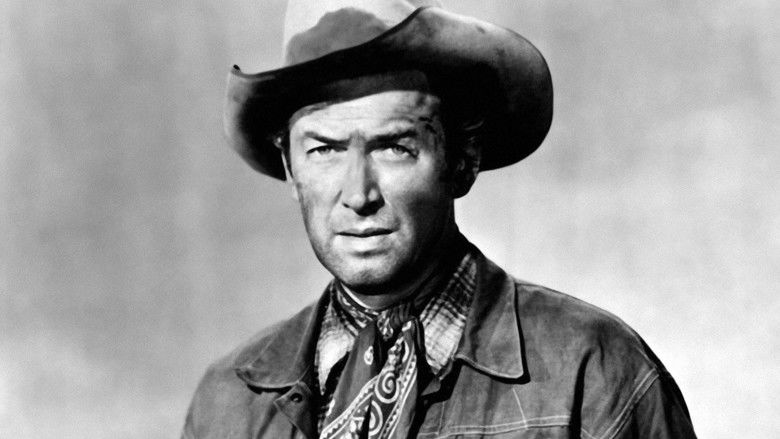 After a fierce battle, the Indian leader is killed. Lin and High-Spade search for Dutch Henry and they ride past the perfect rifle. It is found by Doan (Tony Curtis) and the Sergeant who give it to Steve, not wanting an officer to take it away from Doan.
Steve and Lola reach the Jameson house where Lola stays with Mrs. Jameson and her two small children while Steve goes to meet 'Waco' Johnnie Dean, much to the disapproval of Lola. Waco (Dan Duryea) and his men show up at the Jameson house unexpectedly, on the run from a posse. Once Waco sees the perfect rifle, he covets it. He repeatedly insults Steve in an attempt to provoke him into a gunfight. Steve draws on Waco and is killed. Waco and Lola escape the posse and go to Dutch's hideout. Dutch Henry takes back the perfect rifle.
There, Dutch Henry plans an armed robbery in Tascosa, Texas. Waco is stationed in a saloon to provide cover for the gang's escape after the robbery, but is betrayed to Lin by Lola. Lin forces Waco to tell him where Dutch is. When Waco attempts to shoot Lin, Lin kills him. The robbery goes awry and Lin chases Dutch Henry out of town, confronting him on a rocky hill. Lin refers to Dutch by his real name, Matthew. They shoot it out on the hill with rifles before Lin finally shoots him off the hill. High-Spade reveals to Lola that Dutch Henry is Lin's brother. Dutch robbed a bank and ran home to hide out. When their father wouldn't help him Dutch shot him in the back. Lin rides into town with the perfect rifle, and his brother's body laid across Dutch's horse.
The shooting competition takes place on July 4, 1876, the Centennial, as the news of Custer's Last Stand in June is just becoming known across the west.
A few days after Dutch Henry steals the prized rifle from Lin, he plays cards against the Indian trader, Joe Lamont, at Riker's Bar. Dutch Henry lays down a full house, aces over eights, stating that he just missed the "dead man's hand"—two pair, aces and eights, so nicknamed because Wild Bill Hickok was said to hold such a hand when he was murdered in Deadwood on August 2, 1876, almost a month later. Lamont had four treys.
As part of the publicity campaign around the release of the film, Universal Pictures sponsored a contest, by placing magazine ads, to find some of the rare remaining "One of One Thousand" Model 1873 Winchester rifles. This resulted in many previously unknown original rifles being brought into the spotlight and drew public interest to the field of antique gun collecting. The winner of the contest received a new Winchester Model 1894 rifle, since the Model 1873 was out of production at that time.
The film was originally intended to have been directed by Fritz Lang but Universal did not want Lang to produce the film through his own Diana Productions company. Lang's idea was to have the rifle being Stewart's character's only source of strength and his only excuse for living, making the quest for his rifle a matter of life and death. With Lang out of the picture, Universal produced the film itself with the up-and-coming Anthony Mann, who was James Stewart's choice, directing. Mann changed the idea of the film through having Borden Chase rewrite the film to make the rifle a character, showing its adventures passing through the hands of a variety of people.
Stewart had wished to make Harvey for Universal-International but, when the studio wouldn't pay the $200,000 salary Stewart wanted, studio head William Goetz made an offer that Stewart could make both Harvey and Winchester '73 for a percentage of the profits that would be spread out over a period of time and qualify for a lower tax rate because Stewart would be taxed as a company rather than as an individual. Stewart's then agent Lew Wasserman was able to get his client 50% of the profits, eventually amounting to $600,000 from the film's unexpected success. The money from a percentage deal was taxed as a capital gain attracting a much lower rate of tax than a normal salary would incur. Stewart's deal also gave him control of director and co-stars.
Stewart was already cast in the part of Lin McAdam and he spent a lot of time practicing with the rifle so he would look like an authentic westerner. As Mann later described, "[Stewart] was magnificent walking down a street with a Winchester rifle cradled in his arm. And he was great too actually firing the gun. He studied hard at it. His knuckles were raw with practising... It was those sorts of things that helped make the film look so authentic, gave it its sense of reality." An expert from the Winchester company, Herb Parsons, actually did the trick shooting required for the film, and assisted Stewart in his training.
Shelley Winters was cast in the part of Lola Manners, a saloon-hall girl. Winters didn't think much of her part in the film. On her thoughts on it, Winters said: "Here you've got all these men... running around to get their hands on this goddamn rifle instead of going after a beautiful blonde like me. What does that tell you about the values of that picture? If I hadn't been in it, would anybody have noticed?"
The part of Wyatt Earp was given to Will Geer, who felt he was miscast for the role. Dan Duryea and Stephen McNally were cast as Waco Johnnie Dean and Dutch Henry Brown, respectively. Millard Mitchell was cast as High-Spade Frankie Wilson. That same year, Mitchell appeared in The Gunfighter, starring Gregory Peck. He would star in another Stewart-Mann western, The Naked Spur (1953), as a grizzled old prospector.
Jay C. Flippen was cast as Sergeant Wilkes. He would appear in the second Stewart-Mann Western, Bend of the River (1952), along with Rock Hudson, who appears in this film as a Native American.
Tony Curtis has a small role as a Cavalry soldier.
The Stewart and Mann collaboration established a new persona for Stewart; one more violent and disillusioned, but still likeable.
Winchester '73 was filmed in the following locations:
Mescal, Arizona, USA
Old Tucson, 201 S. Kinney Road, Tucson, Arizona, USA
Six Points Texas, Backlot, Universal Studios, 100 Universal City Plaza, Universal City, California, USA
Winchester '73 was remade as a made-for-TV film in 1967.