Cold cases stored in the william m bass skeletal collection
William Marvin Bass III (born August 30, 1928) is an American forensic anthropologist, best known for his research on human osteology and human decomposition. He has also assisted federal, local, and non-U.S. authorities in the identification of human remains. He taught at the University of Tennessee in Knoxville, and though currently retired from teaching, still plays an active research role at the University of Tennessee Anthropological Research Facility, which he founded. The Facility is more popularly known as "The Body Farm", a name used by crime author Patricia Cornwell in a novel of the same name, which drew inspiration from Bass and his work. Bass has also described the body farm as "Death's Acre" – the title of the book on his life and career, co-written with journalist Jon Jefferson. Jefferson and Bass, under the pen name "Jefferson Bass", have also written several fictional works: Carved In Bone, Flesh and Bone, The Devil's Bones, Bones of Betrayal, The Bone Thief, The Bone Yard, The Inquisitor's Key, Cut To the Bone, and The Breaking Point. Bass is the third generation in his family to have an educational building named after him. The Dr. William M. Bass III Forensic Anthropology Building dedication ceremony was September 27, 2011, near the Body Farm.
Contents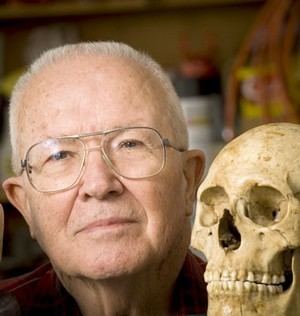 Dr. Bill Bass Speaks at Anthropology Center Dedication
Biography
Bass attended the University of Virginia for his undergraduate degree, and received his master's from the University of Kentucky. He completed his Ph.D. in anthropology from the University of Pennsylvania in 1961. His research career began as an archaeologist, excavating Native American grave sites in the Midwest United States during the 1950s. He mentions in Death's Acre that this activity earned him the informal title "Indian grave-robber number one" from an Indian activist, though no clashes with Native Americans ever occurred. Bass is an atheist.
References
William M. Bass Wikipedia
(Text) CC BY-SA