Name

William Cellini




Education

Lanphier High School




Party

Republican Party






William F. Cellini (born November 5, 1934) is co-founder of the New Frontier Companies, a group of Illinois-based real estate companies with headquarters in Chicago that employ more than 250 people statewide. He was previously the chairman of the NYSE-listed Argosy Gaming Company, was the treasurer of the Sangamon County Republican Party and has held several public offices within the state of Illinois.
Contents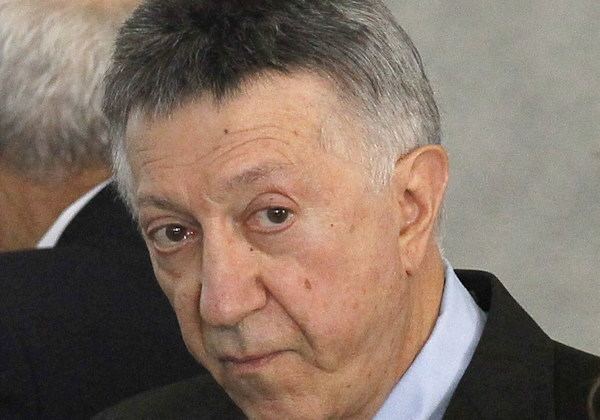 Mr. Cellini has served on the boards of Lakeside Bank of Chicago, the Illinois National Bank of Springfield, Roosevelt National Life Insurance Company, Illinois College Board of Trustees, and the Boys & Girls Club of Springfield, Illinois. He was the statewide chairman of the USO, and has appeared on numerous professional panels for the road building industry. In 2007 he received the Bradley University Department of Engineering Outstanding Achievement Award. He is a member of the Lanphier High School Hall of Fame. From 1957 to 1988, Cellini served in the Illinois National Guard and retired under the rank of Colonel after 31 years of service.
A classically trained musician, he plays piano and had a dance band that played throughout the Midwest from 1953 to 1969. He was elected chairman of the American Federation of Musicians Local 19 and he remains a lifetime member of the American Federation of Musicians
Early life
William Cellini was born in Springfield, Illinois, in 1934. His family lived and worked in the blue-collar North End of Springfield. From the 1930s until the 1960s, the neighborhood where he lived was an enclave of Southern and Eastern European families. Most of the fathers on his block were coal miners or worked in Springfield's factories. His father, William Cellini Sr., was a coal miner and amateur boxer from the age of 12 until he was 22 when he became a 37-year member of the Springfield Police Department working the 11pm to 7am shift for 20 of those years. During Cellini's childhood, his mother Edith took in laundry and worked as a waitress at their family's restaurant. Later in life, she was a cashier in the office of the Sangamon County Treasurer.
Cellini was president of his graduating grade school class and he attended Lanphier High School, graduating in 1952. He was the first member of his immediate family to attend college, earning a degree in physics from Illinois College in the late 1950s. In 1960, he was on faculty at Niantic-Harristown High School in Niantic, Illinois, where he taught physics, algebra and English. To help pay his way through college, he played dances in Central Illinois with his own bands, The Hi-Fis and the Bill Cellini Orchestra. His first professional music job was in 1953 in Springfield.
Family
In 1966, he married Julianna (England) Cellini, a former reporter and now free-lance writer. They reside in Springfield and are the parents of William Jr., a documentary film maker, and Claudia, who owns and operates The Third Line in Dubai, United Arab Emirates. Both William Jr. and Claudia work as directors in their family's business. William and Julianna also have one grandchild who lives with her parents and her three saluki rescues in Dubai.
Career
After graduating from Illinois College in 1958, Cellini ran for his first public office as police magistrate of Springfield but lost his bid for election. Cellini went on to lose another election for Circuit Clerk of Sangamon County, Illinois, but eventually won a seat on the Sangamon County Board of Supervisors in 1961. In 1963, he was elected to serve on the Springfield City Council as Commissioner of Public Works. At 28, he was the youngest man ever elected to the Springfield City Council and the youngest to head its public works department. He was re-elected in 1967 having no opposition.
In 1969, Governor Richard B. Ogilvie appointed William Cellini to be the Director of Public Works and Buildings for Illinois. In 1971, he was appointed Illinois' first Secretary of Transportation and directed several thousand employees while administering an annual budget of over a billion dollar dollars in public works programs.
In April 1972, the Illinois State Senate unanimously confirmed Cellini as the first secretary of the newly created Illinois Department of Transportation, putting him in charge of 10,000 employees and a budget of more than $1.5 billion. The election of Democrat Dan Walker as Governor the following year ended Cellini's career in state government.
Beginning in 1974, Cellini embarked on a long and successful career in the private sector. With his business partner Larry Haddad, he co-founded the New Frontier Companies, a full service real estate development firm, and in addition, Cellini became executive director of the Illinois Asphalt Pavement Association.
Cellini remained politically active in the private sector serving as Treasurer of the Sangamon County Republican Central Committee in Springfield. In the mid-1970s, he was appointed by the President of the United States to serve on the National Highway Safety Advisory Committee and in 1976 at the age of 41, Cellini was a delegate to the Republican National Convention in Kansas City, Missouri where from the floor of the convention hall he seconded the nomination of Gerald R. Ford for President by giving a brief speech he wrote on the back of a campaign sign.
In 1977, Cellini and Haddad formed New Frontier Management Corporation, a company that has overseen the management, rent-up and asset management of over 17,000 housing units throughout the United States. In 1989 he founded Pacific Management Inc., from which he is now retired. In addition to these business ventures, Cellini took an active role in commercial product design by inventing and patenting two types of Shower Enlarger curtain rods which maximize bathtub showering space and are currently used in many hotels across the United States.
From 1973 to 2010, Cellini served as the Executive Director of the Illinois Asphalt Pavement Association, the Illinois Association of Wastewater Agencies, the Illinois Concrete Pipe Association and, he held a membership position in the PCI of Illinois and Wisconsin. He has since retired from all of these entities.
Argosy Gaming
In 1990, Cellini and group of ten entrepreneurs created Metro Entertainment and Tourism to obtain the first casino license in Illinois. The group was successful in winning the license and went on to create the Alton Riverboat Gambling Partnership in Alton, Illinois. This partnership included tennis star Jimmy Connors. After an extensive government vetting and qualifying process, Cellini became the co-founder of Argosy Gaming Company in 1999, a New York Stock Exchange traded entity. The company's first gambling license cost the company $85,000 but later blossomed into a value of $500 million with six casinos.
Commonwealth Realty Advisors
In 1989, William Cellini and Earl Deutsch founded Commonwealth Realty Advisors (CRA). The firm was a highly successful real-estate investment company focused on asset management of commercial real estate. Its clients included union and public pension funds and its most successful client was the Teachers Retirement System of Illinois (TRS). According to numbers confirmed by TRS, the retirement system earned a 14.38% return during CRA's 17 year management. So successful was their management of assets that the executive director of TRS publicly commended CRA's performance as one of the pension fund's top-performing real-estate managers. CRA earned double-digit returns for teachers' system over a period of 17 years and grew to manage approximately $2 billion in gross assets before its closure in 2009.
In the fall of 2006, TRS said that Commonwealth was one of the system's biggest moneymakers, earning the pension fund about 20 percent over the previous five years. "They have made a ton of money for us," TRS executive director Jon Bauman told The State Journal-Register at the time. "They're probably our top-performing real-estate manager."
CRA earned double-digit returns for the system and grew to manage approximately $2 billion in gross assets before its closure in 2009 while returning approximately $1 billion in distributions to the fund. TRS officials confirmed that the teachers earned a 14.38% return during CRA's 17 year management.
Indictment
On October 30, 2008 Cellini was indicted on charges of conspiring with a convicted fundraiser named Tony Rezko to obtain money from an investment firm for campaign contributions to a public official who was believed to be Illinois' Governor Rod Blagojevich. The indictment said that Cellini aided Rezko, Levine and another, unnamed co-conspirator to raise campaign contributions. The supposed objective was to get the money from Capri Capital and one of its owners, Hollywood producer, Thomas Rosenberg
In a separate trial, Tony Rezko was ultimately acquitted of charges related to an extortion plot involving Rosenberg and Capri Capital.
According to the government indictment against Cellini, he tried to block Capri from getting a contract to manage money in the Teachers Retirement System unless Rosenberg made substantial payments to the Governor. After Rosenberg threatened to report an extortion, the plan was allegedly backed off and Capri supposedly got the contract.
Cellini's attorney Dan Webb released a statement saying that his client, "is completely innocent of these charges, and he will fight this case because he has done absolutely nothing wrong. Bill has lived an exemplary life as a successful businessman and devoted husband and father, and he will not allow his reputation to be damaged by these unfair and unjust charges. Bill is confident that a jury will find him not guilty.".
Trial
On October 5, 2011, after vetting potential jurors, Judge James Zagel finalized the selection of twelve jurors and four alternates. The defense made a motion under Batson v. Kentucky, asserting that the government unfairly eliminated minorities from the jury. The defense reasoned that of the six permitted removals, the government eliminated four minorities; of the two permitted alternate removals, both were minorities. The government countered the defense was attempting to unfairly remove white men from the jury pool, arguing of the ten permitted removals seven were white men. Judge Zagel denied both motions but ordered each side to present its reasons for juror removal in a sealed envelope for purposes of appellate review. Speculation in the courtroom surmised that the government believed minorities would not view the government's case favorably because of the immunity and plea bargains offered to most prosecution witnesses. Particularly Stuart P. Levine, who was described by both sides as having committed numerous crimes including drug use and dealing—yet has not served a single day in prison.
While prosecution provided evidence against Cellini during Levine's testimony, Levine's credibility was called into question. Under questioning by Assistant U.S. Attorney Christopher Niewoehner, Levine gave mostly monotone answers about malfeasance while he served on the board at the Illinois Teachers' Retirement System- TRS. At one point on the stand, Levine became flustered when his cell phone rang and he struggled to silence it. Levine finally handed it over to Niewoehner.
Under cross-examination Levine's conduct changed. In contrast to his rapid mechanical answers offered to the prosecution, Levine stalled continuously when recalling his own testimony offered hours prior. He appeared disoriented, pausing for 10 seconds or longer as the courtroom grew quiet. Webb hit Levine with a barrage of questions about how much money he stole, how many institutions he cheated and how he felt about his actions. Levine had no answer when Webb asked how many dishonest acts he had committed.
On October 19, Tom Rosenberg took the stand as a government witness. After cooperating for months with the FBI, Rosenberg was granted immunity in exchange for his testimony. Prosecutors portrayed Rosenberg as an un-willing participant in the political contribution scheme. This stood in direct contrast to Levine's sworn testimony about Rosenberg's influence. At times, Rosenberg aided Cellini's case by testifying Cellini never asked him to make a political contribution nor asked for any money. "Never in 30 years," Rosenberg said of his longtime business friend. Rosenberg also claimed Levine never wanted money from him.
Closing arguments were presented to the jury on October 25. Prosecutors contended Cellini was at the center of a plot to extort Thomas Rosenberg. Defense attorney Dan Webb said Cellini was used by Levine and was made a scapegoat by the government. The prosecution emphasized the calls between Levine and Cellini recorded by the FBI and claimed, because Cellini was talking on the phone during the time of the alleged extortion plot, it made him a willing member of the plot. Webb contended while Cellini talked to Levine, he never told him he gave Rosenberg an extortion message. "I want you to read every page of this transcript," Webb told jurors. "Cellini does not pass on the extortion message. It's not there."
Webb explained Cellini wasn't in meetings when a supposed conspiracy was planned. "'[he] didn't know what took place during them and would never have received any money as a result of the conspiracy. In fact, Cellini didn't even know Levine, Kelly and Rezko were conspiring to extort Rosenberg', Webb said." Prosecutors rebutted saying it was irrelevant whether Cellini told Rosenberg he had to pay.
A crucial moment of the alleged extortion involved a call mentioned on the stand by Levine. He claimed Cellini helped plot a scheme with him. But evidence in court showed that the government never recorded that call. Webb drove home this fact to the jury, that out of all the calls the government recorded between Levine and Cellini, it did not record one on May 2 in which Levine allegedly told [Cellini] to deliver the extortion threat to Rosenberg. "We have no tape recording," Webb said. "We have nothing but Levine's testimony."
On November 1, 2011, the jury returned a verdict of not guilty on all but two counts. In speaking with the press, Cellini's attorney provided the following statement:
We are very gratified that the jury found Mr. Cellini not guilty of the most serious charges in the indictment. Mr. Cellini was found not guilty of the major conspiracy count, Count 1, in which the Government alleged a conspiracy to commit honest services crimes for 15 months. Further, the jury found Mr. Cellini not guilty of even attempting to extort money from Mr. Rosenberg, Count 3. Whatever the jury determined Mr. Cellini did to be guilty of a conspiracy to commit extortion, Count 2, that conduct did not even rise to the level of being an attempted extortion.
As far as the counts on which Mr. Cellini was found guilty, we are confident we will be able to obtain a reversal on appeal.
After the conviction, Dan Webb filed a motion for a mistrial based on the premise a juror showed bias towards the legal system by concealing several felony records during pre-trial questioning. On January 24, 2012, Judge Zagel denied the mistrial request claiming the juror showed no legal evidence of bias.
Sentencing
In their pre-sentencing report, the defense reminded Judge Zagel how the trial proved Cellini did not know of an extortion plot nor did he ever extort any money. Additionally, his health took a setback in 2012 following a heart attack and a blot clot. On October 4, 2012 in a packed court room attended by hundreds of Cellini supporters, the defense asked for probation while the prosecution requested a more meaningful sentence. Zagel handed-down a sentence of twelve months and one day incarceration. Zagel commented on letters he received from friends and acquaintances of Cellini and admitted to the court how in all his years, he'd never seen so many letters written on behalf of a defendant. "Zagel said he considered the 364 letters he received detailing Cellini's extensive acts of kindness to people who had no way of repaying him and his many years of service to the Springfield community to be "a significant mitigating factor" in determining his sentence. He also took Cellini's health into consideration. Cellini reported to an Indiana Federal prison on January 22, 2013.
Cellini's lawyers ultimately waived a right to an appeal stating how fighting the conviction would entail on-going years of stress for Cellini and his family. "If this conviction is a travesty of the system...if Cellini is caught in a net that was cast one person too wide, it would be a shame for him to not know how the story ends." Following Cellini's release and return to Illinois, on December 8, 2014 his lawyers filed a motion for his probationary relief and were subsequently granted the request.
References
William F. Cellini Wikipedia
(Text) CC BY-SA