William Pennewill







Lieutenant Commander William Ellison Pennewill, born in Dover, Delaware, 20 February 1907, was an aviator of the United States Navy, killed on 23 June 1942, as a result of a crash.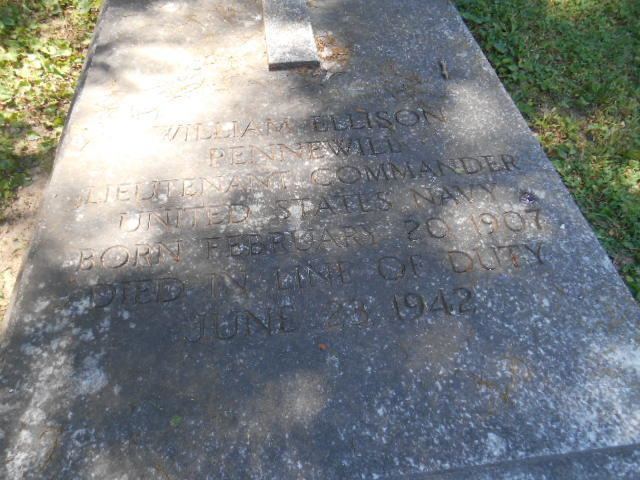 Pennewill was appointed midshipman on 18 June 1925. He was commissioned ensign on 6 June 1931 and reported for duty under instruction in flying, at the Naval Air Station Pensacola, Florida. His next duty was in Salt Lake City, then with Scouting Squadron 10–S, aboard Chicago (CA-29). On 7 March 1932 he reported for duty with the Aircraft Scouting Force until 2 June 1934, when he was transferred to Bombing Squadron 3–B, aboard Ranger (CV-4). He returned to the Naval Air Station, Pensacola and on 2 August 1941 joined the 16th Bombardment Wing. After serving at the Savannah Air Base, Savannah, Georgia, until 6 March 1942, he was assigned duty involving flying in connection with the fitting out of Escort Scouting Squadron Twelve.
On 29 May 1942, as lieutenant commander, he was in command of the squadron and while serving in this capacity, was killed, 23 June 1942, as a result of an airplane crash, while on duty at the Naval Air Station Kodiak, Alaska. He was posthumously awarded the Distinguished Flying Cross for outstanding achievement in aerial flight in contact with the enemy, for leading his inexperienced squadron in a series of remarkable flights over strange terrain and through most severe weather conditions, and for gallantly giving his life in the service of his country.
USS Pennewill (DE-175) was launched on 8 August 1943, sponsored by Mrs. Lucie Reilly Pennewill, and commissioned on 15 September 1943.
William Ellison Pennewill Wikipedia