Nationality

English Subject




Role

Preacher




Known for

Pilgrim




Spouse

Mary Brewster




Religion

Separatist




Parents

Mary Smythe




Name

William Brewster









Full Name

William Brewster




Born

c. 1566

Scrooby, Nottinghamshire




Occupation

Postmaster and English Teacher of Scrooby, Preacher of Plymouth




Died

April 10, 1644, Duxbury, Massachusetts, United States




Buried

Burial Hill, Plymouth, Massachusetts, United States




Children

Love Brewster, Jonathan Brewster, Thomas Prence, Fear Brewster, Patience Brewster, Wrestling Brewster




Similar People

Mary Brewster, William Bradford, Thomas Prence, Myles Standish, John Carver
William brewster mayflower passenger
William Brewster (1568 – 10 April 1644) was an English official and Mayflower passenger in 1620. In Plymouth Colony, by virtue of his education and existing stature with those immigrating from the Netherlands; Mr. Brewster, a separatist became senior elder and the leader of the community.
Contents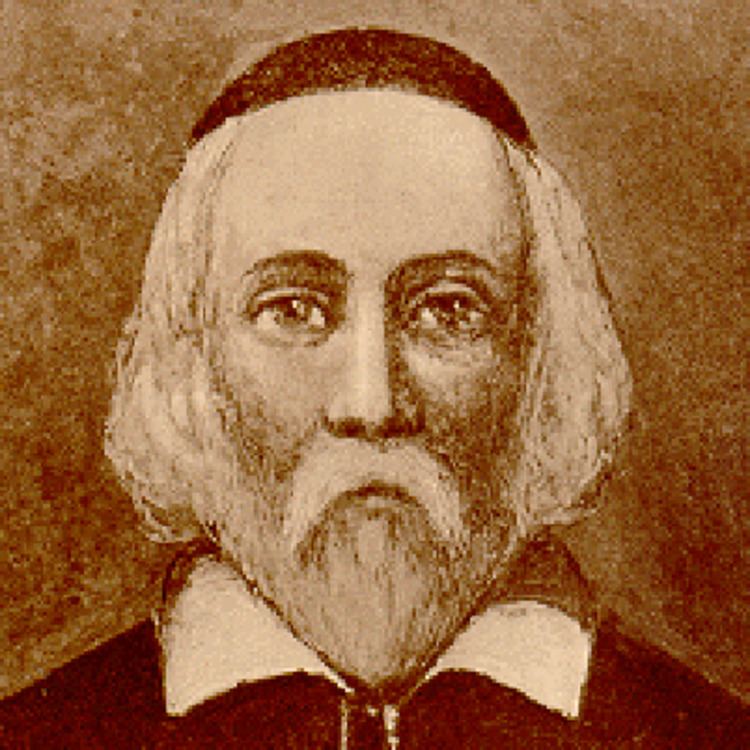 What do we know about pilgrim elder william brewster
Life in England
William Brewster was born in 1568, most probably in Scrooby, Nottinghamshire, England. He was the son of William Brewster and he had a number of half-siblings. His paternal grandparents were William Brewster (1510–1558), and Maud Mann (1513–1558).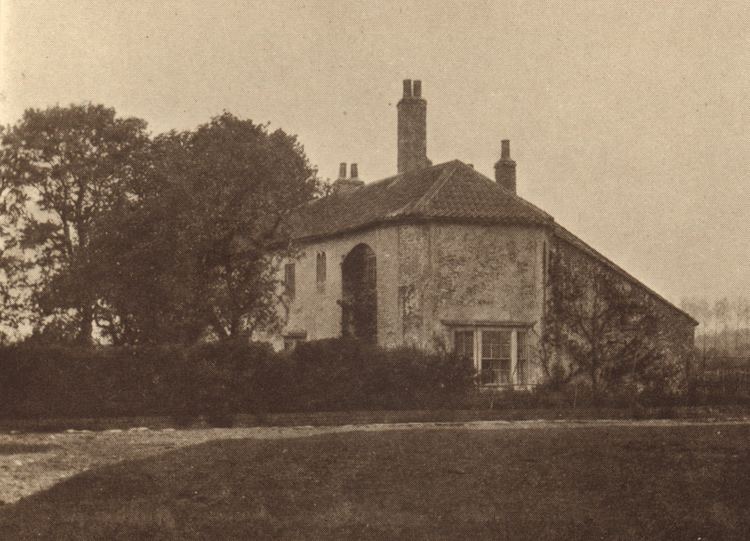 He studied briefly at Peterhouse, Cambridge, before entering the service of William Davison in 1584. Brewster was the only Pilgrim with political and diplomatic experience. With his mentor in prison, Brewster had returned home to Scrooby for a time, where he took up his father's former position as postmaster. Cambridge was a centre of thought concerning religious reformism, but Brewster had spent time in the Netherlands in connection with Davison's work, giving him opportunity to hear and see more of reformed religion. While, in the 1550s, reformers had hoped to amend the Anglican church, by 1600, many were looking toward splitting from it. (See Brownist.)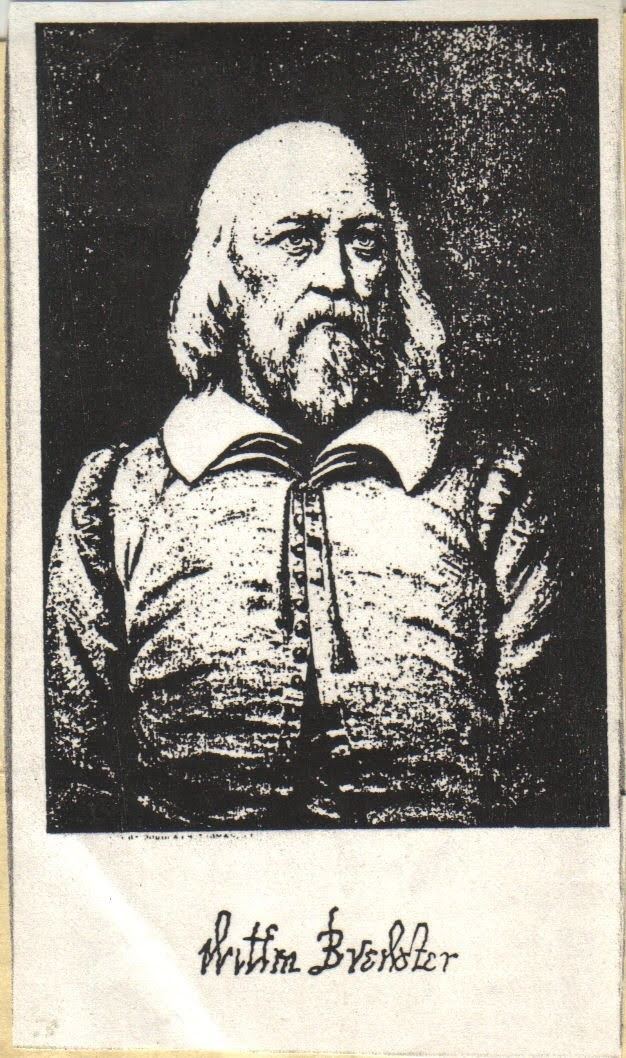 Restrictions and pressures applied by the authorities convinced the congregation of a need to immigrate to the more sympathetic atmosphere of Holland, but leaving England without permission was illegal at the time, so that departure was a complex matter. On its first attempt, in 1607, the group was arrested at Scotia Creek, but in 1608, Brewster and others were successful in leaving from The Humber. In 1609, he was selected as ruling elder of the congregation.
Life in Holland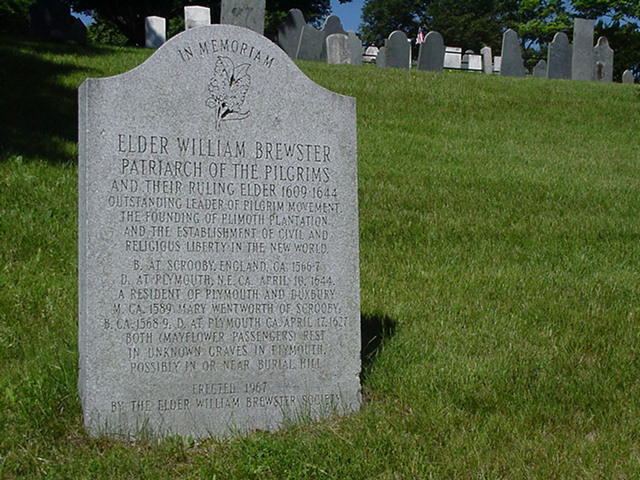 William lived near St. Peter's church (Dutch: Pieterskerk) in Leiden with his wife and children. He taught English to Leiden University students and was also a printer of religious pamphlets. His son, Jonathan, was a ribbonweaver. William was chosen as assistant and later as an elder to Pastor John Robinson. He was still an elder when he travelled to Plymouth Colony in 1620.
In Leiden, the group managed to make a living. Brewster taught English and later, in 1616–1619, as the partner of one Thomas Brewer, printed and published religious books for sale in England, though they were proscribed there. In 1619 Brewster and Edward Winslow published a religious tract critical of the English king and his bishops. James ordered Brewster's arrest, and when the king's agents in Holland came to seize the Pilgrim elder, Brewster was forced into hiding just as preparations to depart for America entered the most critical phase. The printing type was seized by the authorities from the English ambassador, Sir Dudley Carleton, and Brewster's partner was arrested. Brewster escaped and, with the help of Robert Cushman and Sir Edwin Sandys, obtained a land patent from the London Virginia Company on behalf of himself and his colleagues.
With Brewster in hiding, the Separatists looked to their deacon John Carver and to Robert Cushman to carry on negotiations with the appropriate officials in London. In 1620 when it came time for the Mayflower departure, Elder Brewster returned to the Leiden congregation. He had been hiding out in Holland and perhaps even England for the last year. At the time of his return, Brewster was the highest-ranking layperson of the congregation and would be their designated spiritual leader in the New World.
Brewster joined the first group of Separatists aboard the Mayflower on the voyage to North America. Brewster was accompanied by his wife, Mary Brewster, and his sons: Love Brewster and Wrestling Brewster.
Mayflower voyage
Among the people boarding the Mayflower were four unaccompanied children from Shipton, Shropshire. They were placed as indentured servants with senior Separatists William Brewster, John Carver and Robert Cushman, on behalf of Samuel More, husband of the children's mother, Katherine More. The children were placed without their mother's permission after four rancorous years between the Mores over charges of adultery against Katherine and her longtime lover, the children's alleged father. Two children were placed with William and Mary Brewster.
The Mayflower departed Plymouth in England in September 1620. The 100-foot vessel carried 102 passengers and a crew of 30 to 40 in extremely cramped conditions. During the voyage, the ship was buffeted by strong westerly gales. The caulking of its planks was failing to keep out sea water, and the passengers' berths were not always dry. On the journey there were two deaths, a crew member and a passenger. After being blown off course by gales, the Mayflower made a landing at Cape Cod. Finding the area near Provincetown occupied by indigenous people, the ship's company decided to continue exploring along the nearby coast. The group arrived in the area near present-day Plymouth, Massachusetts on December 21, 1620. In the space of several months almost half the passengers perished in the cold, harsh New England winter.
In Plymouth Colony
When the passengers of the Mayflower landed at Plymouth Colony, Brewster became the senior elder, and so served as the religious leader of the colony; in the colony, he became a separatist leader and preacher, and eventually, as an adviser to Governor William Bradford. Brewster's son Jonathan joined the family in November 1621, arriving at Plymouth on the ship Fortune, and daughters Patience and Fear arrived in July 1623 aboard the Anne.
As the only university educated member of the colony, Brewster took the part of the colony's religious leader until a pastor, Ralph Smith, arrived in 1629. Thereafter, he continued to preach irregularly until his death in April 1644. "He was tenderhearted and compassionate of such as were in misery," Bradford write, "but especially of such as had been of good estate and rank and fallen unto want and poverty."
Brewster was granted land amongst the islands of Boston Harbor, and four of the outer islands (Great Brewster, Little Brewster, Middle Brewster and Outer Brewster) now bear his name. In 1632, Brewster received lands in nearby Duxbury and removed from Plymouth to create a farm there.
In 1634, smallpox and influenza ravaged both the English and the Indians in the region. William Brewster, whose family had managed to survive the first terrible winter unscathed, lost two daughters, Fear and Patience, now married to Isaac Allerton and Thomas Prence, respectively.
Marriage
In 1591 or 1592, William Brewster married a woman named Mary, whose surname is unknown; no formal record of their marriage appears in the preserved marriage records of Nottinghamshire Archives. The search for further information on Mary—about whom many theories, e.g., about surname, have been offered—as well as on the marriage, has been extensive, e.g., by Jeremy Bangs, Director of the American Pilgrim Museum in Leiden, Holland.
Children
Their first child, Jonathan, was born on 19 August 1593. Two other children were born in Scrooby, Nottinghamshire: Patience about 1600, and Fear about 1606. A more comprehensive list of their children is as follows:
Jonathan Brewster (12 August 1593 – 7 August 1659) married Lucretia Oldham of Derby on 10 April 1624, and were the parents of eight children. He was the father of Mary Turner and the grandfather of Amos Turner.
Patience Brewster (c. 1600 – 12 December 1634) married Gov. Thomas Prence of Lechlade, Gloucestershire, 4 children.
Fear Brewster (c. 1606 – before 1634) so called because she was born at the height of the Puritans' persecution. Married Isaac Allerton of London, 2 children.
Unnamed child was born, died and buried in 1609 in Leiden, Holland.
Love Brewster was born in Leiden, Holland, about 1611 and died between 6 October 1650 and 31 January 1650/1, at Duxbury, in Plymouth Colony. At the age of about 9, he travelled with his father, mother and brother, Wrestling, on the Mayflower to Plymouth Colony. There he married Sarah Collier on 15 May 1634. Love and Sarah were the parents of four children.
Wrestling Brewster was born in 1614 in Leiden, Holland; was living in 1627, died unmarried before the 1644 settlement of his father's estate.
Other charges
Three of the Mayflower pilgrims, including William Brewster, took responsibility for children of Samuel More, who accompanied him and others as indentured servants:
Mary More, age 4, assigned as a servant of William Brewster. She died sometime in the winter of 1620/1621. Her burial place is unknown, but may have been on Cole's Hill in Plymouth in an unmarked grave, as with so many others buried there that winter. As with her sister Ellen, she is recognized on the Pilgrim Memorial Tomb in Plymouth, misidentified after her sister's name as "and a brother (children)," the mistake of calling her "a brother" arising from William Bradford's failing memory years after the event of her death.
Richard More, age 6, servant of William Brewster. He resided with the Brewster family until about mid-1627 when his term of indentureship expired. His name appears, at age 14, in a census as a member of the Brewster family, in what was called then "New Plimouth". By 1628, Richard was in the employ of Pilgrim Isaac Allerton, who was engaged in trans-Atlantic trading.
In addition to these, Jasper More, age 7, was assigned to John Carver as a servant, but died of a "common infection" in Dec. 1620 while the Mayflower was in Cape Cod Harbor (several weeks after Elinor). He was buried ashore in the area of what is now Provincetown, where a memorial plaque bears his and the names of four others "who died at sea while the ship lay at Cape Cod Harbor" in Nov./Dec. 1620. Finally, Elinor More, age 8, was assigned to Edward Winslow as a servant, but died in November 1620 soon after the arrival of the Mayflower at Cape Cod Harbor. Her burial place is unknown, but may have been ashore on Cape Cod similar to her brother Jasper. With many others who died that winter, her name appears on the Pilgrim Memorial Tomb, Cole's Hill, Plymouth, Massachusetts.
Death
William Brewster died on 10 April 1644, at Duxbury, Plymouth Colony. He was predeceased by his wife, Mary Brewster, who died in April 1627, age about sixty.
William Brewster was buried in Burial Hill in Plymouth. A memorial stone exists there for him, which states that it is in honour of "Elder William Brewster Patriarch of the Pilgrims and their Ruling Elder 1609–1644". The burial place of his wife Mary is unknown.
Places and things named after Brewster
Great Brewster Island
Little Brewster Island
Middle Brewster Island
Outer Brewster Island
Brewster, Massachusetts
Brewster Gardens
Brewster Chair
Brewster, Nebraska
References
William Brewster (Mayflower passenger) Wikipedia
(Text) CC BY-SA