Education

University of Toronto







Albums

A Bridge Beyond, Invisible Cities
Tranquil william beauvais
William Eugene Beauvais (born October 9, 1956) is a Canadian classical guitarist and composer who has performed in the United States, Europe, and across Canada.
Contents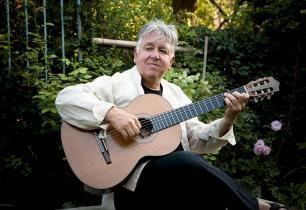 Eagle lake sketches william beauvais played by michael ibsen
Early life
When Beauvais was nine years old he asked his father for a set of drums; his father came home the very next day with a guitar. Some time later his father came home with sheet music for his favorite piece of music, Jeux Interdits, and Beauvais taught himself to read music in order to play the piece for his father. He subsequently completed a Bachelor of Music in Music Performance at the University of Toronto. Shortly after graduation he won first prize both at the Canadian Music Competition and in the Carrefour Mondial de Guitare in Martinque.
Career
Beauvais is best known for his work as a teacher at York University, The Royal Conservatory of Music, Queen's University and the University of Windsor, and for his recordings, most notably, his 1991 recording of The Bulgarian Dances on the [Musica Viva 1071] which is still frequently played on radio stations around the world. He is also known for his ability to collaborate with other musicians and has done so with Eugene Martynec, John Gzowski, George Koller, Barry Prophet, Julian Knight and John Armstrong. His current base of operations is Toronto, Canada.
In over three decades, Beauvais has accumulated many diverse performing and recording credits. The artists he has worked with include: Brian Katz, The Evergreen Club, Arraymusic, New Music Concerts, Alan Hetherington, The Canadian Chamber Ensemble and Les Amis Concerts. He has also worked with choreographers Terrill Maguire and Hedy Minton, as well as poets Steven McCabe, Richard Truhlar and Wayne Keon. He has given many premier performances, including works George Crumb, Elliott Carter, Jon Siddall, Stephen Wingfield, Ronald Bruce Smith and Chris Harman. His recording are available through the Canadian Music Centre Distribution Service.
More recently Beauvais has devoted much time to his own creative output writing music for The Montreal Guitar Trio, the Canadian Music Centre, Jeffrey McFadden and the Echo Women's Choir. His music is published by les Productions d'OZ, Mel Bay, Tuscany Publications and Frederick Harris Music.
He is a member of the Canadian Music Centre, and currently teaches at York University and at his studio.
Recordings
Memory Palace music of Gerry Berg - 1990
Dances and Romances for Violin - 1991 with Moshe Hammer and Valerie Tryon
Bridges with Brian Katz - 1992
Traces with George Koller and Julian Knight - 1995
4/Four music of Michael Hynes - 1997
Invisible Cities - 2009 with George Koller: bass, Alan Hetherington: percussion, Barry Prophet: percussion, Raffi Altounian: guitar, Michael Kolk: guitar and Rob MacDonald: guitar
Unspoken Dreams: Stories from Rumi - 2010 with Ariel Balevi: story-teller
Awards
First prize at the Canadian Music Competition - 1980
First prize at the World Centre For Guitar in Martinique - 1980
References
William Beauvais Wikipedia
(Text) CC BY-SA