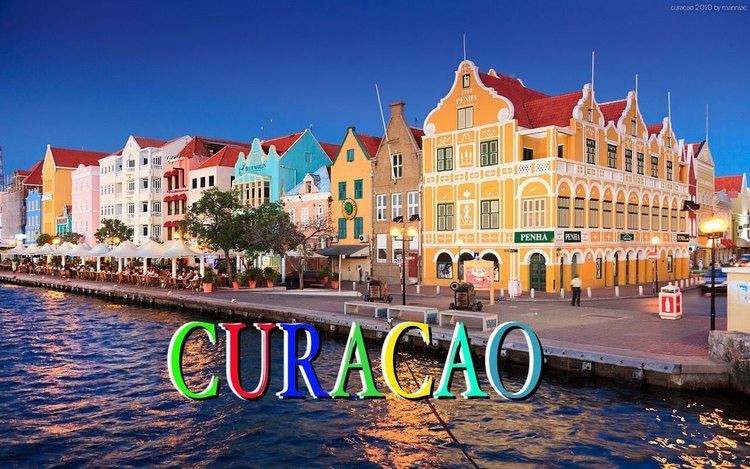 Punda was established in 1634, when the Dutch captured the island from Spain. The original name of Punda was de punt in Dutch. Otrobanda, which was founded in 1707, is the newer section of the city and is considered to be the cultural centre of Willemstad. Its name originated from the Papiamentu otro banda, which means "the other side."
The Curaçao synagogue was built by Sephardic Portuguese Jews from Amsterdam and Recife, Brazil.
Insel Air, the national airline of Curaçao, has its corporate head office in Maduro Plaza.
Tourism is a major industry and the city has several casinos. The city centre of Willemstad has an array of colonial architecture that is influenced by Dutch styles. Archaeological research has also been developed there.
Owing to its location near the Venezuelan oilfields, its political stability and its natural deep water harbour, Willemstad became the site of an important seaport and refinery. Willemstad's harbour is one of the largest oil handling ports in the Caribbean. The refinery, at one point the largest in the world, was originally built and owned by Royal Dutch Shell in 1915. It was sold to the Curaçao government for the symbolic sum of one guilder in 1985 and is now leased to PDVSA, the state owned Venezuelan oil company. Schlumberger, the world's largest oil field services company is incorporated in Willemstad.
Numerous financial institutions are incorporated in Willemstad due to Curaçao's favourable tax policies.
Avalon University School of Medicine is located in Willemstad.
Caribbean Medical University is located in Willemstad - close to downtown.
Major League Baseball players Jair Jurrjens, Wladimir Balentien, Jurickson Profar, Andruw Jones, Kenley Jansen and Jonathan Schoop are from Willemstad.
Pabao Little League has appeared in five Little League World Series, winning in 2004. In 2008, another Pabao Little League team won the Junior League World Series, after winning the Latin America Region, then defeating the Asia-Pacific Region and Mexico Region champions to become the International champion, and finally defeating the U.S. champion (West Region), Hilo American/National LL (Hilo, Hawaii), 5-2.
Willemstad is served by Hato International Airport.
Punda and Otrobanda are connected by Queen Emma Bridge, a long pontoon bridge. Although it is still in use, these days most road traffic now uses the Queen Juliana Bridge built in 1967 (rebuilt 1974) which arches high over the bay further inland. Nearby is also the now non-functioning Queen Wilhelmina Bridge drawbridge.
Willemstad has a tropical savannah climate (Köppen classification As).
Baseball player Andruw Jones was born in Willemstad.
Tennis player Jean-Julien Rojer was born in Willemstad.
Soccer player Vurnon Anita was born in Willemstad.