6.4

/

10

Alchetron

6.4

Rate This





Country of origin

USA




No. of seasons

1




Final episode date

2 September 1972




Number of episodes

18






Directed by

Hal Sutherland


Original language(s)

English




First episode date

12 September 1970




Number of seasons

1







Voices of

Howard MorrisJane WebbDavid Lander




Theme music composer

Jeff MichaelGeorge Blais




Network

American Broadcasting Company




Cast

David L Lander, Jane Webb, Howard Morris



Similar

The Hardy Boys (1969 TV series), Archie's TV Funnies, The U.S. of Archie
Will the real jerry lewis please sit down open close
Will the Real Jerry Lewis Please Sit Down is a 1970 animated showcase for various caricatured Jerry Lewis characters, all based on characters from the Lewis film, The Family Jewels and styled in a fashion similar to Archie's TV Funnies and the Groovie Goolies. The title is a variant of the deciding question on the game show To Tell the Truth: "Will the real __________ please stand up?". Like most 1970s-era Saturday morning cartoon series, Will the Real Jerry Lewis Please Sit Down contained an adult laugh track.
Contents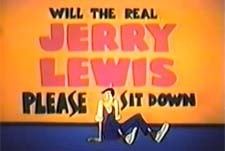 Premise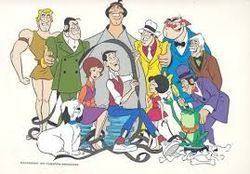 As with all of their wilder comedies, such as those mentioned above and later shows like Uncle Croc's Block and The Secret Lives of Waldo Kitty, Filmation stuffed the episodes with slapstick jokes, and the rubbery, gangly animated version of Lewis was well realised. Among the characters were Chinese detective Hong Kong Flewis and his rotund son, One Ton Son, and Professor Lewis and his sister Geraldine (and her pet frog, Spot).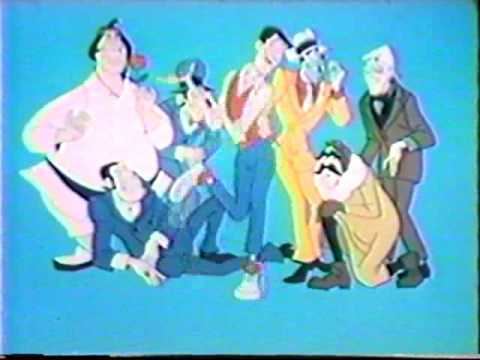 In the series, Jerry worked for the Odd Job Employment Agency under the supervision of the obnoxious Mr. Blunderbuss. A typical episode found Jerry being assigned a job, and making a complete shambles of it in his harmless, naive way.
Though Jerry Lewis contributed to some of the scripts, he did not voice any of the characters. The central character of Jerry Lewis was voiced by David Lander, who would later be better-known for his role of Squiggy on Laverne & Shirley.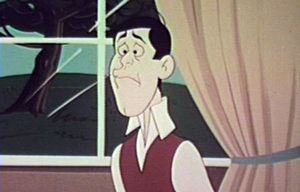 Notably wild in their style were the opening credits and commercial bumpers. The title of the show was spoken by an announcer who stretched the word "please" and shouted "sit down". Will The Real Jerry Lewis Please Sit Down contained several ethnic (notably Asian) stereotypes.
Along with Groovie Goolies, this was one of the first Filmation series to feature the rotating Lou Scheimer/Norm Prescott "wheel" credit. Previous shows featured a standard credit with Scheimer's name above Prescott's. It was also Filmation's first show to feature director Hal Sutherland's name written in fancy lettering.
Cast
David Lander – Jerry Lewis
Tom Bosley –
Jane Webb – Geraldine Lewis
Production credits
Directed by: Hal Sutherland
Animation Directors: Reuben Timmins, Rudy Larriva
Production Manager: Rock Benedict
Written by: Jack Mendelsohn, Jim Mulligan, Jim Ryan, Bill Danch, Bob Ogle, Chuck Menville, Len Jansen
Art Director and Production Designer: Don Christensen
Key Assistant: Mike Hazy
Layouts: Don Bluth, Herb Hazelton, Jim Davis, Alberto DeMello, Jaime Diaz, Tom Knowles, Jack Manning, Ziggy Jablecki, Janet Brown, Jim Mueller
Storyboard Artists: Sherman Labby, Mike O'Conner, Jack Miller
Background Supervisor: Erv Kaplan
Backgrounds: Paul Xander, Maurice Harvey, Bill Loudenslager, Patricia Frye, Phil Lewis, Doug Stevenson
Animators: Amby Paliwoda, Kaem Wong, Ben Shenkman, George Waiss, Louise Sandoval, Russ Von Neida, Virgil Ross, Ralph Somerville, Len Rogers, Ed Solomon, Edwin Rehberg, Hank Smith, Lenn Redman, Larry Silverman, Virgil Raddatz, Bill Pratt, Norm McCabe, Barney Posner, Marshall Lamore, Rod Parkes, Paul Krukowski, Jack Ozark, George Kreisl, Casey Onaitis, Les Kaluza, Bill Nunes, Louis Kachivas, Larry Miller, Marie Jursic, Bob Matz, Karen Haus, Laverne Harding, Butch Davis, Lee Halpern, Emil Carle, Dick Hall, Herman Cohen, Zdenko Gasparovic, Bob Bransford, Frank Gonzales, Jim Brummett, Fred Grable, Ted Bonnicksen, Otto Feuer, Bill Ackerman, Ed Friedman
Voices: Howard Morris, Jane Webb, David Lander
The Jerry Lewis Theme Song Performed by: Richard Delvy and Ed Fournier for Ricky Sheldon Productions, a division of Richard Delvy Entertainment, Inc.
Music Underscore by: Jeff Michael and George Blais
Checking Supervision: Marion Turk, Jane Philippi
Ink and Paint Supervision: Martha Buckley, Betty Brooks
Xerography: John Remmel
Prints by: Technicolor
Camera Supervision: Sergio Antonio Alcazar, R.W. Pope, Frank A. Parrish, John D. Aardal, Ted C. Bemiller, Mike Kinney, Luis Melendez, Jr., Tony Rivetti, Dennis M. Lady
Editorial: Joseph Simon, Jim Blodgett
Film Coordinator: June Gilham
Music and Sound Effects by: Horta-Mahana Corporation (Jan Moore, supervising editor)
Produced by: Lou Scheimer and Norm Prescott
Produced by: Filmation Associates, Inc., a TelePrompTer company
(c) Filmation Associates, Inc. 1970
References
Will the Real Jerry Lewis Please Sit Down Wikipedia
(Text) CC BY-SA