Country

Switzerland




Population

2,179 (Dec 31, 2008)

Area

7.5 km2




District

Oberaargau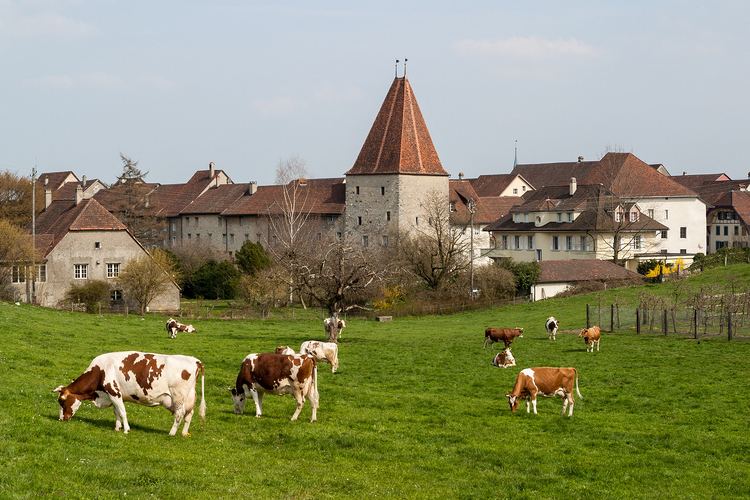 Wiedlisbach is a municipality in the Oberaargau administrative district in the canton of Bern in Switzerland.
Contents
Map of Wiedlisbach
In 1974, the Wakker Prize was bestowed on Wiedlisbach for the development and preservation of its architectural heritage.
Demographics
Wiedlisbach has a population (as of 31 December 2013) of 2,181. As of 2007, 12.1% of the population was made up of foreign nationals. Over the last 10 years the population has decreased at a rate of -0.3%. Most of the population (as of 2000) speaks German (93.0%), with Albanian being second most common ( 1.4%) and Serbo-Croatian being third ( 1.4%).
In the 2007 election the most popular party was the SVP which received 39.9% of the vote. The next three most popular parties were the SPS (21.3%), the FDP (14.3%) and the Green Party (8%).
The age distribution of the population (as of 2000) is children and teenagers (0–19 years old) make up 21.3% of the population, while adults (20–64 years old) make up 57.1% and seniors (over 64 years old) make up 21.6%. In Wiedlisbach about 70.5% of the population (between age 25-64) have completed either non-mandatory upper secondary education or additional higher education (either university or a Fachhochschule).
Wiedlisbach has an unemployment rate of 1.43%. As of 2005, there were 76 people employed in the primary economic sector and about 23 businesses involved in this sector. 251 people are employed in the secondary sector and there are 37 businesses in this sector. 608 people are employed in the tertiary sector, with 88 businesses in this sector.
Wakker Prize
In 1974 Wiedlisbach was awarded the Wakker Prize for preservation of the old village. The prize noted that the character, old construction and traditional appearance had been maintained. It praised the efforts of the old city committee to make all the inhabitants of the village aware of the value of preserving the appearance of the village.
Geography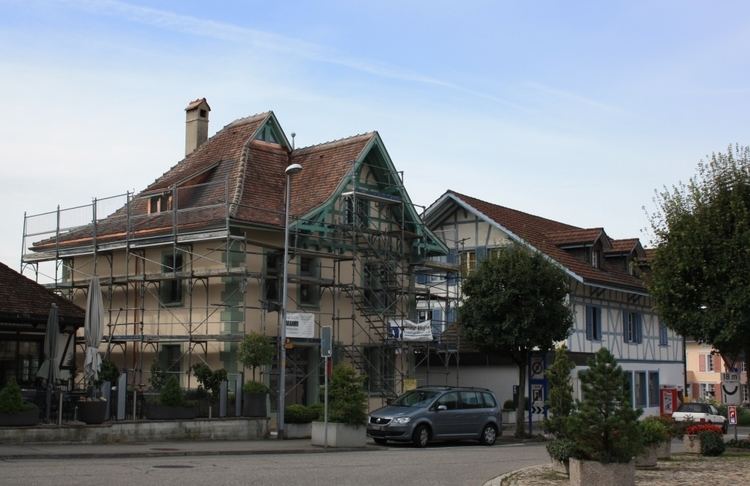 Wiedlisbach has an area of 7.6 km2 (2.9 sq mi). Of this area, 49.5% is used for agricultural purposes, while 29% is forested. Of the rest of the land, 19.7% is settled (buildings or roads) and the remainder (1.7%) is non-productive (rivers, glaciers or mountains).
Dementia Village Wiedlisbach, Switzerland
References
Wiedlisbach Wikipedia
(Text) CC BY-SA
(,)http://upload.wikimedia.org/wikipedia/commons/9/96/Wiedlisbach_199.jpg(,)http://i.ytimg.com/vi/vULWZWr92iM/hqdefault.jpg(,)https://mw2.google.com/mw-panoramio/photos/medium/9636150.jpg(,)https://farm4.staticflickr.com/3180/5850483262_e5b89d5026.jpg(,)https://mw2.google.com/mw-panoramio/photos/medium/35302742.jpg(,)https://farm3.staticflickr.com/2215/5807641042_faedb8bb51.jpg(,)https://farm1.staticflickr.com/46/134014760_8808968dbf.jpg(,)https://farm1.staticflickr.com/83/239261758_8e17056d46.jpg(,)https://farm1.staticflickr.com/96/231433265_2db4f58db0.jpg(,)https://farm1.staticflickr.com/63/229657167_e38c4c259a.jpg(,)https://farm4.staticflickr.com/3574/3297737054_da25049284.jpg(,)https://mw2.google.com/mw-panoramio/photos/medium/36817063.jpg
(,)http://www.myoberaargau.com//pictures/content/Rest_Rebstock_Wiedlisbach.jpg(,)http://www.myoberaargau.com//pictures/content/Rest_Schluessel_Wiedlisbach.jpg(,)http://static.panoramio.com/photos/large/9636304.jpg(,)http://files.newsnetz.ch/story/1/0/4/10462666/6/topelement.jpg(,)http://files.newsnetz.ch/story/2/3/2/23263212/3/topelement.jpg(,)http://www.schweiz-foto.ch/Bern/Wiedlisbach/Staedtli.jpg(,)http://files.newsnetz.ch/story/1/4/1/14129264/1/topelement.jpg(,)http://files.newsnetz.ch/story/3/0/5/30513453/5/topelement.jpg(,)http://www.arch-steiner.ch/assets/AKTUELL-2/2014/Baufest-Obrecht-Wiedlisbach/_resampled/SetRatioSize800600-MFH-und-Praxis-Obrecht-Wiedlisbach-Architekt0111.jpg%3FPHPSESSID%3D3558fb2330929c2a722bba1323cfb05f(,)http://www.wiedlisbach.ch/pictures/RestaurantRebstock.jpg(,)http://www.mytable.com/r3217166c-728f-4638-9ff6-57c88645e1cf/en/document/Restaurant-Wangen-an-der-Aare-cf(,)http://aff.bstatic.com/images/hotel/840x460/157/15753282.jpg(,)http://files.newsnetz.ch/story/2/0/4/20413347/3/topelement.jpg(,)http://www.mytable.com/ra6544f00-238b-453a-805f-072aa9884adc/en/document/Restaurant-Wangen-an-der-Aare-dc(,)http://aff.bstatic.com/images/hotel/max500/157/15753190.jpg