Similar

Fried‑brain sandwich, Turducken, Harees, Rocky Mountain oysters, Hákarl
Whole stuffed camel is a dish consisting of a medium-sized camel engastrated with a sheep or a lamb, in turn stuffed with other ingredients.
Contents
Although the recipe has been published in a number of cookbooks and recipe webpages, and claimed to be a traditional Arab wedding dish, the recipe is often treated with skepticism, and many think it might be an exaggeration of a real, less impressive, culinary experience. A posting on Snopes describes references in the recipe that might lead the reader to the conclusion that the recipe is, in fact, a joke, including instructions to "skin, trim, and clean the camel (once you get over the hump)...".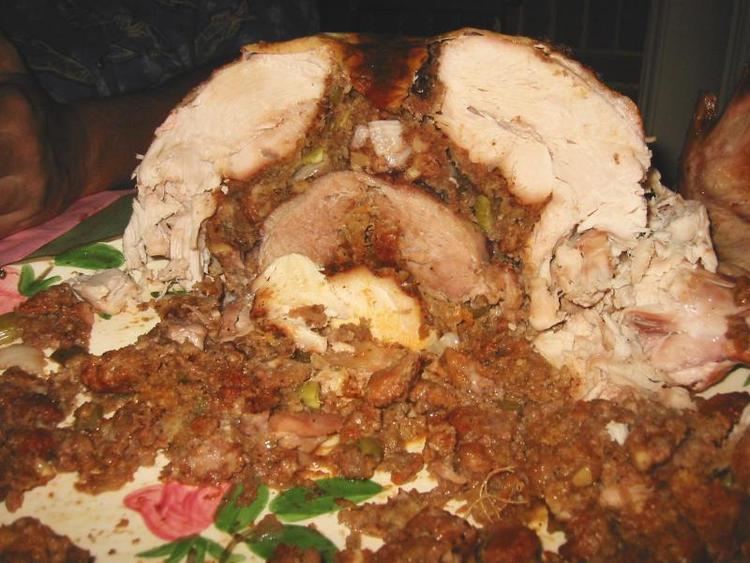 Reference to this recipe is made in the comedic novel I Served the King of England, first published in 1971 by Czech author Bohumil Hrabal as a traditional Ethiopian dish cooked for a visit to Prague by the Emperor Haile Selassie.
The Guinness Book of World Records lists the recipe as the "largest item on any menu in the world", "prepared occasionally for Bedouin wedding feasts.". According to the Milwaukee Journal, the steps are: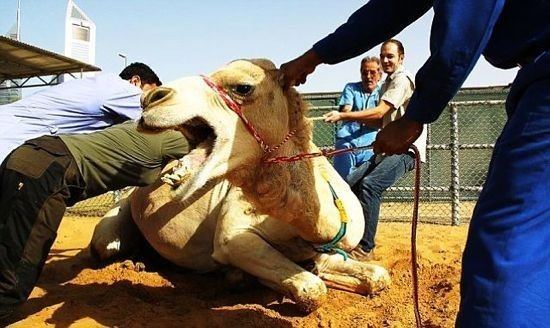 Cook eggs. Stuff eggs into fish. Cook the fish. Stuff the fish into cooked chickens. Stuff the cooked chickens into roasted sheep. Stuff the roasted sheep carcass into a whole camel . . . now cook to taste.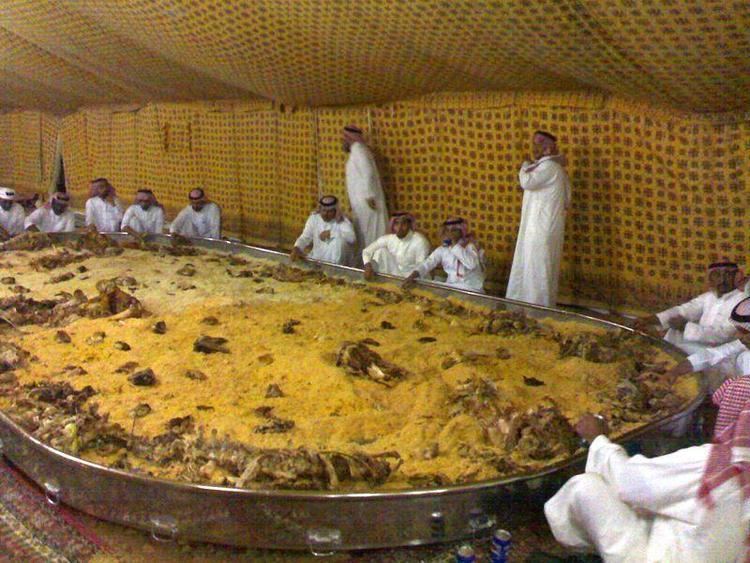 There is a reference in culinary expert Richard Sterling's book The Fearless Diner in which he claims to have met someone who cooked the entire recipe for "some sheik or other," in Saudi Arabia. Water Music by T. Coraghessan Boyle contains a recipe for camel stuffed with dates, plover eggs, carp, seasoned bustards, and sheep, baked for two days on hot coals in a trench.
The World's Largest Dish – Whole Camel Stuffed with Sheep Stuffed with Chicken Stuffed with Fish
In popular culture
Remastered CD versions of the Pink Floyd album Atom Heart Mother contain a card of "Breakfast Tips". On one side is a recipe for a "Traditional Bedouin Wedding Feast", detailing the stuffing of a chicken inside of a lamb, which is stuffed inside a goat, which is then stuffed inside a camel, and cooked over a charcoal fire.
References
Whole stuffed camel Wikipedia
(Text) CC BY-SA