West Kowloon Terminus (Chinese: 西九龍總站, Abbreviation: WKT) is the terminus of the Hong Kong Section of Guangzhou–Shenzhen–Hong Kong Express Rail Link (XRL), and is currently under construction. It is the only station in the Hong Kong Section and will connect to the mainland China section through a dedicated tunnel. It is being constructed by the MTR Corporation.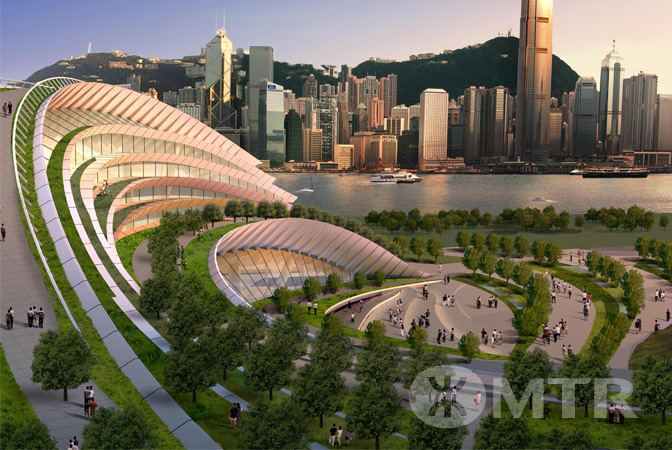 Aedas, in collaboration with AECOM, have been awarded the contract to design the multi-story 380,000 square meter terminus.
WKT will be located in Jordan, Kowloon, north of the proposed West Kowloon Cultural District between the Airport Express and Tung Chung Line Kowloon Station and the West Rail Line Austin Station, extending into the underground area of the West Kowloon Cultural District.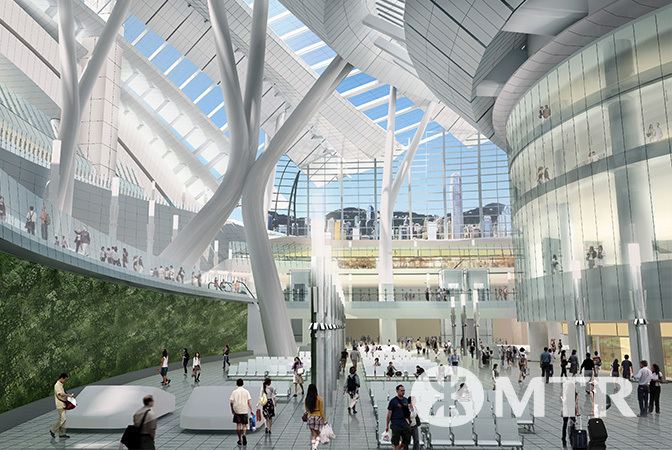 Originally destined to be opened in 2012, completion was initially delayed until 2015, following the shake-up of high-speed rail construction across China after the 2011 Wenzhou train collision. While construction of the station is still scheduled for completion in 2015, major flooding occurred on 30 March 2014 in the railway tunnels that were under construction, resulting in great damage done to the tunnel boring machines. Many MTR internal reports suggest that it was cause by the incomplete tender drawings, site surveying and planning before construction begins. The railway connecting the station to the rest of the Chinese high-speed rail network will not be operating until the 3rd quarter of 2018, thus some aspects of the station's construction have been slowed down or delayed. The cost of the construction also increased by around 30% more than the initial estimated. There are still issues waiting to be resolved regards to immigration of the border control.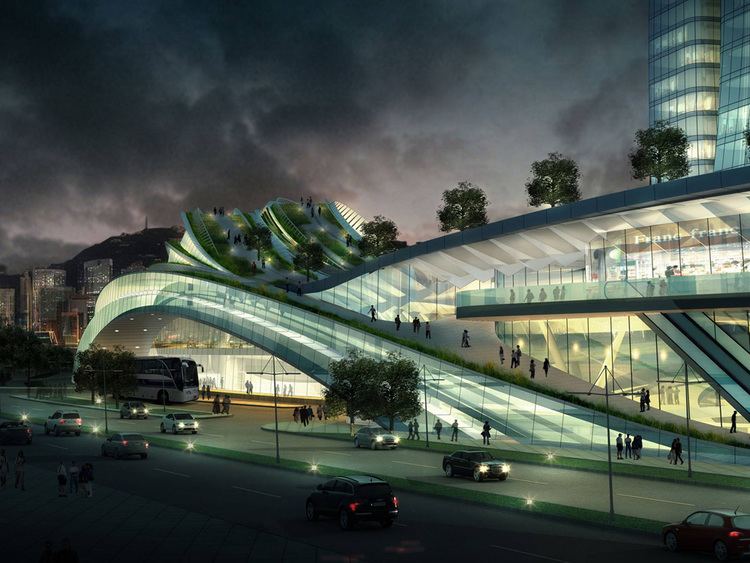 Construction of the West Kowloon Terminus project was divided into two parts, XRL810A ( northern part ) and XRL810B ( southern part ) (XRL meaning eXpress Rail Link). The northern construction area was awarded to Leighton Contractors & Gammon Construction(Golden Gate) responsible for joint operations. The southern part of the project was awarded to a consortium of Laing O'Rourke, HCCG(Xinchang) & Paul Y jointly responsible for the construction.
West Kowloon Terminus features 9 long distance platforms and 6 short haul regional platforms for a total of 15 platforms. In addition, as a cross-border railway railway station, West Kowloon Terminus will also be set up with Hong Kong Customs and Immigration facilities for the passengers to go through the formalities prior to boarding the train and not requiring any stops at the Hong Kong border.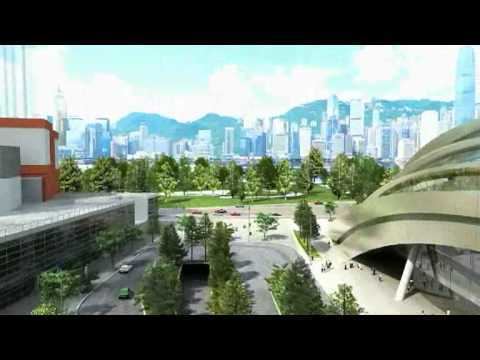 West Kowloon Terminus will feature an extensive green garden across the roof area of the station. It will also set up a large collection of cultural elements and entertainment spaces. Passengers can easily cross the ground floor between Kowloon Station, Austin Station and West Kowloon Cultural District, providing Hong Kong residents and visitors ample public open space and a comfortable green walking environment. Above the station, an area of approximately 8,900 square metres will be planted with a large number of plants and trees with traffic separated. All to create a pedestrian area, a green platform and wooded park that will integrate with the West Kowloon Cultural District harbourside parklands.
In addition, the West Kowloon Terminus entrance lobby area will feature a green ecological leisure channel zone to tie in with the greenery on top of the building.
The West Kowloon Terminus will be served by both short-distance services and long-distance train services. Short-distance services consist of a frequency service to neighbouring Guangdong province, mainland China cities, including Shenzhen, Dongguan and Guangzhou, while long-distance services link Hong Kong with at least 16 major destinations in mainland China. Six platforms will be designated for short haul trains, while nine will be designated for long haul trains.
Short-distance services
4 trains per hour to Shenzhen North
2 trains per hour to Guangzhou South
Long-haul services
33 trains per day to 16 major Chinese cities, including Beijing West, Shijiazhuang, Zhengzhou East, Wuhan, Changsha South and Shanghai Hongqiao.
According to a 2008 study, it is expected that by 2030, train services will increase in frequency.
To and from Futian Railway Station (Shenzhen) & Shenzhen North (Longhua, Shenzhen): 54 trains per day, on average every 15 minutes
To and from Humen (Humen): 7 trains a day
To and from Guangzhou South (Guangzhou): 25 trains per day, on average every 30 minutes
To and from Cities outside Guangdong (e.g. Beijing and Shanghai) long-distance trains: 33 per day
It is expected that by 2016, the West Kowloon Terminus daily number of passengers carried will be about 99,000 passengers.
West Kowloon Terminus is located between two MTR stations, Kowloon Station and Austin Station. It is intended to develop into commuter hub as the goal. Passengers can gain transfer through the ground pedestrian area, a number of footbridges and subways to connect with the MTR Kowloon Station and Austin Station. It is expected that a walk from Kowloon Station to West Kowloon Terminus Station will require 8–10 minutes, transfer to/from Austin station needs only 2–3 minutes.
From the West Kowloon Terminus via the MTR to the various regions of Hong Kong :
Tsim Sha Tsui : 5 minutes
Hong Kong (Central) : 10 minutes
Wan Chai : 10 minutes
Yuen Long : 25 minutes
Shatin : 25 minutes
Tung Chung : 25 minutes
Tai Koo : 30 minutes
Kwun Tong : 35 minutes
In addition, at the northern terminus in West Kowloon will set up a public transport interchange and long-distance coach berthing facilities. Walking from the West Kowloon Terminus to these facilities only takes one minute. Passengers can use different modes of transport to reach for the bus station, minibus station and taxi stand.
Time needed to travel to/from West Kowloon Terminus using road transport :
Kwun Tong, Tai Koo Shing : 15–20 minutes ( via Central–Wan Chai Bypass when completed )
Shatin, Yuen Long, Hong Kong International Airport : 30 minutes
Related developments by the Hong Kong government in West Kowloon, expect to improve the efficiency of road and pedestrian access routes, as well as to resolve a problematic traffic intersection in West Kowloon. These road developments hope to meet the transport needs of the entire area of the new development area of West Kowloon Cultural District and West Kowloon Terminus after completion.
Transportation Study identified the following specific road improvement measures:
Build a connection from Austin Road West (near Canton Road) to Lin Cheung Road (Jordan Road north) via an underground carriageway, so that pedestrians will have unimpeded access and ergress between West Kowloon Cultural District, West Kowloon Station and Kowloon Terminus;
Conduct Austin Road and Canton Road junction improvement works, including considering the widening of the Canton Road carriageway and expansion of existing underground pedestrian tunnel system;
Other road improvement projects in West Kowloon will be directly connected to a newly developed area near the West Kowloon Highway, in order to reduce the load on the region's transportation network.
In 2010, the West Kowloon Terminus design won "Cityscape Awards for Architecture" in the Emerging Markets of Tourism, Travel & Transport Future Awards. In the same year on 4 November, the West Kowloon Terminus design won the "Best Future Project ─ Infrastructure" World Architecture Festival Awards.