Joint School District No. 2, long known as the Meridian School District and now commonly called the West Ada School District, is a school district based in Meridian, Idaho. In addition to Meridian, the district operates public schools in Eagle, Star, Kuna, and western Boise. The district also has jurisdiction in parts of Garden City, rural areas in western and central Ada County, and small portions of eastern Canyon County. It is the largest school district in Idaho.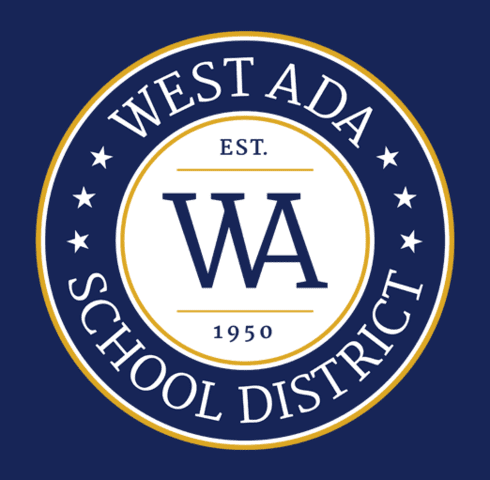 In June 2014, the district board of trustees voted to change the common name of the district, previously known as the Meridian School District, to West Ada School District. The official name, Joint School District No. 2, remains unchanged.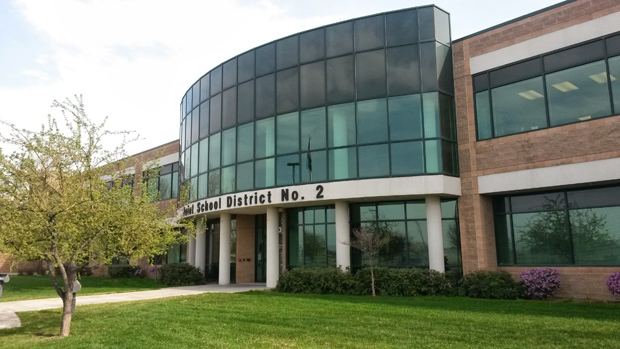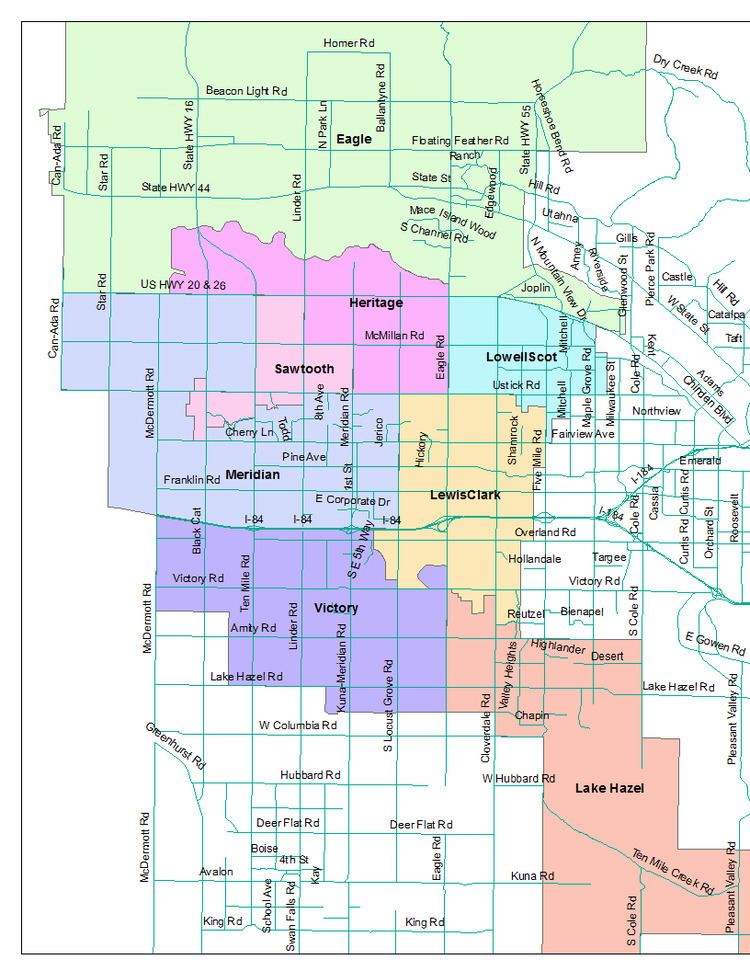 The West Ada School District educates more than 35,000 students in 49 schools over an area of 382 square miles (990 km2). The district has grown by more than 5,000 students in the last five years. West Ada School District schools range in enrollment from 300 to over 2,000 students. School buildings vary in age with the oldest being more than 50 years old. The district is administered by a five-member Board of Trustees elected by voters residing within the district's boundaries.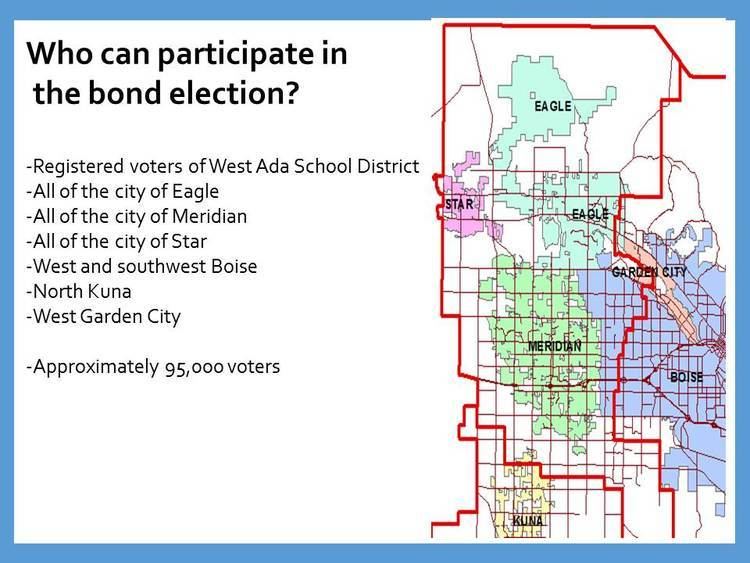 At the elementary and middle school levels, academic emphasis is placed on refinement of basic skills through instruction in traditional subjects such as language arts, social studies, mathematics, and science.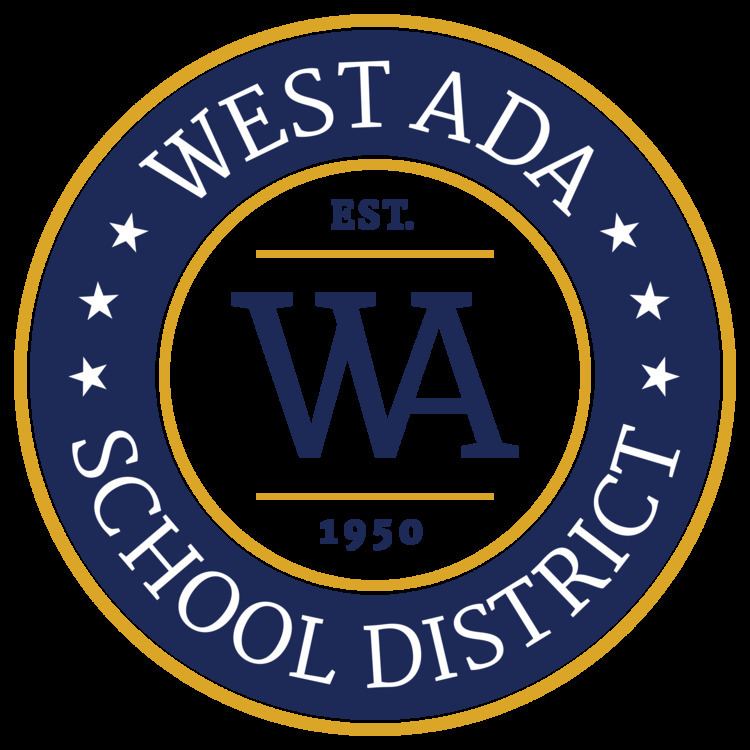 The district's high schools have a rich tradition of winning regional and state academic and athletic championships and are often recognized for outstanding achievement in music and the arts. Students develop leadership skills through a variety of clubs and extracurricular activities.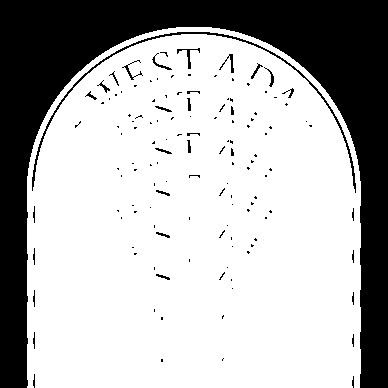 West Ada School District offers a variety of magnet schools throughout the district. These magnet programs are offered in three different types: focus, configuration and schedule/calendar. Students can continue their specific pathway through middle school and on to high school, or go to their traditional school at any time.
To provide options, students can study the arts, math, science, technology, literacy, or language and culture. The school district also understands that a large school may not be for everybody and provides smaller-scale school settings in their academies or K-8 schools. At the high school level, professional-technical classes are offered in the areas of construction, agriculture, welding, automotive services, culinary arts, health science, EMS services, and pre-engineering.
The district currently houses more than 1,900 teachers. More than 2,000 non-certified staff including library, computer and special education aides directly serve the district's students. The district's school buses, provided by Student Transportation Inc., log more than 3,116,000 miles (5,015,000 km) each year, shuttling over 13,000 students on 222 buses every school day.
West Ada School District's nutrition team serves approximately 21,000 meals every school day. The custodial staff maintains and cleans 4,610,000 square feet (428,000 m2) of building space and 860 acres (3.5 km2) of lawn.
Over 70 different languages are represented among the district's students. On average, 94 percent of students in the West Ada School District graduate high school, with the state average at 89 percent. Since 1979, Joint School District No. 2 has won over 150 state titles among its sports teams, competitive academic teams and performing groups.
Timeline
1945 - School districts reorganized to reduce 1,082 school districts in Idaho to 301 districts.
1950 - District named "Class A School District No. 2."
1963 - The District's name was officially changed to its current name, "Joint School District No. 2."
2005 - Total enrollment for the district reached over 30,000.
2007 - The district moved into its new offices, consolidating seven different office locations.
2014 - Colloquial name changed from "Meridian School District" to "West Ada School District."
There are currently 12 high schools and alternative schools in the district, five of which are classified 5A by the Idaho High School Activities Association.
Centennial High School - (1987)
Central Academy
Meridian Academy
Meridian High School - (1904, 1975)
Meridian Medical Arts Charter High School - (2003) (Alternative)
Meridian Technical Charter High School (Alternative)
Mountain View High School - (2003)
Renaissance High School- (2009) (Alternative)
Rocky Mountain High School - (2008)
Eagle Academy
Eagle High School - (1995)
Idaho Fine Arts Academy
There are currently 7 middle schools & 2 alternatives in the district.
Heritage Middle School (2007)
Lewis & Clark Middle School
Meridian Middle School (1904, 1975)
Sawtooth Middle School
Victory Middle School (2016)
Lake Hazel Middle School (1977)
Lowell Scott Middle School - (1972)
Eagle Middle School
Crossroads Middle School
Pathways Middle School
There are currently 31 elementary schools in the district.
Eagle Elementary School of the Arts
Eagle Hills Elementary
Galileo Math and Science Magnet*
Seven Oaks Elementary
Star Elementary
*Galileo Math and Science Magnet is both a middle school and an elementary school