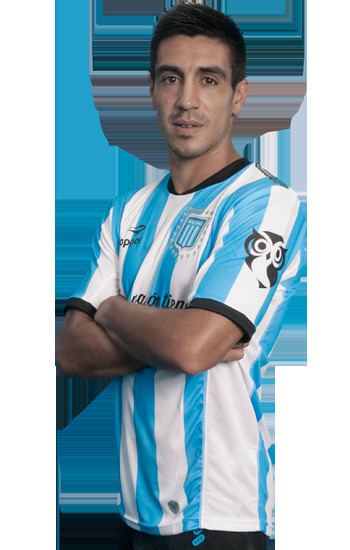 He debuted in 2005 for Rentistas at the age of 19. He played 22 games without scoring, although he caught the attention of several clubs for his ability in the hand to hand.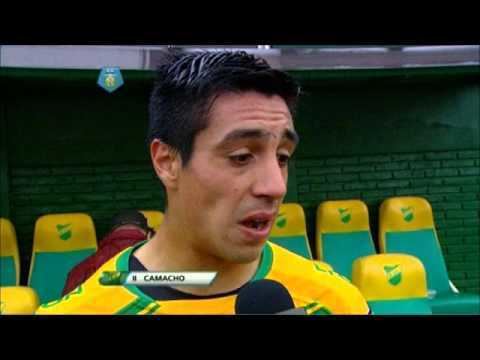 In 2008, he signed for Bella Vista for one year. He played 9 games and scored his first professional goal. In 2009, he played 8 games and scored his second goal in his career. In total he played 17 games and scored twice.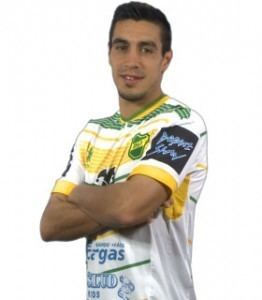 In 2009/2010 he had a brief stint for Las Piedras Youth playing 15 games and scoring 3 goals.
In the 2010/2011 season he signed for the club El Tanque Sisley. He played a destacadísima role in the team where he gave 9 assists; he played 18 games and scored just once for the club.
In 2011, he moved to Cerro of Uruguay where much was expected from a competitive team that made people excited. But that was only an illusion: the team had a regular season and finished in the middle of the table. Camacho did not perform as expected, playing 18 games without scoring.
In 2012, he signed for Godoy Cruz of Argentina; his first experience abroad. With the Tomba he had a very good season and next to Ruben Ramirez and his compatriot Álvaro Navarro formed an excellent offensive trident and the team finished 7th. In that tournament he played 4 games and made no goals. In 2013 Godoy Cruz finished mid-table with Camacho playing 6 games and creating 4 assists. In total he played 10 games with 4 assists for the Mendoza team.
In the second half of 2013 he became a record signing for Defensa y Justicia in Buenos Aires. Hand RR DT debuted in The Hawk he played 14 games and scored 2 goals starting to show his skills in the 1 on 1 as he did with Rentistas as a youth. In 2014, he was asked by Diego Cocca to stay and, as a key part of the team helped the club to their first promotion to the Argentine Primera División. He played 18 games and scored 2 goals. In the 2014 Argentine Primera División he played 20 games and scored 4 goals.
In the summer of 2015 his former coach Diego Cocca signed him for Racing Club. His first match was played against Velez Sarsfield where he had a bad game being rated with 2. Their second game was against San Martin de San Juan where qualifies with 4 being the best of the computer in a boring match that ended 0-0 and lost on penalties where the error yours. Their third match was played against Rosario Central where he was a second half substitute and put in a good performance being rated at 5. His fourth game was in the 2015 Copa Libertadores against Deportivo Tachira where he had an excellent performance rated 8. His fifth game was against Club Guaraní of Paraguay where after a pitch of Luciano Lollo asisted the legendary Diego Milito to score the second goal in the 4–1 win, and was rated 8. The sixth game was against Club Atlético Temperley where after a cross from Luciano Aued, headed to Marcos Acuña who opened the scoring in the 2-1 victory and was rated a 7.5. championship date becomes his first goal for Racing after an excellent move by Brian Fernandez, and this finished and Jorge Broun left dead and nearly falling Camacho managed to hit left-footed to make the score 4 to 1. On April 11 he assisted Carlos Rodrigo Núñez to establish a 2-0 lead against Huracán.
Against Montevideo Wanderers he scored his second goal with "The Academy" after a cross from Diego Milito. Against Vélez Sarsfield his third goal came after a great cross from Luciano Aued. Sarmiento de Junin turns against his 4th goal Racing after a great cross from Luciano Lollo thus putting the 2-0 victory in the 2 to 1 against Quilmes AC scores his 5th goal in the club's 2-1 defeat, was rated at 5.
In 2016, he signed for Club Cerro Porteño.
Rentistas 2005-2007
Bela Vista 2008
Juventud Las Piedras 2009-2010
El Tanque Sisley 2010-2011
Cerro 2011-2012
Godoy Cruz de Mendoza 2012-2013
Defensa y Justicia 2013-2014
Racing Club 2014-2015
Club Cerro Porteño 2016–Present