Cause of death

multiple myeloma







Full Name

Warren William Krech

Born

December 2, 1894 (

1894-12-02

)

Aitkin, Minnesota, U.S.

Died

September 24, 1948, Hollywood, California, United States

Spouse

Helen Barbara Nelson (m. 1923–1948)

Parents

Frances Krech, Freeman E. Krech

Movies

Cleopatra, Gold Diggers of 1933, Employees' Entrance, The Wolf Man, Satan Met a Lady




Similar People

Mervyn LeRoy, Roy Del Ruth, George Waggner, Ann Dvorak, James Whale
Movie legends warren william
Warren William (born Warren William Krech; December 2, 1894 – September 24, 1948) was a Broadway and Hollywood actor, immensely popular during the early 1930s; he was later nicknamed the "King of Pre-Code".
Contents
Warren william pre code hollywood
Early life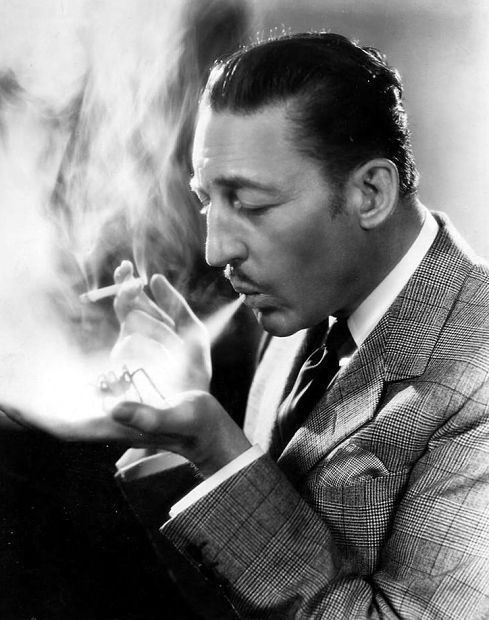 Warren William Krech's family originated in Tennstedt, Saxony, Germany. His grandfather, Ernst Wilhelm Krech (born 1819), fled Germany in 1848 during the Revolution, going first to France and later emigrating to the United States. He wed Mathilde Grow in 1851, and had six children. Freeman E. Krech, Warren's father, was born in 1856.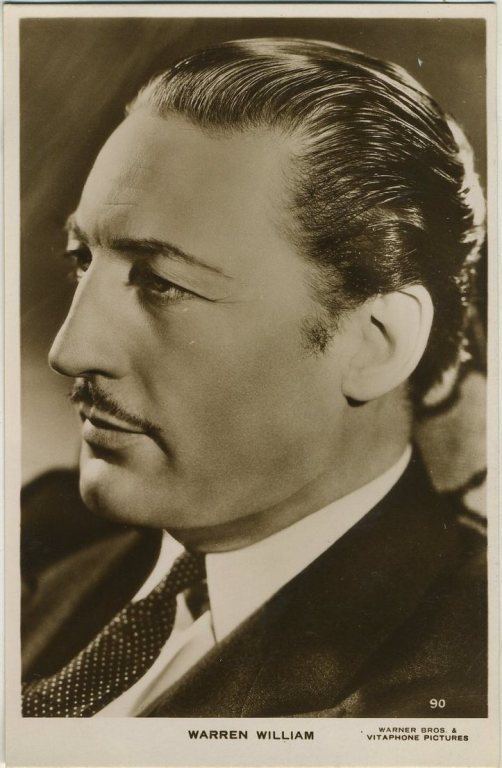 Around the age of 25, Freeman moved to Aitkin, a small town in Minnesota, where he bought a newspaper, The Aitkin Age, in 1885. He married Frances Potter, daughter of a merchant, September 18, 1890. Their son Warren was born December 2, 1894.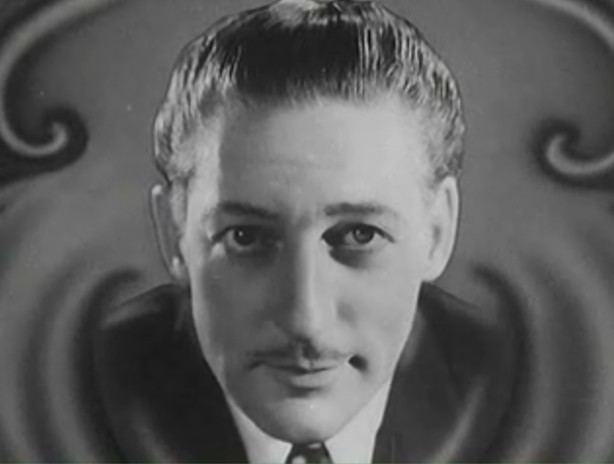 Warren William's interest in acting began in 1903, when an opera house was built in Aitkin. He was also an avid and lifelong amateur inventor, a pursuit that may have contributed to his death. After high school, William auditioned for, and was enrolled in, the American Academy of Dramatic Arts (AADA) in New York City in October 1915.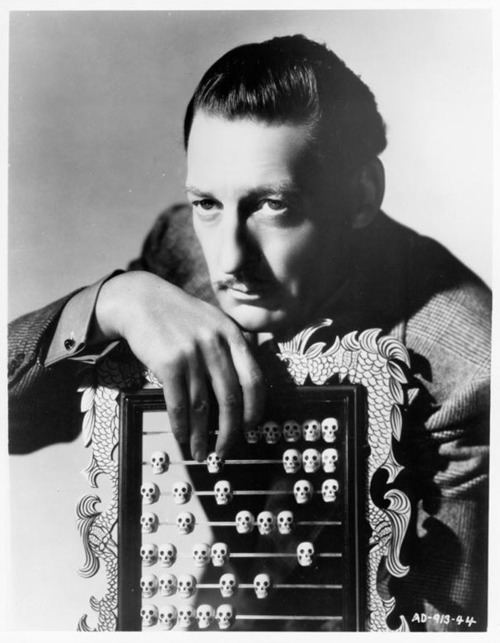 As his senior year at AADA was coming to an end, the First World War had begun, and William enlisted in the United States Army. He was assigned from base to base, in charge of training new men at various locations, and in 1918, was assigned to Fort Dix near New York City, in New Jersey. While in New York, he met his future wife, Helen Barbara Nelson, who was 17 years his senior. In October 1918 he left for France, to enter the war. William left the army in early 1919, after which he began working on his acting career. In 1923, he and Helen were married.
Career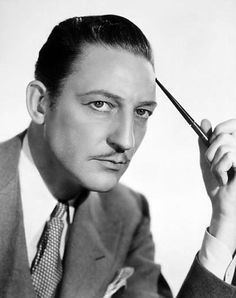 William appeared in his first Broadway play in 1920, and had soon made a name for himself in New York. William appeared in 22 plays on Broadway between 1920 and 1931. During this period he also appeared in two silent films, The Town That Forgot God (1922) and Plunder (1923).
William moved from New York City to Hollywood in 1931. He began as a contract player at Warner Bros. and quickly became a star during what is now known as the 'Pre-Code' period. He developed a reputation for portraying ruthless, amoral businessmen (Under 18, Skyscraper Souls, The Match King, Employees Entrance), crafty lawyers (The Mouthpiece, Perry Mason), and outright charlatans (The Mind Reader). These roles were considered controversial yet they were highly satisfying, as this was the harshest period of the Great Depression, characterised by massive business failures and oppressive unemployment; hence audiences tended to jeer the businessmen, who were portrayed as predators.
William did play some sympathetic roles, including "Dave The Dude" in Frank Capra's Lady for a Day, a loving father and husband cuckolded by Ann Dvorak's character in Three on a Match (1932), a young songwriter's comically pompous older brother in Golddiggers of 1933, Julius Caesar in Cecil B. DeMille's Cleopatra (1934; starring Claudette Colbert in the title role), and with Colbert again the same year as her character's love interest in Imitation of Life (1934). He played the swashbuckling musketeer d'Artagnan in The Man in the Iron Mask (1939), directed by James Whale. William was the first to portray Erle Stanley Gardner's fictional defense attorney Perry Mason on the big screen and starred in four Perry Mason mysteries. He played Raffles-like reformed jewel thief The Lone Wolf in nine films for beginning with The Lone Wolf Spy Hunt (1939), and appeared as Detective Philo Vance in two of the series films, The Dragon Murder Case (1934) and the comedic The Gracie Allen Murder Case (1939). He also starred as Sam Spade (renamed Ted Shane) in Satan Met a Lady (1936), the second screen version of The Maltese Falcon.
Other roles include Mae West's manager in Go West, Young Man (1936), a jealous District Attorney in another James Whale film, Wives Under Suspicion (1938), copper-magnate Jesse Lewisohn in 1940's Lillian Russell, the evil Jefferson Carteret in Arizona (also 1940), sympathetic Dr. Lloyd in The Wolf Man (1941), Brett Curtis in cult director Edgar G. Ulmer's modern-day version of Hamlet, 1945's Strange Illusion, and as Laroche-Mathieu in The Private Affairs of Bel Ami (1947), which would be William's last film.
On radio, William starred in the transcribed series Strange Wills, which featured "stories behind strange wills that run the gamut of human emotion."
Death
Although on-screen William was an actor audiences loved to hate, off-screen William was a private man, and he and his wife, Helen, kept out of the limelight. Warren and Helen remained a couple throughout his entire adult life. He was often described as having been shy in real life. Co-star Joan Blondell once said, "[He] ... was an old man – even when he was a young man."
Warren William died on September 24, 1948, from multiple myeloma, at age 53. His wife would die a few months later. He was recognized for his contribution to motion pictures with a star on the Hollywood Walk of Fame in February 1960.
Filmography
Actor
1947
The Private Affairs of Bel Ami
as
Laroche-Mathieu
1946
Fear
as
Police Capt. Burke
1945
Strange Illusion
as
Brett Curtis
1943
Passport to Suez
as
Michael Lanyard aka The Lone Wolf
1942
One Dangerous Night
as
Michael Lanyard
1942
Counter-Espionage
as
Michael Lanyard
1942
Wild Bill Hickok Rides
as
Harry Farrel
1941
The Wolf Man
as
Dr. Lloyd
1941
Secrets of the Lone Wolf
as
Michael Lanyard
1941
Wild Geese Calling
as
Blackie Bedford
1941
The Lone Wolf Takes a Chance
as
Michael Lanyard
1940
Trail of the Vigilantes
as
Dawson
1940
The Lone Wolf Keeps a Date
as
Michael Lanyard
1940
Arizona
as
Jefferson Carteret
1940
The Lone Wolf Meets a Lady
as
Michael Lanyard
1940
Lillian Russell
as
The Famous J.L.
1940
The Lone Wolf Strikes
as
Michael Lanyard
1939
Day-Time Wife
as
Bernard Dexter
1939
The Man in the Iron Mask
as
D'Artagnan
1939
The Gracie Allen Murder Case
as
Philo Vance
1939
The Lone Wolf Spy Hunt
as
Michael Lanyard
1938
Wives Under Suspicion
as
District Attorney Jim Stowell
1938
Arsène Lupin Returns
as
Steve Emerson
1937
The First Hundred Years
as
Harry Borden
1937
Madame X
as
Bernard Fleuriot
1937
The Firefly
as
Major de Rouchemont
1937
Midnight Madonna
as
Blackie Denbo
1937
Outcast
as
Dr. Wendell Phillips / Phil Jones
1936
Go West Young Man
as
Morgan
1936
Stage Struck
as
Fred Harris
1936
Satan Met a Lady
as
Ted Shane
1936
The Case of the Velvet Claws
as
Perry Mason
1936
Times Square Playboy
as
Victor 'Vic' Arnold
1935
The Widow from Monte Carlo
as
Major Allan Chepstow
1935
The Case of the Lucky Legs
as
Perry Mason
1935
Don't Bet on Blondes
as
Oscar 'Odds' Owen
1935
The Case of the Curious Bride
as
Perry Mason
1935
Living on Velvet
as
Gibraltar
1934
The Secret Bride
as
Robert Sheldon
1934
Imitation of Life
as
Stephen Archer
1934
Cleopatra
as
Julius Caesar
1934
The Case of the Howling Dog
as
Perry Mason
1934
The Dragon Murder Case
as
Philo Vance
1934
Dr. Monica
as
John Braden
1934
Upperworld
as
Alexander Stream
1933
Just Around the Corner (Short)
as
Mr. Sears
1933
Lady for a Day
as
Dave the Dude
1933
Goodbye Again
as
Kenneth Bixby
1933
Gold Diggers of 1933
as
J. Lawrence Bradford
1933
The Mind Reader
as
Chandra
1933
Employees' Entrance
as
Kurt Anderson
1932
The Match King
as
Paul Kroll
1932
Three on a Match
as
Robert Kirkwood
1932
Skyscraper Souls
as
David Dwight
1932
The Dark Horse
as
Hal Samson Blake
1932
Beauty and the Boss
as
Baron Josef von Ullrich
1932
The Mouthpiece
as
Vincent 'Vince' Day
1932
The Woman from Monte Carlo
as
Lieutenant d'Ortelles
1931
Under Eighteen
as
Raymond Harding
1931
Expensive Women
as
Neil Hartley
1931
Honor of the Family
as
Captain Boris Barony
1931
How I Play Golf, by Bobby Jones No. 7: 'the Spoon' (Short)
as
Warren William - the Husband (uncredited)
1923
Plunder
as
Mr. Jones (as Warren Krech)
1922
The Town That Forgot God
as
Eben (as Warren Krech)
Soundtrack
1936
Times Square Playboy ("The Wedding March")
1935
The Case of the Lucky Legs ("Bridal Chorus (Here Comes the Bride)" (1850), uncredited)
1934
Upperworld (performer: "Who's Afraid of the Big Bad Wolf?" - uncredited)
1933
Goodbye Again (performer: "Tenting on the Old Camp Ground" (1864) - uncredited)
Self
1938
Unusual Occupations: L-8-3 (Documentary short)
as
Warren William
1938
Screen Snapshots Series 17, No. 5 (Documentary short)
as
Self
1937
The Candid Camera Story (Very Candid) of the Metro-Goldwyn-Mayer Pictures 1937 Convention (Documentary short)
as
Self (uncredited)
1936
Screen Snapshots Series 16, No. 4 (Documentary short)
as
Self
1936
Screen Snapshots Series 15, No. 5 (Documentary short)
as
Self
1935
Things You Never See on the Screen (Short)
as
Self
1935
A Dream Comes True (Documentary short)
as
Self (uncredited)
1935
A Trip Thru a Hollywood Studio (Short documentary)
as
Self (uncredited)
1934
The Hollywood You Never See (Documentary short)
as
Self / Julius Caesar
1934
Screen Snapshots, Series 14, No. 1 (Documentary short)
as
Self
1933
Hollywood on Parade No. A-12 (Short)
as
Self
Archive Footage
2008
American Masters (TV Series documentary)
as
Raymond Harding
- You Must Remember This: The Warner Bros. Story - Part 1 (2008) - Raymond Harding
2008
Thou Shalt Not: Sex, Sin and Censorship in Pre-Code Hollywood (TV Movie documentary)
as
Various Roles
2007
Cinemassacre's Monster Madness (TV Series documentary)
as
Dr. Lloyd
- The Wolf Man (1941) (2007) - Dr. Lloyd
1994
Mae West and the Men Who Knew Her (TV Movie documentary)
1986
Saturday Afternoon Mad Theater (TV Series)
as
Dr. Lloyd
- The Wolf Man (1986) - Dr. Lloyd
1983
Hollywood Out-takes and Rare Footage (Documentary)
as
Self (uncredited)
1966
The Wolfman (Short)
as
Dr. Lloyd
1964
Hollywood and the Stars (TV Series documentary)
as
Hal Samson Blake (clip from The Dark Horse (1932))
- The Angry Screen (1964) - Hal Samson Blake (clip from The Dark Horse (1932)) (uncredited)
1936
Breakdowns of 1936 (Short)
as
Self
References
Warren William Wikipedia
(Text) CC BY-SA