Name

Warren Wald











Similar

Jessica Garlick, Rosie Ribbons, Hayley Evetts
Worst auditions ever warren wald
Warren Wald was a former Pop Idol contestant who became famous across Britain in 2003 after performing the 1980s hit song "Eye of the Tiger" in the Pop Idol auditions.
Contents
Warren wald eye of the tiger
Pop Idol
Despite not progressing past the auditions on Pop Idol, Warren became one of the most famous people to come out of the television series after performing Eye of the Tiger so badly that much of the British public adored him. The video of his performance went viral online even though his performance predated YouTube.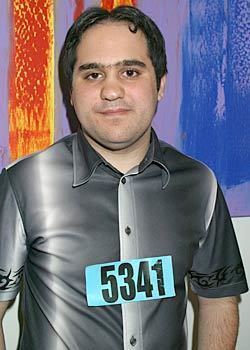 Soon after his audition was broadcast on television for the first time and after seeing Warren face harsh criticism from the Pop Idol judges (that of Simon Cowell and Dr Fox) the viewing public as well as the media took a liking to Warren and he became a very popular figure. Warren who had previously been living a simple life in the North London suburbs suddenly became a tabloid celebrity appearing on several occasions in all the major tabloid newspapers as well as giving interviews on television and radio including on the BBC's Five Live channel.
To some Warren was even a mini-hero. His guts and determination to enter the Pop Idol show and to do something that he really wanted earned him the respect of the British public. As a well-known face to the British public wherever he would go people of all backgrounds would approach him, shake his hand and talk about the respect they had for him.
Singing career
Soon after reaching fame Warren considered using that fame to launch a singing career. This included performing Eye of the Tiger again at a huge crowd in Hull alongside some of the top names in British pop music.
After much thought in 2004 Warren decided not to pursue a singing career for the time being but some rumours in the tabloids have suggested that in the future he may launch a cover of the Eye of the Tiger. In 2004 and early 2005, the tabloids were Warren-tastic and had a whole series of rumours about him with the most written-about being that he was in time to head the advertising for the cerial "Frosties" who had used the Eye of the Tiger song in previous advertising strategies. [2][3]
References
Warren Wald Wikipedia
(Text) CC BY-SA