Walk Into Paradise (also known as Walk Into Hell) is a 1956 French-Australian international co-production adventure film directed by Lee Robinson and Marcello Pagliero shot on location in the highlands of Papua New Guinea.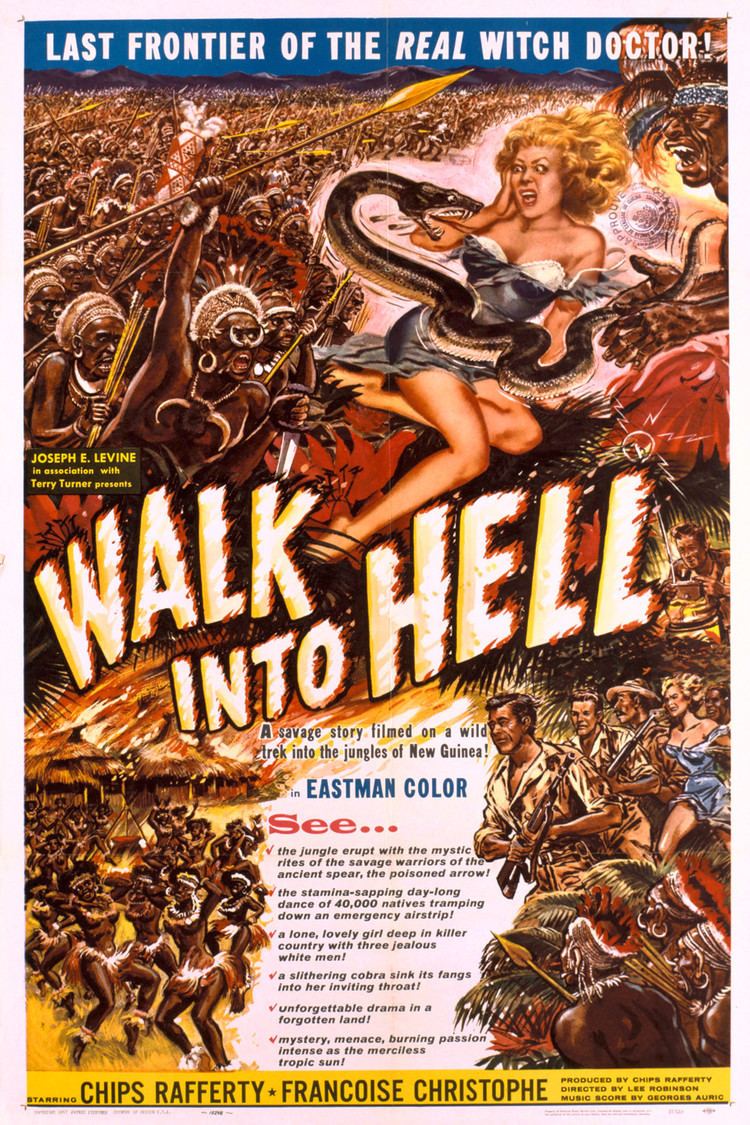 In New Guinea, an expedition led by Australian District Officer Steve McAllister heads up the Sepik River to a valley where the adventurer Sharkeye Kelly has discovered oil. The party includes United Nations doctor Louis Dumarcet and crocodile hunter Jeff Clayton.
Louise takes blood samples from small children and is attacked by a witchdoctor. The expedition risks being massacred but the children recover in time.
Chips Rafferty as Steve MacAllister
Françoise Christophe as Dr. Louise Dumarcet
Reg Lye as Ned 'Shark-eye' Kelley
Pierre Cressoy as Jeff Clayton
Sergeant Major Somu as Sgt.-Major Towalaka
District Officer Fred Kaad as himself
Capt. Richard Davis as himself
The film was originally planned as an entirely Australian film by Southern International Productions. Pre production began in 1954.
Richard Boone and Chips Rafferty became friends making Kangaroo together. In 1954 Boone announced he would act in the film, then called The Head Hunters. It was delayed reportedly due to poor weather.
French producer Paul-Edmond Decharme proposed Rafferty and Robinson go into business with the French company Discifilm. The script was rewritten to accommodate two French stars. Robinson later claimed that 60% of the money invested in the film came from housewives.
Shooting began in New Guinea in June 1955 and took place over twelve weeks. Every scene was shot twice – once in French, once in English: Pagliero would direct the French version, Robinson would do the English. Despite the difficulties of shooting on location, the film was infused only three days behind schedule.
The film was edited in Paris.
The film was released in France as L'Odyssée du Capitaine Steve. A novelisation of the script by Gavin Casey was published in 1956.
Director Lee Robinson was nominated for the Golden Palm Award at the 1956 Cannes Film Festival, but was beaten by Jacques-Yves Cousteau and Louis Malle for Le Monde du silence.
American producer Joseph E. Levine purchased the film for distribution and added more jungle footage. When the film did poor business he retitled it Walk into Hell that increased its earnings dramatically. Robinson claimed at one stage the movie was one of the 100 top grossers in the US.