Name

Wahida Valiante




Education

York University



Social Work with Wahida Valiante (3-3)
Wahida C. Valiante is a Muslim Canadian advocate.
Contents
Early life
Wahida Chishti Valiante (née Chishti), the youngest of four children, was born in Mirpur, Azad Kashmir, formerly part of Kashmir. She is a direct descendant of Moinuddin Chishti. Her father Qiam Ali Chishti was a public prosecutor in Jammu and Kashmir, and her mother Hydiat Sultana was a high school teacher.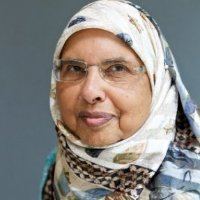 Valiante was a child when Pakistan and India underwent their partition in 1947. A couple of years later she arrived in London, England as an orphan – her father having died while hunting in Kashmir's mountains years earlier and her mother having only recently died of a burst brain aneurysm. With her two older sisters and brother she lived in England for another 11 years. There she attended the Royal Polytechnic.
In 1961 she moved to Canada and began studying for a degree in Chartered Accountancy at Concordia University. In 1963 she married an Italian immigrant (who was a Muslim Canadian). Wahida holds a BA (Psychology), BSW from York University and an MSW from the University of Toronto, as well as a diploma in Family Mediation.
Career
Wahida is an author on South Asian family, South Asian women, domestic violence and social work interventions.
Her recently published book attests to that passion. "A Mosaic of Thoughts" is the first anthology of her writings covering these very topics that are beyond the narrow spectrum of only addressing religion and families.
For several years Wahida has been a regular television panelist helping to promote interfaith dialogue on ethical, moral and social issues from an Islamic perspective.
Wahida is a founding member and past president of the Ontario School of Islamic Studies in North York, which was that region's first Islamic school. She is also a cyber-counselor with Islam on Line and a long time member of the National Christian Muslim Liaison Committee.
Canadian Islamic Congress (CIC)
Valiante is a founding member and former national president of the Canadian Islamic Congress (CIC). She has served CIC for thirteen years – ten as its vice-president and the last three as national president.
After serving as founding national chair of Islamic History Month Canada since its inception in 2007, Valiante stepped down in 2011.
Controversy
In a 2003 opinion piece for the CIC, The Slave Named Bilal: a Forgotten Page in the History of Islam, Valiante wrote:
Unfortunately, the Jewish idea of being "chosen" not only institutionalized racism, but also set a terrible precedent for human history in general, where racial superiority claims became the norm, the divisive standard by which all others, those not like us were to be judged and treated.
Rachael Turkienicz, a professor of Jewish studies and education and an officer of Canadian Jewish Congress' Ontario region, wrote, in an open letter to Valiante, published on the CIC website, that:
This statement repeats one of the most classic and damaging canards about the Jewish religion... to assert that it is the Jews that are somehow responsible for having institutionalized racism in the world. To even say such a thing is to fundamentally misuse anti-racism education; indeed, it deploys a purportedly anti-racist message in the cause of its own prejudice.
Valiante replied to Turkienicz, apologizing for her interpretation of the term "chosen people", and stating that it was "inconsistent with its meaning in the scriptures of the Old Testament."
References
Wahida Valiante Wikipedia
(Text) CC BY-SA