7.5

/

10

Alchetron

Rate This




Uncensored (1995)

Slamboree (1995)




Uncensored (1995)

Uncensored (1996)




Attendance

5,782




Venue

Tupelo Coliseum






First

Uncensored (1995)




Date

March 19, 1995




City

Tupelo




Cast

Kimberly Page






Promotion

World Championship Wrestling




Tagline(s)

Unsanctioned, Unauthorized, Unbelievable!




Similar

Slamboree, Bash at the Beach, Fall Brawl, Halloween Havoc, WCW Monday Nitro
WCW Uncensored was an annual professional wrestling pay-per-view (PPV) event from World Championship Wrestling (WCW) held in the month of March from 1995 through 2000. It was replaced in 2001 by Greed.
Contents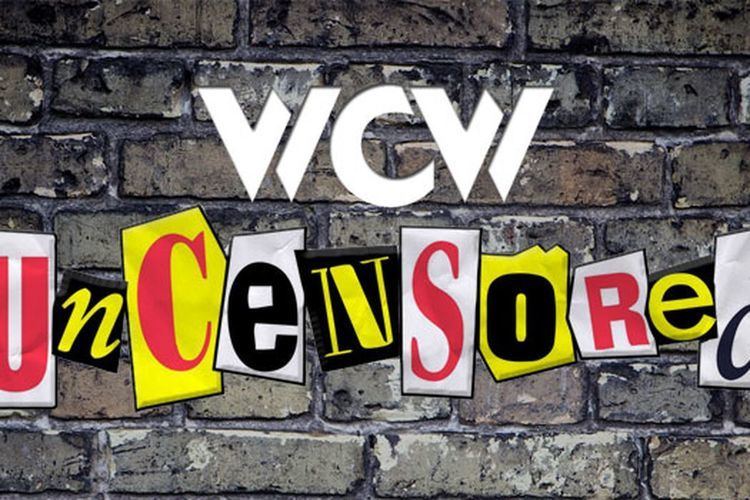 The recurring concept of Uncensored was that it was an event that, in storylines, the (fictional) WCW Board of Directors had washed their hands of. Thus, each match on the card was ostensibly unsanctioned, meaning they were not subject to the normal rules of WCW-sanctioned wrestling matches. In reality, it was a normally-booked WCW show, albeit one with a tendency to feature more gimmick matches than usual. This notion, however, was downplayed during the last few years that it was part of the WCW PPV schedule. Hulk Hogan was featured in the main event of all six versions of the event. In 2014, All WCW pay-per-views were made available on the WWE Network.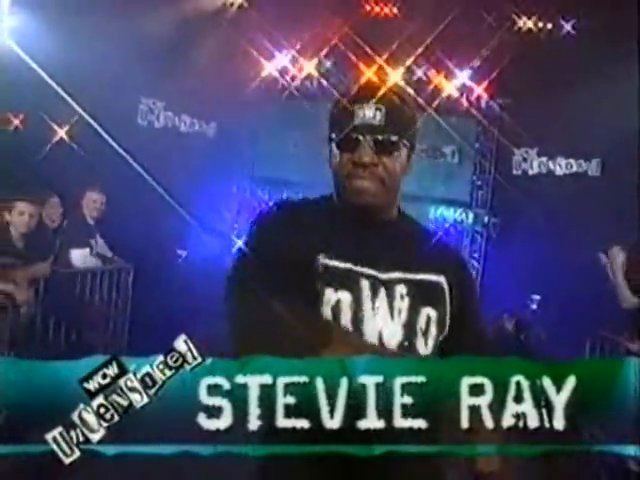 1995
Uncensored (1995) took place on March 19, 1995 from the Tupelo Coliseum in Tupelo, Mississippi.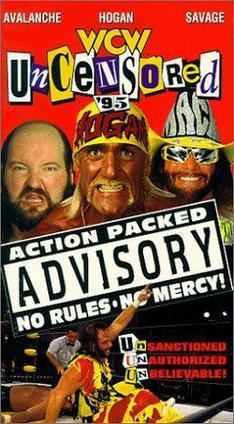 All of the pre-pay-per-view matches were broadcast live on WCW Main Event. The King of the Road match took place in the caged-off trailer of the Blacktop Bully's 18-wheeler truck, as it was driven (supposedly) around nearby roads. The object of the match was to climb to the top of the trailer's cage and sound a horn positioned there. Bully sounded the horn to win. This match was taped days earlier outside of Atlanta, Georgia and was heavily edited due to WCW's strict no-bleeding policy in place at the time. Dustin Rhodes and Bully were fired for blading during the match. The "Boxer vs. Wrestler" match between Johnny B. Badd and Arn Anderson was billed as having ten three-minute rounds, with a rest period of one minute between rounds. Anderson's WCW World Television Championship was not on the line. The rules stated that Anderson (as "the wrestler") could win by pinfall or submission, whereas Johnny B. Badd (as "the boxer") could only win by knockout. Despite the event being billed as "no rules" the Avalanche was disqualified in his match against Randy Savage after a "fan" attacked Savage. The fan turned out to be Ric Flair dressed like a woman. The Falls Count Anywhere Texas Tornado Tag Team match between The Nasty Boys and Harlem Heat ended up in the concession stands, where the participants attacked each other with cotton candy, soft drinks and other nearby objects. Harlem Heat's WCW World Tag Team Championship was not on the line in that match.

Before the PPV Hulk Hogan's manager Jimmy Hart was kidnapped and tied up at an undisclosed location by Vader and Flair. During the match Hart escaped and joined The Renegade at ringside. During the match a masked man appeared and attacked Renegade, before returning to the back. Hogan was given the win over Vader when he dragged an interfering Ric Flair and touched all four turnbuckles, despite Flair not being the legal opponent in the match). After the match, a masked man appeared again, seemingly siding with Vader and Flair, before unmasking to reveal himself as Randy Savage and embracing Hogan, Renegade and Hart. Savage had tied up the first masked man backstage, who was then revealed to be Arn Anderson. Hogan's WCW World Heavyweight Championship was not on the line in the match
1998
Uncensored (1998) took place on March 15, 1998 from the Mobile Civic Center in Mobile, Alabama.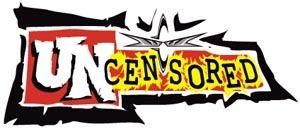 During the main event steel cage match between Hollywood Hogan and Randy Savage, The Disciple interfered, knocking the referee out and stopping Savage from assaulting Hogan. Savage then attacked Sting, who interfered on his behalf, and spat at Hogan before leaving the ring.
1999
Uncensored (1999) took place on March 14, 1999 from Freedom Hall in Louisville, Kentucky.
The lumberjacks for the WCW World Tag Team Championship match were: Norman Smiley, Hugh Morrus, Meng, Kenny Kaos, Arn Anderson, Kendall Windham, Bobby Duncum Jr. and Prince Iaukea. In the main event Ric Flair pinned Hulk Hogan while an unconscious Hogan was in the Figure-Four leglock. Flair, who had gained control of WCW for 90 days on a December 1998 edition of WCW Monday Nitro, ordered referee Charles Robinson to use discretion in stopping the match; as a result, Robinson did not stop the match when Flair bled first, nor would he count for Hogans own pin falls. Charles Robinson made a fast three count to give the match to Flair.
2000
Uncensored (2000) took place on March 19, 2000 from the American Airlines Arena in Miami, Florida.
The lumberjacks for the match between Sting and The Total Package were: Jimmy Hart, Curt Hennig, Doug Dillinger, Fit Finlay, Brian Knobs, Vampiro, Ron Harris, Don Harris, Stevie Ray, Big T and Hugh Morrus. Sting's lumberjacks had casts on their hands that were broken by Luger in the past. Package's lumberjacks had fake casts on their arm to mock and have the same advantage as Sting's lumberjacks. During the match, Tank Abbott came down to ringside to suckerpunch Doug Dillinger in the face. During the match, Ric Flair and Elizabeth interfered trying to attack Sting, but were both taken down by Jimmy Hart and Vampiro.
References
WCW Uncensored Wikipedia
(Text) CC BY-SA