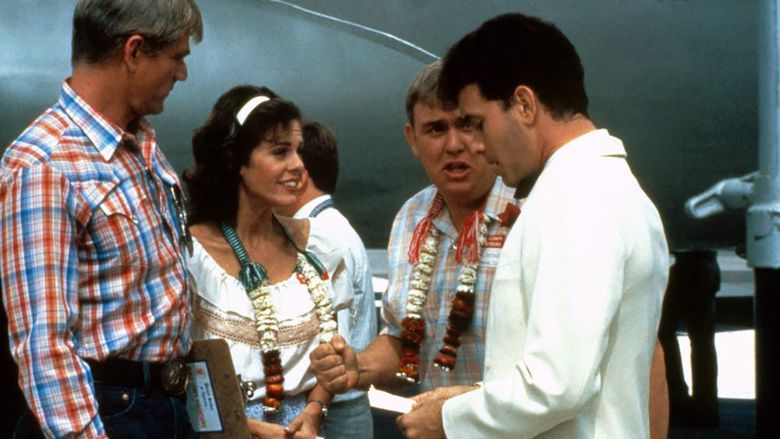 Lawrence Bourne III (Tom Hanks), is a spoiled rich kid who just graduated from Yale ("A College") Class of 1962; with a $28,000 gambling debt. After his father, Lawrence Bourne Jr. (George Plimpton), refuses to pay his son's debt, Lawrence escapes his angry creditors by trading places with his college roommate Kent (Xander Berkeley) and jumping on a Peace Corps flight to Thailand.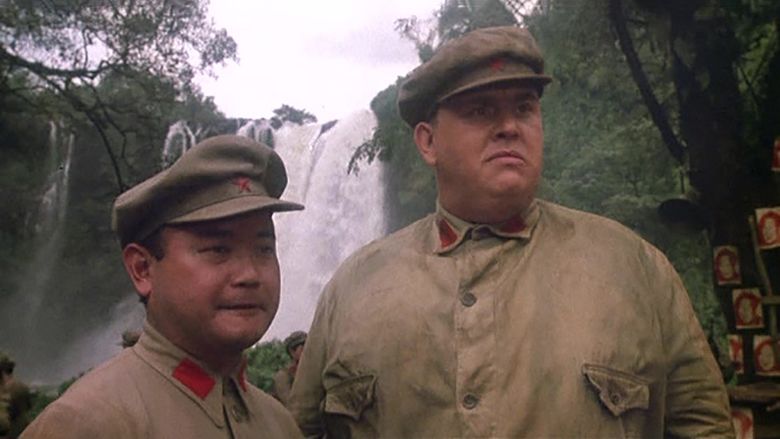 There he is assigned to build a bridge for the local villagers with Washington State University graduate Tom Tuttle from Tacoma (John Candy) and the beautiful, down-to earth Beth Wexler (Rita Wilson). What they do not realize is that the bridge is coveted by the Central Intelligence Agency, a local communist force, and the powerful drug lord Chung Mee (Ernest Harada).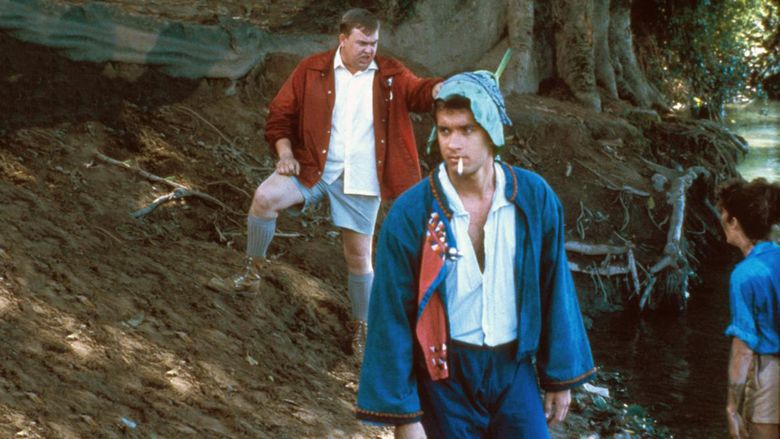 Tom Hanks as Lawrence Bourne III
John Candy as Tom Tuttle From Tacoma
Rita Wilson as Beth Wexler
Tim Thomerson as John Reynolds
Gedde Watanabe as At Toon
George Plimpton as Lawrence Bourne, Jr.
Ernest Harada as Chung Mee
Allan Arbus as Albert Bardenaro
Xander Berkeley as Kent Sutcliffe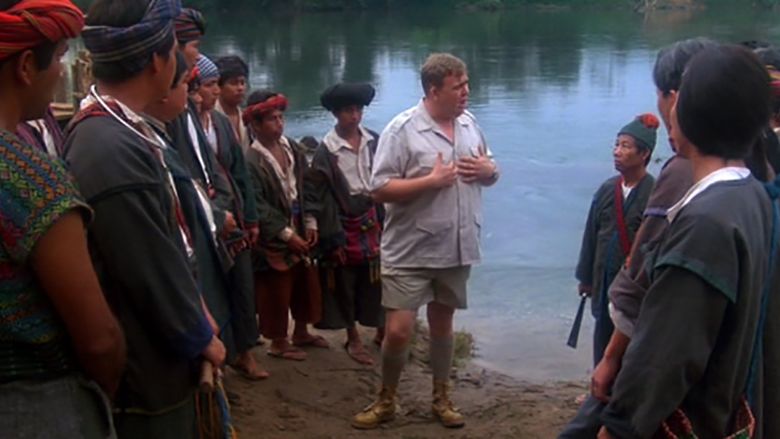 The film was in the works for six years before it was made. Volunteers was filmed in Tuxtepec, Oaxaca, Mexico. The filmmakers built a Thai village based on the Karen people of Burma's Golden Triangle, building the world's "longest suspension bridge" which was more than 250 yards long. A cast of over 100 people from all over the world, including Thai families, spent two and a half months filming.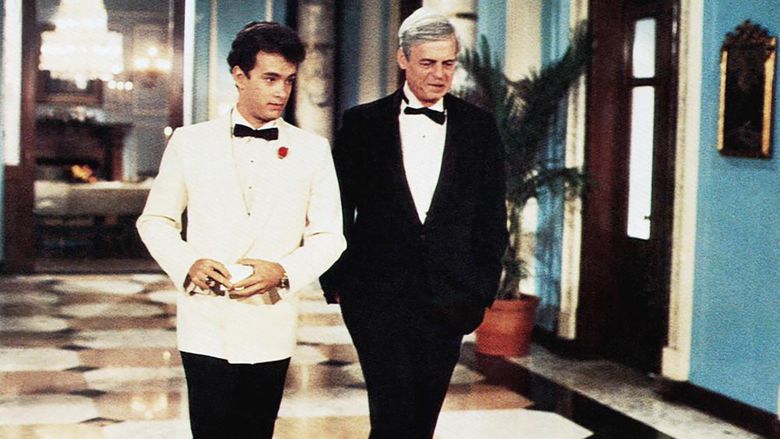 Meyer states that the director of the Peace Corps, Sargent Shriver, read the script and complained that it "was like spitting on the American flag," and demanded changes. The changes were never made, but by the time the film was released, Shriver was no longer director, and Peace Corps officials were willing to endorse the movie.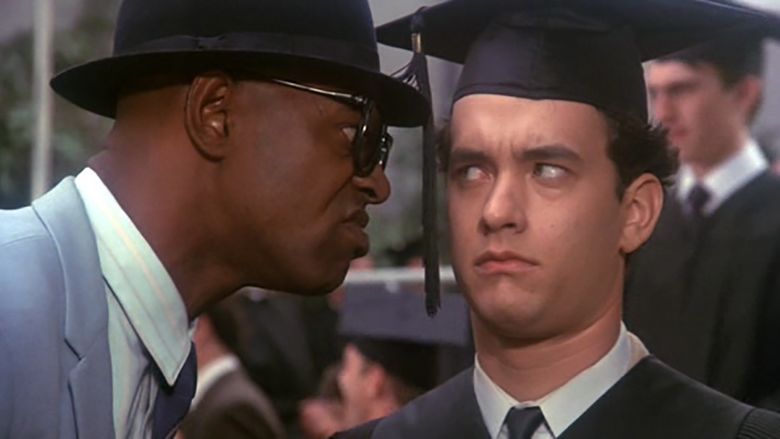 This film marked the reunion of Hanks and Candy, who starred in Splash. It is also the film where Hanks reconnected with his future wife, Rita Wilson, whom he had first met when they worked on an episode of Bosom Buddies.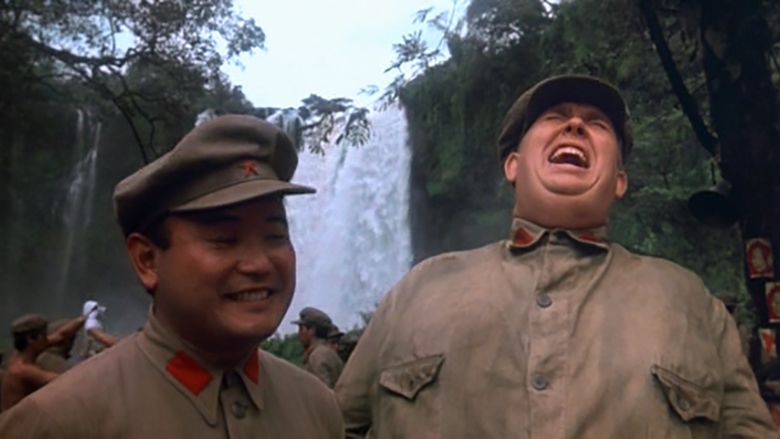 The scene in which Wilson and Hanks enjoy Coca-Cola was criticized as product placement, as TriStar was a unit of Columbia Pictures, then owned by The Coca-Cola Company. Co-writer Levine denies this, stating that the scene appeared in the first draft of the film written in 1980, when Metro-Goldwyn-Mayer was to be the studio.
The film spoofs a number of David Lean epics, including Lawrence of Arabia and The Bridge on the River Kwai, with the Washington State University Fight Song used in place of the "Colonel Bogey March".
The movie debuted No. 2 at the box office, earning $5,184,360 over its opening weekend. It ultimately grossed a domestic total of $19,875,740.
Volunteers received generally mixed reviews from critics. The film holds a 58% positive "Rotten" score on the review aggregator Rotten Tomatoes.
Walter Goodman of The New York Times praised the "steady directorial hand" of Nicholas Meyer and the "stylishly droll performance" of Tom Hanks, about whom Goodman added, "He is a center of confidence amid the frantic goings-on, turning peril into opportunity with an accent and aplomb that are the birthright of an eighth-generation Bourne."
Conversely, Variety called it "a very broad and mostly flat comedy" and wrote, "Toplined Tom Hanks gets in a few good zingers as an upperclass snob doing time in Thailand, but promising premise and opening shortly descend into unduly protracted tedium." Gene Siskel of the Chicago Tribune similarly stated that the film had "two lame performances by its leading actors, the vastly overrated Tom Hanks (...) and the consistently disappointing John Candy." He elaborated:
Playing an animated bowling ball can be very funny in short bursts, and it can work in a supporting movie role (see Candy in Splash), but when you're a top-billed star, when the movie is about your character, then you had better give us a character with some depth of emotion. Candy simply hasn't learned that lesson. He needs scenes in his movies where he just relaxes and plays an approximation of himself.
As for Hanks, as in The Man with One Red Shoe and Bachelor Party, he again turns us off with his smug attitude. [Bill] Murray is smug and cocky in all of his films, too, but there is a human, relaxed, everyman base to Murray's screen persona that isn't off-putting. By comparison, Hanks comes off as a jerk.