Russia




345,373 (2010)




990 or 1108




Golden Gate - Vladimir, Cathedral of Saint Demetrius, White Monuments of Vladimir and Suzdal, Dormition Cathedral - Vladimir, Church of the Intercession on the Nerl



Vladimir (Russian: ; ) is a city and the administrative center of Vladimir Oblast, Russia, located on the Klyazma River, 200 kilometers (120 mi) to the east of Moscow. It is served by a railway and the M7 motorway. Population: 345,373?(2010 Census); 315,954?(2002 Census); 349,702?(1989 Census).
Vladimir was one of the medieval capitals of Russia, with significant buildings surviving from the 12th century. Two of its Russian Orthodox cathedrals, a monastery, and associated buildings have been designated as among the White Monuments of Vladimir and Suzdal, a UNESCO World Heritage Site. In the past, the city was also known as Vladimir-on-Klyazma () and Vladimir-Zalessky (), to distinguish it from another Vladimir in Volhynia (modern Ukraine).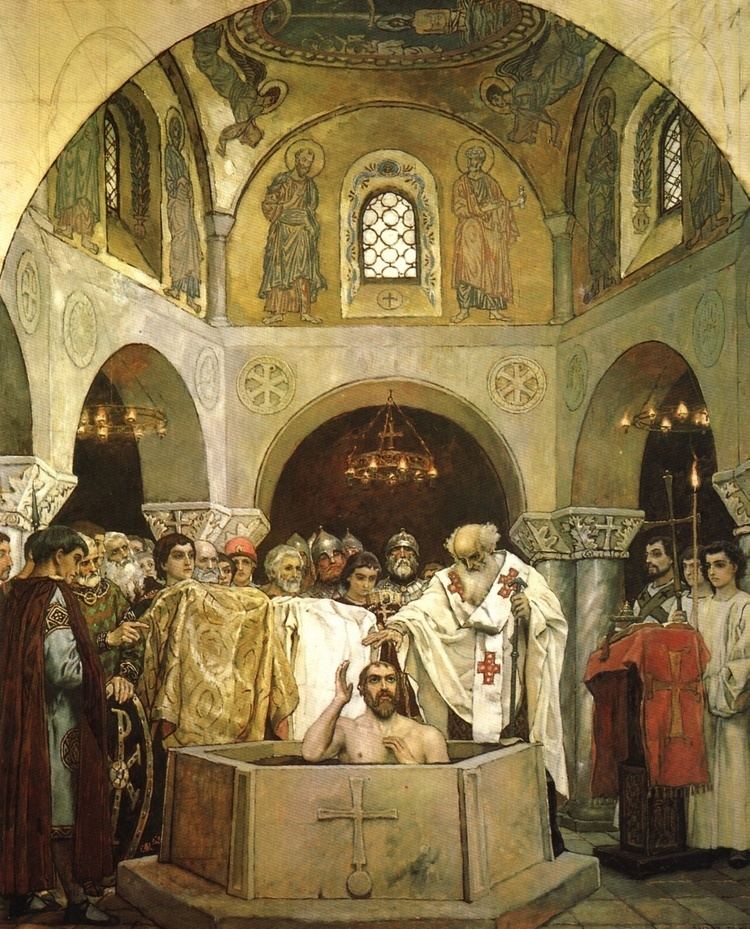 The area occupied by the city of Vladimir has been inhabited by humans (at least intermittently) for approximately 25,000 years. They developed successive cultures, which have been revealed by archeological, linguistic, and DNA evidence.
Modern Vladimir is a part of the Golden Ring of the ancient Russian cities and a popular tourist destination. Its three chief monuments, White Monuments of Vladimir and Suzdal, inscribed by UNESCO on the World Heritage List, are the following:
The magnificent five-domed Assumption Cathedral was designed as a sepulcher of grand princes and dedicated to the holy icon Theotokos of Vladimir, which had been brought to the city by Andrew the Pious. The cathedral was constructed in 1158–1160, expanded in 1185–1189, and painted by the great Andrei Rublev and Daniil Chyorny in 1408. In 1810, a lofty bell-tower was added in Neoclassical style.
The warrior-like cathedral of St. Demetrius was built in 1194–1197 as a private chapel of Vsevolod the Big Nest in the courtyard of his palace and was consecrated to his holy patron, St. Demetrius. For all its formal unity, the cathedral represents an international project of Russian and Byzantine masters, Friedrich Barbarossas masons, and carvers sent by Queen Tamar of Georgia.
The Golden Gate, originally a tower over the citys main gate, was built in 1158–1164. The gate acquired its present form after having been reconstructed in the late 18th century, to prevent the dilapidated structure from tumbling down.
Other remarkable monuments of pre-Mongol Russian architecture are scattered in the vicinity. For more information on them, see Suzdal, Yuriev-Polsky, Bogolyubovo, and Kideksha.
Vladimir Wikipedia
(,)http://upload.wikimedia.org/wikipedia/commons/8/8b/Vasnetsov_Bapt_Vladimir.jpg(,)http://2.bp.blogspot.com/-ZvYklAaolz8/U0RWRUZSgFI/AAAAAAAACZs/5Vmhrv-rgL0/s1600/1889%2BVladimir.jpg(,)http://s.newsweek.com/sites/www.newsweek.com/files/styles/headline/public/2014/08/18/0822putindaughters01web.jpg%3Fitok%3D1ZmL4wm4(,)http://www.history.com/s3static/video-thumbnails/AETN-History_VMS/21/143/History_GATT_Rasputin_rev_rev_SF_HD_still_624x352.jpg(,)http://media-cache-ak0.pinimg.com/736x/3c/14/cd/3c14cd5e6716ced9703e264b5da7b4ca.jpg(,)http://cp91279.biography.com/1000509261001/1000509261001_2226164972001_Bio-Biography-Vladamir-Lenin-Early-Life-SF-HD-768x432-16x9.jpg(,)http://41.media.tumblr.com/tumblr_m5u6bautKy1ruo07wo1_500.jpg
(,)http://www.myrussianfood.com/wp-content/uploads/2014/03/Putin-Russian-food-to-beat-McDonalds.jpg(,)http://foodperestroika.com/wp-content/uploads/2012/12/putineating.jpg(,)http://bon-vivant.dk/wp-content/uploads/2012/09/Timm-i-k%25C3%25B8kkenet.jpeg(,)http://finedininglovers.cdn.crosscast-system.com/BlogPost/xl_9688_Vladimir-Mukhin-finedininglovers-TP.jpg(,)http://media-cdn.tripadvisor.com/media/photo-s/06/5a/f0/23/vladimir-s-czechoslovakian.jpg(,)http://www.belgradedesignweek.com/wp-content/uploads/2014/09/vladam.jpg(,)http://img.finedininglovers.com/%3Fimg%3Dhttp%253A%252F%252Ffinedininglovers.cdn.crosscast-system.com%252FBlogPost%252FOriginal_5268_White-Rabit-moscow.jpg%26w%3D1200%26h%3D660%26lu%3D1423512234%26ext%3D.jpg(,)http://www.roomservice-film.com/images/Cover_CannibalCuisine.jpg(,)http://i.dailymail.co.uk/i/pix/2010/09/30/article-1316607-0B69DFD4000005DC-984_468x314.jpg(,)http://foodnchef.com/wp-content/uploads/2014/12/Stukotin-Vladimir-Raw-Chef-at-Premier-Palace-Hotel1.jpg