Vitaly Viktorovich Minakov (Russian: Виталий Викторович Минаков; born February 6, 1985, Bryansk) is a Russian sambist, judoka and undefeated mixed martial artist currently competing in the heavyweight division for Bellator MMA. He is the former Bellator MMA heavyweight champion. As of August 25, 2017, he is #17 in the world rankings by Fight Matrix.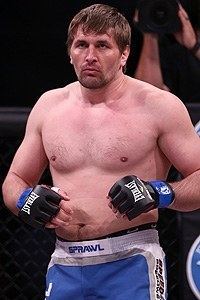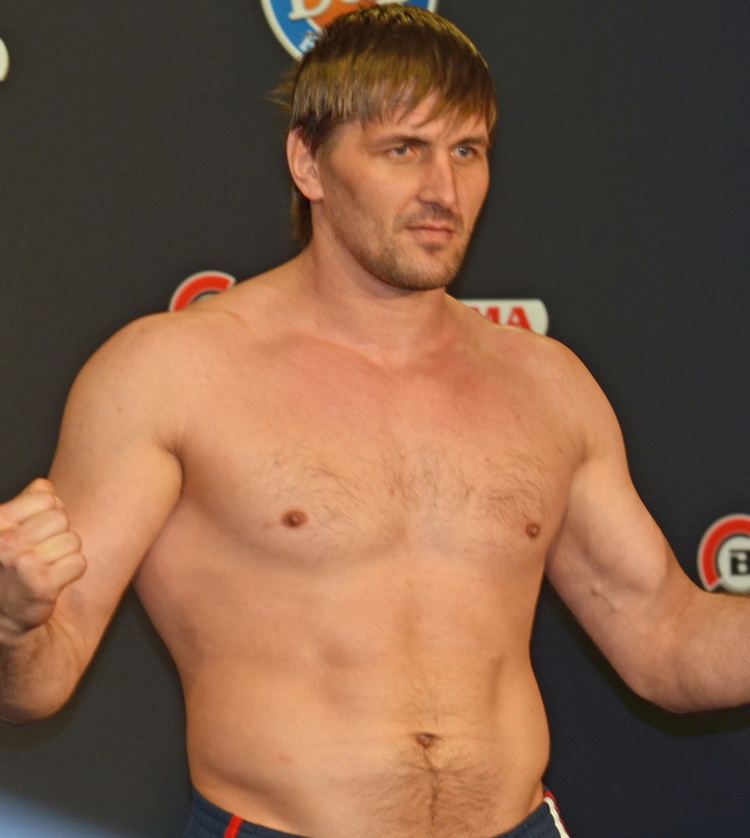 Because Vitaly is a numerous Sambo World Champion and a Junior Russian National Champion in Judo, he considered competing at the 2012 Olympics in London. It is unknown why he didn't make the team. In his 2010 interview, he also stated that he beat Teddy Riner, a numerous World Judo Champion and an Olympic Gold Medalist in a training/sparring session in 2006.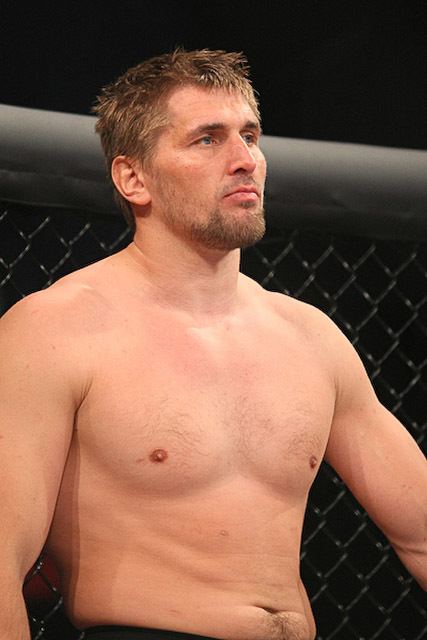 Minakov made his professional MMA debut in November 2010. He is a Sambo World Champion, (2008-2011).
Minakov defeated UFC and Bellator veteran Eddie Sanchez on June 7, 2012 at Fight Nights - Battle of Moscow 7. He won via KO in the first round.
Minakov defeated Brazilian Jiu-Jitsu World Champion and UFC veteran Fabiano Scherner on September 17, 2012 at Fight Nights - Battle of Desne. He won via KO in the first round.
In June 2012, Minakov was signed in Bellator.
He made his debut the following fall at Bellator 79 on November 2, 2012. He defeated a Moldavian National Champion & Judo Black Belt Vladimir Starcencov via TKO in the second round to win his Bellator and North American debut.
Minakov faced Ron Sparks on June 19, 2013 in the Bellator Heavyweight Tournament Semifinal. He won in the first round by technical knockout.
Minakov faced Ryan Martinez at Bellator 97 in the finals on July 31, 2013. He got the TKO victory via punches in the third round, after he took Martinez down and secured full mount.
Minakov faced and defeated Alexander Volkov on November 15, 2013 at Bellator 108 to win the Bellator Heavyweight Championship.
Minakov faced Bellator Season 9 Heavyweight Tournament winner Cheick Kongo at Bellator 115 on April 4. He won via unanimous decision to retain the Bellator Heavyweight Championship.
Minakov was stripped of his Bellator MMA title on May 14, 2016 due to inactivity.
After leaving Bellator MMA, Minakov returned to fight in his native Russia. He has fought six times since July 2015 and won all six of his bouts.
Bellator MMA
Bellator Heavyweight Championship (One time)
One Successful Title Defense.
Bellator 2013 Summer Series Heavyweight Tournament Championship.
Fight Nights Global
Undefeated in Fight Nights (8-0)
Global-MMA
Global-MMA Fighter of the Year 2013.
Federation International Amateur de Sambo (FIAS)
Sambo World Champion (4 time)
Russian National Champion (4 time)
Russian Presidential Cup Sambo Champion (3 time - 2008, 2009, 2010)
Russian Judo Federation
Russian Junior National Champion (1 time)
European Junior National Championship 3rd place.
Russian Freestyle Wrestling Federation
Russian Junior National Champion.