Occupation

ActorVoice actor




Movies

Lafangey Parindey




Role

Actor




Name

Viraj Adhav




Years active

1996-Current








Born

November 2

India




Similar People

Namit Das, Pradeep Sarkar, Amey Pandya, Mona Ghosh Shetty, Shakti Singh
Viraj adhav with komal nahta on etc
Viraj Adhav (Hindi: विराज आधव Virāja Ādhava, born 31 October 1977) is an Indian actor who acts on Bollywood and Indian television programs and also a voice actor who specializes with dubbing foreign films into Hindi, his native language.
Contents
Komal nahta with namit das viraj adhav vinay sharma
Dubbing career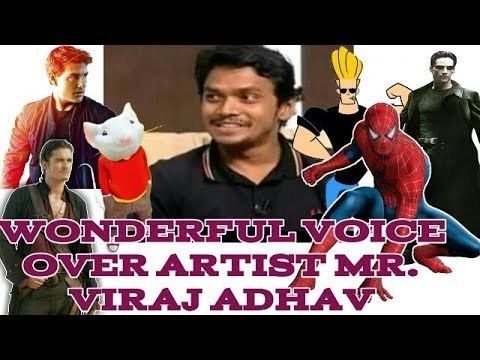 He is considered to be the official Hindi dub-over voice artist for American actor, Tom Cruise such as his role as Ethan Hunt throughout the Mission Impossible film series and other well known movies that Tom Cruise starred in. He is well known for being the Hindi dubbing voice of Tobey Maguire's role as Peter Parker/Spider-Man in Sam Raimi's Spider-Man trilogy. Also dubbed over Indian actors for Bollywood films such as John Abraham, Dino Morea, Ashmit Patel and Zulfi Syed. Viraj has also been the Hindi voice of the Character Mickey in Mickey Mouse for the past 13 years. Viraj is also the voice of M.S.Dhoni in all of his commercials.
Usually, just about all the roles that he dubs over for films are considered main protagonist roles, but it's rare for him to play supporting protagonist roles. He usually never dubs for any antagonist role, although there are extremely rare exceptions, but it's something that Viraj doesn't dub for, at just about any time.
Filmography
Actor
2017
Baahubali: The Lost Legends (TV Series)
as
Baahubali / Bahubali / Jadugar / ...
- Revenge of the Ronin - Part 2 (2020) - Bahubali
- Revenge of the Ronin - Part 1 (2020) - Bahubali
- Bijjaladeva's Big Day (2020) - Baahubali
- The Magician (2020) - Baahubali
- Shikaar's Last Hunt - Part 2 (2020) - Baahubali / Jadugar
- Shikaar's Last Hunt - Part 1 (2020) - Baahubali
- The Return (2020) - Baahubali
- Against the Ninja (2020) - Baahubali
- The Sword Saint (2020) - Baahubali
- Prisoner of the Wolf (2020) - Baahubali
- The Tiger and his Son (2020) - Baahubali
- The Forest of Ghosts (2020) - Baahubali
- The Mark of Koi - Part 2 (2020) - Baahubali
- The Mark of Koi - Part 1 (2020) - Baahubali
- The Land of the Rising Sun (2020) - Baahubali
- The Siege of Mahishmati - Part 2 (2019) - Baahubali
- The Siege of Mahishmati - Part 1 (2019) - Baahubali
- The Kalakeya Refugee (2019) - Baahubali
- Return of the Blades (2019) - Baahubali
- A Murder in Mahishmati (2019) - Baahubali
- The Lost Tribe (2019) - Baahubali
- The Warrior Queen (2019) - Baahubali
- The Cult - Part 2 (2019) - Baahubali
- The Cult - Part 1 (2019) - Baahubali / Old Beggar
- Trapped in the Labyrinth (2019) - Baahubali
- Growing Pains (2019) - Baahubali
- The Bandit King - Part 2 (2019) - Baahubali
- The Bandit King - Part 1 (2019) - Baahubali
- An Elephant Never Forgets (2019) - Baahubali
- The Eagle's Nest (2019) - Baahubali
- Beauty's Mask (2019) - Baahubali
- Revenge of the King (2018) - Baahubali
- Broken Crown (2018) - Baahubali
- Desert Rose (2018) - Baahubali
- Warlord of the Sands (2018) - Baahubali
- Obsidian Blades (2018) - Baahubali
- The Slavers (2018) - Baahubali
- Heavy is the Head (2018) - Baahubali
- Beast in the Dark (2018) - Baahubali
- The Wild Hunt (2018) - Baahubali
- Village of the Lost (2018) - Baahubali
- Children of the Trees (2018) - Baahubali
- Birthright (2018) - Baahubali
- The Lost King (2018) - Baahubali
- Kingdom on Fire (2018) - Baahubali
- The Burning Curse (2018) - Baahubali
- The Legend of Kaala Khanjar (2018) - Baahubali
- King of the Sea (2018) - Baahubali
- The Great Game (2018) - Baahubali
- The Pirate's Daughter (2018) - Baahubali
- Revelations (2018) - Baahubali
- For the Life of Katappa (2018) - Baahubali
- Tyger, Tyger (2018) - Baahubali
- The Battle of Jwalarajyam Part 2 (2018) - Baahubli
- The Battle of Jawalarajyam Part 1 (2018) - Baahubali
- A Royal Welcome (2018) - Baahubali
- The Tournament of Champions Part 2 (2017) - Baahubali
- The Tournament of Champions Part 1 (2017) - Baahubali
- The Gathering (2017) - Baahubali
- The Master (2017) - Baahubali
- The Blood Moon (2017) - Baahubali
- Riot in Mahishmati (2017) - Baahubali
- A Secret Life (2017) - Baahubali
- The Legend of Katappa (2017) - Baahubali
- Tiger by the Tail (2017) - Baahubali (voice)
- Blood for Blood (2017) - Baahubali (voice)
- The Royal Visit Part 02 (2017) - Baahubali (voice)
- The Royal Visit (2017) - Baahubali (voice)
- The Legend Begins (2017) - Baahubali (voice)
2010
Lafangey Parindey
as
Rameshwar Iyer / Diesel
Miscellaneous
2016
Raaz Reboot (dubbing artist: Gaurav Arora)
2016
Baaghi (dubbing artist: Sudheer Babu)
2014
Action Jackson (dubbing artist: Anandraj)
2013
Zanjeer (hindi dubbing artist: Ram Charan)
2011
Phhir (dubbing artist: Rajneesh Duggal)
2008
1920 (dubbing artist: Rajneesh Duggal)
2008
Jodhaa Akbar (dubbing artist: Nikitin Dheer)
2006
36 China Town (dubbing artist: Upen Patel)
2005
Taj Mahal: An Eternal Love Story (dubbing artist: Zulfi Sayed)
2004
Murder (dubbing artist: Ashmit Patel)
2004
Aetbaar (dubbing artist: John Abraham)
2003
Paap (dubbing artist: John Abraham)
2003
Saaya (dubbing artist: John Abraham)
2003
Jism (dubbing artist: John Abraham)
Self
2016
Being George Clooney (Documentary)
as
Self
References
Viraj Adhav Wikipedia
(Text) CC BY-SA