Vinica (Macedonian: ) is a town in Macedonia, in the Eastern Statistical Region of the country. The town of Vinica is the seat of Vinica Municipality.
The territory of Vinica was inhabited in neolithic times. More recent evidence of habitation comes from findings on Vinicko Kale from the 6th to the 12th century AD.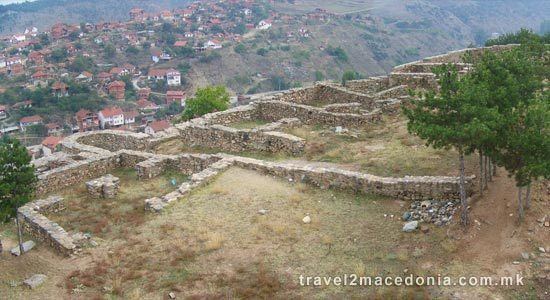 In Vinica, there are two primary schools Goce Delcev and Slavco Stojmenski, one high school and city library Vanco Prke which was founded in 1946, there is also a cinema and a house of culture, Toso Arsov, which is centre of all cultural activities. The town has two folk music groups, Raspeani Vinicani and Jana, and one folklore group Kitka.
There are several archeological sites in and around Vinica:
Vinica, medieval settlement.
Pazariste, settlement from Roman times.
Vinica Fortress, fortified settlement from late ancient times.
Gorica, settlement and early Christian basilica from late ancient times.
Ila, necropolis from the Iron Age.
One of the major activities in Vinica is agriculture. Farmers engaged in the production of rice, which is very characteristic of the basin in which Vinica is located. The town also has industrial activities, among which is the best represented the textiles and wood furniture production industry. The major companies are: Makprogres, Vinicanka, Vinka, Triko, Treska, Mebel-Vi. The city has many shops, bars, restaurants, two night clubs, and three major hotels, which are offering a broader range of services.
Vinica, Macedonia Wikipedia
(,)http://whereismacedonia.org/images/heritage/vinicko_kale/vinicko-kale-terracotta.jpg(,)http://whereismacedonia.org/images/heritage/vinicko_kale/vinicko-kale-terracotta1.jpg(,)http://whereismacedonia.org/images/images/towns_in_macedonia/vinica/vinica-macedonia.jpg(,)http://upload.wikimedia.org/wikipedia/commons/thumb/7/74/Coat_of_arms_of_Vinica_Municipality.png/640px-Coat_of_arms_of_Vinica_Municipality.png(,)http://www.macedoniavision.com/Upload/Content/Images/Vinica.jpg(,)http://spisanie8.bg/images/articles/2138/12.jpg(,)http://www.coinworld.com/content/dam/cw/insights/2014/December/122214/PM%2520Macedonia%2520notes/Mace-200_Merged.jpg(,)http://i.ytimg.com/vi/jK4hkX6M8nQ/maxresdefault.jpg(,)http://i.ytimg.com/vi/38u9UDzn4FY/hqdefault.jpg
(,)http://ucd.hwstatic.com/propertyimages/8/82063/3.jpg(,)http://upload.wikimedia.org/wikipedia/commons/7/74/Coat_of_arms_of_Vinica_Municipality.png(,)http://travel2macedonia.com.mk/images/destinations/vinica.jpg(,)http://r-ec.bstatic.com/images/hotel/840x460/272/27204428.jpg(,)https://fbexternal-a.akamaihd.net/safe_image.php%3Fd%3DAQBykWb4DMm9I41w%26w%3D720%26h%3D480%26url%3Dhttp%253A%252F%252Fupload.wikimedia.org%252Fwikipedia%252Fcommons%252Fthumb%252Fd%252Fd6%252F%2525D0%25259A%2525D0%2525BE%2525D1%252587%2525D0%2525B0%2525D0%2525BD%2525D0%2525B8_%2525D0%2525B0%2525D0%2525B5%2525D1%252580%2525D0%2525B8%2525D0%2525B0%2525D0%2525BB.JPG%252F720px-%2525D0%25259A%2525D0%2525BE%2525D1%252587%2525D0%2525B0%2525D0%2525BD%2525D0%2525B8_%2525D0%2525B0%2525D0%2525B5%2525D1%252580%2525D0%2525B8%2525D0%2525B0%2525D0%2525BB.JPG(,)http://travel2macedonia.com.mk/images/sights/47/vinica-museum.jpg
(,)http://travel2macedonia.com.mk/images/sights/85/vinicko-kale.jpg(,)http://kitlab.pef.czu.cz/1415zs/ete43e/14/wp-content/uploads/vinica30.jpg(,)http://mw2.google.com/mw-panoramio/photos/medium/71214938.jpg(,)http://www.dayofarchaeology.com/wp-content/uploads/2013/07/DSC_0422.jpg(,)http://www.mia.mk/File/Get/105174436(,)http://mw2.google.com/mw-panoramio/photos/medium/47629093.jpg(,)http://kurir.mk/en/wp-content/uploads/vinica-500.jpg