Birth name

Ville Hermanni Valo




Name

Ville Valo




Origin

Helsinki, Finland


Role

Singer-songwriter





Genres

Rock, Alternative




Siblings

Jesse Valo




Years active

1991–present




Parents

Anita Valo, Kari Valo








Born

22 November 1976 (age 39) (

1976-11-22

)


Occupation(s)

Musician, singer-songwriter, visual artist




Instruments

Vocals, guitar, bass, drums, piano, keyboards




Music groups

HIM (Since 1991), Winha (1990)


Similar People

Natalia Avelon, Jesse Valo, Bam Margera, Mikko Paananen, Lauri Ylonen
MGT & Ville Valo - "Knowing Me Knowing You" (OFFICIAL VIDEO)
Ville Hermanni Valo (born 22 November 1976) is a Finnish singer-songwriter and multi-instrumentalist, best known as the lead vocalist and main songwriter of the Finnish gothic rock band HIM. Influenced by the likes of Black Sabbath and Type O Negative, Valo began his career playing bass and drums in various bands around Helsinki, before forming HIM in 1991. The band would go on to become one of the most commercially successful Finnish bands of all time, and the first to receive a gold record in the United States. Valo is also credited as the creator of the heartagram, the trademarked symbol of HIM.
Contents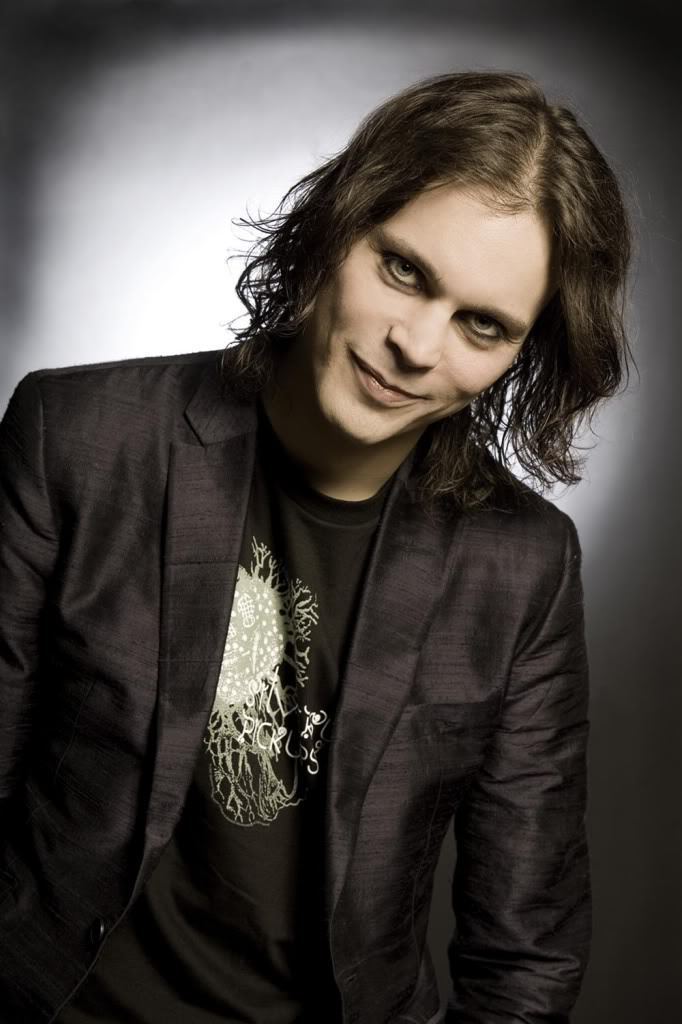 Aside from HIM, Valo has collaborated with various other bands and artist during the course of his career, including The 69 Eyes, Apocalyptica, Cradle of Filth and Anathema. He has also made brief appearances in TV and film, often collaborating with Bam Margera of Jackass. Valo has also been regarded as a sex symbol, and has received several accolades in the music industry, and was found by VVN Music to possess the eighth-highest vocal range of any known singer in popular music.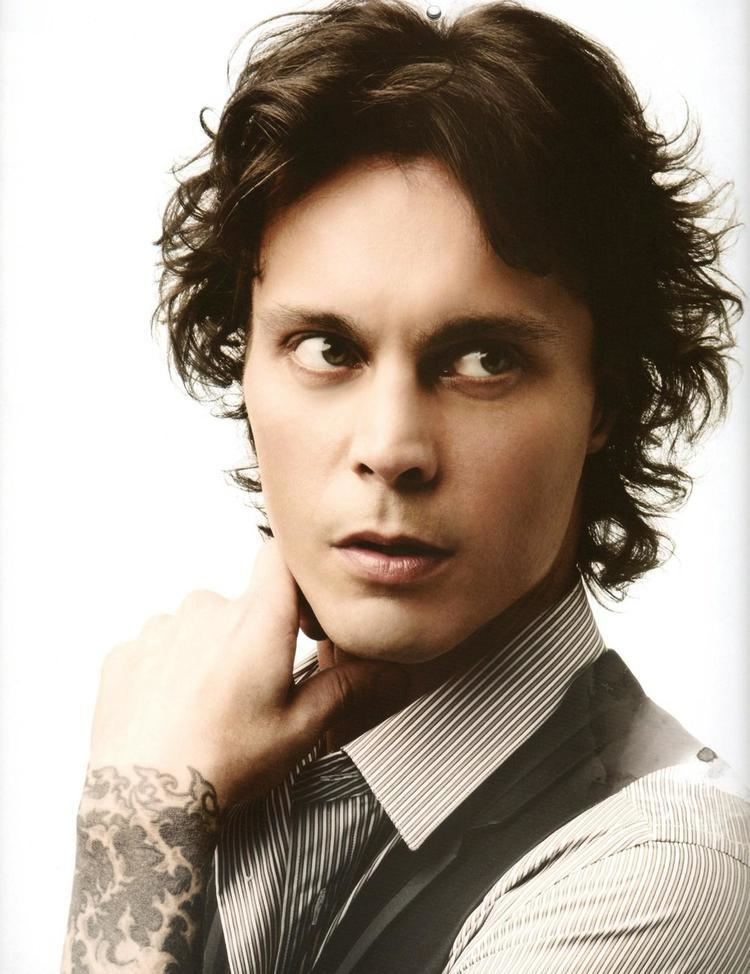 Him s ville valo and mikko paananen wikipedia fact or fiction
Early life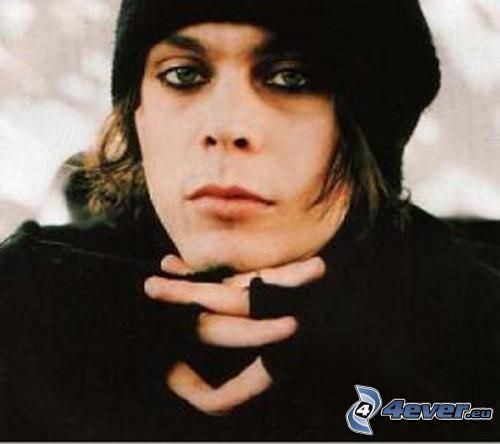 Ville Hermanni Valo was born on 22 November 1976 in Helsinki, Finland, to Kari and Anita Valo. A few months after Ville's birth, the Valo-family moved from Vallila to Oulunkylä, where Ville later attended comprehensive school. Anita Valo worked at a shoe shop, and later as an employee of the city of Helsinki, while Kari Valo was a taxi driver. He later gave up this profession, and opened a sex shop in Helsinki, called Aikuisten lelukauppa, where Ville worked occasionally as a teenager.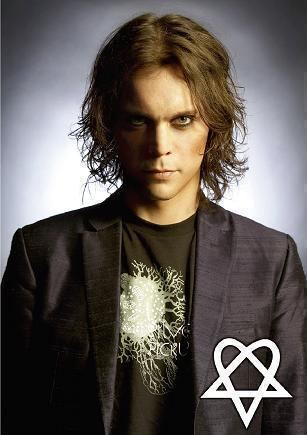 Valo first became interested in music at the age of eight, when he bought the album Animalize by Kiss, and soon thereafter began playing bass. While in school, Valo joined his first band called B.L.O.O.D., and eventually met future HIM-bandmates Mikko "Mige" Paananen and Mikko "Linde" Lindström. While attending the Helsinki Pop & Jazz Conservatory Valo began playing bass and drums in several different bands, including the Eloveena Boys, Donits-Osmo Experience and Aurora, which also featured Linde on guitar. Around this time, he also met future HIM-drummer Mika "Gas Lipstick" Karppinen. Valo applied to the Sibelius High School of music and dance, but was rejected, and eventually dropped-out of high school altogether to concentrate on his music. Ville Valo was permitted not to perform Finland's national military service, due to the account that he suffers from asthma.
HIM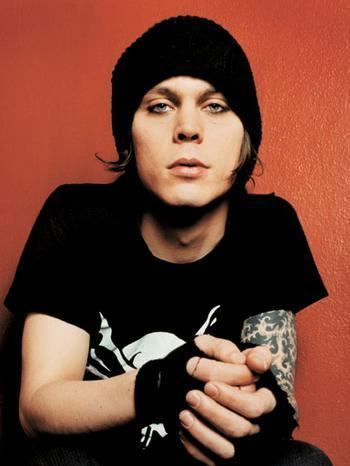 HIM was formed in 1991 by Valo and bassist Mige, under the name His Infernal Majesty. The band however broke-up in 1993, but was reformed in 1995, with guitarist Linde Lindström. Later joined by keyboardist Antto Melasniemi and drummer Juhana "Pätkä" Rantala, the band, now called HIM, released their debut album Greatest Lovesongs Vol. 666 in 1997. In 2000, now with drummer Gas Lipstick and keyboardist Juska Salminen, HIM released Razorblade Romance, which reached number 1 in Finland, Austria and Germany. Its first single, "Join Me in Death", also charted at number 1 in Finland and Germany, eventually going platinum in the former. Following the addition of Janne "Burton" Puurtinen on keyboards, the band released Deep Shadows and Brilliant Highlights and Love Metal in 2001 and 2003, respectively. Both cracked the top ten in several countries, and became the band's first albums to chart in the United Kingdom and the United States.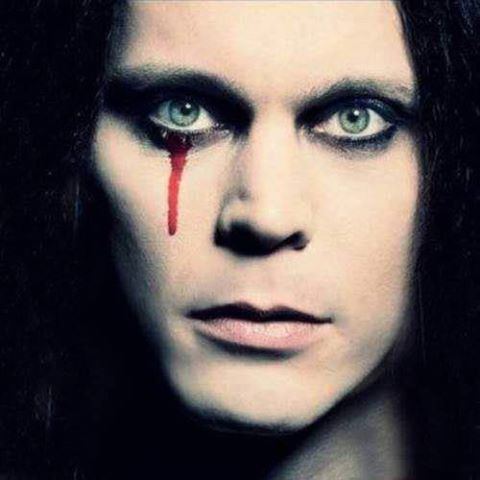 After relocating to the US, HIM released Dark Light in 2005, which became the group's most successful album to date, going gold in Germany, the UK, the US, and platinum in Finland. In 2007, HIM released Venus Doom, which went gold in Finland and Germany, and gave the band their highest US-chart position at number 12. After 2010's Screamworks: Love in Theory and Practice, the band went on hiatus after drummer Gas Lipstick was diagnosed with a repetitive stress injury and nerve damage in his hands. After eight months of uncertainty, the band regrouped and eventually released the album Tears on Tape in 2013. In 2015, Gas Lipstick announced his departure from HIM after 16 years, to pursue other musical projects. He was subsequently replaced by Jukka "Kosmo" Kröger. On 5 March 2017, HIM announced the end of the band following a farewell tour in 2017. HIM will play their final show on New Year's Eve 2017 as a part of the their annual Helldone Festival.
Other musical work
Valo has collaborated with several different musicians during his career. He sang back-up vocals on the albums Wrap Your Troubles in Dreams, Wasting the Dawn, Blessed Be, Paris Kills and Devils by The 69 Eyes between 1997 and 2004, and appeared in the music video for "Wasting the Dawn". Also in 1999, Valo sang back-up vocals on Tehosekoitin's song "Laura" from the album Freak Out, and performed three songs with Finnish schlager band The Agents, on the album Laulava sydän. In 2000, Valo sang on the track "Valo yössä" on the Tuomari Nurmio tribute album Tuomarin todistajat. In 2001, Valo played drums on HIM-guitarist Linde Lindström's The King of Rock 'n Roll -album, which was released under the moniker Daniel Lioneye and also sang back-up on three tracks on Five Fifteen's album Death of a Clown. In 2002 and 2004, Valo sang back-up on The Skreppers' albums Hedonic Hellcats and The Call of the Trash respectively. Also in 2004, Valo collaborated with Lowe Motor Corporation on the song "Love Me", and with Apocalyptica and Lauri Ylönen of The Rasmus on the song "Bittersweet", which was released on Apocalyptica's 2005 self-titled album. A music video, directed by Antti Jokinen, was also produced. In 2005, Valo guested on the song "Something Diabolical" by the Bloodhound Gang, off their Hefty Fine -album. On 15 December 2005, he performed at the Roadrunner United -concert, at the Nokia Theater in New York City.
In 2006, Valo performed bass and backing vocals on Welcome to Carcass Cuntry by Jeff Walker und Die Fluffers, as well as sang on Cradle of Filth's album Thornography ("The Byronic Man") and Isabelle's Gift's American Idle ("If I Die Tonight"). Also in 2006, Valo performed the songs "Kun minä kotoani läksin" and "Täällä Pohjantähden alla" on the Finnish collaboration album Synkkien laulujen maa, the latter of which was a duet with Kari Tapio. In August 2006, Valo joined Anathema's Daniel Cavanagh on stage twice, for a performance of "Inner Silence". In 2007, Valo performed a duet of "Summer Wine", with Polish-German actress and singer Natalia Avelon for the film Eight Miles High. The single went platinum in Germany and a music video was also filmed for the collaboration. Also in 2007, Valo guested on Manna's album Sister, on the song "Just for Tonight". In 2008, Valo sang back-up on Save Nuta's cover of "Rock 'n' Roll High School" by the Ramones, which was recorded in collaboration with members of several different Finnish bands in order to save youth centers across Finland. In 2010, Valo sang back-up vocals on Anathema's "Angels Walk Among Us", off their We're Here Because We're Here -album, and remixed the tracks "Acoustic Funeral", "Like St. Valentine", and "Katherine Wheel", with his brother Jesse Valo, on the HIM-album SWRMXS, under the moniker "öö". Also in 2010, Valo mixed HIM-bassist Mige's album Cimmerica, which was released under the pseudonym MZ. In 2014, Ville Valo was featured on Lullacry's Legacy 1998-2014, on the track "Whisper in the Chaos '97". On 29 December 2014, Valo performed solo under the pseudonym "Rambo Rimbaud" at the Helldone festival in Helsinki. On 30 December 2014, Valo rejoined Daniel Lioneye on drums for a performance at Helldone.
In 2016, Ville Valo performed the song "Lusifer" on Teho Majamäki's album Travelogue, as well as MGT's cover of "Knowing Me, Knowing You" by ABBA, for which a music video was also made, directed by Ville Juurikkala. On 4 July 2016, Ville Valo released his first solo single; a cover of "Olet mun kaikuluotain" by Freeman, a Finnish translation of "Annie's Song" by John Denver. The official music video was released on 11 July 2016. "Olet mun kaikuluotain" eventually reached number 1 in Finland. Also in 2016, Valo performed on the songs "Met-amor-phosis" by The Mission and "Xmas Song" by Andy McCoy, which were released on 2 September and 6 December respectively. A music video for "Xmas Song" was also released. In February 2017, "Olet mun kaikuluotain" was awarded "Video of the Year" at the Emma Awards. On 31 March 2017, it was announced that Valo would be composing and producing the soundtrack to the VR game Downward Spiral: Prologue by 3rd Eye Studios.
Film and television appearances
Valo has appeared in a few select films and TV series over his career, aside from talk show and performance appearances. Valo's first acting job came in 1998, when he played the role of "Lippumies" in the Ilppo Pohjola directed short film Asphalto. Valo has often collaborated with skateboarder and Jackass member Bam Margera, appearing in his films CKY 3, Haggard: The Movie, 411 Productions Presents: 61: The Bam Issue, Jackass Number Two, and Bam Margera Presents: Where the ♯$&% Is Santa?, as well as the TV series Viva La Bam. Margera has also used much of HIM's music and the heartagram in his various projects, as well as directed four music videos for the band. In 2008, Valo voiced the character "Moto Moto" in the Finnish dub of Madagascar: Escape 2 Africa. When asked about the possibility of becoming an actor, Valo responded by saying "I've had offers in the past. Nothing too big, nothing too interesting. But I'm not an actor. I've always felt that we need to sell about 80 million copies more for me to become an actor, a painter, an opera singer or a TV personality."
Personal life
Valo currently resides in Pikku Huopalahti, in Helsinki, Finland. In 2006, Valo bought a 19th-century tower house designed by Carl Ludvig Engel in Munkkiniemi, where he lived until 2015, when the house was put back on sale. Valo dated Finnish television host and model Jonna Nygrén in the early 2000s. The two became engaged in 2005, but broke-up in spring 2006. The couple reunited in the summer of 2006, but broke-up again in 2007. In 2009, Valo was briefly involved in a relationship with an undisclosed partner, which served as the main inspiration for HIM's 2010 album Screamworks: Love in Theory and Practice. In March 2012, Valo was linked to Parisian model Sandra Mittica. In April 2015, the couple were reported to have broken-up. Since September 2016, Valo has been linked to Finnish model Christel Karhu. Valo is also a vegetarian and non-religious. In 2004, Kerrang!-magazine named Valo the biggest sex symbol in the world, and in 2011, Valo was voted the "Hottest Dude In Hard Rock And Metal" by the readers of Revolver-magazine. Valo responded to these claims, stating "To be honest, I don't know what a sex symbol is. Compliments are nice, but I've always liked compliments on the music more." In 2004, Valo was invited to the Presidential Independence Day reception at Finland's presidential palace, but was unable to attend due to fever. Valo was later able attend in 2006.
Substance abuse and legal troubles
Valo has been a regular alcohol user much of his life. He got drunk for the first time at age 13, and on more than one occasion, Valo has also been reported to have performed intoxicated. In 2000, Valo nearly fell off the balcony of a hotel while under the influence, but was stopped by friends. During a 2005 US tour, Valo's drink was spiked in Minneapolis. He suffered minor injuries and was robbed of his jacket, asthma medicine, cigarettes, credit cards and cell phone. In February 2006, Valo was reportedly arrested at his home in Finland after allegedly threatening to kill his neighbor and resisting arrest. Valo later elaborated on the incident stating that "It was a guy just talking a lot of bull about me and my fiancée [...] And I got pissed off, I went to his door [...] I kicked the door, he opened the door and I told him that if he was ever gonna talk badly about me and my girl, he was gonna end up being dead, and I punched him in the face, and that's the whole thing."
During the making of HIM's 2007 album Venus Doom, Valo's alcohol abuse worsened to the point that he was vomiting and defecating blood. According to Valo, he neither slept nor ate for weeks. Things came to a head, when Valo suffered a nervous breakdown during the recording process. Valo was able to recuperate, until he suffered a relapse during the album's mixing stage. He was eventually admitted to the Promises Rehabilitation Clinic in Malibu by the band's manager Seppo Vesterinen. Following Valo's time in rehab, HIM released Screamworks: Love in Theory and Practice, which was the band's first album that Valo recorded entirely sober. Since then, Valo has relapsed, but has said that he tries to balance his drinking, stating "I'm an on-and-off guy. If I drink, I drink properly for long stretches of time. And if I don't drink, I don't drink at all."
Tattoos
Valo is known to sport several tattoos. He has a total of five heartagram tattoos; one on the back of his neck, one on his lower stomach, one around his left nipple, one on his lower back, made to resemble a hexagram, and one on his right leg, as the topper on a scepter of a pope with an astronaut's head, called the "Cosmic Pope". The heartagram around Valo's left nipple was done by Kat Von D to cover up the initial of a former girlfriend. Valo's left arm is covered with a full sleeve-tattoo, while his right arm has portraits of Timo K. Mukka, Charles Baudelaire and Charles Bukowski. On his right wrist Valo has a heart surrounded by lettering, and on his bicep a monogram of Venus Doom, as well as an hourglass and an eye with a skull inside the pupil.
After getting engaged to Jonna Nygrén, Valo tattooed the letter "J" on his left ring finger. On his chest, Valo has a portrait of Maya Deren, and on his stomach Klaus Kinski sucking his thumb, while lying on a naked woman. On his back, Valo has the eyes of Edgar Allan Poe, which were done by Kat Von D and her then-husband Oliver Peck. On his lower back, Valo has the Estonian letter for "night", which he shares with his brother. The letter also has a minus sign inside one of the umlauts, which was done as a tribute to late Type O Negative -singer Peter Steele. On his left leg, Valo also has an Egyptian symbol for "flame".
Artistry and influences
Ville Valo is the main songwriter of HIM and his songs largely deal with themes of love. When talking about his songwriting, Valo stated: "I didn't know how to cope with the world. Then I found an instrument, and through that I realized, that I am able to cope with the world and its evils, a bit better, through writing songs." In terms of lyrical content, Valo has stated that "I feel like there is no subject more important for a song than relationships. It's the only thing than touches me." Valo also takes inspiration from literature, explaining that "as a guy who writes songs, I get excited about an idea, or a book, or a sentence. I don't necessarily get excited about the whole of Tolkien, I just get excited about Uruk-hai. Just a little detail that just makes my mind work overdrive." Valo and the rest of HIM have referred to their music as "love metal", the idea of which was to combine more melodic and melancholic elements, with heavier influences, such as Black Sabbath and Type O Negative. Valo has described the music of HIM as "sentimental, hard-hitting rock music".
Some of Valo's favorite artists and musical influences include Black Sabbath, Type O Negative, Neil Young, The Sisters of Mercy, Fields of the Nephilim, Johnny Cash, Depeche Mode, Elvis Presley, Rauli "Badding" Somerjoki, and Tapio Rautavaara. Some of Valo's non-musical influences also include Edgar Allan Poe, H.P. Lovecraft, Timo K. Mukka, Charles Baudelaire and Charles Bukowski, as well as Austin Osman Spare, Maya Deren and Shigeo Fukuda. Valo possesses a baritone voice type with a five octave range, and was found by VVN Music to possess the eight-highest vocal range of any known singer in popular music. Valo was also ranked number 80 in Hit Parader's Top 100 Metal Vocalists of All Time. In 2004 and 2005, Valo was awarded the Golden God Award and the Icon Award respectively, at the Metal Hammer Golden Gods Awards.
On his twentieth birthday, Valo created the heartagram, which would eventually become the symbol of HIM. A combination of a heart and a pentagram, the heartagram is meant to represent the juxtaposition of "the soft and the hard, the male and the female, the yin and the yang". Musically the heart is also meant to represent the softer side of the band, while the pentagram conveys the heavier elements of their sound. Since its creation, Valo has stated that the heartagram "is probably the best thing I've ever come-up with", and that it's "worth a lot more than money" and "bigger than our band".
HIM
Greatest Lovesongs Vol. 666 (1997)
Razorblade Romance (2000)
Love Metal (2003)
Dark Light (2005)
Venus Doom (2007)
Screamworks: Love in Theory and Practice (2010)
Tears on Tape (2013)
Solo
"Olet mun kaikuluotain" (2016)
Filmography
Asphalto (1998) as "Lippumies"
CKY 3 (2001) as himself
Haggard: The Movie (2003) as himself
Viva La Bam (2003-2005) as himself
411 Productions Presents: 61: The Bam Issue (2004) as himself
Jackass Number Two (2006) as himself
Bam Margera Presents: Where the ♯$&% Is Santa? (2008) as himself
Madagascar: Escape 2 Africa (2008) as "Moto Moto" (Finnish dub)
Awards
Metal Hammer Golden Gods Awards
BMI Awards
Emma Awards
References
Ville Valo Wikipedia
(Text) CC BY-SA