Map of Vikasnagar
Vikasnagar is a city and a municipality in Dehradun district in the Indian state of Uttarakhand. It is also known as Pachawadoon(Western Doon) as it is the second financial and economic hub of Dehradun district, after the city of Dehradun. Vikasnagar is known for its tea gardens, exporting tea to American and European Countries. Vikasnagar is also famous for Basmati rice and fruits like litchi and dussehri mangoes. Vikasnagar, along with Herbertpur, is the chief marketplace for Jaunsar Bawar. According to Hindu mythology, Lord Ram visited Vikasnagar during the treta yug and relieved Ahilya from the curse given to her by her husband, Gautam Rishi.
Contents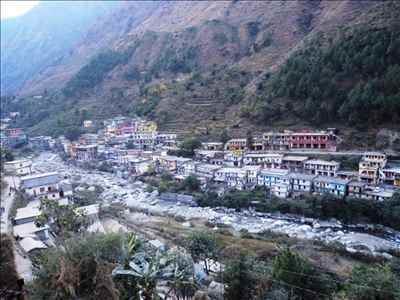 Paragliding in the indian himalayas uttranchal area close to vikasnagar
Dakpathar barrage vikasnagar dehradun uttarakhand india
Etymology
Vikasnagar was formerly known as Chauhadpur Nardidih. After independence several hydro electric power project were laid in the region because of which the region witnessed spurt in growth and development activities.Hence the name was changed to Viksanagar from Chauhadpur by the then Member of Parliament and Defence Production and Rehabilitation Minister Late Shree Mahabir Tyagi. The name was considered appropriate in view of various development activities in the area such as the Dakpathar Barrage and the Dhakrani, Kulhaal, Dhalipur, and Chibro power houses.
Geography
It has an average elevation of 452 metres (1,483 feet). Vikasnagar lies along the river Yamuna, nearly 40 km north west of Dehradun, the capital of Uttarakhand. Vikasnagar and adjoining Herbertpur and Dakpathar are collectively known as "Gateway to Jaunsar" since they form the last plain before Jaunsar Bawar.
Transport
Vikasnagar is connected to Dehradun by the NH72. It can be reached by cars and buses. The nearest railway station is in Dehradun(40 kilometers).Nearrest airport is Jolly Grant Airport, Dehradun(60 Kilometers) NH123 passes through Vikasnagar which starts from Delhi and reaches Yamnotri which is the originating place of holy river Yamuna.
Demographics
As of 2001, Vikasnagar had a population of 12,485. Males constitute 53% of the population and females 47%. Vikasnagar has an average literacy rate of 76%, higher than the national average of 59.5%: male literacy is 79%, and female literacy is 73%. 12% of the population is under 6 years The city borders on Jaunsar and Himachal. Jaunsari, Garhwali, Himachali and Khadi boli are most spoken dialects in and around the city.
Places To visit
The chief tourist spots in Vikasnagar are Dakpathar Barrage, Katta Pather, Gautam Ashram. The nearest Hill Station is Chakrata, which is nearly 45 km by road from Vikasnagar. It lies close to Paunta Sahib and Dehradun.
References
Vikasnagar Wikipedia
(Text) CC BY-SA