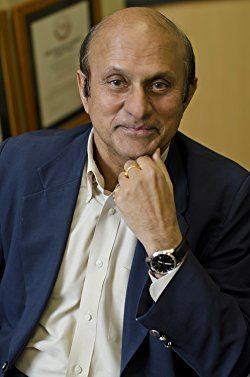 Vijay Mahajan was born in Pune, India in 1954. His early education was in neighbourhood schools, but in the last four years, he was sent to the Jesuit St Xavier's School, Jaipur, where he learnt to speak English first time at the age of 12. He did well in the final school board examination in 1970 and appeared in the All India Merit List. Though selected as a National Science Talent Scholar and admitted to the St Stephens' College, Delhi University to study Physics, under family "guidance", he joined the Indian Institute of Technology, Delhi in 1970 for a five-year bachelor's degree in technology, specialising in Electrical Engineering. He won a merit scholarship all five years at IIT and excelled in academics in his final years at the IIT. The IIT was also the place where Mahajan discovered and nurtured his love for public affairs, development and the arts and literature.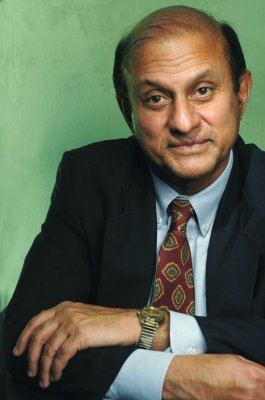 In 1979, he went to attend the post-graduate program in management (MBA) at the Indian Institute of Management, Ahmedabad, from where he graduated in 1981, with a gold medal for scholastic performance. Though admitted to the Kennedy School of Government in 1981, he could not join due to inadequate financial aid. Many year later, he was selected as a Mid Career Fellow at the Woodrow Wilson School of Public and International Affairs, Princeton University in 1989.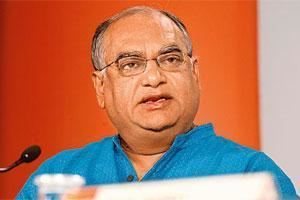 Vijay's first job was at the electronics multinational company Philips in a marketing position. He worked there for four years, mostly in the Northeastern and Eastern India. His work took him to several industrial project locations in the hinterland where he encountered visible poverty. This fuelled the early interest in rural development and poverty alleviation he had developed while still at the IIT Delhi. Having heard of the Jawaja Rural University Project launched by the founder and former Director of IIMA, Prof Ravi J. Matthai and Prof Ranjit Gupta, Vijay decided to study at the IIM Ahmedabad. Two years of study and working with them made up Vijay's mind that he would like to work in rural economic development full-time and he has been doing that since 1981. After graduating from IIMA, he joined Dr NCB Nath, a visiting professor at IIMA, and carried out studies for the Government of India on the rural woollen handloom industry and on the effect of technology choice on mining communities. But Vijay left this after a year as he was keen to work at the grassroots and not as a consultant.
The opportunity for grassroots work came in 1982 when Vijay met Deep Joshi then a young program officer in the Ford Foundation's New delhi office. Both of them shared their experience and agreed that committed and competent young professionals were need to work at the cutting edge in development tasks. Deep told Vijay about a Gandhian NGO, the Association for Sarva Seva farms (ASSEFA), which was working with landless poor households who had been given land under Vinoba Bhave's Bhoodan movement. ASSEFA began in 1969 in Tamil Nadu in South India and in 1979 expanded its work in the northern states of Bihar, Rajasthan and Maharashtra. By 1982, its northern programs were in trouble and ASSEFA was looking for someone to manage those.
Vijay took up this challenge and joined ASSEFA in Bihar in mid 1982. After turning around the initial project in Gaya, he set up new projects in Jamui and Deoghar districts and then many more in other northern states. Having demonstrated that professionals can make a positive difference, Vijay sought the help of ASSEFA's founder Mr Loganathan and executive coordinator, Mr TK Mathew, to work on the idea that Deep and he espoused – of professionals working at the developmental cutting edge. This led to the birth of PRADAN or "professional assistance for development action". But as Vijay is at pains to explain, pradan in Hindi means "to give in exchange" as against dan which means "to give in charity". Vijay strongly felt that people like him who had the privilege to go to an IIT and an IIM should do something for society, particularly for those who were left behind.
In October 1983, PRADAN was established as a non-profit society and was funded by the Ford Foundation. Vijay became its first executive director. Continuing his work with ASSEFA, Vijay inducted a number of young professionals from the IITs, IIMs and top agricultural universities to work with ASSEFA as well as other NGOs such as MYRADA, Seva Mandir, Anand Niketan Ashram, Mahila Jagaran Samiti and Gram Vikas, Orissa. By 1986, PRADAN began its own direct work with rural poor communities, starting with the tribals of the Kesla block in Hoshangabad district of Madhya pradesh to the dalit carcass flayers of Barabanki in Uttar Pradesh to the tasar silk reares of Santhal Parganas of Bihar (now Jharkhand). Vijay topped up this flush of innovative projects by setting up three separate types of collaborative projects – for wasteland development with small NGOs in Purulia, West Bengal; for income-generation with ITC near its cigarette factories in Munger, Bihar and Saharanpur, UP; and with the local panchayats and district/block level government agencies in the Kishangarh Bas block of Alwar district in Rajasthan.
In keeping with the leadership norms then prevalent in his alma mater IIMA, he stepped down from the Executive Directorship after serving a five-year term. Deep Joshi, who had joined PRADAN in 1986, took over as the second Executive Director of PRADAN. Vijay then went for a year's fellowship to the Princeton University. On his return, he worked in PRADAN for a year and a half. He spent the initial few months with Mr Laxmi Chand Jain and Smt Ela Bhatt, who were both senior development activists then serving as Members of the Planning Commission of India. He also carried out a review of the first ten years of the program for rural management (PRM) offered by the Institute for Rural Management, Anand, (IRMA). The review was titled "In Search of Relevance" and was sponsored by the Swiss Agency for Development Cooperation.
PRADAN continues to exist and considered one of India's more effective NGOs specialising in livelihoods of rural poor households. See more at www.pradan.net. Some of his colleagues at PRADAN were Deep Joshi and Sankar Datta
In 1991, Vijay left PRADAN with a vague notion of working in the mainstream. He tried to provide policy advice to the VP Singh government, but it fell before anything could be done. Vijay then interned for a year as an Organization Development trainer under Prof Somnath Chattopadhyay and Dr Deepankar Roy, building on his earlier apprenticeship in behavioural work with Dr Rolf Lynton and Dr Ronnie Lynton.
In 1992, Vijay was joined by Thomas Fisher, whom he had met in Princeton and along with whom and a third colleague, Geoffrey Onegi-Obel, he had established a US non-profit agency called VikaSoko (a word synthesised from Vikas meaning development in Hindi and Soko meaning marketplace in Swahili). They then offered services as development consultants and researchers and also as trainers, but with a focus exclusively on the issue of livelihoods. Their first client was the Dalai Lama's Tibetan Government-in-Exile in Dharamsala, whom they worked with to produce the first Integrated Development Plan for the 120,000 Tibetan community in exile. Subsequently, they carried out a study of the Rural Non-Farm Sector in India, for the SDC; another of the SEWA Bank for the Ford Foundation and a third one of financial services for the rural poor and women, for the World Bank. There was a lot learning in these studies for Vijay and his team. which led them to the conclusion that India badly need a pro-poor, pro-women financial institution which would focus not just on credit but n overall livelihood promotion.
In 1996, realising the need to attract mainstream financial resources, Vijay conceptualised BASIX, a new generation institution devoted to promoting a large number of livelihoods for the poor and women on a sustainable basis. See more at [1]. BASIX is among the first microfinance companies in the world to attract commercial debt and equity investments, both internationally and from within India. It also offers a range of services including savings and insurance, agricultural, livestock and non-farm enterprise development, and institutional development to rural producers and their groups. Some of his colleagues at BASIX were Deep Joshi and Sankar Datta
He was a member of the Committee on Financial Sector Reforms, chaired by Raghuram Rajan and also of the C. Rangarajan Committee on Financial Inclusion. Vijay serves on the Insurance Regulatory and Development Authority, and the Micro Finance Development and Equity Fund. He is the Principal Advisor to the Government of Rajasthan on Livelihoods.
He serves on the Boards of Association for Sarva Seva Farms (ASSEFA), Gram Vikas, ARAVALI, Development Support Centre and on the Executive Committee of the CGAP, a global consortium on microfinance. He also serves on the boards of management institutions Indian Institute of Health Management Research, Institute of Rural Management Anand and Indian Institute of Forest Management. He has been an advisor to the Planning Commission, Government of India, the state governments of Andhra Pradesh, Karnataka, Madhya Pradesh, Rajasthan and Sikkim, and to RBI and NABARD.
Among his inspirations, he includes Ravi Matthai of IIM Ahmedabad, Verghese Kurien of NDDB, Prof. Mohammad Yunus of Grameen Bank, Bangladesh and Ela Bhatt of SEWA.
Vijay has been listed in "60 Outstanding Social Entrepreneurs" by the Schwab Foundation for Social Entrepreneurship at the World Economic Forum, Davos, 2002; "India's 50 Most Powerful People" by BusinessWeek, 2009 and among "the twenty people who will reform India during this decade", by the Indian Express, 2011
He was a keynote speaker at the OECD Foreign Aid Ministers in Paris in 2004, the Geneva Private Equity Conference on Microfinance, 2005 and the Goldman Sachs global forum on microfinance, 2006, Several panels in the World Economic Forum, Davos 2010
Awards conferred on him include:
Distinguished Alumnus Award by IIT Delhi, 2003
Member of the Ashoka Fellowship, 2008
HSBC Access award for outstanding contribution to the microfinance sector, 2009
Skoch Foundation Award for Financial Inclusion, 2010
Distinguished Alumnus Award by IIM Ahmedabad, 2011
Vijay Mahajan has published over 60 articles on rural livelihood, development and micro-finance in international journals.
Some of his books
"The Forgotten Sector: Non-farm Employment and Enterprises in Rural India" by Thomas Fisher (Author) , Vijay Mahajan (Author)
"Microfinance – from the fire to the frying pan?" by Mr. Vijay Mahajan (Author) , Mr. Bikram Duggal (Contributor)