Upright




Pinball




Atari, Atari, Inc.




1977




Single-player video game




Atari, Sears






Bob Smith (2600 version)




Horizontal orientation, Raster, medium resolution




Arcade game, Atari 2600, Xbox 360, Microsoft Windows




Pinball games, Other games
Video Pinball is a dedicated video game console released in 1977 as an Atari Inc. coin-op-to-standalone home console translation, by bringing the game Breakout to home players. Bumper controllers on the sides or a dial on the front are used to control the games depending on the game selected. There are three game types: Pinball, Basketball, and Breakout.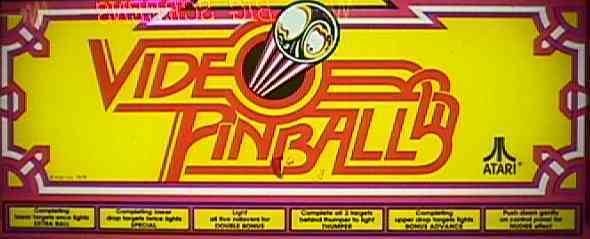 The console is based on the single chip 011500-11/C011512-05 ("Pong-on-a-chip") produced by Atari.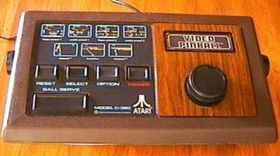 Video Pinball allows 7 games -- 4 pinball variations, a basketball game, and two versions of Breakout (Breakout and a variant called Break Away) -- for one to two players. The unit provides digital on-screen scoring, automatic serves, and color graphics. Video Pinball uses a micro-controller and a small amount of RAM rather than the "Pong on a chip" IC's that had been used in the slew of pong machines Atari Inc. had been releasing. Pinball was played primarily with the side bumper buttons, and Breakout and Basketball with the dial and top buttons.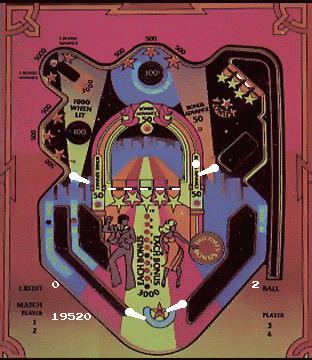 There were three different versions of Video Pinball over its lifetime. Atari released both woodgrain and cream colored versions as "Atari Video Pinball". An OEM version whose name was changed to "Pinball Breakaway" was also produced by Sears under the Sears' Tele-Games label.
Released in 1978, mounted inside the cabinet is a 3-D playfield with bumpers, LEDs and fully decorated with a city nightline, neon stars and disco dancers. The control panel consists of a start button, a plunger to "launch" the ball, and flippers on the left and right sides. The control panel also has a spring that allows the player to push down on it for a nudge effect.
Released for the Atari 2600 video game console as Arcade Pinball in 1980, it featured actual simulations of a pinball machine ball shooter, flippers, bumpers and spinners. The game also implemented a simulation of a real ball's actual physics. The game also features a unique rollover bonus with an Atari Inc. logo on the playfield; hitting the logo four times results in an extra ball. It was programmed by Bob Smith.
Most of the game play involves learning how to perform specific functions, such as launching the ball or activating the flippers, with the Atari 2600 joystick. Moving the joystick controller down pulls the pinball machine plunger back while pressing the joystick button shoots the ball into the playfield. The left and right flippers are activated by moving the joystick controller left or right. The ball can be nudged (as in nudging a table gently in real life) by holding down the joystick button and moving the controller in a particular direction. Doing so too often can cause a simulated "tilt" lock out.
The Atari 2600 version of Video Pinball was made available on Microsoft's Game Room service for its Xbox 360 console and for Windows-based PCs in June 2010.
Video Pinball Wikipedia