4.8

/

10

1

Votes

Alchetron

4.8

Rate This


N Nakamaneci


N.Nakamaneci




Gopal




Tamil language






R.N.Sreeja




Mithun Eshwar




18 March 2016




Tanvi Ganesh Lonkar






Tanvi Ganesh LonkarRam SaravananN.Nakamaneci




Vaaliba Raja, Jithan 2, Adida Melam, Sethu Boomi, Thaakka Thaakka
Vidayutham is a 2016 Tamil film directed by Nagamaneci (Now N.Nakamaneci). The film stars Tanvi Ganesh Lonkar of Slumdog Millionaire (2008) fame in the lead role, while Kaushik Ram and director Nagamaneci himself play other important lead roles. This film is produced by Sree Nagaraja Sarpayaakshi Films and Nagamaneci Entertainments Private Ltd.The film got a theatrical release on March 18, 2016.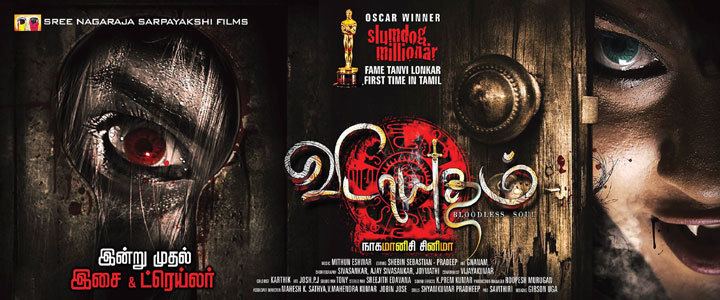 The film unfolds through a journey where one faces the consequence when two people meet each other. Devathai, who is the daughter of the ex-minister Chitravel comes across her first love Kaushik at her grandmother's death.She starts her love adventure to know more about Kaushik. Meanwhile, her elder sister Nithya develops a relationship with her father's rival Paddi Alandhan's son Prakash. A special investigating officer Nagaraj is set to unravel the clues and in his investigation, he gradually realizes that it is not any man behind this, but it is the power of the Demon force (Ghost) that was leading to these gruesome murders, which cannot been seen or heard.
while getting deeper into investigation he gets to know the reason behind the ghost doing this and from where and why has this ghost been originated, trying to get solution over this problems, he gets to know the Nagraja temple in Nagarcoil and the power behind that, in that temple there is a Five head snake and the mud that comes out From Five Head Snake is the "prasdam" for that temple and it is really powerful,if any ones applies that "Prasdam" on their forehead then no evil, sprit, or ghost will touch or come near them, and using the power of this temple he is able to destroy the demonic force (Ghost) thus succeeding making the ghost flee.
N.Nakamaneci as Nagaraj
Tanvi Ganesh Lonkar as Devathai
Ram Saravanan as Kaushik
Kadhal Dhandapani as Paddi Alandhan
Chidambara Marthandan
Ram Saravanan
Vettri as Prakash
Swapna Banerjee as Nithya
Shreya
Kamali
Deepa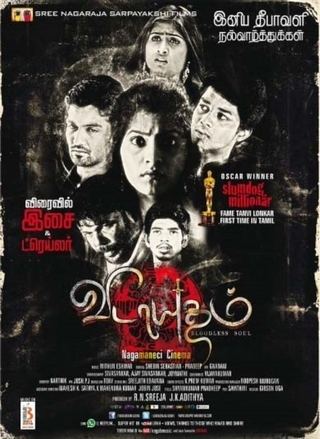 1Whatsapp il NeeumMithun Eshwar5:00
2Alli PooSooraj Santhosh - Latha Krishna - Roshni Roopesh - 5:02
3EngaioShweta Mohan - Karthik5:02

Vidayutham Wikipedia