Occupation

Actress, entrepreneur




Name

Victoria Principal





Role

Actress




Height

1.68 m







Full Name

Vicki Ree Principal




Born

January 3, 1950 (age 65) (

1950-01-03

)

Fukuoka, Japan




Years active

1970–2001 (acting)1987–present (entrepreneur)




Spouse

Harry Glassman (m. 1985–2006), Christopher Skinner (m. 1978–1980)




Books

The body Principal, The diet Principal, The beauty Principal, Living Principal




Parents

Ree Veal, Victor Principal




Movies and TV shows

Dallas, Earthquake, Sparks: The Price of Passion, Mistress, The Life and Times of Judge




Similar People

Andy Gibb, Patrick Duffy, Linda Gray, Charlene Tilton, Ken Kercheval
Victoria Principal Feburary 1984
Vicki Ree "Victoria" Principal (born January 3, 1950) is an American actress, author and businesswoman best known for her role as Pamela Barnes Ewing on the CBS nighttime soap opera Dallas (1978–87).
Contents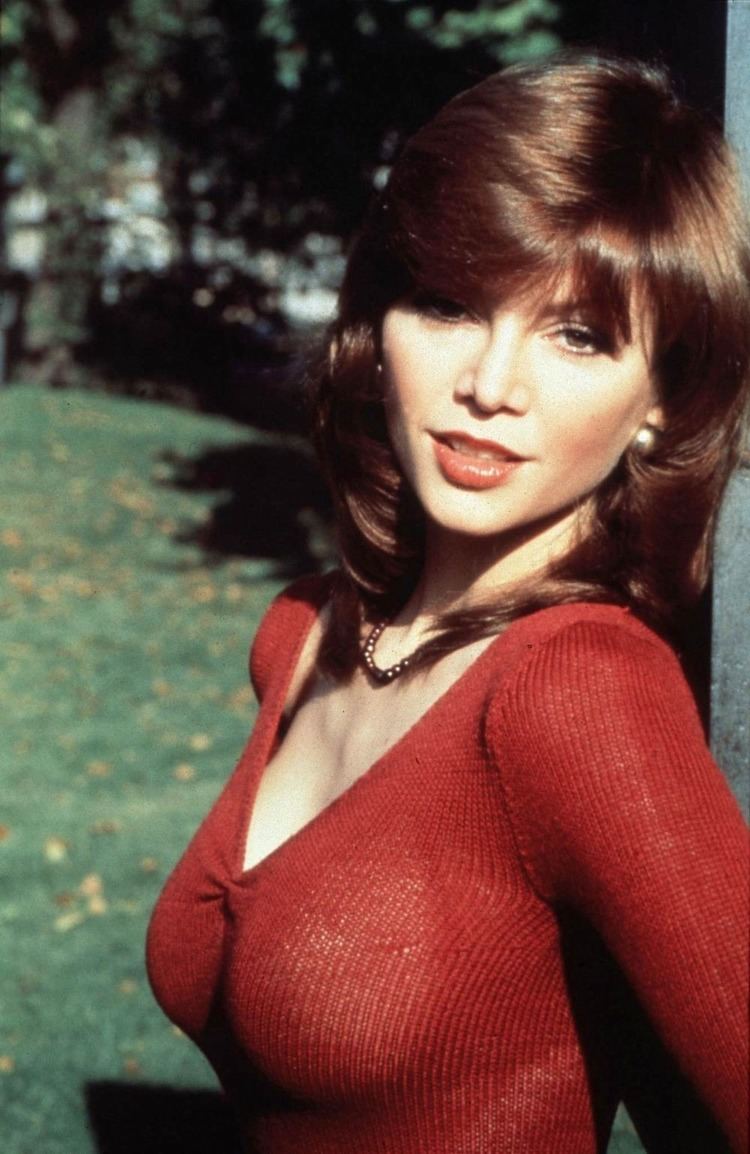 Early life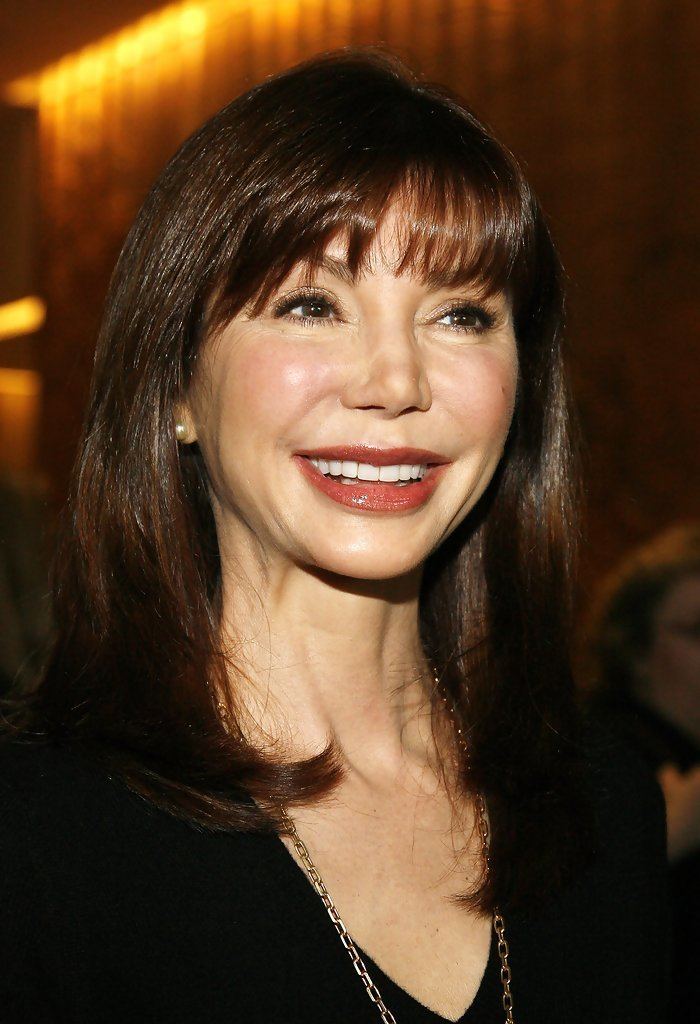 Vicki Ree Principal was born in Fukuoka, Japan, the elder daughter of United States Air Force sergeant Victor Rocco Principal (1918–2001), who was then stationed in Fukuoka. Her paternal grandparents were emigrants from Italy, originally surnamed Principale. Her mother, Ree (née Veal) Principal (1924–2009), was born in Gordon, Georgia, and was of English descent. She has a younger sister, Kim, who is married to composer Russell Fetherolf.
As her father was in the U.S. military, they moved often; she grew up in London, Puerto Rico, Florida, Massachusetts, and Georgia, among other places. She attended 17 different schools, including studying at the Royal Ballet School while her family was stationed in England.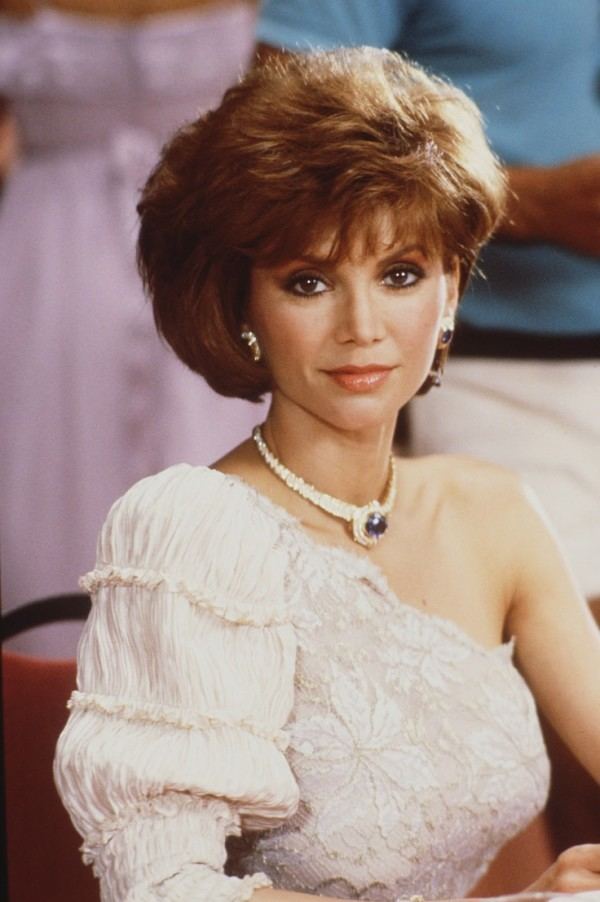 She began her career in TV commercials, appearing in her first at age five. After graduating from South Dade Senior High School in 1968, she enrolled at Miami-Dade Community College, intending to study medicine. However, months before completing her first year of studies, she was seriously injured in a car crash while driving home from the library. The other driver was convicted of drunk driving and served jail time.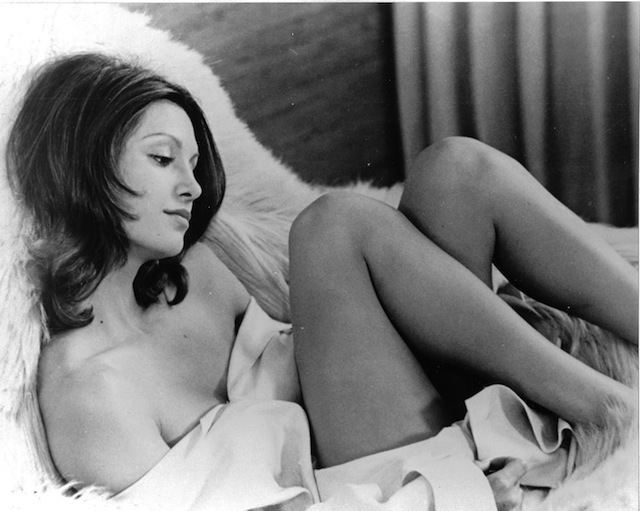 Principal spent months in recovery and was faced with the prospect of having to take her first year of studies over again. After a period of serious introspection, she drastically changed her life by moving to New York City to pursue her acting career, and shortly thereafter to Europe. She studied privately with Jean Scott (professor at the Royal Academy of Dramatic Art) in London, and then in 1971 moved to Los Angeles.
Acting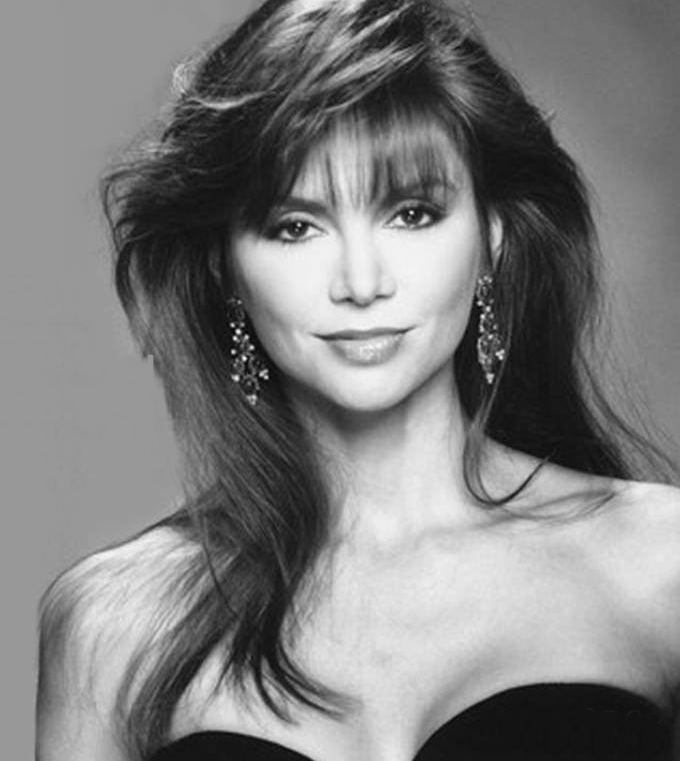 In 1970, Principal moved to Hollywood. She won her first film role as Marie Elena, a Mexican mistress, in Paul Newman's The Life and Times of Judge Roy Bean (1972), for which she earned a Golden Globe nomination as Most Promising Newcomer. Based on the positive response to Principal, her role was enlarged by writer John Milius. During this period, Warren Cowan flew in, introduced himself to Principal, and offered to represent her free of charge for the next year. She flew to Arizona a complete unknown; when she returned to Los Angeles three months later, the commercial flight she was on was greeted by throngs of paparazzi. Subsequently, she appeared in The Naked Ape (1973) and appeared nude in the September 1973 issue of Playboy to promote the film. The film's failure disappointed her.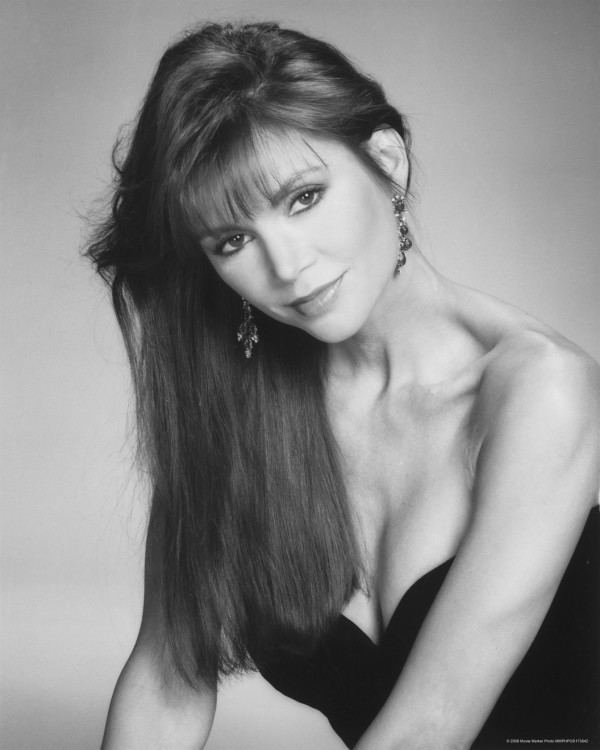 In 1974, she was cast in the disaster film Earthquake. Principal won the role when she showed up for the third audition having cut off her waist-length brown hair, dyed it black, and put it into an afro. The producer was stunned and impressed by Principal's risky transformation to look more closely like the character "Rosa". She continued to act in lesser-known films such as I Will, I Will... for Now and Vigilante Force with Kris Kristofferson. She signed a three-picture deal with Brute Productions. However, Principal decided to stop acting and became an agent, which was her profession from 1975 to late 1977.
In 1977, Aaron Spelling offered her a role in the pilot of his television series, Fantasy Island, which she accepted. Soon after, in 1978, she landed her most famous role, playing Pamela Barnes Ewing in the evening soap opera Dallas. In 1983, she earned a Golden Globe Nomination as Best Actress in a Television Series for her role in Dallas. After nine years, Principal left Dallas in 1987. She went on to star in various made-for-television movies, a few of which she co-produced. In 1994, she appeared in an episode of the hit sitcom Home Improvement. Principal returned to primetime soap operas in 2000, when she appeared in another Aaron Spelling production, the short-lived NBC television series Titans.
Entrepreneur
When Principal signed her Dallas contract, she omitted the clause that would have given the network the right to consent and profit from her outside endeavors. She explained, "As a result that's why, you can only notice in hindsight, I was the only person in the cast who did commercials, who was doing movies of the week, who wrote books and these all belong to me. I retained the control and ownership of my image. No one owns me."
When she left the show in 1987, she began her own production company, Victoria Principal Productions, producing mostly movies for television. In the mid-1980s, she became interested in natural beauty therapies and in 1989 she created a self-named line of skin care products, Principal Secret. In August 2013, the CEO of Guthy Renker revealed to Women's Wear Daily that Principal's business, Principal Secret Skincare, had revenue of more than 1.5 billion dollars to date, an increase of more than a half billion dollars over the revenue up to 2007.
In 1993, Principal received an honorary Law Degree from the University of West Los Angeles. In 1995, she was named "Entertainment Business Woman of the Year" by the National Association of Women Business Owners. In 2004 she received an honorary degree from Drexel University's Business School and gave the commencement address. In 1999, Principal became the youngest ever recipient of the Genii Lifetime Achievement Award for women in television.
In 2003, Principal became a member of the Society of Cosmetic Chemists. In January 2011, Principal launched a line of jewelry called Keys & Hearts available on the same site as her skin care line, Principal Secret.
She became a best-selling author, writing three books about beauty, skin care, and health: The Body Principal (1983), The Beauty Principal (1984), and The Diet Principal (1987). She published a fourth book, Living Principal (2001). After twelve weeks on The New York Times Best Seller list in the general non-fiction category, The Body Principal was the first "Advice, How-To, and Miscellaneous" #1 Best Seller when that List debuted January 1, 1984.
Personal life
Principal has been married twice but has no children.
Her first marriage was to an actor named Christopher Skinner, whom she met in 1978 when he played a bit role on Dallas. They married soon after but divorced two years later in 1980. She then had a high-profile relationship with teen idol Andy Gibb after meeting him on The John Davidson Show in 1981. The two hit it off immediately and she sang a duet with Gibb. The relationship ended in March 1982 due to Gibb's escalating drug problems in which Principal gave him the ultimatum: "Choose me or choose drugs." She married for the second time to Beverly Hills plastic surgeon Harry Glassman in June 1985. The couple divorced in December 2006 with Principal stating, "We have had a loving relationship for over 20 years." She later moved to Malibu, California. She owns homes in Big Sur, California and in Switzerland.
In 2006, Principal formed a charitable organization to help subsidize the environmental movement, which she had been a part of since 1978.
In 2007, it was reported that she was training for her booked flight on Richard Branson's commercial space flight venture. Principal stated, "Going into space fulfills many desires I have of seeing the planet, going fast, going someplace very few people have been—and hopefully coming back down!" Principal and Branson held a joint worldwide press conference in New Mexico where the space center is to be built. In 2012 Principal withdrew from the program.
Philanthropy
Principal provided assistance to aid those in need after the 2008 California wildfires. On June 2, 2010, she donated $200,000 to the cleanup effort in the Gulf Coast region. Her donations brought together two huge environmental non-profits, Oceana and Natural Resources Defense Council (NRDC), to work together on the cleanup.
In 2003, a Golden Palm Star on the Palm Springs, California, Walk of Stars was dedicated to her.
Principal appeared with other celebrities on June 21, 2010, in a CNN Larry King-sponsored Telethon to support the Gulf Coast Region following the Deepwater Horizon explosion. Principal was on a panel with King, answered phones, and spoke to donors for the entire two hours. The telethon raised over $1.8 million.
Principal was honored at the opening of Legacy Park in Malibu on October 2, 2010. She was a founding member of the park in 2004, and was honored at the opening for helping get the 15-acre park off the Pacific Coast Highway off the ground. Over a 12-year period, she served the Arthritis Foundation as honorary chairman and Ambassador to Government.
She was the co-chairman of Victory Over Violence, the LA County Domestic Violence Council Community Advisory Board. The Community Advisory Board is a coalition of representatives from the entertainment industry, business, government, and community who have come together with the dual purposes of increasing public awareness of issues surrounding domestic violence and increasing shelter and victim resources.
On December 13, 2011, it was announced that Principal donated a substantial sum to OCEANA and NRDC to stop the expansion of offshore drilling in the Gulf of Mexico and Arctic Ocean, fearing such activity could lead to another disastrous oil spill. On December 20, 2011, The Giving Back Fund named Principal as one of the Top 30 Celebrity Charity Donations for 2011.
In 2012, Principal funded and participated in an online campaign with the NRDC in an effort to stop sonic blasting along the California coastline, and prevent the deaths of hundreds of marine mammals and marine life. In 2012 Principal funded, through Tree People, the creation of a mobile, emergency Fire Warning System for the Los Angeles area. In 2013 this system was completed and implemented, the first of its kind in California.
In 2013, she funded an ad bringing awareness to the plight of Sea Lion pups washing up along the California Coastline and provided funds to Wildlife Org. for their rescue and rehabilitation.
In 2013 after the deadly Moore, Oklahoma EF5 Tornado, Principal funded the American Humane Association's famous Red Star Rescue Team to help search, rescue, and shelter injured and missing animals with the ultimate goal of reuniting them with their families. In August 2013, Principal funded in collaboration with Tree People a new mobile system that allows citizens to participate in critical wildfire prevention by texting.
In July 2014, Principal made a substantial contribution to NRDC's campaign for "Save the Bees", she said, "As of yesterday, I've now made a substantial donation and joined in support of the NRDC's campaign for "Save the Bees". Without bees, our fruit and vegetable bearing plants and trees will cease to be productive." In August 2014, Principal fully funded with the help of Mission K9 rescue the return of military working dog Maxi from Japan to the United States to be reunited with her former Marine handler.
In September 2014, Principal donated $100,000 to support Malibu ballot initiative Measure R which to limit the environmental impact of development in Malibu by requiring a vote on any new developments over 20,000 square feet. In November the initiative was successfully passed by voters.
In May 2015, Principal fully funded the Red Star Rescue Team of the American Humane Association for the rescue and rehabilitation of 150 dogs that had been injured and displaced by tornadoes and floods in Oklahoma and Texas.
In 2016, Principal created the Moki fund to help rescue animals and provide medical care so that they can be adopted into permanent homes. In August 2016 Principal worked with the American Red Cross to provide shelter & food for the victims of the 2016 Louisiana floods, as well as the American Humane Association to help rescue and shelter animals that were displaced in Loiusiana and attempt to reunite them with their owners.
Books
The Body Principal. New York: Simon and Schuster, 1983; ISBN 0-671-46684-4.
The Beauty Principal. New York: Simon and Schuster, 1984; ISBN 0-671-49643-3.
The Diet Principal. New York: Simon and Schuster, 1987; ISBN 0-671-53082-8.
Living Principal: Looking and Feeling your Best at Every Age. New York: Villard, 2001; ISBN 0-375-50488-5.
References
Victoria Principal Wikipedia
(Text) CC BY-SA