Victor Kuzmich Teterin (Russian: Ви́ктор Кузьми́ч Тете́рин; October 25, 1922, Bakharevo, Tver Province, Soviet Russia – 1991, Leningrad, USSR) was a Soviet, later Russian, painter, watercolorist, and art teacher, who lived and worked in Leningrad, regarded by one art historian as one of the brightest representatives of the Leningrad school of painting.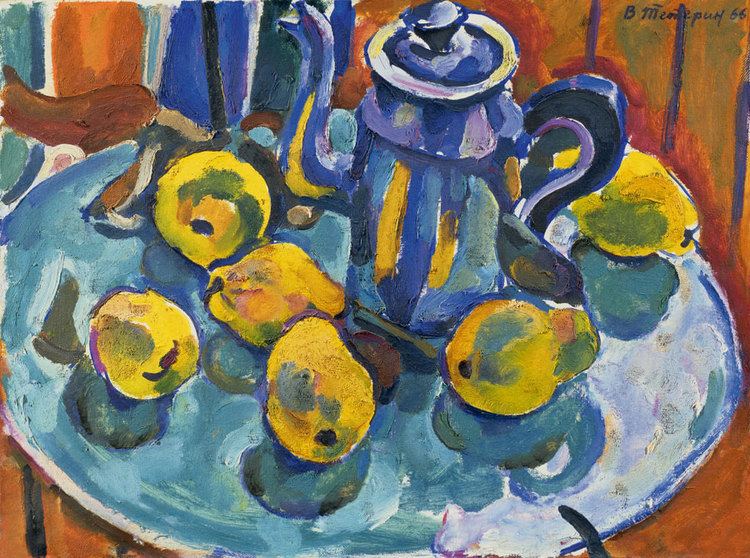 Victor Kuzmich Teterin was born October 25, 1922, in Bakharevo village, Tver Province of the Soviet Russia.
In 1936-1941 Teterin visited art studio of the Leningrad Palace of Young Pioneers, where he studied of Alfred Eberling. Then he entered at the Leningrad Secondary Art School under All-Russian Academy of Art, where he studied of Pavel Naumov, Mikhail Natarevich, and Olga Bogaevskaya.
In 1944 Victor Teterin entered at the first course of Department of Painting at the Leningrad Institute of Painting, Sculpture and Architecture named after Ilya Repin, where he studied of Alexander Osmerkin, Semion Abugov, Genrikh Pavlovsky, and Gleb Savinov.
In 1949 he graduated from Ilya Repin Institute in Mikhail Avilov workshop, together with Rostislav Vovkushevsky, Ivan Godlevsky, Valery Pimenov, Maria Rudnitskaya, and other young artists. His graduation work was historical painting "Stalin at exile in Narym".
Since 1949 Teterin has participated in Art Exhibitions. He painted portraits, landscapes, genre compositions, worked in oils, tempera, and watercolors. In 1949—1956 he taught painting and drawings at the Leningrad Higher School of Industrial Art named after Vera Mukhina. His solo exhibitions were in Leningrad in 1966, 1988, and in Saint Petersburg in 1999. In 1960–1970 Teterin become one of leader of the "left wing" of the Leningrad Union of Artists, which member he was since 1953.
Victor Kuzmich Teterin died in Leningrad in 1991. His paintings reside in State Russian Museum, State Tretyakov Gallery, in Art museums and private collections in Russia, France, Germane, in the U.S., England, Japan, and other countries.