Victor Ferrier Noel-Paton, Baron Ferrier ED, DL (29 January 1900 – 4 June 1992) was a British soldier and businessman.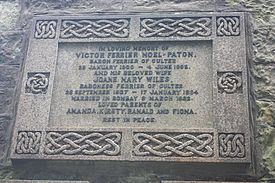 Victor Ferrier Noel-Paton was born in Edinburgh in 1900, son of FWF Noel-Paton a senior official of the Government of India, sometime Director-General of Commercial Intelligence. The extended family lived in a large Georgian house owned by the grandfather, Joseph Noel Paton, at 33 George Square.
After education at Cargilfield and the Edinburgh Academy, and service in the Royal Engineers in 1918-19, he went to India and from 1920-51 built a distinguished career in commerce and politics in Bombay. During this time he rose to the management and chairmanship of various companies, became President of the Bombay Chamber of Commerce and a member of the Bombay Legislative Council. He also served for most of this period in the Indian Auxiliary Force, and held the rank of Major. He was an Honorary Aide-de-camp to the Governor of Bombay. On 7 March 1932, in Bombay, he married Joane Mary, daughter of Sir Gilbert Wiles, K.C.I.E., C.S.I.; they had a son and three daughters.
Noel-Paton was first commissioned on to the Auxiliary Force India 8 April 1919 and served as an officer of the Bombay Light Horse. He was commissioned on to the Army in India Reserve of Officer on 10 February 1928.
He served as Captain in the Army in India Reserve of Officer attached to the 19th King George V's Own Lancers in the Indian Army from 1928 to 1934. He received the Efficiency Decoration (ED) and was a Deputy Lieutenant.
On 24 September 1958, he was made a life peer as Baron Ferrier of Culter in the County of Lanark.
He is buried on the southern terrace at Dean Cemetery in Edinburgh with his wife Joane Mary Wiles (1907-1984). The plot is adjacent to his ancestor Joseph Noel Paton.
In 1932, whilst in Bombay he married Joane Mary Wiles (1907-1984).