Created by

Shawn Ryan




Gender

Male




Played by

Michael Chiklis




First appearance

"Pilot" (episode 1.01)




TV show

The Shield




Nickname(s)

Vic




Title

Analyst




Creator

Shawn Ryan




Occupation

Detective






Portrayed by

Michael Chiklis (both series and video game)




Spouse(s)

Corinne Mackey (ex-wife)




Last appearance

"Family Meeting" (episode 7.13)




Similar

Shane Vendrell, David Aceveda, Claudette Wyms, Dutch Wagenbach, Curtis Lemansky
Victor Samuel "Vic" Mackey, played by Michael Chiklis, is a fictional character and the protagonist of the highly acclaimed FX crime drama series The Shield, which ran for seven seasons. Mackey was a corrupt and brutal detective in the Los Angeles Police Department; he stole from drug dealers, routinely beat suspects and committed murder on at least three occasions. While two of the victims were violent gangsters, one was a fellow cop who was secretly working to expose Vic and his unit. Mackey saw his tactics as a means to an end. He is a devoted father and also saw himself as a family man.
Contents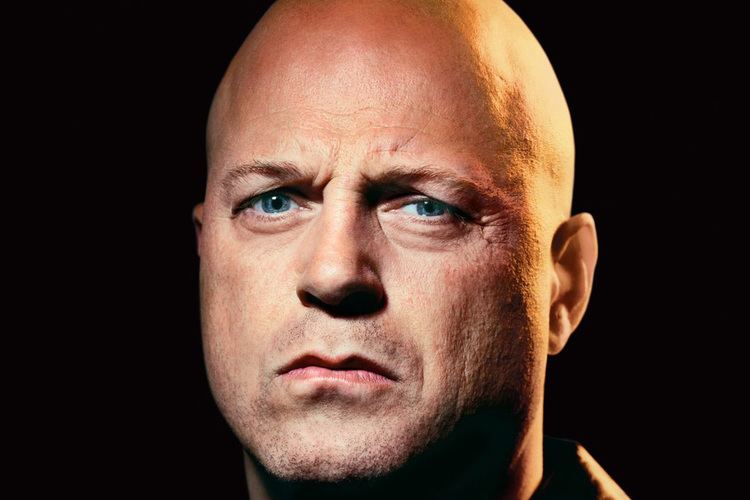 "He's like a brother to me!"
"He said he popped your sister's cherry when she was only 14. Said it was so tight he thought it was her asshole. Said he told you he was helping her with history homework... You do whatever you feel is appropriate with that information. I'll see it doesn't blow back on you."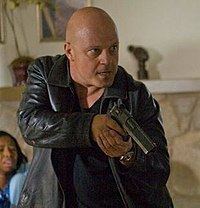 "Good cop and bad cop left for the day. I'm a different kind of cop."
Early life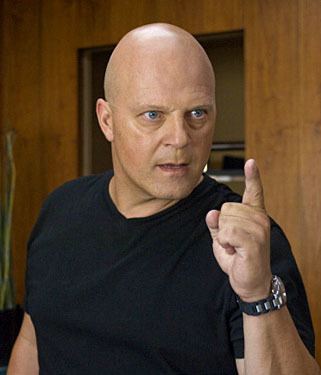 Little is known about Mackey's early life, although his surname is probably of Irish origin (he occasionally wears a shamrock T-shirt). He also once mentioned that his father was a bricklayer (however, this may have been a joke). In season five, he told Lt. Jon Kavanaugh that he had been a police officer for at least 14 years. In one of the DVD commentaries for season four, Michael Chiklis mentions that the main characters on the show are from the same areas as the actors who play them, which would imply that Mackey is a native of the Boston, Massachusetts area. In support of this theory, during the season one episode "Cherrypoppers", Vic approaches a suspect outside of an underage sex show and, as a ruse, asks if the man remembers him from Boston.
Mackey's morality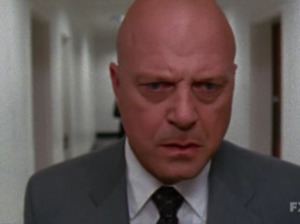 Vic Mackey's morality is a classic example of selfish consequentialism. Mackey feels that his actions are justified if they produce the best consequences for himself and those close to him. While he had a solid status as a family man, he committed adultery with several women, including his fellow officer Danielle "Danny" Sofer. Mackey's personality is often viewed as narcissistic or machiavellian (in fact his surname, Mackey, sounds like the beginning syllables of "Machiavelli", which may or may not be coincidence), believing that the ends justify the means. However, this ultimately led to his downfall, which he narrowly avoided until the very end of the series.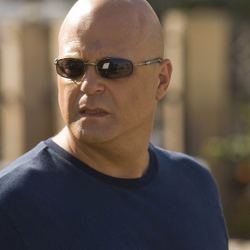 His brutality is usually directed toward criminals whom he considered deserving of their harsh treatment at his hands, (e.g., rapists, drug dealers, pedophiles and mass murderers). Even when he has broken these laws himself, he has often justified it to himself by doing so in order to solve what he regards as more serious crimes. For example, in the first season finale, Vic cornered a teenaged murder witness and demanded to know who murdered two police officers. Instead, the teenager refused to violate the neighborhood code of silence. Enraged, Vic pulled out a bag of crack cocaine and snarled, "Fine! You're not a witness, then you're an arrest! And this is just about enough to make you a trafficker!" Horrified, the teenager said, 'You can't do that, man!" Vic grinned sadistically and said, "What, arrest drug dealers? You just made my quota for the week!" The teenager immediately revealed what he knew about the cop killing he had witnessed, provided that Vic removed the drugs from his pocket.
Relationship with Shane
Detective Shane Vendrell was Vic's best friend since before the formation of The Barn and the creation of the Strike Team. The second series prequel 'Co-Pilot' shows them working together as partners on a murder investigation. The strength of their friendship was evident in how they went to great lengths to save each other from trouble and how Vic kept Shane in the loop while leaving Lem and Ronnie out of some of his darker schemes. However, their relationship eventually became strained when Shane entered into a serious relationship with Mara, who was very demanding of his time.
The Strike Team robbed the Armenian Mob of millions of dollars, only to have it burnt by Lem, who feared that the money would tear them apart and cost them their freedom. Then, Vic and Shane's issues came to a head with Shane accusing Vic of taking other people's side against him when they are supposed to be best friends, and Vic calling Mara a bitch who has got Shane so twisted that he cannot think straight anymore. The two fell out, and the strike team was disbanded.
Shane and Vic reconciled after Shane got involved with the drug lord and gang leader Antwon Mitchell, who killed a young girl using Shane's gun. He offered to hand her body over to Shane in return for the body of Vic Mackey. Shane contacted Vic to meet him alone. After convincing Vic of his innocence, the two men worked together, along with Ronnie and Lem, to save Shane's career and put Antwon behind bars. Once this was done, the Strike Team was reunited and became close friends again.
When Jon Kavanaugh launched an investigation into the Strike Team after arresting Lem for stealing drugs, Vic went to great lengths to try to save him, even trying to strike up a deal with Antwon to get Lem protection in prison. When the deal went sour, Lem was forced to go into hiding. Vic, Shane and Ronnie planned to escort Lem to a ranch in the mountains of Mexico where he would be safe from the law and any enemies who may want to kill him but the plan went awry when Aceveda told Vic that Lem was talking about the Armenian Money Train robbery. Vic confided in Shane that Lem may also talk about the murder of detective Terry Crowley.
Shane and Lem met, and when Lem refused to go into hiding in Mexico, Shane blew him up with a grenade. When Vic learned the truth, he confronted Shane, and he told Shane that if he ever saw him again, he would kill him. Shane drove off, calling Vic a hypocrite.
At the end of season six, Shane kidnapped Vic's family and locked them in a cargo container. Although Shane did this to protect them from Armenian mob boss Diro Kesakhian, Vic was enraged. At the beginning of season seven, after he learned the reasons behind it, Vic grudgingly allied himself with Shane in order to protect his family from both the Armenian Mafia and Mexican drug lord Cruz Pezuela. As time passed, however, Vic and Ronnie decided that the time had come for Shane to pay with his life for murdering Lem. They arranged for him to be assassinated by Pezuela's Mexican drug cartel. At the last second, Vic tried to call off the hit on Shane, but was unable to reach Shane on his cell phone. Although Shane's Armenian employers were all murdered, Shane escaped and pocketed the payoff money.
Shane decided to retaliate by blackmailing a small-time pimp into murdering Ronnie and preparing to murder Vic himself. When the pimp revealed the truth to Dutch Wagenbach, Shane fled the Barn and went on the run with his wife and son. The series came to its climax as Vic resigned from the police force and set out to insulate himself from prosecution by hunting down and murdering Shane and Mara Vendrell.
However, Shane began blackmailing Vic by threatening to surrender and testify against him unless he was kept ahead of the manhunt. Ultimately, Shane was horrified to learn of Vic's immunity deal during a cell phone conversation. As a result of Vic's taunts, Shane murdered his pregnant wife, Mara, and his son Jackson by poison. As his fellow officers kicked down the door, Shane shot himself in the head.
In the series finale, Vic placed a picture of himself and Lem on his new desk at ICE headquarters. Though originally, the picture was of all four members of the Strike Team, Vic seemed to have cropped Shane and Ronnie out of the frame, unable to reconcile himself with Shane's betrayal of Lem and subsequent suicide.
Relationship with Ronnie
The loyalty of Detective Ronnie Gardocki to Vic and the Strike Team was tested several times, such as when crime lord Armadillo Quintero burned Ronnie's face and threatened to file an excessive force complaint unless Mackey forced Gardocki to recant his statement. When the Strike Team temporarily disbanded at the end of season three, Ronnie was the only one to stay by Vic's side when Shane and Lem went their separate ways.
Gardocki's loyalty is exhibited the best when Shane revealed his and Vic's murder of Terry Crowley years earlier, in order to drive a wedge between the remaining two members of the Strike Team. Ronnie revealed to Vic that he had long suspected the latter's involvement and that he understood why Vic did what he did. Furthermore, Ronnie added that he could have provided Mackey with emotional support after the murder, citing that he would have "looked out for [Mackey] better" than Vendrell did.
Ronnie often played Devil's Advocate to Vic, forcing him to address truths which Vic would rather ignore. In particular, in the wake of Shane's confession to Lem's murder, Ronnie pressed Vic to kill Shane even when Vic had second thoughts and tried to halt their first assassination attempt. Gardocki felt justified when Shane tried to murder them a few days later. Captain Wyms disbanded the Strike Team after Ronnie's assailant fingered Shane. As a result, Vic resigned from the Department, and Ronnie returned to regular detective duty.
Ronnie felt panic at the thought of Shane, by then a fugitive, being arrested and confessing to the many crimes committed by the Strike Team and even considering running to Mexico. However, Vic dissuaded him and tried to arrange ICE (Immigration and Customs Enforcement) jobs for the both of them.
When ICE offered Vic immunity but not Ronnie, Vic refused to accept unless Ronnie received a similar deal too. However, after witnessing the staged arrest of his ex-wife, Corinne, Vic took the deal and confessed to everything. After a disgusted Agent Murray informed him that he had implicated Ronnie in "enough shit to send him to prison for the rest of his life," Vic promised to "string him along" until after the arrest of Mexican drug lord Guillermo Beltran.
After Beltran's arrest and the largest drug seizure in ICE history, Vic and Ronnie were summoned back to The Barn. Believing that they were both safe forever, Ronnie was shocked when Dutch Wagenbach arrested him for "the last three years." Enraged and devastated by Vic's betrayal, Ronnie shouted profanity at his former mentor and demanded to know whatever happened to protecting the Team, pointing out Vic's hypocrisy. Vic was noticeably crushed by seeing his last remaining friend arrested and denounced him from his mind to spare himself the grief. In the series finale, Vic is seen placing a picture of himself and Lem on his new desk at ICE headquarters. Though originally the picture was of all four members of the Strike Team at a celebration, Vic cropped Shane and Ronnie out of the frame, unable to reconcile himself with his own betrayal of Ronnie.
Relationship with Lem
A running theme in the last few seasons of the series was Vic's regret towards what happened to Lem. As a result of the Money Train robbery which the team had convinced a reluctant Lem to participate in, he developed great fear and health problems from having to live with the aftermath of the robbery, which included innocent lives in the crosshairs of the Armenian Mob, Captain Aceveda, Detective Wagenbach and the Department of Treasury all looking for the culprits. His burning of the money to elude capture ignited antagonism between him and Shane Vendrell, which ultimately brought the entire team's existence to an end.
When the Strike Team eventually returned, Vic had Lem get collateral from a drug dealer to ensure a tip regarding the whereabouts of a body that could implicate Shane was corrupt. The brick of heroin was soon seized by IAD and Lem became a means with which Lieutenant Jon Kavanaugh could take down the entire Strike Team. Lem's loyalty was tested when he found out Vic killed Terry, but he remained loyal to the team. After an arrest caused by Vic and Lem's viewing of a personal moment between Kavanaugh and his ex-wife, Lem decided to plead guilty to the charges. But with Vic unable to fulfill a deal with Antwon Mitchell to ensure Lem's safety, Vic made Lem go fugitive. Before Vic and Ronnie could meet up with him, Shane killed Lem with a grenade. In the aftermath, Vic undertook several actions to avenge Lem's death, including torturing and killing suspect Guardo Lima and trying to murder real killer Shane Vendrell on multiple occasions after he learned of Shane's role in Lem's death. Lem, the only one Vic still had an untainted friendship with, remained the one Strike Team member in the Strike Team photo in Vic's cubicle at ICE.
Relationship with Julien Lowe
In the early days of the Strike Team, Mackey was nearly taken down when rookie Officer Julien Lowe caught Vic and the Strike Team stealing cocaine from a crime scene. Although Julien approached Captain Aceveda and promised to testify against Vic and the Team, Mackey swiftly obtained leverage against his fellow cop. While arresting a wanted fugitive, Vic noted that the latter was having homosexual relations with Julien. Holding the upper hand at last, Vic threatened to denounce Julien to the entire precinct. However, he offered to falsify the arrest report in exchange for Julien recanting his allegations against the Strike Team.
A terrified Julien caved in to Vic's demands. After this, Vic repeatedly attempted to be friendly to Julien, with varying degrees of reception. However, when Julien was offered a position in the Strike Team, he at first refused, saying that he did not wish to work alongside Mackey. He only accepted the promotion after being told that Vic would soon be fired from the department.
Although Julien continued to serve alongside the Team, the corrupt activities of Shane, Vic, and Ronnie were carefully concealed from him. After Shane was caught in a botched attempt to murder Vic and Ronnie, a horrified Captain Wyms disbanded the Strike Team permanently. Julien was returned to uniformed patrol, but was promised a swift promotion to Detective. When Wyms and Detective Wagenbach confronted him about the possibility of having to arrest his former teammates, Lowe unequivocally stated his loyalty was to the precinct and not to the Strike Team.
Relationship with Aceveda
The tension between Mackey and David Aceveda evolved in different ways since the birth of The Shield. Although Aceveda privately detested Mackey, he was not above breaking the law himself. He also frequently blurred the lines between investigating Mackey and protecting him.
In the first season, Aceveda was heavily bent on proving Mackey's guilt, putting all his effort into taking him down. While Mackey detested Aceveda's political ambitions, Aceveda continued to label Mackey as "Al Capone with a badge."
At the start of the second season, Aceveda, not wanting a scandal in the midst of his political career, agreed to watch Mackey's back if he could make the Strike Team appear to clean up their act and exhibit professionalism at all times. This created a very subtle, bumpy friendship between the two. This "friendship," however, ended when Aceveda left for his City Council position, but not before writing a scathing letter which accused Mackey of the Crowley murder and irreparably damaged his career.
At the end of the sixth season, Aceveda continued to push for progress on the San Marcos killings, a massacre of several Mexican immigrants by unknown assailants, mostly at the behest of Mexican real estate developer Cruz Pezuela, who was also financing his investigation committee into a possible run for mayor. Aceveda also used his political influence to ensure that Mackey was forced into early retirement at a Review Board Hearing. However, events took a wild turn, as a graphic photo taken by Juan Lozano of Aceveda's rape suddenly reappeared in the hands of Pezuela, who gave it to Vic as a way to save his job.
Vic attempted to use the photo against Aceveda, only to have it denounced as a fake and to have Aceveda's lawyer threaten him with a lawsuit for slander and blackmail. Mackey later returned with the memory card, the background story of the photo, and all the existing copies. Aceveda was stunned to hear about Cruz Pezuela's involvement in the photo, and after listening to Mackey's theory, agreed to help him in his investigation into Pezuela's activities. The scope of the operation stunned both of them; Pezuela was helping the Mexican drug cartels buy into Farmington, and planned on using various businesses as fronts for money laundering, drug trafficking, and prostitution. Aceveda received the memory card as a symbol of trust between him and Mackey, and the two decided to investigate Pezuela, in hopes of shutting his operation down.
Later, Aceveda met with Vic, who had walked out on a Department Review Board hearing and stolen a car full of blackmail material from one of Pezuela's couriers. Aceveda was shocked to learn the dirty secrets of many of the most influential people in Southern California, including public officials, mayoral aides, and the heads of special interest groups.
As the series wound to a close, Aceveda and Vic continued to collaborate in order to destroy Pezuela's drug cartel. Their friendship ended, however, when Vic destroyed Aceveda's attempts to blackmail ICE Agent Olivia Murray with information from Pezuela's box.
After Vic arranged an immunity deal with ICE, Aceveda was enraged that Vic could never be prosecuted for any of his crimes. The two collaborated one last time, however, in order to arrange the arrest of drug lord Guillermo Beltran. While speaking over the phone, Aceveda expressed satisfaction that ICE had realized that, "they have a reptile working for them." Uninterested in Aceveda's views on his character, Vic coldly reminded Aceveda about "respecting each others' endgames", marking the final communication between the two men.
Other relationships
Mackey's training officer and first partner was Joe Clark, who taught him how to deal with violent street criminals and also how to bend the laws to his advantage. Clark was eventually dismissed from the force for beating a suspect. Clark's legacy to Vic was the justification that they always "did more good than bad." He rededicated himself to support his friends and family in light of the crimes and trouble he had caused them. In season six, Mackey re-encountered Clark, who had become a for-hire enforcer who used his intimidation skills from his days as a cop to earn an income. Mackey participated in one raid, realized this type of occupation was both dangerous and unnecessarily cruel.
Mackey also had a close friendship with a prostitute, Connie Reisler, whom in an unseen story he found "lying in a bathroom in a pool of bloody crystals," trying to end her pregnancy with drain cleaner and a plunger. He told her if she ever needed any help she could call him, and they developed a deep bond. However, Connie was killed in season two, while shacking up with a murderer in a criminal informant assignment. Since her death, Mackey occasionally checks in on her son, Brian, who is in foster care.
For many years, Vic had an on-off sexual relationship with Sergeant Danny Sofer, and was the illegitimate father of her son Lee. In season six, Vic's daughter Cassidy angrily confronted him after listening to her mother talking about the baby's paternity over the telephone.
Family life
Mackey was married for a little over 12 years to his wife, Corinne. They had a great marriage up until the point when the Strike Team was formed. However, problems between the two resulted in the marriage disintegrating. Though he had often cheated on his wife, he was devastated when she left him. He loves his three children very much and would do anything for them. At the end of season six, he refused to parade his autistic children in front of a department review board, despite the fact that Aceveda told him that it could save his job.
In season one, his son Matthew was diagnosed with autism. Later, his youngest daughter was diagnosed with autism as well. These family problems, and the necessary financial support, are the overriding factors as to why Mackey continues to pursue money illegally.
The Crowley murder
Arguably, Vic's worst crime was the murder of the fifth and then-newest member of his team, Detective Terry Crowley. Crowley had been sent by Captain David Aceveda and the Justice Department to build a Federal case against the Strike Team for colluding with drug lord Rondell Robinson. Vic was secretly warned of this by his friend, Assistant Chief Ben Gilroy.
Later, while Vic and Strike Team members Shane Vendrell and Crowley were raiding the home of a rival drug lord (named "Two Time"), the dealer stepped out of the bathroom with a pistol and was promptly gunned down by Vic and Shane. However, as Detective Crowley walked into the room, Vic picked up Two Time's gun and shot him in the head. Vic and Shane then rigged the crime scene evidence, claiming that "Two Time" stepped out of the bathroom, shot Terry, and was slain by their return fire. Shane expressed extreme remorse and guilt in the aftermath of the murder, but Vic remained stoic and told him to never mention or talk about it again, though he would later express his own feelings of regret about it.
Fellow Strike Team members Curtis "Lem" Lemansky and Ronald "Ronnie" Gardocki were not informed on Terry's secret undercover status and Vic and Shane's murder plot, and were not involved in the eventual murder due to various reasons. Lem was notably closer with Terry as shown by his reaction to the news of his death, and was acknowledged by Vic and Shane as being the most conscientious of the team, both facts which would prove problematic. Ronnie was generally left out of the most questionable of the Team's illegal activities due to his less active role within the team, though this would eventually change as he became closer to Vic.
Regardless, both men would later individually find out the truth behind Terry's death years later; Lem through Jon Kavanaugh, and Ronnie through Shane. Both had varying reactions to the revelation. Lem seemed visibly shocked and soon doubtful that Vic was innocent, but Vic ultimately convinced Lem that Kavanaugh was lying about the murder to split up the team, with Vic's ulterior motive to stop Lem from testifying against him. Ronnie was ultimately unmoved when Shane told him of Crowley's murder by Vic's hand in order to turn him against Vic, as he long suspected as much. He later told Vic he wished he had involved him and that he probably could have helped Vic deal with it better than Shane. Captain Aceveda was certain that Mackey was behind Terry's murder and set out to send him and the Strike Team to prison for it, but he never succeeded.
In season 5, Lieutenant Jon Kavanaugh of internal affairs made it his personal mission to send Vic to prison for Terry's murder. He commandeered the Captain's office in "The Barn" and plastered it with grisly photographs of the Crowley murder scene. He even tried to guilt a confession from Vic and Shane by ordering them to revisit the crime scene and describe what happened in front of Terry's weeping brother. Vic and Shane, however, calmly stuck to their original story and Kavanaugh's crusade ultimately changed into a personal vendetta which destroyed his career.
As the series moved toward a close, Vic finagled a Federal deal for full immunity from prosecution for every crime he admitted to. Using Shane's memoirs as a guide, he spoke in detail about everything the Strike Team had done, including the murder of Terry. Being the last team-member left other than Vic, Ronnie was arrested for "covering up Detective Terry Crowley's murder". As a confessed cop-killer, Vic was regarded as scum by his former colleagues at the Barn and was trapped in a cubicle by his new employers at I.C.E.
Other crimes
Mackey and his team committed numerous crimes like extortion, money laundering, smuggling, drug trafficking and obstruction of justice that would likely earn them long prison sentences.
Murder or accessory
After a war between two rival dealers escalated out of hand, Mackey shut them in a shipping container overnight to work out their differences; in the morning, one had killed the other.
Vic assisted CI and friend, Connie Reisler, in covering up a murder. Reisler, a prostitute, had murdered a john while under the influence of crack cocaine, believing (perhaps correctly) that the john was about to harm her. Mackey told her to tell Homicide that the man assaulted her and she killed him in self defense. Mackey, under intense anguish, physically struck her in order to make her story appear authentic.
Mackey helped his friend and former Assistant Police Chief, Ben Gilroy, kidnap a gang member. This individual had witnessed Gilroy's hit and run killing of a fellow gangster while the two were dealing drugs late at night. Gilroy murdered the gang member (to Mackey's great surprise and anger) and then insisted that Vic help him dispose of the body. They dumped the body in a rival gang's territory in the hope it would be interpreted as a gang murder.
He convinced the team to kill drug lord and serial rapist Armadillo Quintero to keep him from exposing the Strike Team´s involvement in the drug trade. After his arrest Shane and Lem had him stabbed to death by another criminal in a holding cell and Vic covered it up.
Vic and the team planted the remainder of the marked Money Train cash on patsy Neil O'Brien, who was subsequently killed, along with his bookie, by the Armenians.
The team tied a Russian arms dealer to a chair wired with C-4 plastic explosives as a scare tactic for information about the murder of two Farmington cops. However, this caused the terrified dealer to panic and tip himself over, thereby detonating the explosives and blowing himself to smithereens.
In order to learn the hiding places of two Russian gangsters before they firebombed a tenement full of illegal immigrants, Vic leaked the name of an informant to the Latino cigarette-smuggling boss he was wearing a body mike on. Vic, Lem, and Ronnie were also sickened that Shane, the CI's handler, would use an unrepentant child molester for undercover work. Upon being told the informant's name, the cigarette-smuggler refused to believe it, saying,

"He's like a brother to me!"

But Vic responded,

"He said he popped your sister's cherry when she was only 14. Said it was so tight he thought it was her asshole. Said he told you he was helping her with history homework... You do whatever you feel is appropriate with that information. I'll see it doesn't blow back on you."

The informant was never heard from again.
Mackey murdered Armenian Mafia enforcer Margos Dezerian, who had been ordered to find and murder those responsible for the Money Train Robbery. Dezerian had been getting closer to the Strike Team and had left a string of grisly murders in his wake, severing his victims' feet to indulge a fetish. Vic deliberately leaked the name of an informant to Margos, who broke into the informant's house in order to kill him. Instead he found only Vic. After Margos dropped his gun and surrendered, Vic shot him dead and rigged the crime scene to look like self defense.
Mackey struck a deal with Antwon Mitchell in order to secure the jail house safety of Lem, in which Vic, Ronnie, and Shane helped the One-Niners to break into a police warehouse. In the course of the crime, the criminals shot and killed the policeman guarding it. They also murdered Kern Little, whom Vic used to work with and was on somewhat friendly terms with. Vic allowed Kern to die rather than help him, and covered up both his murder and the murder of the guard, although Vic was clearly distressed by the ordeal.
The team kidnapped, brutally tortured, and murdered Salvadoran drug lord Guardo Lima, who was falsely believed to be Lemansky's murderer, and then burned his body to destroy the evidence.
Vic also handed over the two Salvadoran gangsters who had carried out the San Marcos murders to a rival Mexican gang to be tortured and murdered. It should be noted this was done to stop the bloodshed and put an end to the gangland war in the aftermath of the San Marcos massacre.
Mackey, as an accessory to murder, allowed Gardocki to execute Armenian hitman Ari Zadofian in order to prevent further attacks against his family.
Mackey, along with Gardocki and Shane, manufactured a fictitious gang war between the Armenian mob led by Ellis Rezian and the Mexican cartel led by Guillermo Beltran and Cruz Pezuela. Mackey set up the execution of Rezian along with some of his top lieutenants in order to remove any knowledge about his past criminal activity and avoid further transgressions by the Armenians against his family.
Excessive force
Mackey beat and tortured a suspected pedophile with a phone book to find out where he was hiding the young girl whom he had bought as a sexual slave. Vic told the man,

"Good cop and bad cop left for the day. I'm a different kind of cop."

Aceveda, Claudette, and Dutch watched in silent disagreement, but Vic's methods were successful.
Mackey assaulted the owner of a pawnshop at knife point to learn about the location of two kilos of cocaine which he and the Strike Team stole (and later lost) during a raid on Armenian drug dealers. Earlier in the day, Mackey and his partner, Shane Vendrell, entered the home of a car thief and assaulted him in pursuit of the same information.
Mackey drove a suspect into an enemy gang territory and rolled down his window, telling an enemy gang member that the suspect made sexual comments about his sister, and waited for the car to be surrounded by enemy gang members before telling the suspect that he better tell him what he wants to know or he would, "have to find another ride home".
Handcuffed a teenager to a metal pole and shocked him with his own stun gun.
Mackey used the pin from a murdered cop's badge to repeatedly stab an African American teenager whose death squad was ambushing cops and taking their badges as trophies. Vic did so to extract the names of the suspect's partners and then simply to punish the suspect for being part of the crime. When Claudette Wyms arrived, the teenager screamed, "He was stabbin' me with that badge!" Claudette's response: "You look fine to me."
After kidnapping a drug lord off the streets of Tijuana, Mackey stacked tires around his body and threatened to light him on fire if not paid $350,000 plus an additional $50,000 for, "ruining my day." After receiving the money, Vic and the Team smuggled the drug lord back across the border and handed him over for U.S. prosecution.
Mackey physically attacked Mexican drug lord and serial rapist Armadillo Quintero, beating him up with a heavy Law book and severely burning his face on a stove. Vic was enraged that Armadillo had brutally raped a 12-year-old girl and ordered a rival drug lord and personal friend of Vic's to be burned alive.
Turned a police attack dog loose on a rapist, allowing the dog to mutilate the man's genitals.
To get a confession, he nearly drowned a man in a barrel of used motor oil.
Vic threatened to throw a suspect out a window after forcing him to write a crudely misspelled suicide note.
Vic kidnapped a Russian Mafia boss to prevent him from firebombing a building full of Mexican immigrants.
Mackey tied a Mexican banger to a pole and beat him senseless with a chain because he thought the banger killed Curtis Lemansky.
Theft
Mackey and his team hijacked a police evidence van to steal a key piece of evidence (a gun) used in the hijacking of commercial trucks. The Strike Team used this evidence to prove the innocence of an accused man and then to frame three gang members who were actually guilty of the original crime.
The Team has embezzled tens of thousands of dollars from seizures, arrests, or other police-related activities.
Robbing a total of two million dollars from a Money Train, a money laundering operation run by the Armenian Mafia, during which several people were killed (although not by the Strike Team). The money stolen was later revealed to be traceable evidence planted by the US Treasury Department.
Blackmail
Julien Lowe was blackmailed to get him to recant his allegations against the Strike Team. Lowe alleged that the Strike Team stole cocaine from a crime scene, and Aceveda was hopeful that Julien's allegations would be enough to bring down the team. However, Vic caught Julien while he was with another man and threatened to tell the Barn about Lowe's homosexuality. Subsequently, Lowe retracted his allegations.
Mackey threatened to plant crack cocaine on a teenager unless he told who he saw ambush and kill two Farmington cops.
Vic attempted to blackmail City Councilman David Aceveda with photos of him being sodomised.
Vic threatened to use a blackmail file on ICE agent Olivia Murray in order to speed up the process to get a job for ICE.
Covering evidence
The Strike Team functioned as "Middle-Men keeping the peace" so that drugs could continue flowing through Farmington.
Internal Affairs
During the fifth season, Vic attempted to throw Internal Affairs Lieutenant Jon Kavanaugh from his game by sleeping with Kavanaugh's mentally-ill ex-wife.
In response, Kavanaugh's hatred of Mackey consumed and completely overwhelmed his conscience, leading him to begin breaking the law himself in destroy the man he regarded as "pissing all over" the entire police department.
After a failed attempt to seek revenge against Vic Mackey by attempting to assault Corrine Mackey and (supposedly) allying with Antwon Mitchell to send Lem to a prison under Mitchell's control, Kavanaugh planted evidence in Vic's home, implicating Vic in the murder of Lemansky. Subsequently, Kavanaugh used a CI that had turned against Mackey to make up a story of how Vic utilized the Salvadorans to kill Lem by threatening to kill her son. However, Dutch Wagenbach did not believe the CI's story and was suspicious of the convenient presence of evidence in Vic's house considering the hate held by Kavanaugh in addition to the lies that the Lieutenant made up regarding the CI's whereabouts. Kavanaugh's story fell apart when Claudette managed to get the CI alone in interrogation, causing the Lieutenant to break down and confess to the fabrication. When Dutch Wagenbach and Claudette Wyms exposed his actions, Kavanaugh was stripped of his badge and imprisoned. Soon after, Vic visited Kavanaugh in prison and gloated over his victory, but the disgraced Lieutenant remained unfazed.
Attempt at Full Immunity and ICE (Immigration and Customs Enforcement) Investigation
After Cruz Pezuela persuaded the drug lord Guillermo Beltran to visit from Mexico, it became apparent that Beltran was the major focus of an ongoing ICE investigation. In exchange for developing a Federal case against Beltran, Vic, in order to protect his ex-wife Corrine, decided to arrange for full immunity by admitting to all the crimes he has committed, including the slayings of Detective Terry Crowley, Margos Dezerian, Guardo Lima, and many others. After he had detailed all of his crimes, a horrified Agent Olivia Murray told Vic that he had, "implicated Detective Gardocki in enough shit to send him to prison for the rest of his life." Vic responded that he needed Ronnie's help to bust Beltran and that he would, "string him along," until then.
Agent Murray then asked Vic, "Do you have any idea what you've just done to me?" Vic's response: "I've done worse."
Homecoming
In the aftermath of Beltran's arrest, Captain Wyms summoned Vic and Ronnie back to their former precinct. She then brought Vic into the interrogation room and read Shane's suicide letter aloud, while showing him photographs of the Vendrell bodies. Although Vic was devastated, he restrained himself from reacting emotionally to the material when he noticed the surveillance cameras that Wyms was watching him on. He then tore the camera off the wall and smashed it on the floor, telling Wyms angrily to bill him for it. Claudette icily responded, "Fine, first payment due now!"
As Vic then watched in horror, Ronnie Gardocki, his last remaining friend, was placed under arrest by Detective Dutch Wagenbach inside the Strike Team's former Club House. Enraged and devastated, Ronnie was handcuffed and led away while screaming profanity at Vic, and demanding to know whatever happened to protecting the Strike Team. As his former colleagues eyed him with frigid loathing, Vic left the precinct for the last time.
The End
Frightened by what actions Vic may take for her attempts to send him to prison, Vic's ex-wife Corinne pleaded with Claudette and Dutch for protection from him. In response, they approached I.C.E. Agent Olivia Murray and advised her that taking Vic's children away was the best means of hurting him. Corinne and the children disappeared into the Witness Protection Program.
In the aftermath, Vic begged for the opportunity to say goodbye to his children. Unmoved, Agent Murray responded, "You said goodbye to them the moment you shot another cop in the face."
Murray further vowed to make Vic's three years at I.C.E time as unpleasant as possible by severely curtailing his duties, taking him off of the streets, forbidding that he carry a weapon, and demanding that he type a ten-page report every day. She made it clear to Vic that if he deviated from the rules set for him it would be a violation of his immunity deal. Forced to wear a suit and tie, Vic was trapped in a cubicle, completely alone. He scattered his desk with pictures of his three children from his marriage with Corinne, and a photo of himself drinking beer with Lem. There were no photos of Shane, Ronnie, Corinne, or Lee, the illegitimate child he had fathered with Sergeant Danny Sofer.
Hearing police sirens, Mackey looked out the office window. Returning to his desk, Vic's eyes filled with tears as he stared at the photographs of his children. Suddenly his face contorted into a snarl. Vic removed a .357 Desert Eagle pistol from his drawer, holstered it beneath his shirt and walked off into the night.
Later Status
On the FX original series Sons of Anarchy in December 2014, a semi truck driver named Milo (played by Chiklis) appears in the penultimate episode of the 7th (final) season. Milo mentions that he has four kids last time he counted, loosely hinting that he is Vic Mackey.
Reception
On Bravo TV's countdown of the 100 Greatest Television Characters, Michael Chiklis described Mackey as "a cross between Hannibal Lecter and Dirty Harry." Vic Mackey was seen as a pattern of more violent anti-heroes on television.
References
Vic Mackey Wikipedia
(Text) CC BY-SA