Vernon Dalhart (April 6, 1883 – September 14, 1948), born Marion Try Slaughter, was a popular American singer and songwriter. He is a major influence in the field of country music.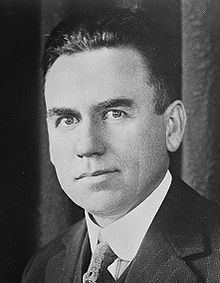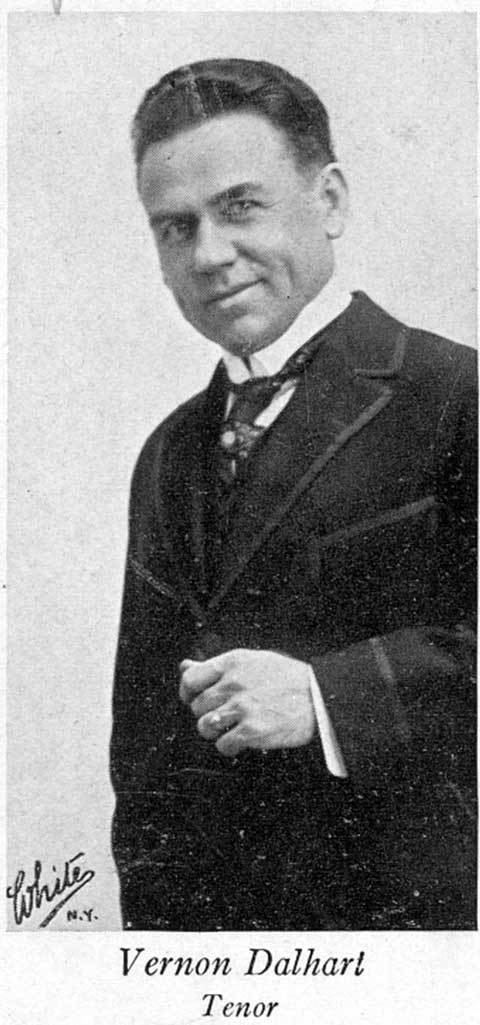 Dalhart was born in Jefferson, Texas on April 6, 1883. He took his stage name from two towns, Vernon and Dalhart in Texas, between which he punched cattle in the 1890s. Dalhart's father, Robert Marion Slaughter was killed by his brother-in-law, Bob Castleberry, when Vernon was age 10.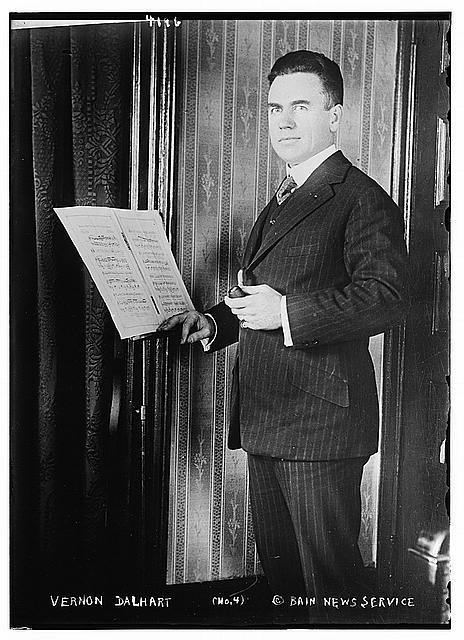 When Vernon was 12 or 13, the family moved from Jefferson to Dallas, Texas. Vernon, who already could play the jaw harp and harmonica, received vocal training at the Dallas Conservatory of Music.
He married Sadie Lee Moore-Livingston in 1901 and had two children, a son and a daughter. Around 1910 the family moved to New York City. He found employment in a piano warehouse and took occasional singing jobs. One of his first roles was in Giacomo Puccini's opera Girl of the Golden West; following this he played the part of Ralph Rackstraw in a production of HMS Pinafore. He also played the part of Lieutenant Pinkerton in Madame Butterfly.
Dalhart saw an advertisement in the local newspaper for singers and applied, and was auditioned by Thomas Alva Edison, going on to make numerous records for Edison Records. From 1916 until 1923 using numerous pseudonyms, he made over 400 recordings of light classical music and early dance band vocals for various record labels. He was already an established singer when he made his first country music recordings which cemented his place in music history.
Dalhart's 1924 recording of "The Wreck of the Old 97"—a classic American railroad ballad about the September 27, 1903 derailment of Southern Railway Fast Mail train No. 97 near Danville, Virginia—for the Victor Talking Machine Company, became a runaway hit, alerting the national record companies to the existence of a sizable market for country-style vocals. It became the first Southern song to become a national success. The double-sided single backed with "The Prisoner's Song" eventually sold as many as seven million copies, a colossal number for a mid-1920s recording. It was awarded a gold disc by the RIAA. It was the biggest-selling non-holiday record in the first 70 years of recorded music. Research by Billboard statistician Joel Whitburn determined "The Prisoner's Song" to have been a No. 1 hit for 12 weeks in 1925-26. In 1998, "The Prisoner's Song" was honored with a Grammy Hall of Fame Award and the Recording Industry Association of America named it one of the Songs of the Century. It was the desire of the Victor Talking Machine Company to duplicate the sales success of 'Wreck/Prisoner' that led them to contract with Ralph S. Peer to go to the southern mountains in the Summer of 1927 to facilitate the Bristol Sessions, arguably the single most important recording event in the history of country music, which discover Jimmie Rodgers and the Carter Family, after which Peer's royalty model would become the standard of the entire recorded music industry.
Dalhart died in Bridgeport, Connecticut on September 14, 1948. He was interred there in the Mountain Grove Cemetery.
Dalhart recorded under a host of pseudonyms given to him by recording managers. On Grey Gull Records he often used the pseudonym Vel Veteran, which was however also used by other singers, including Arthur Fields (Fields also used the pseudonym "Mr. X"). It is thought that Dalhart had the most recordings of any person in history.
To some, Dalhart's Southern accent seemed artificial. In a 1918 interview Dalhart said, "When you are born and brought up in the South your only trouble is to talk any other way...the sure 'nough Southerner talks almost like a Negro, even when he's white. I've broken myself of the habit, more or less, in ordinary conversation, but it still comes pretty easy."
While some country music purists always viewed Dalhart with some suspicion because of his light opera background and a vocal style that was closer to pop than country, he was inducted into the Nashville Songwriters Hall of Fame in 1970, into the Country Music Hall of Fame in 1981 and into the Gennett Records Walk of Fame in 2007.