Varnam is a Tamil drama film directed by Raju S. M., starring Giridharan, Monica, Sampath Raj, Aathish, Aswatha and Vijay Sethupathi in the lead roles. Varnam is the story of seventeen-year-old Mani learning that privilege and prejudice have a price. Mani's uncle Durai exploits the helpless lower caste farmers. Mani's teacher Kavitha questions Mani's prejudices. His inner turmoil and violent consequences of his casual acts form rest of the story.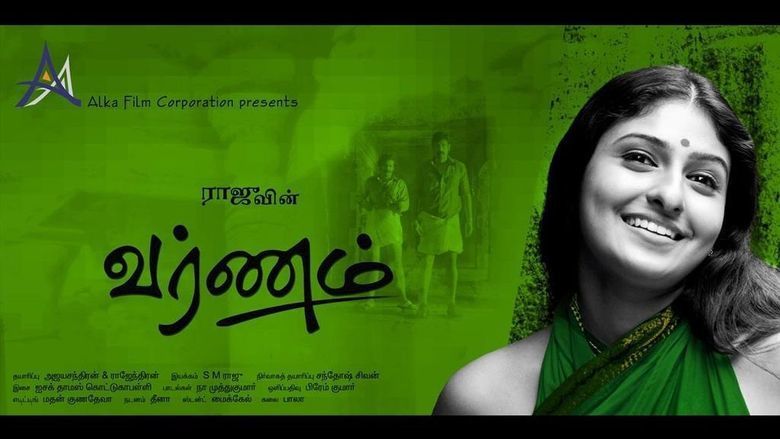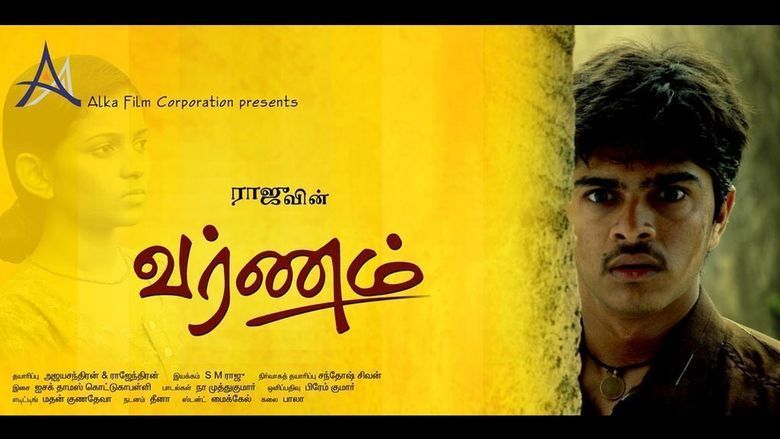 Giridharan as Mani
Monica as Kavitha
Sampath Raj as Durai
Aathish
Aswatha as Thangam
Vijay Sethupathi as Muthu
Privilege and prejudice have a price. Varnam is the story of seventeen-year-old Mani learning that the hard way. Unable to put up with Mani's troublesome antics, his mother sends him to his distant uncle Durai's home for his +2 studies. Mani, who had lost his father in a tragic caste related incident in their village ten years ago, wishes to seek revenge for his father's death. But, he doesn't know Velu, a lower caste person, who was responsible for his father's death. Mani understands that memory is necessary for revenge and he keeps his desire for revenge alive by repeatedly sketching his father's image.
Mani's uncle Durai and his partner Rathnam own a midsize coffee estate. They use their position and money to exploit the helpless lower caste farmers. Durai takes Mani under his wings and Mani enjoys every bit of his uncle's authority. Durai also wants to marry Rathnam's sister Kavitha who happens to be Mani's teacher at school.
Kavitha becomes very upset with Mani's prejudiced behavior when he humiliates a lower caste teacher in the class. To Mani's chagrin, Kavitha asks Mani to learn from Thangam, a fellow student who is also a lower caste girl. As Kavitha learns more about Mani and his sketching, she is supportive of his talent and this helps Mani to see Kavitha in a totally new light.
This is the setup in which Mani's journey into adulthood starts where he is deeply influenced both by his uncle Durai and his teacher Kavitha. His inner turmoil to reconcile with his prejudices, his desire to seek revenge, his liking for Thangam and certain irrevocable and violent consequences of his seemingly casual acts form the rest of the story of this powerful action drama.
Mani (Giri) becomes a spoiled brat after his father's death in a caste clash. Mani's mother sends him to his uncle Duria's house. Durai (Sampath) is a very rich landlord and also womanizer. But Mani, while enjoying the life at his uncle's place, also waits to revenge the man for his father's killing.
He falls in love with his school classmate Thangam (Aswatha). Kavitha (Monica) is a school teacher who influences and helps Mani to shine in studies.
To the shock of Mani, Thangam is spoiled by his own dear uncle Durai . Marriage is arranged between Durai and Kavitha. But, Mani finds his mentor Kavitha in love with his father's killer.
Got entangled in a situation to choose between avenging his father's killing and paying back his well-wishers what Mani decides is the climax of 'Varnam'.
Varnam has been the official selection in the following prestigious film festivals Montreal World Film Festival in 2011, London Asian Film Festival 2011, Chennai International Film Festival 2011, Norway Tamil Film Festival Awards 2012, New York Indian Film Festival 2012, Roxbury Film Festival 2012.