Cancer




Character actor




Vance Colvig





1959–1990




Character actor




Vance DeBar Colvig III






Vance DeBar Colvig, Jr.


March 9, 1918 (

1918-03-09

)

San Francisco, California, United States




Vance "Pinto" Colvig, Sr. (father) Margaret Bourke Slavin (mother)




March 3, 1991, Los Angeles, California, United States




Virginia Arslanian (m. 1955–1991)




Byington Ford Colvig, Courtney X. Colvig, Bourke L. Colvig, William Mason Colvig




The Yogi Bear Show, UHF, My Chauffeur, Dudes, Big Top Pee‑wee




Pinto Colvig, William Hanna, Joseph Barbera, Jay Levey, Randal Kleiser
Vance DeBar Colvig Jr. (March 9, 1918 – March 3, 1991) was an American character actor.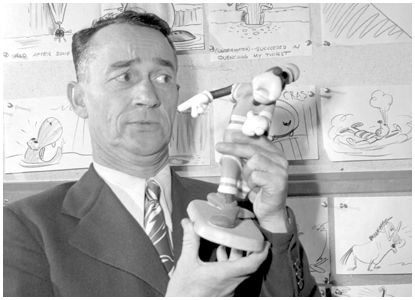 Colvig began his career as a page at NBC. In the 1940s, he became a writer for such radio shows as Breakfast in Hollywood, Command Performance and Bride and Groom.
On January 5, 1959, Vance Colvig Jr. became the first to portray Bozo the Clown on a franchised Bozo program licensed by Larry Harmon. In the role his father Pinto Colvig first portrayed on Capitol Records in 1946 and KTTV-TV in Los Angeles in 1949, Vance portrayed the whiteface clown Bozo on KTLA-TV in Los Angeles from 1959 to 1964.
Colvig's best known cartoon voice was that of the bulldog Chopper, Yakky Doodle's best friend and protector on The Yogi Bear Show.
Colvig worked chiefly as a popular character actor in numerous performances spanning the 1980s; many roles subtly express his clowning talent. He made guest appearances on The Golden Girls, Hill Street Blues, St. Elsewhere and other television shows. In one of his last film roles, Colvig can be seen as a bum opposite "Weird Al" Yankovic in several humorous scenes in the 1989 comedy UHF. Vance also appeared on a 1990 episode of the TV series Night Court playing a bum. He enjoyed playing several characters at Knott's Berry Farm amusement park and at trade shows.
Colvig appeared in commercials and music videos. His cameo appearances in music videos include David Lee Roth's 1985 cover of "Just a Gigolo" as a female producer, and Gregg Allman's 1987 "I'm No Angel" as a gas station attendant.
Colvig can be heard (identifying himself by name) on the third Negativland album, Points (Seeland 1981). On the track "A Nice Place to Live", his live remote broadcasts from the Los Angeles and Contra Costa county fairs are sampled.
Colvig died March 3, 1991, of cancer at his Hollywood Hills home.
Vance Colvig Wikipedia
Sponsored Links
Topics
Sponsored Links