India




SKM Law College




Gujarati, Hindi




Gujarat




Valsad




80.94 %



Valsad (original name Bulsar) is a municipality in the Valsad district of the Indian state of Gujarat. The city has a collectorate, a district court, and a police headquarters with a historic prison.
Historically, Valsad was a small town covered with forest, with teak production as a major regional industry.It was a part of regional kingdom before colonial era. It was made a district during the Bombay Presidency era, and was governed under Bombay State during the colonial era, following independence (prior to the creation of the state of Gujarat).Today, Valsad is a town inhabited by Gujarati people. Gujarati is the primary language in and around the town.
The main religion followed in the region is Hinduism. Other minority religions include Jainism, Islam, Christianity, Zoroastrian, and Sikhism.
A tourist destination, the best time to visit Bulsar is in June-July, post-monsoon, when the roads in and around town are at their best.
Queen lead singer Freddie Mercurys family name (Bulsara) is derived from the former name of the city.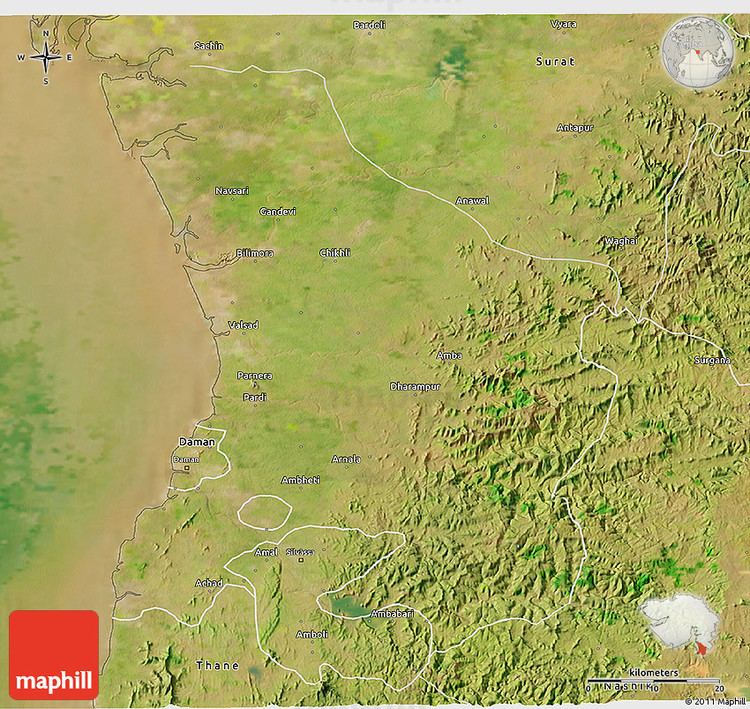 Valsad is located at 20.63°N 72.93°E? / 20.63; 72.93. It has an average elevation of 13 metres (42 feet).

The city center is about 4 km inland from the Arabian sea.
The Alphonso mango (known locally as Haafus), for which the city and environs were once famous, is still important to the local economy. Villages in the Valsad district have numerous mango orchards, the only source of income for many villagers. The Haafus mango is very much well known for its sweet taste among mango lovers all over the world. The Haafus mango is exported to various countries of the world such as the US, the UK, Australia, Canada and also to cities throughout India. The city also has a Mango Market containing more than 300 Mango Shops which stay fully crowded at the time of Mango Season which is Indian summer — specifically April to June.
Valsad Wikipedia
(,)http://maps.maphill.com/india/gujarat/valsad/3d-maps/satellite-map/satellite-3d-map-of-valsad.jpg(,)https://c1.staticflickr.com/9/8111/8555263262_6a2bed40a5_b.jpg(,)http://www.darpandodiya.com/wp-content/uploads/2014/09/Shankar-Water-Fall-And-Wilson-Hills-Dharampur-Gujarat-DarpanDodiya.com-19.jpg(,)http://www.democraticpaper.com/wp-content/uploads/2014/12/Wilson-Hills.jpg(,)http://www.tripplatform.com/assets/products/top-view-landscape.jpg(,)http://farm9.static.flickr.com/8124/8661124000_1c4746b037_t.jpg(,)https://c1.staticflickr.com/5/4028/4441875295_20fb08e890.jpg(,)http://i.ytimg.com/vi/s-Pt-OcwybQ/0.jpg(,)http://farm4.static.flickr.com/3910/15202500925_217f82e9e0_m.jpg
(,)http://media-cdn.tripadvisor.com/media/photo-s/05/ba/96/da/desi-dhaba-garden-restaurant.jpg(,)http://www.hotelgrandeurvalsad.com/img/restaurant_img2.jpg(,)http://www.hotelgrandeurvalsad.com/img/restaurant_img1.jpg(,)http://upload.wikimedia.org/wikipedia/commons/1/14/Map_GujDist_South.png(,)http://media-cdn.tripadvisor.com/media/photo-s/05/ba/95/ee/restaurant.jpg(,)http://image.slidesharecdn.com/kamdhenufoods-120430232154-phpapp02/95/kamdhenu-foods-valsad-nutritious-food-items-1-728.jpg%3Fcb%3D1335828622(,)http://media-cdn.tripadvisor.com/media/photo-s/03/bc/e3/09/shantidham-jain-temple.jpg(,)http://www.sugarnspice.in/images/sns-rolla.jpg(,)http://image.slidesharecdn.com/kamdhenufoods-120430232154-phpapp02/95/kamdhenu-foods-valsad-nutritious-food-items-2-728.jpg%3Fcb%3D1335828622(,)http://image.slidesharecdn.com/nutritiousfoodbykamdhenufoodsvalsad-120806010520-phpapp02/95/nutritious-food-by-kamdhenu-foods-valsad-1-728.jpg%3Fcb%3D1344344564(,)http://img03.olx.in/images_olxin/48521275_1_1000x700_fish-food-name-optimum-valsad.jpg(,)http://edge.ixigo.com/img/valsad-images-photos-52f226b2e4b0549c81f05e45.jpg(,)http://www.rajhans.co.in/resources/images/projects/enjoy_valsad/overview/1.jpg(,)http://www.rajhans.co.in/resources/images/projects/enjoy_valsad/overview/2.jpg(,)http://img03.olx.in/images_olxin/48523611_1_1000x700_fish-food-good-quality-valsad.jpg