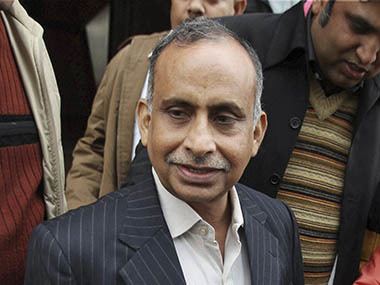 Khobragade was born on 8 May 1951 into a prominent Dalit family from Gadchiroli, Maharashtra.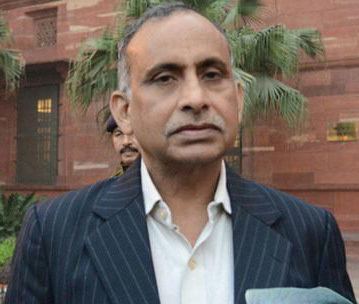 He obtained a bachelor's degree in science, followed by a law degree from the Government Law College, Mumbai.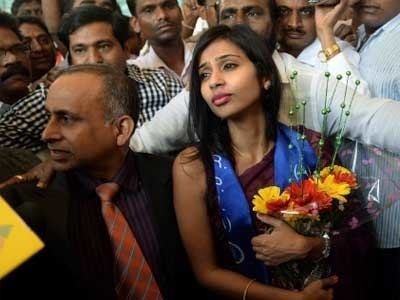 Khobragade qualified to become an officer of the Indian Administrative Service of the 1984 batch.
From 1 August 1986 to 1 December 1993 he served in the departments of Land Revenue Management and Rural Development. After that, he was Collector and District Magistrate of Mumbai Suburban District up to 1 July 1996. He subsequently worked in various departments such as Planning and Program Implementation, Environment and Forests, Social Justice and Empowerment, and Rural Development. From 1 October 1998 to 18 October 2000 he was Managing Director of Maharashtra Agricultural and Food Processing Corporation (MAFCO).
Khobragade was CEO of Maharashtra Housing and Area Development Authority from 18 October 2000 until he was transferred out of this position on 1 August 2002.
From 1 August 2002 to 16 July 2004, he was Commissioner of Food and Drug Administration, Maharashtra State.
On 16 July 2004, he returned to Maharashtra Housing and Area Development Authority as its Vice President and CEO.
On 25 May 2005 he was assigned position as Vice-Chairman and Managing Director of Maharashtra State Road Transport Corporation.
In 2006, he served as Principal Secretary, Animal Husbandry and Dairy Development, Government of Maharashtra.
From 28 June 2006 to 2 June 2010 he was General Manager of Brihanmumbai Electric Supply and Transport (BEST).
From 2 June 2010 to 31 May 2011 he served as Principal Secretary, Tribal Welfare Department.
Khobragade is currently a Director at U M Trade Private Limited, Nagpur and Uttam Vaccine Product Private Limited, Mumbai.
After retirement from the Indian Administrative Service on 31 May 2011 Khobragade sought to become a Member of Parliament from the Rajya Sabha.
On 15 January 2014 Khobragade told reporters that he would contest the Lok Sabha elections in May 2014.
On 2 September 2014 Khobragade joined the Republican Party of India (A) to revitalize the Ambedkarite Dalit movement in the country. He told reporters that he hoped to contest the Dharavi seat in the upcoming Maharashtra State Assembly elections.
Justice For Common Man (1993–2005 Collection of My Selected Judgments on land and excise matters)
Our struggle has just begun: Speeches delivered by the author, a radical administrator from 2004-2006 (Aavishkar Publications, Mumbai 2006. English, 1st ed)
In January 2014 the Maharashtra Police Anti-Corruption Bureau issued a confidential report that revealed a floor space index (FSI) scam at the Grahaswapna Co-operative Housing Society at Juhu, Mumbai.
In 2002, Uttam Khobragade, the then Vice President and CEO of Maharashtra Housing and Area Development Authority (MHADA) sanctioned an FSI of 2.4 against the permissible FSI of 2 for the construction of ground plus ten-storey structure. Khobragade is also a member of this society and was allotted a flat.
Housing society members bought 28,000 sq ft of additional space from MHADA at a rate of Rs. 250 per sq ft and then sold it to a private builder at the market rate of Rs. 14,000 per sq ft for a total of Rs. 39.20 crore.
Besides Khobragade, his personal assistant Kamlesh Mirani, MHADA chief officer L Hazare, and chief engineer Vijay Thakre also got flats in this society, and were allegedly involved in the allotment of extra FSI. "These Mhada officials violated the development control rule 33 (5) by misusing their power for own benefit," stated the probe report.
Khobragade and his daughter Devyani have been accused of being part of the controversial Adarsh Housing Society scam due to ownership of a flat.
The inquiry commission that is probing the Adarsh Society scam has found Ms. Khobragade ineligible to purchase the flat in the building that she owns. Her father Uttam Khobragade, had filed the application on her behalf but his daughter already owned another flat in the suburb of Oshiwara under the jurisdiction of the Municipal Corporation of Greater Mumbai. Thus there was a violation of eligibility criteria. The report also discloses that neither of them had disclosed to the Commission the source of the money to buy the flat.
On 21 December 2013 Khobragade told reporters "We explained to the commission that in 2004 we had applied for Adarsh society membership, and we had informed the society that we have another flat in Oshiwara. We had told them that if this (Adarsh) flat is working out, we will resign from the membership of the Oshiwara co-operative society. But from 2004 to 2008, there was no progress in Adarsh society, and Devyani's membership was approved only in 2008. By then, the Oshiwara flat was completed. The moment Adarsh society gave her the membership, we sold the Oshiwara flat for a sum of ₹ 1.9 crore, and paid the capital gains tax of ₹ 30 lakh. From this money, we purchased the Adarsh flat. This is a normal practice among IAS officers; if they get a better property, they resign from the first membership and take up the second one. Now tell me, what wrong have we done? It is true that I was the CEO of MHADA when the flat was allotted to Devyani. But I didn't show any favouritism. I wrote to the government and she was allotted the flat after the government's approval."
Besides owning flats in the controversial Adarsh Society, he is also accused by the CBI of helping the Adarsh Coop Housing Society to use higher floor space index (FSI) than permitted, by allegedly transferring an adjoining plot reserved for a BEST bus depot to Adarsh.
The committee in charge of investigating the Adarsh Housing Society scam exonerated Mr. Khobragade in its report.
On 15 December 2007 BEST introduced luxury, air-conditioned buses that the then Chief Minister Vilasrao Deshmukh and BEST General Manager Uttam Khobragade claimed were imported from China and manufactured by Chinese bus maker King Long.
Acquired over several years at a cost of ₹ 50 lakhs to ₹ 80 lakhs each, passengers constantly complained about BEST's fleet of 285 buses, citing frequent breakdown, leaking air conditioners and engine fires.
On 17 May 2010, the Maharashtra State Road Transport Corporation, which had acquired 15 of these buses, decided not to ply them any more. The next day, BEST General Manager Uttam Khobragade claimed that there were no plans to withdraw them from BEST's fleet since they were "safe" and "performing well".
On 18 November 2011 BEST estimated that the buses had caused losses to the tune of ₹ 75 crore annually.
On 15 December 2011 BEST General Manager Om Prakash Gupta said that BEST has blacklisted the bus manufacturer and would never buy from it again.
On 29 August 2012 an investigation conducted by the newspaper Mumbai Mirror revealed that the buses were actually manufactured by an Indian company, JayCee Coach Builders Limited (JCBL), at Lalru, Mohali in Punjab. The investigation claimed that the buses were in fact branded Cerita, and their logo was covered up during the inauguration ceremony with elaborate floral decoration.
Sannis Wang, deputy general manager of King Long's Overseas After Sales Department claimed that it only had a limited contract to provide some bus parts to JCBL.
An application made by Mumbai Mirror under the Right to Information Act showed that BEST's 285 Cerita buses had 4,037 breakdowns between January 2010 and June 2012.
Commenting on Mumbai Mirror's investigative report, Uttam Khobragade said in August 2012 "It is a five-six year old matter (whether the bus was a King Long or a Cerita brand) so I wouldn't remember the specifics. All I know is that due process was followed to bring in these buses and under me these buses ran very well and greatly helped bring down pollution."
On 21 April 2006 nearly 44,000 employees of Mumbai's Brihanmumbai Electric Supply and Transport (BEST) went on an indefinite strike to protest against the management's alleged decision to cut wages and change service conditions of the workers, as recommended by the Justice Kurdukar Pay Revision Committee.
BEST management obtained an order from an industrial court in Mumbai, and the Maharashtra state government invoked the Essential Services Maintenance Act to restrain the BEST Workers Union from resorting to a strike but the strike went ahead anyway.
On 24 April 2006 the two-day strike was called off, following a meeting between the employees union and the BEST management, during which BEST workers' demands were met and an agreement was reached. The then BEST general manager Swadhin Kshatriya said that the deal will cost the bus service ₹ 402 crore in the next five years, a burden to the loss-making organization.
The BEST trade unions also entered into an agreement with the management to refer the matter of revision of pay scales, dearness allowance, house rent allowance, leave travel assistance and various other allowances to a three-member Pay Revision Committee.
On 5 April 2007 the BEST Workers' Union general secretary, Sharad Rao, threatened to launch an indefinite strike to protest the management's "delaying tactics in the implementation of interim dearness allowance" which was to come into force in April 2006. Rao also alleged that BEST management was selling and leasing BEST property to private players without consent of the union, as mandated under the Bombay Industrial Relations Act.
On 19 April 2007 employees of BEST launched a 72-hour strike. The then BEST general manager Uttam Khobragade obtained a Bombay High Court ruling deeming the strike illegal.
In his capacity as BEST general manager, Khobragade filed a First Information Report against the union at a police station under the provisions of the Essential Services Maintenance Act. He also filed a contempt petition in the Bombay High Court since the union had gone on strike despite the High Court's injunction against it. Khobragade served employment termination notices to 5000 BEST employees for failure to not report to work by 8 pm on 20 April 2007. BEST also kicked off a recruitment drive on 20 April 2007 and hired 750 new bus drivers and conductors on a daily wage basis.
Half an hour before the 8 pm deadline on 20 April 2007, Sharad Rao called off the strike. Rao accused the BEST management of accepting Rs. 30,000 from each of the 750 new recruits employed.
On 11 June 2007 Rao further alleged that the new recruits were trainees who were causing road accidents. In 2006-07, of a total number of 10,500 BEST drivers, 9,447 were found to be involved in cases involving major and minor accidents.
On 27 October 2007 Khobragade close down co-operative societies run by the BEST Workers' Union at Majas, Colaba, Mulund, Anik and Goregaon bus depots, terming them as illegal. Sharad Rao, President of BEST Workers' Union, responded on 30 October 2007 by filing a First Information Report against Khobragade at each of the 5 police stations concerned. The same day Khobragade stated that "The signing of several pay revision deals with unions is the prime reason for losses incurred by the undertaking's transport wing," he said.
On 25 May 2010 Khobragade was transferred out from the position of BEST general manager. Sharad Rao, President of BEST Workers' Union, celebrated by organising a 'Vijayi Melava' (victory conclave) at the Azad Maidan that evening and distributing sweets to BEST employees at BEST bus depots across the city.
After 2007, BEST passengers complained frequently about BEST drivers driving rashly and breaking traffic rules, which led BEST administration to suspect that these drivers might have poor vision. A surprise vision test conducted in March 2013 revealed that, of the 750 BEST bus drivers recruited during the 2007 strike, 142 were colour-blind. BEST Committee member Sandeep Deshpande said that in 2009, when the bus drivers were confirmed as permanent employees, they did not undergo an eye test. Instead, they produced a fitness certificate from civic hospitals, which was accepted by the BEST administration.
Reacting to the issue, former BEST general manager Uttam Khobragade said:
"I am sure the new recruits were medically examined. If some of them were colour blind, they wouldn't have plied our buses for the next six years. I don't know how the authorities have detected colour blindness, but I can definitely say they are not from the batch of drivers recruited in 2007."
On 23 April 2013 the 142 colour-blind drivers were grounded and directed to J. J. Hospital for a second opinion . By July 2013, 70 drivers were cleared by the medical board at J. J. Hospital as fit to drive while 49 were declared unfit for the job.
Uttam Khobragade is married to Manda Khobragade and the couple have two daughters. His daughter Devyani Khobragade is an Indian Foreign Service officer.