Origin

Philadelphia, USA




Years active

1994–present




Role

Musical Artist




Movies

The Black Candle, !K7




Occupation(s)

Singer, songwriter




Name

Ursula Rucker




Education

Temple University






Genres

Spoken word, Hip hop, Neo-soul, Electronica




Labels

Studio !K7, FiveSixMedia




Associated acts

King Britt, 4hero, Jamaaladeen Tacuma, Josh Wink, Alix Perez, The Roots




Albums

Ma'at Mama, No Stranger Here, Silver or Lead, Ruckus Soundsysdom, She Said




Profiles




Myspace
Cris prolific music is feat ursula rucker
Ursula Rucker is an American spoken word recording artist. Rucker is known for a diverse repertoire, and for utilizing techniques that catch her listeners' attention.
Contents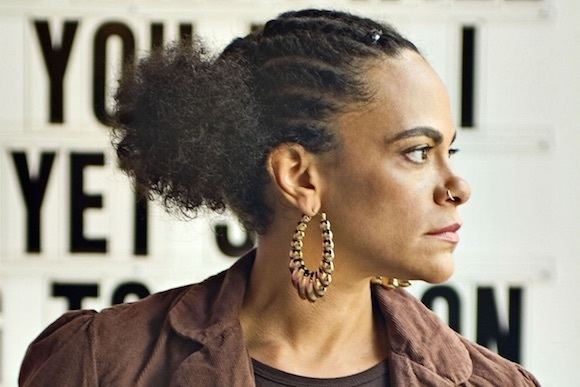 Ursula Rucker - Poet (Full Movie)
Biography
Rucker was born and raised in Philadelphia, Pennsylvania, where she was a graduate of Temple University's journalism program. She is of African-American and Italian descent. Rucker had been writing poetry since adolescence but kept her writings to herself until she read poetry in 1994, at Philadelphia's Zanzibar Blue which is credited as her debut.
That very same year, Rucker was invited to collaborate with numerous recording artists, and producers including WAX TAILOR, King Britt, 4hero, Jamaaladeen Tacuma, Josh Wink, Alix Perez and most notably The Roots.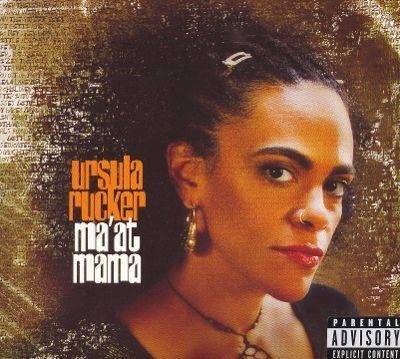 Rucker garnered a reputation for unique poetry techniques and stage presence which were described as "strong, vulnerable, wounded and raging". King Britt gave Rucker recognition and invited her to create her first spoken word recording, the 1994 club hit, "Supernatural". Dance music fans and DJ's quickly appreciated Rucker's vocals and rhythm, which was described as "mystical". According to Britt, while the original and remixes of Supernatural were continually used in clubs widespread throughout the United States, internationally, the most popular mix of the song remains the a cappella.
Career
Rucker's emotion in her work and words, has led some critics to compare her to celebrated writers like Sonia Sanchez and Nikki Giovanni, describing them as "powerful". Coincidentally, when Ntozake Shange was unable to supply The Roots with a spoken word contribution for their second album Do You Want More?!!?!!, they called on Rucker to do it instead. The Unlocking led to subsequent invitations to close The Roots follow-up albums Iladelph Halflife and the certified gold record Things Fall Apart.
In numerous reviews, many critics proclaim the value of Rucker's work with The Roots, 4hero and other groups. Rucker has had reviews in, URB, Vibe, XXL, The Philadelphia Inquirer, and Straight No Chaser. Rucker has also performed her work at an array of venues, universities and festivals. Among these venues include the Montreal Jazz Festival, the 1999 Winter Music Conference, a performance at Drexel University and the 2005 Amnesty International Australia Freedom Festival which aimed to raise aware of Amnesty's global "Stop Violence against Women" campaign.
Rucker has toured with Jamaaladeen Tacuma, Sylk 130, and 4Hero in the United States and internationally in Europe. Rucker also has provided a single "Soon for Unbound", which was off a benefit album for convict Mumia Abu-Jamal. Andy Puleston at bbc.co.uk writes in his review of her album Supa Sista: Ursula's vocals... is a silken delivery, that like Michael Franti, demonstrates that a quiet word in the ear can speak volumes above the microphone rant. Paul Sullivan also of bbc.co.uk says in his review of her album Silver or Lead: Ursula's velvety voice...manages to both mollify and add a sinister dimension to the harshness of her subject matter.
Discography
Supernatural (Single) (1994)
Supa Sista (2001)
Silver or Lead (2003)
Ma' at Mama (2006)
Ruckus Soundsysdom (2008)
She Said (2011)
with '4hero'
"Loveless" on Two Pages (1998)
"Time" on Creating Patterns (2001)
"The Awakening" on Play with the Changes (2007)
with 'Raw Artistic Soul'
"The Light" on You Got Rhythm Too (2007)
More extensive discography listings at Discogs.com
Ursula Rucker
Film Appearances
She appears in the 2008 film The Black Candle, directed by M.K. Asante, Jr. and narrated by Maya Angelou.
Ursula Rucker: Poet debuted at the 2008 Urbanworld Film Festival. Directed and Edited by Michael J. Dennis, it was originally commissioned as part of WYBE/Mind-TV's "'Philadelphia Stories'" Series.
Songs
Supa Sista
Electric Santeria
Poon Tang Clan
A Stranger Here
For Women
Song for Billy
Black Erotica
Circe
Brown Boy
Womansong
Untitled Flow
Sometimes I
Steadfast
Journey's Prelude
Seraphim Tones
Something Is Still Missing
Humbled
Mook
Wet Life
Cypha
What a Woman Must Do
The Pliable Ones
7
Libations
Philadelphia Child
Children's Poem
Stop Calling Me!
Being Black
My Sunday Afternoon
Uh Uh
I Ain't
Rant

References
Ursula Rucker Wikipedia
(Text) CC BY-SA