Covid-19
6.2

/

10

Alchetron

Rate This




Harry Beaumont




David Snell





English






Comedy




Metro-Goldwyn-Mayer




United States






February 1, 1946 (1946-02-01)




Thelma Robinson (story), Wilson Collison (based on character created by)




Ann Sothern

(Maisie Ravier),

George Murphy

(Joseph Morton),

Hillary Brooke

(Barbara Nuboult),

Stephen McNally

(Tim Kingsby (as Horace McNally)),

Ray Collins

(Mr. Floyd Henderickson)


Congo Maisie

,

Maisie Gets Her Man

,

Ringside Maisie

,

Undercover Maisie

,

Maisie Goes to Reno

,

Maisie Was a Lady




UP GOES MAISIE TO NEW HEIGHTS OF HILARITY...ON A SKY-CYCLE BUILT FOR TWO!
Up Goes Maisie is a 1946 American comedy film produced by Metro-Goldwyn-Mayer as the ninth of ten films starring Ann Sothern as ex-showgirl Maisie Ravier. In this series entry, Maisie goes to work for an inventor played by George Murphy.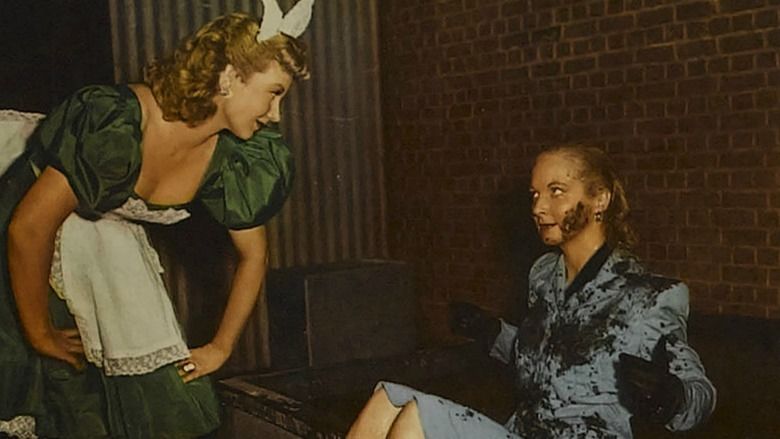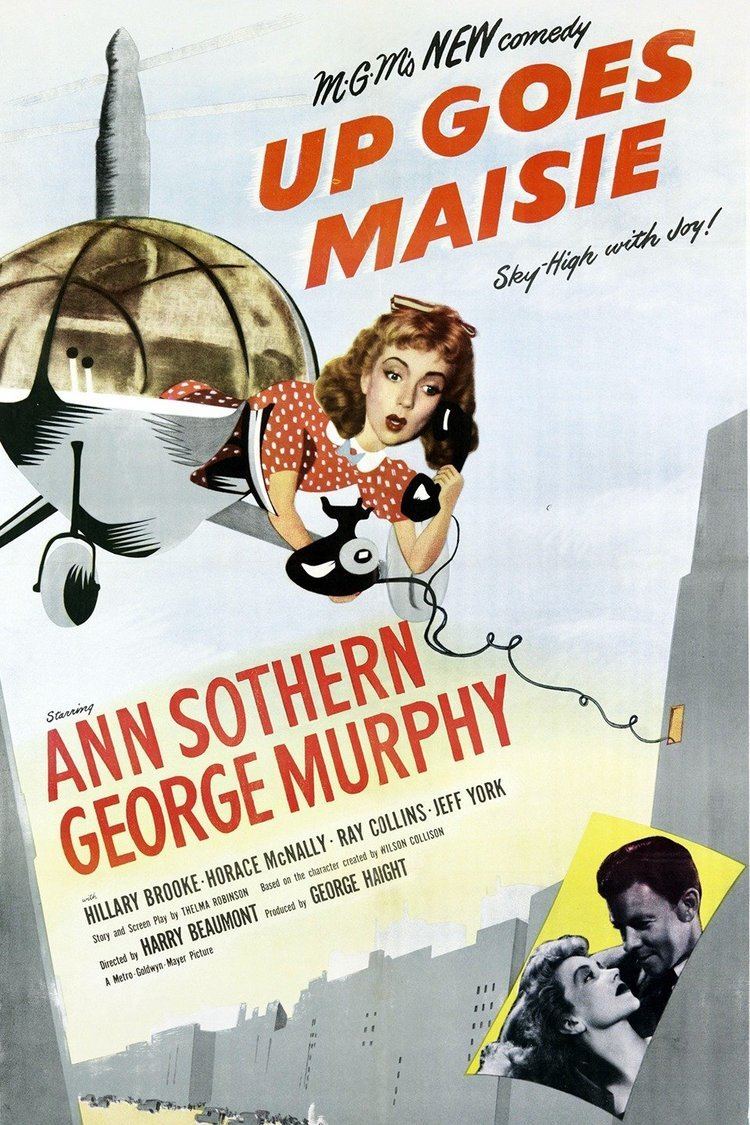 Determined to better herself, Maisie Ravier (Ann Sothern) graduates from the Benson Business School in Los Angeles, but has to fend off the advances of Mr. Benson (John Eldredge). She encounters the same problem at her first few job interviews - the men are interested in something other than her secretarial skills - so she dresses as dowdily as she can and gets hired by Joseph Morton (George Murphy). Morton has invented a helicopter that is easy to fly and gotten financial backing from J. G. Nuboult (Paul Harvey).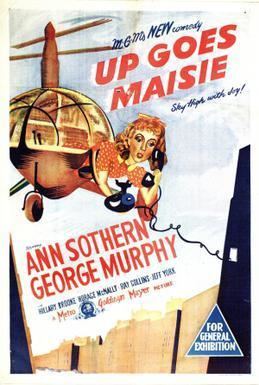 Morton suspects Maisie is an industrial spy when he learns of her deception, but she convinces him she was merely trying to avoid romantic trouble. He assures her she will have no such difficulty with him. He is thrilled to learn that she worked during the war helping assemble the very bombers he himself flew, and introduces her to his men: World War II crew mates Mitch O'Hara (Murray Alper) and Bill Stuart (Lewis Howard), and college friend Tim Kingsby (Stephen McNally). Then he sets her to work not only in the office, but also at welding and other assembly tasks. Eventually, Maisie and Morton fall in love and become engaged.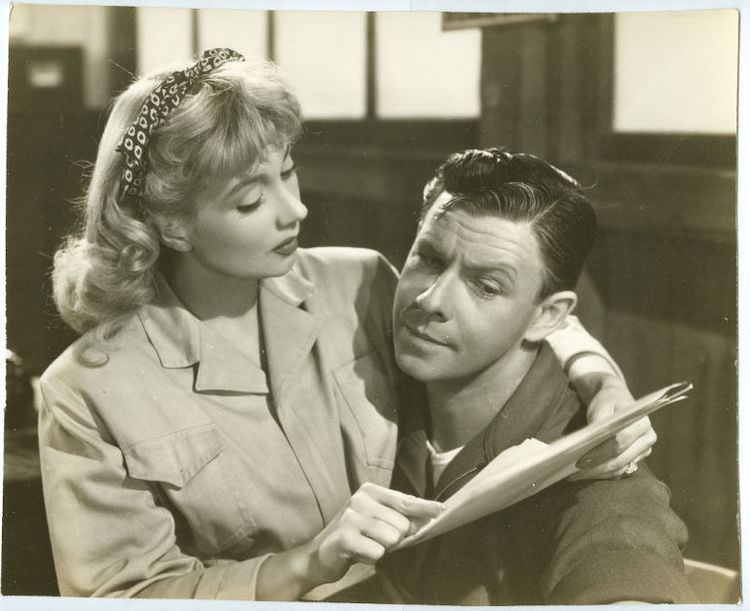 Unbeknownst to Morton, Kingsby, Nuboult and Nuboult's daughter Barbara (Hillary Brooke) are scheming to steal his invention. When Maisie notices that they are being billed for twice as many parts (the plotters are building a second copy of the prototype), Barbara invites her to a Sunday social at an exclusive club, where she spikes her drink. Maisie ends up diving into the pool with her clothes on. Feeling she is no good for Morton, Maisie goes into hiding.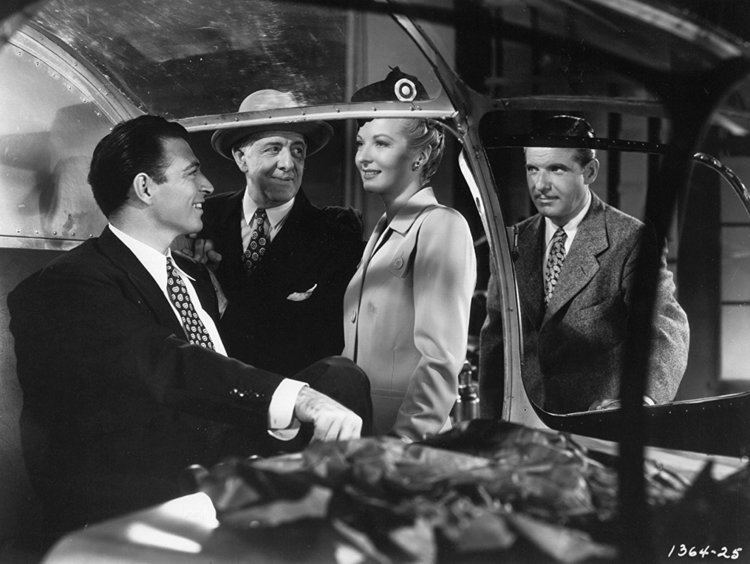 Morton persuades Seattle tycoon Floyd Hendrickson (Ray Collins) to come to a demonstration at the Rose Bowl, while hiring a private detective to search for Maisie. Then the plotters set their plan into motion, stealing the prototype and burning down the workshop with their copy inside. Maisie becomes suspicious when Nuboult shows up with Morton's canceled contract immediately after the fire is put out. When she cannot find in the wreckage the medals she welded to the helicopter for good luck, she guesses the truth. She, Mitch and Bill follow Tim to where the real helicopter is stashed. A fight breaks out when they try to get it back. Maisie is told to take the helicopter up. She manages to fly through Los Angeles to the Rose Bowl, where an impressed Hendrickson signs onto the project.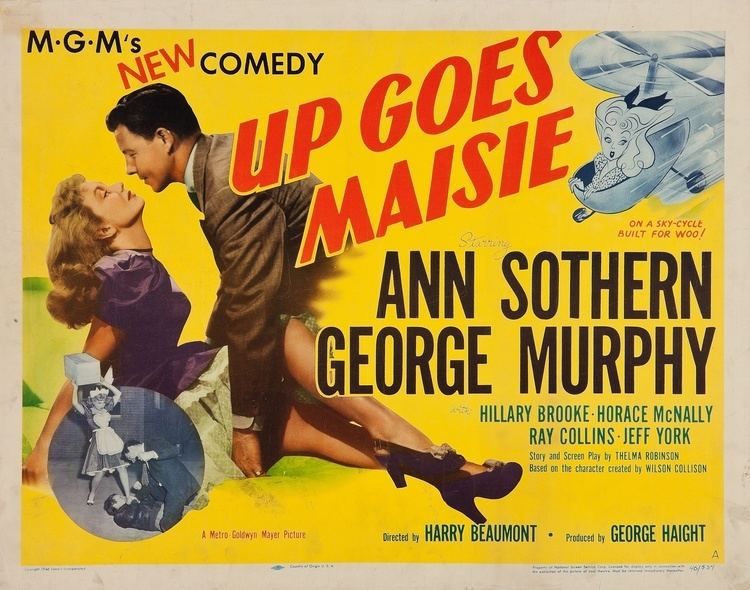 Ann Sothern as Maisie Ravier
George Murphy as Joseph Morton
Hillary Brooke as Barbara Nuboult
Stephen McNally as Tim Kingsby
Ray Collins as Mr. Floyd Henderickson
Jeff York as Elmer Saunders
Paul Harvey as Mr. J.G. Nuboult
Murray Alper as Mitch O'Hara
Lewis Howard as Bill Stuart
Jack Davis as Jonathan Marbey
Gloria Grafton as Miss Wolfe
John Eldredge as Benson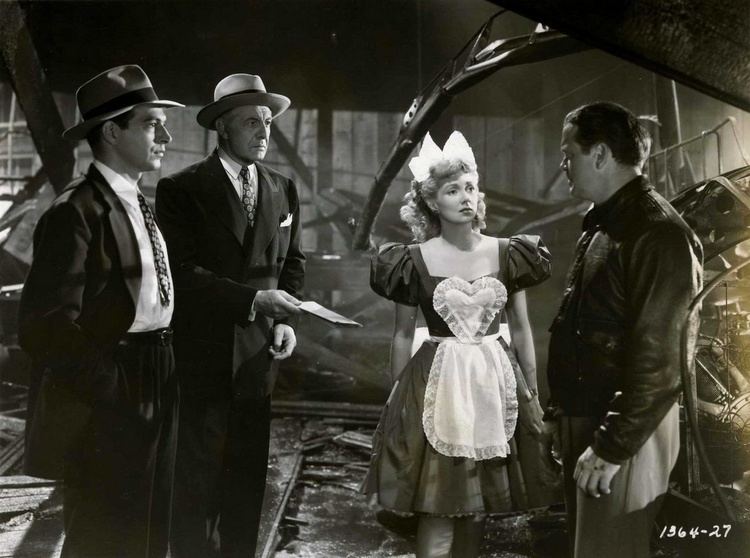 Connie Gilchrist and Barbara Billingsley have uncredited roles, Gilchrist as a startled cleaning woman who helps an airborne Maisie contact Morton.
The film was not well received by critics. Bosley Crowther, in his review for The New York Times, lamented, "If only the studio would not have our heroine being hoodwinked by the most obvious villians [sic]." He also thought that without Maisie "cruising around in that copter over Los Angeles and the Rose Bowl, everything would be more bearable." Still, Crowther ended by stating, " it's nice to have Maisie arrive again, even if it's in a slightly incredible vehicle." Hal Erickson of AllRovi disagreed about the aerial sequence; "The process work in this climactic sequences [sic] is unusually good for an MGM production, providing an exciting wrap-up to an otherwise pedestrian project." TV Guide stated the series "was just about out of gas in 1946" and called Up Goes Maisie "standard stuff."
Up Goes Maisie Wikipedia
(Text) CC BY-SA
Up Goes Maisie IMDb
Up Goes Maisie themoviedb.org