South Africa




Afrikaans


75.35 km2


1804



Uitenhage ( Afrikaans: ) is a South African town in the Eastern Cape Province. It is well known for the Volkswagen factory located there, which is the biggest car factory on the African continent. The city of Port Elizabeth and the small town of Despatch are located near Uitenhage.
Uitenhage was founded on 25 April 1804 by landdrost (district magistrate) Jacob Glen Cuyler and named in honour of the Capes Commissioner-General Jacob Abraham Uitenhage de Mist by the Dutch Cape Colony governor, Jan Willem Janssens. Uitenhage formed from part of the district of Graaff Reinet (shortly after its short-lived secession).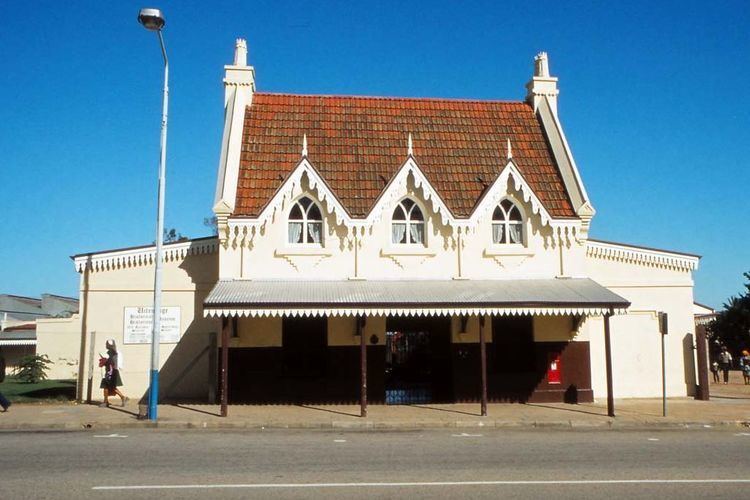 The Cape Colony received a degree of independence when "Responsible Government" was declared in 1872. In 1875 the Cape government of John Molteno took over the rudimentary Uitenhage railway site, incorporated it into the Cape Government Railways (CGR), and began construction of the lines connecting Uitenhage to Port Elizabeth and the Southern African interior. Two years later, in 1877, Uitenhage was declared a municipality.
Nearly a hundred years later, as part of the Union of South Africa, Uitenhage became a centre for resistance against Apartheid. In 1985, police opened fire on a funeral procession in Uitenhage, killing a number of unarmed people, in an event that became notorious as an example of police oppression in South Africa under apartheid.
In 2001 it was incorporated with Port Elizabeth and Despatch into the Nelson Mandela Bay Metropolitan Municipality.
Uitenhage Wikipedia
(,)http://uitenhage-ec.co.za/uitenhage_history_images/olddrodtdy.jpg(,)http://4.bp.blogspot.com/-pKK-vCrkkY8/T_qo6RiEogI/AAAAAAAAGAg/9XJ9Iu1NBvM/s1600/web%2BUitenhage%2Bold%2Bstation%2Bbuilding%2B1981%2BDavid%2BPerl.jpg(,)http://upload.wikimedia.org/wikipedia/commons/9/9b/Uitenhage_Victoria_Tower,_South_Africa.jpg(,)http://uitenhage-ec.co.za/old-photos/caledon-st-2b.jpg(,)http://uitenhage-ec.co.za/uitenhage_history_images/2014_0207uitenhage0025.JPG(,)http://www.nmbt.co.za/uploads/1/image/Content%2520Images/Generic%2520Text%2520Images/South-End-Museum-Port-Eliza.jpg(,)http://imganuncios.mitula.net/van_riebeeck_hoogte_this_house_is_warm_neat_and_very_spacious_living_at_its_best_it_offers_lovely_entrance_hall_large_lounge_and_dining_room_4_bedrooms_1_full_bathroom_with_open_plan_kitchen_and_dining_room_area_nice_garden_with_lots_of_space_to_entertain_in_the_back_single_garage_on_remote_of_that_extra_security_fully_enclosed_with_an_domestic_room_and_outside_toilet_the_charming_little_town_of_uitenhage_is_situated_only_38_kilometers_from_port_elizabeth_and_the_indian_ocean_situated_in_south_africas_eastern_cape_province_the_city_has_just_recently_been_made_part_of_the_greater_nelson_mandela_bay_metropolitan_municipality_not_only_does_uitenhage_serve_as_the_automotive_hub_of_the_eastern_cape_but_it_is_filled_with_a_rich_history_and_it_has_so_many_beautiful_gardens_and_parks_that_it_is_often_referred_to_as_the_garden_town_the_town_was_founded_in_1804_by_j_a_uitenhage_de_mist_who_was_a_dutch_governmental_official_sent_to_the_cape_colony_in_the_early_1800s_uitenhage_van_riebeeck_hoogte_99694780051078617.jpg(,)http://www.nightjartravel.com/sites/default/files/169%2520A%2526A/Drostdy%2520Museum.jpg(,)http://farm5.static.flickr.com/4009/4688152674_1d63043601_o.jpg
(,)https://fbcdn-sphotos-e-a.akamaihd.net/hphotos-ak-xaf1/t31.0-8/c0.54.851.315/p851x315/1911054_646279348760506_1772554730_o.jpg(,)http://www.safarinow.com/db/id/1302960/356040a.jpg