Czech Republic




21.26 km²




1,197 / km2



Uherske Hradiste ( German: , Hungarian: ) is a town in the Zlin Region of the Czech Republic, located 23 km (14 mi) southwest of Zlin on the Morava River. It is the capital of the Uherske Hradiste District. The town itself has a population of 25,454 (2011 census). The agglomeration with the two neighbouring towns of Stare Mesto and Kunovice has over 38,000 people.
The town was founded in 1257 by the Czech king Otakar II. The town is the center of Moravian Slovakia (), a region known for its characteristic folklore, music, costumes, traditions and production of wine. The historical city center is historically preserved.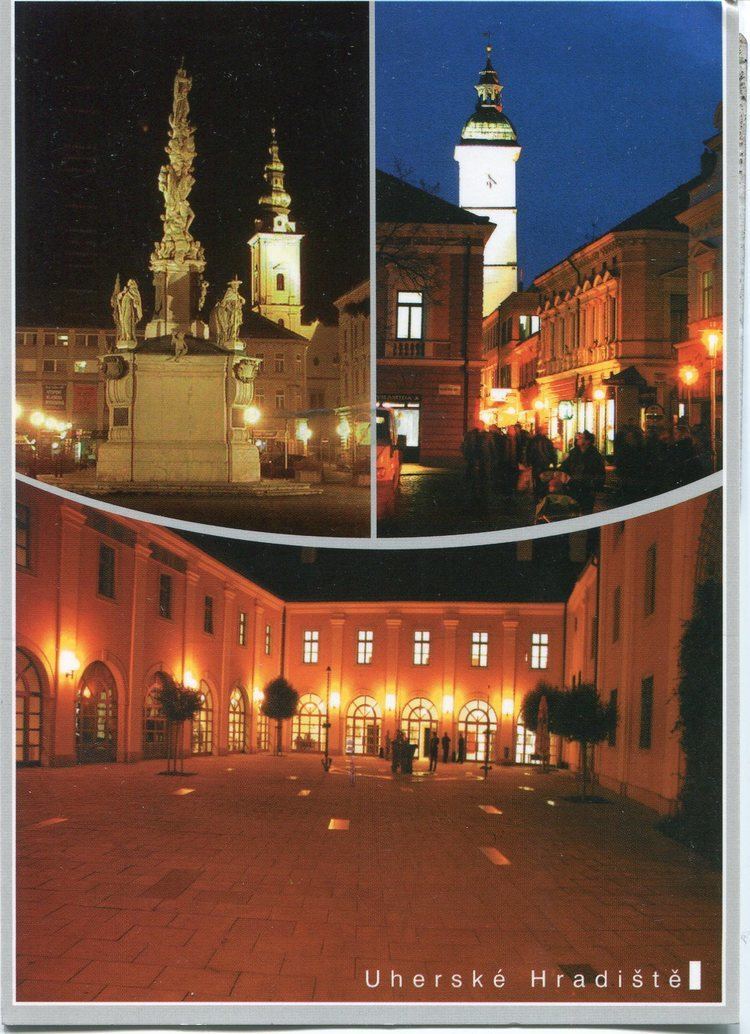 Uherske Hradiste is located in the southeast of the Czech republic close to the border with Slovakia in the historical land of Moravia. The region is attractive owing to its landscape and rare species. The Morava river with its alluvial forest as well as flora and fauna are particularly popular and the Chriby and White Carpathians mountain ranges are also in close proximity to the city. There are several castles and palaces, the Great Moravian town Stare Mesto, and the pilgrimage spot Velehrad. Uherske Hradiste is also known for its film festival named Summer Film School (Letni filmova skola).
Uherske Hradiste Wikipedia
(,)http://www.mesto-uh.cz/Folders/Pictures/1091-6-UH-letpohled072jpg.aspx(,)https://danyaalonsymp.uni-hohenheim.de/typo3temp/pics/ebc294ef69.jpg(,)http://egelesta.net/inside-moravia/files/2014/04/IMG_20140311_130203_ayuntamiento-e1397569427748.jpg(,)https://fbexternal-a.akamaihd.net/safe_image.php%3Fd%3DAQDXcOvu-eetwFe9%26w%3D720%26h%3D960%26url%3Dhttp%253A%252F%252Fupload.wikimedia.org%252Fwikipedia%252Fcommons%252Fthumb%252F7%252F7d%252FKostel_sv._Franti%2525C5%2525A1ka_Xaversk%2525C3%2525A9ho.JPG%252F720px-Kostel_sv._Franti%2525C5%2525A1ka_Xaversk%2525C3%2525A9ho.JPG(,)http://rickyyates.com/wp-content/uploads/2010/10/UH-Bata-Canal-2.jpg(,)http://czechrepublic.wikispaces.com/file/view/2.jpg/360932344/2.jpg(,)http://www.pragap.com/fotografie/slovacke_muzeum_uherske_hradiste.jpg(,)http://3.bp.blogspot.com/-GK0UyvhoiEk/U-jvl2wYE3I/AAAAAAAABRc/dtnNPioUQRs/s1600/IMG_0122%255B1%255D.JPG
(,)https://rememberingletters.files.wordpress.com/2013/04/czech-republic-uherske-hradiste.jpg
(,)http://media-cdn.tripadvisor.com/media/photo-s/01/f1/12/15/the-restaurant-very-nice.jpg(,)http://hotel-synot-ve-starem-meste.top-ubytovani.eu/images/fotkykm/mesta/Uhersk%25C3%25A9-hradi%25C5%25A1t%25C4%259B.jpg(,)http://vseovinu.vachta.cz/webfiles/obrazky/uherske_hradiste.jpg(,)http://cdn1.vtourist.com/19/1723852-Uherske_Hradiste_Uherske_Hradiste.jpg(,)http://www.czechsoccernet.cz/obrazky/UHsize800x450/GymnasiumUH.jpg(,)http://www.infoglobe.cz/res/data/470/054135_56_540695.jpg%3Fseek%3D1316696303(,)http://static.panoramio.com/photos/large/10728975.jpg
(,)http://www.praguepost.com/images/acrous/peter-greenaway-horse.jpg(,)http://www.amber-trail.cz/cz/fotky/akce/17.jpg(,)http://www.europa-cinemas.org/var/europacinemas/storage/images/news/le-reseau/tchequie-retour-sur-la-journee-numerique-avec-europa-cinemas-a-uherske-hradiste/3758-1-fre-FR/Tchequie-Retour-sur-la-journee-numerique-avec-Europa-Cinemas-a-Uherske-Hradiste.jpg(,)http://www.amber-trail.cz/cz/fotky/akce/15.jpg(,)http://www.wata.net/_uploads/offers/8/buchlovice_castle_600x_800x600.jpg(,)http://www.oneworld.cz/2015/download/img/3707.jpeg(,)http://www.amber-trail.cz/cz/fotky/programy/83.jpg
(,)http://1.bp.blogspot.com/-rzU2XtA3coE/TaSDTi7IwBI/AAAAAAAACKs/RfeMjfllFWA/s1600/uhhradiste.jpg(,)http://www.czechtourism.com/getmedia/17e50c58-7a3e-446e-aaf1-80b968a340e9/bazen-4.jpg.aspx%3Fext%3D.jpg%26maxsidesize%3D700%26width%3D480%26height%3D371%26crop%3D1
(,)http://czechrepublic.wikispaces.com/file/view/1.jpg/360932300/1.jpg(,)http://www.u21euro2015.cz/res/archive/004/000556_54_004536.jpg%3Fseek%3D1421702735(,)http://www.u21euro2015.cz/res/archive/004/000557_54_004545.jpg%3Fseek%3D1421702781(,)http://cdn1.images.touristlink.com/repository/C/H/U/R/C/H/O/F/uherske-hradiste-church-of-st-francis-xavier.jpg(,)http://www.holidaycz.com/czech/prague-old-town.jpg(,)http://www.lfs.cz/soubory/slide-english/stab.jpg(,)http://www.u21euro2015.cz/res/archive/004/000558_54_004554.jpg%3Fseek%3D1421702873(,)http://www.czechsoccernet.cz/obrazky/UHsize800x450/panoramaUH.jpg(,)http://www.pathways.cz/images/Image/Welcome%2520to%2520Uherske%2520Hradiste-2.jpg(,)https://fbexternal-a.akamaihd.net/safe_image.php%3Fd%3DAQAtGyjPoPkdIgyl%26w%3D720%26h%3D540%26url%3Dhttp%253A%252F%252Fupload.wikimedia.org%252Fwikipedia%252Fcommons%252Fthumb%252F1%252F13%252FSkoronice_-_mate%2525C5%252599sk%2525C3%2525A1_%2525C5%2525A1kola.JPG%252F720px-Skoronice_-_mate%2525C5%252599sk%2525C3%2525A1_%2525C5%2525A1kola.JPG(,)http://img.radio.cz/pictures/c/festivaly/lfs12/lfs3.jpg