Father

Bhumibol Adulyadej




Role

Film actress




Name

Ubolratana Rajakanya





Religion

Buddhism




Mother

Sirikit




Movies

Together







Born

5 April 1951 (age 72) Lausanne, Switzerland (

1951-04-05

)


Issue

Ploypailin JensenPoom JensenSirikitiya Jensen




House

House of MahidolChakri Dynasty




Spouse

Peter Ladd Jensen (m. 1972–1998)




Siblings

Chulabhorn Walailak, Vajiralongkorn




Children

Ploypailin Jensen, Poom Jensen, Sirikitiya Jensen




Parents

Sirikit, Bhumibol Adulyadej




Similar People

Chulabhorn Walailak, Bhumibol Adulyadej, Vajiralongkorn, Sirikit, Sirindhorn
5apr12 thailand s news part3 birthday of princess ubolratana rajakanya
Princess Ubolratana (Thai: อุบลรัตน; rtgs: Ubonrat; [ʔù.bon.rát]; born 5 April 1951 in Lausanne, Switzerland), or full name Ubolratana Rajakanya Sirivadhana Barnavadi (Thai: อุบลรัตนราชกัญญา สิริวัฒนาพรรณวดี; rtgs: Ubonrat Ratchakanya Siriwatthana Phannawadi), is a princess of Thailand and the eldest child of King Bhumibol Adulyadej and Queen Sirikit. She relinquished her royal title and settled in the United States with her husband, Peter Ladd Jensen, but returned to Thailand after divorcing in 1998.
Contents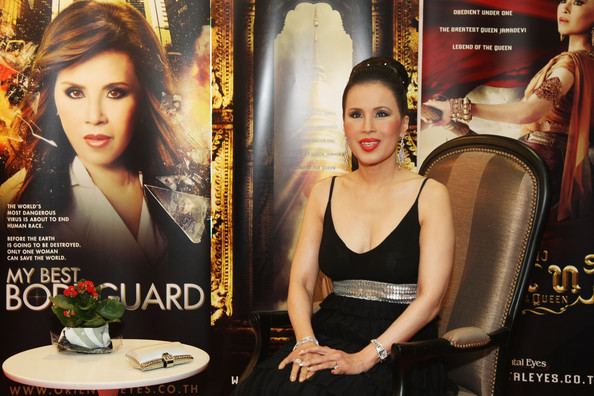 After many visits to Thailand after her divorce, In 2001 she permanently return to Thailand for good. Almost immediately after her royal return, Ubolratana began her royal duties by taken part in many royal ceremonies. She started many charity foundations aim to improve the quality of life for the Thai People. Her most successful and very well received and highly publicized and supported by the media and the Thai people is her 'To Be Number One' Foundation. Founded in 2007, 'To Be Number One' is the 'say-no-to-drugs' empowerment program aim to educate the Thai Youth to stay away from drugs. Realizing that pop culture is the fastest and most effective way to reach Thai Youth everywhere and to raise funds for her charity foundations, she agreed to make special appearances in the leading role for many Thai Films and Television Mini-series since 2008. Her most notable efforts includes the 2008 film Where the Miracle Happens and primetime television mini-series 'Dow Long Fah, Pupa See Ngern' (Ch. 3, 2017).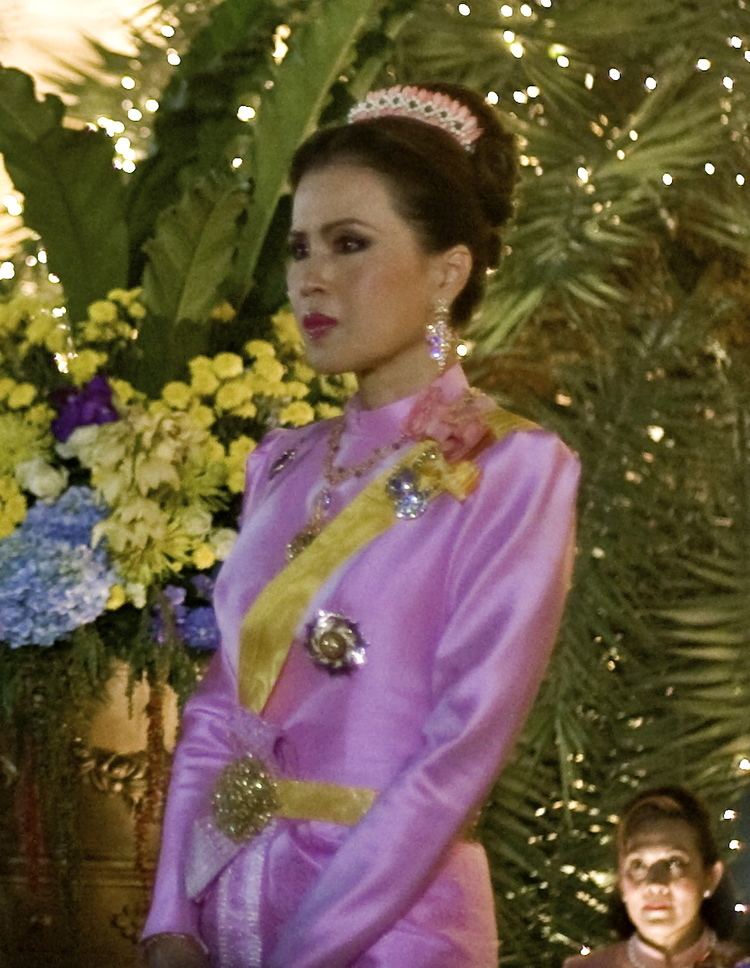 Ubolratana Rajakanya visits Hong Kong film market
Early life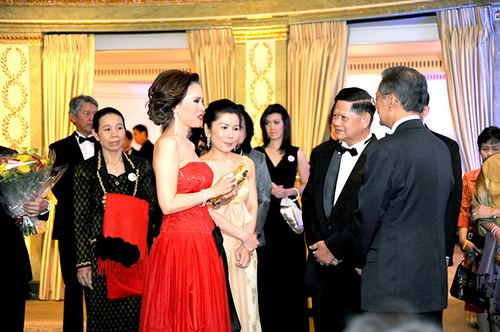 Princess Ubolratana Rajakanya is the eldest child of King Bhumibol Adulyadej and Queen Sirikit. She was born on 5 April 1951 at Mont Suisse Hospital in Lausanne, Switzerland. She returned to Thailand and stayed at Ambhornsathan Throne Hall, Dusit Palace. She was styled Her Royal Highness by her father at the Royal Celebration of the first month birthday ceremony (Phra Ratchaphithi Somphot Duean Lae Khuen Phra U; พระราชพิธีสมโภชเดือนและขึ้นพระอู่) King Bhumibol Adulyadej gave her name and style Her Royal Highness Princess Ubolratana Rajakanya Sirivadhana Barnavadi. Her names are derived from several royal ancestors: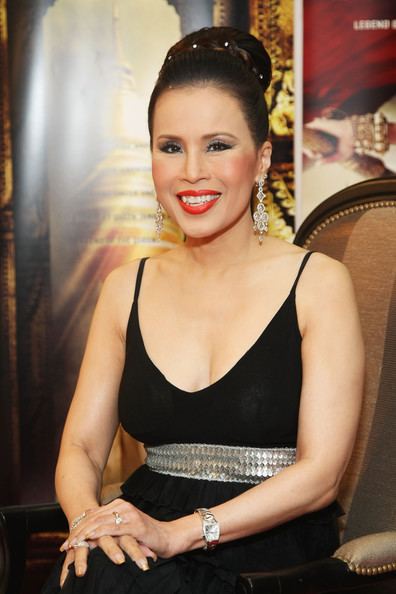 The name Ubol Ratana comes from her maternal grandmother, Mom Luang Bua Snidvongs.
The name Siri comes from the name of her mother, Queen Sirikit.
The name Vadhana comes from the name of her paternal great-grandmother, Queen Sri Savarindira (Savang Vadhana), the Queen Grandmother.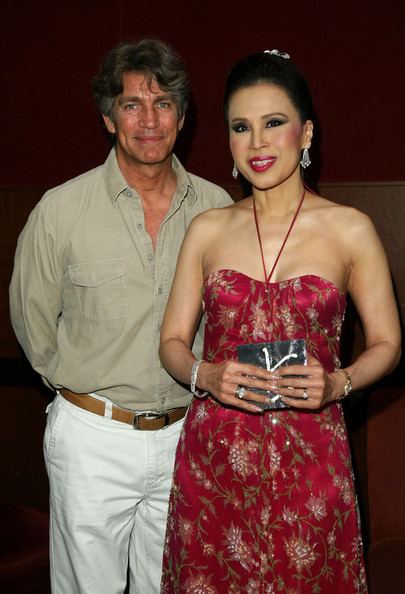 She has taken part in royal duties since she was very young.
In 4th SEA Games in 1967 in Bangkok, the King and Princess Ubolratana Rajakanya competed in sailing and won gold medals.
Education
Ubol Ratana attended primary to secondary levels at Chitralada School. She went to the United States for her tertiary education. She studied at MIT, graduating with a Bachelor of Science in mathematics in 1973. She later obtained a master's degree in public health at University of California at Los Angeles.
While at MIT she first met Peter Ladd Jensen, whom she later married.
Marriage and family
On 25 July 1972, Ubol Ratana relinquished her royal titles to marry Jensen, then lived in the United States with her husband for over 26 years. Her husband, as a foreigner, did not receive any royal titles. After years of rumoured marital problems, they divorced in 1998. Ubol Ratana and her children lived in San Diego until 2001, when they returned to Thailand.
Ubol Ratana and Peter Ladd Jensen had three children: two daughters and a son, all born in the United States.
Khun Ploypailin Jensen (born 12 February 1981)
Khun Bhumi Jensen (affectionately known as Khun Poom) (16 August 1983 – 26 December 2004), who had autism, died in the 2004 Indian Ocean earthquake and tsunami. Princess Ubol Ratana established the Khun Poom Foundation (

มูลนิธิคุณพุ่ม

) in his memory, to aid children with autism and other learning disabilities.
Khun Sirikitiya Jensen (born 18 March 1985)
While Ubolratana Rajakanya Jensen remained in the U.S., her mother Queen Sirikit and other members of the Royal Family often flew to the United States for visits. Ubol Ratana likewise flew to Thailand along with her husband to visit her parents and the other members of the Royal Family, while joining them in royal ceremonies when she visited Thailand. She visited in 1980, 1982, 1987, 1992 and 1996, taking part in several family events, before her permanent return in 2001.
Royal title
Ubol Ratana was born with the titles of Her Royal Highness and Princess Chao Fa, but gave these up on her marriage to an American citizen. The title Chao Fa was lost because she married a commoner. She had previously held the royal title Chao Fa Ubolratana Rajakanya. She still retains the style of Tunkramom Ying, which means "Daughter to the Queen Regent". Since her return to Thailand, she has increasingly taken part in royal ceremonies, though not to the extent of her siblings.
Her Royal Highness Princess Ubolratana Rajakanya (1951–1972)
Mrs Ubolratana Rajakanya Jensen / Mrs Julie Jensen (1972–1998)
Princess Ubolratana Rajakanya / Mrs Ubolratana Mahidol (1998–present)
Film career
Ubol Ratana acted in the Thai movie Where The Miracle Happens (หนึ่งใจ..เดียวกัน), released in August 2008. She plays the drama's main role of a lonely-at-the-top CEO who begins a life of philanthropy after the death of her only daughter. On October 2010, she appeared in the film My Best Bodyguard (มายเบสต์บอดีการ์ด).
National honours
Thailand: Knight Grand Cordon with Chain of the Order of the Royal House of Chakri
Thailand: Knight Grand Cordon with Chain of the Order of Chula Chom Klao, Special Class
Thailand: Knight Grand Cordon with Chain of the Order of the White Elephant, Special Class
Thailand: Knight Grand Cordon with Chain of the Order of the Crown, Special Class
Thailand: Knight of the Decoration of Ramkeerati
Thailand: Recipient of the King Bhumibol Adulyadej Royal Medal
Thailand: Recipient of the Boy Scout Citation Medal, First Class
Thailand: Recipient of the King Bhumbibhol Adulyadej Diamond Jubilee Medal
Foreign honours
Spain: Knight Grand Cross with Collar of the Order of Isabella the Catholic
Filmography
Actress
2010
My Best Bodyguard
as
Nicha
2008
Where the Miracle Happens
as
Khun Pimdao
Writer
2008
Where the Miracle Happens (screenplay)
References
Ubol Ratana Wikipedia
(Text) CC BY-SA